We are excited to announce Reach Score expansion onto four more cities in the US. More locations to come as our database grows.
The Reach Score algorithm remains almost the same, as described in our launch post – we look at social metrics, Domain Authority, event attendance, and newsletter subscriptions to calculate an organization's "Reach."
"Reach" is a measure of an organization's connections within its local community, and thus a measure of a sponsorship's potential impact in that community. The Reach Score is relative to other organizations in the metro area, so you can't compare Chicago to Dallas.
In addition to the launch statistics for our four new cities (below), we also looked at the evolution of Reach Score in our original cities – this is the subject of a new article coming up soon, stay-tuned.
Reach Score, as a defined metric, has helped both ZipSprout and non-profit organizations. ZipSprout has revised its approach to enrolling organizations by focusing on the Reach Score components, and has added a new tool for matching organizations with sponsorship opportunities. (Remember, Reach Score is only one metric, and the highest Reach Score often is not the best match for a sponsor.) Organizations now have a metric to help them in their marketing, and can see concrete improvements when adding Facebook friends, Twitter followers, or holding in-person events.
Select Results from Our Four New Cities
As before, we looked at Reach Score trends across organization types, with a focus on the interaction between Reach Score and sponsorship cost. All figures based on a data extract taken on May 12, 2018.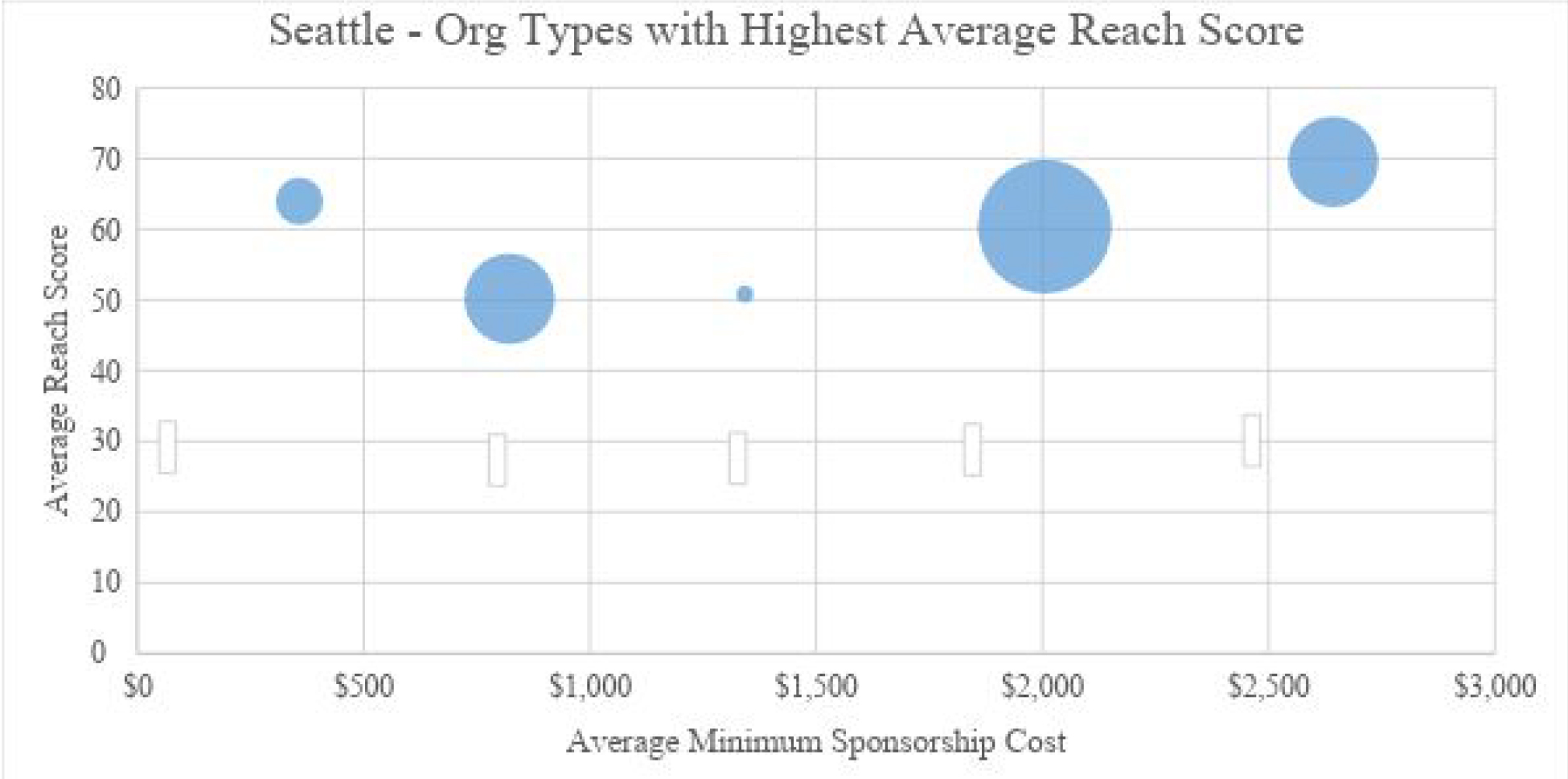 In Seattle, while you generally pay for a high Reach Score, there is one type of organization with a very high Reach Score and an average minimum sponsorship cost less than $500. Organizations for the Arts appear to be very connected to the Seattle community, with effective outreach and events such as monthly neighborhood art walks. Note that these are smaller arts-focused organizations such as galleries and community theater groups, not major museums or civic performing arts groups. These organizations represent a great opportunity to reach Seattle's artistic community at a low cost.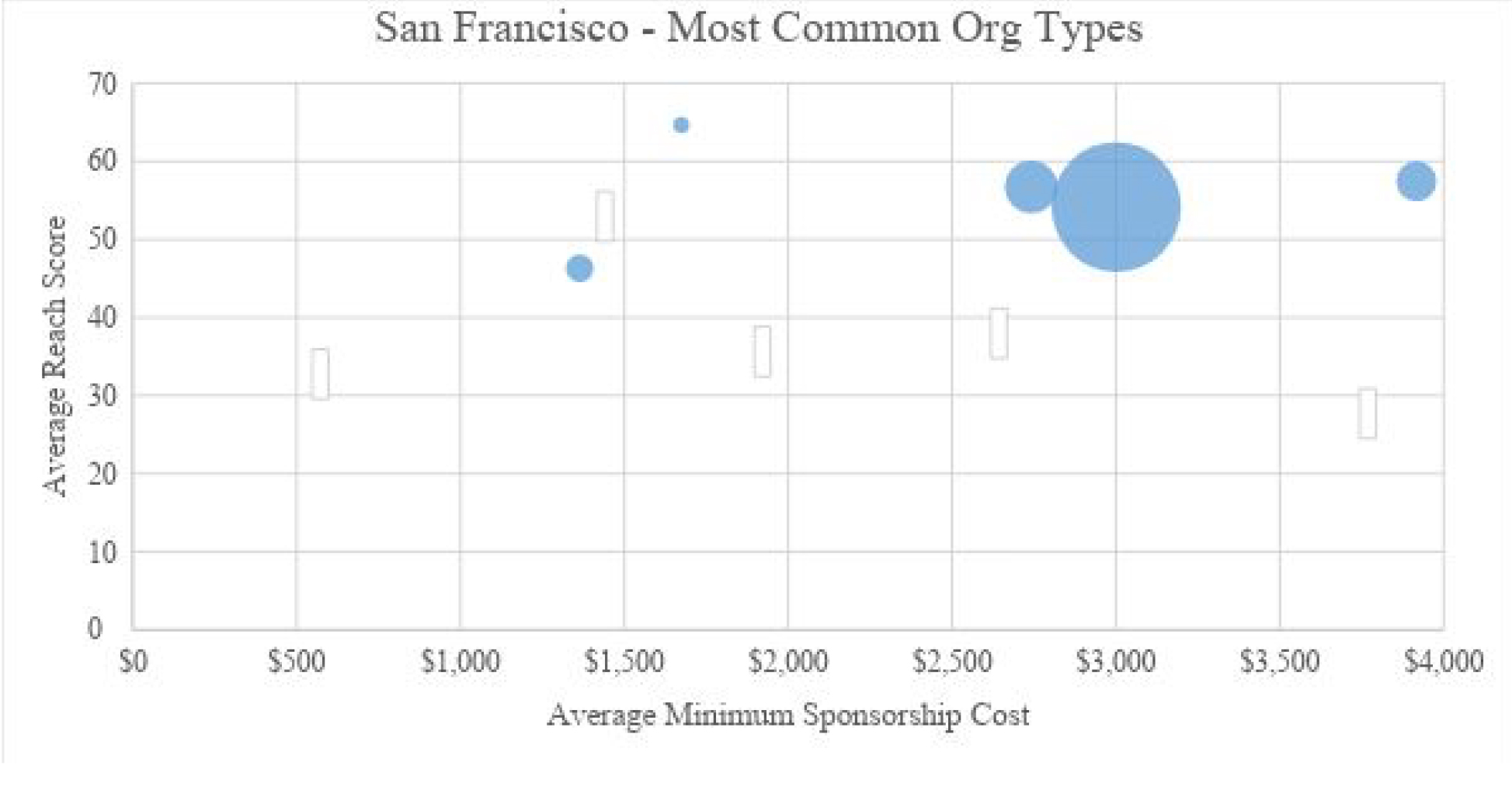 San Francisco's Reach Score profile matches its status as an expensive city with a thriving tech scene. The average minimum sponsorship cost overall is $2,371, and, as seen above, three of the most common org types exceed that average. These most common org types also have relatively high Reach Scores, which fits with a tech-focused city (Reach Score is biased towards tech, with social media and Domain Authority as its main components). Like Seattle, Organizations for the Arts have high Reach Scores, but those in San Francisco have a higher sponsorship cost. San Francisco organizations with low sponsorship costs generally have low Reach Scores, in the 20s and 30s (not pictured). It will be interesting to see how those organizations adapt now that we have launched Reach Score for San Francisco.
Like Boston back in January, Miami may be launching slightly prematurely. Miami's organizations with Reach Scores are spread out across all org types; only a handful of types have a large number of orgs. We do see a great diversity across those org types, with Reach Scores from the 20s to the high 50s, and sponsorship costs from $500 to almost $2,500. Like Boston before it, we expect launching Reach Score in Miami to stimulate growth in our Miami database, attract sponsors to Miami, and encourage Miami organizations to improve their underlying numbers (social media, Domain Authority, events, and newsletter subscribers).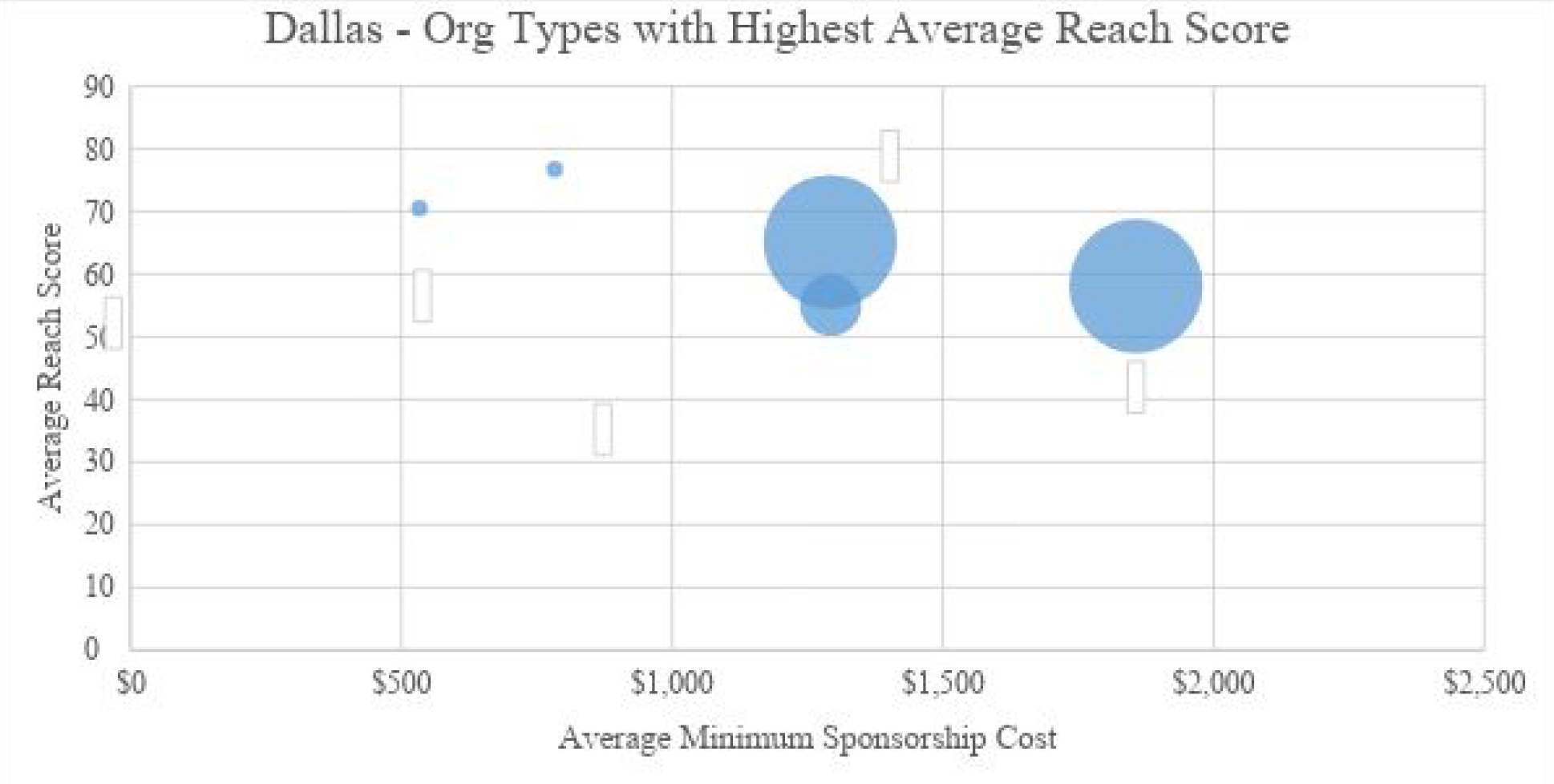 Finally, in Dallas Reach Score is bucking some Texas stereotypes. The two org types with the highest average Reach Score are Local Government and Parks & Recreation Departments (a specific type of local government organization). But small government does exist, at least in the cost of related sponsorships, as both government org types have average minimum sponsorship costs under $1,000.
Start measuring the Reach Score of any organization today at https://zipsprout.com/reach-score/