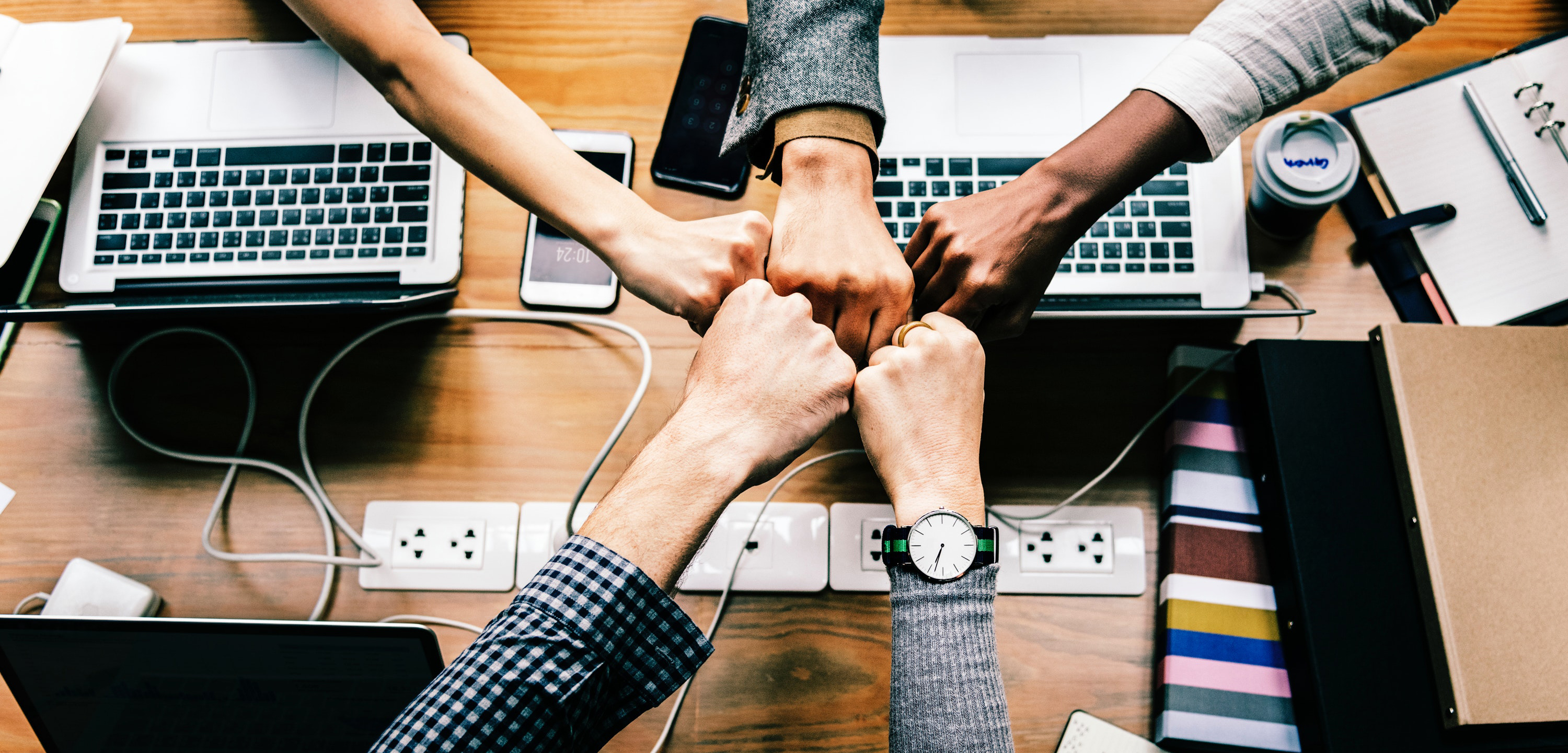 written by Garrett French & Claudia Cruz
How to Build Links Via Existing Relationships
Identify who you know who can potentially link to your website
Determine what kind of online asset will appeal to each individual
Reach out to every individual about the asset you can provide
Create the online asset
Send a compelling email with a clear call-to-action
Follow up and ensure quality with kind persistence,
Handwritten thank you card
One of the most commonly cited—but rarely explained—pieces of link building advice is to "take advantage of existing relationships" or "reach out to your contacts." This is not a sensational claim: we have confirmed, after auditing and analyzing the most commonly cited link building advice, that this oft-cited suggestion has never received the deep dive it deserves.
The idea behind this advice makes sense, until it comes time to put it into action. Reach out to your existing contacts and say what, exactly? "Hey, do you want to help my business by linking to me please?"
Such an approach will not work. Let's consider what will work. The solution is not to blindly send emails to your friends and business contacts that make you look foolish or unprepared.
Fear not. We have detailed a seven-step process, easy enough to follow, along with a straightforward spreadsheet that will keep you focused and on track.
Step One: Identify who you know who can link to your website
It's important that use both your time and the time of your contacts in a valuable manner. You don't want your time wasted and neither do they. As you ask the questions below, remember to fill out the spreadsheet to keep track of this information. Consider some of the following factors when launching your outreach:
Who do you know who could potentially link to your website? This does not necessarily need to be a business contact. It can be your dentist, your lawyer, your cousin or your former boss. It could even be your childhood friend who now runs a Mommy Blog. What matters is that you consider everyone you know who is in a position where they might be able to help with this effort.
Do they have a website? The reality is that many of your existing relationships don't have their own websites. At the same time, there are plenty of people you know who do have their own websites and who, if properly motivated, would happily send a link toward your website from their own.
If they don't have a website, what do they have? What is their social media presence? Are they active enough on Facebook to warrant an effort, despite no website? Do they have significant social media followings? Remember that social media can be an impactful channel for short term promotions or announcing new services or products; if you cannot get a link from their website, their might still be social media opportunity, including traceable promotional codes or word-of-mouth.
Who makes the decisions regarding the website? This won't necessarily disqualify many contacts, but it is crucial to consider whether you are being realistic. Even if you know someone on Wal-Mart's e-commerce team, it's unlikely they're going to be able to kick a link your way.
How strong is the relationship? How well do you know this person? Are they a friend? A business contact? Rate each contact on a scale, with 1 being the most distant and 5 being the strongest.
Ask your employees and colleagues what opportunities you might be missing? Are you sponsoring things? Are you involved in the community? Consider both your business relationships and your social relationships. Reach out to you accountant and ask if there are any other business relationships you may not be considering.
This is a lot to keep track of. Remember to use the spreadsheet to keep it all in order.
Begin with an ambitious list of at least 20—as you go, you'll find the number both grows and shrinks, as you determine that some contacts are poor fits while discovering new opportunities who you did not originally consider.
Step Two: Determine what kind of online asset will appeal to each individual
Now that you've determined who you are going to reach out to, you must determine what you will offer them. Ask yourself: what can I create that my contacts will genuinely want to publish?
A testimonial: The art of testimonial link building has literally been around for decades. It can be extraordinarily simple: you provide a testimonial, i.e. a simple review, to someone you have worked with before. This can be an ideal option for someone with whom you have worked or you want to build a stronger relationship with. You may opt to make this testimonial as simple as a one sentence quip or as involved as an impressive infographic. What matters is that you share something that genuinely compliments and thanks your local contacts in a way that they cannot resist but to share it on their website.
Images you have related to their location or product: Consider how many photographs you have of the places you go, food you eat, services you've paid for, and products you've purchased. If you have some that are high quality, consider providing those directly
A preferred vendor badge: See the images below for examples. This is a simple thing you can provide to anyone you work with that immediately gets you more publicity, a stronger relationship, and a new link.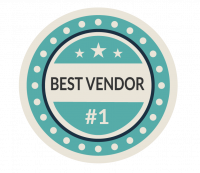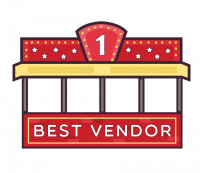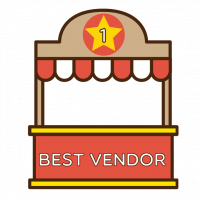 Sponsorships: Similar to the preferred vendor badge but used specifically for local non-profits or other organizations that you are sponsoring.
An interview or dialogue with your contact: This is a concept we could explore much deeper, but as its simplest it's a conversation between you and your contact, one that you will ultimately host on your website or will provide to them to host on theirs.
Unlinked mentions: A classic move for earning links—and one made even easier when reaching out to an individual you already know. This can be as simple as vetting the websites in the spreadsheet to see if they already mention you.
Unmentioned collaborations: In some cases, you might have an ongoing business relationship or endeavor that does not have any mention online yet. In these scenarios, work with these individuals identified to create some kind of content that mentions your business on their website.
Content marketing with a local focus: This typically takes more work, with potential for major gains. It can be daunting, although it does not have to be. Quality content marketing can be as simple as a blog post that speaks to a niche audience with information they aren't used to hearing.
A press release: Like content marketing, this can require a more advanced and structured approach. If you have several contacts in the world of local news or blogging, a press release is ideal. Remember that you are doing them a favor by giving them something they can easily turn into quality content on their website.
Before you start going down the wrong path, let's pump the brakes on something right away: no, we aren't recommending you incentivize them with anything other than quality content. This is not a guide to sponsored content, native content, or, worst of all, paid links.
Return to the spreadsheet and keep track of what kind of content fits your situation the best, under the column marked "Strategy".
Step Three: Reach out to every individual about the asset you can provide
At this point, it can be easy to become overwhelmed. Start with your strongest opportunities first. Note that the spreadsheet gives you two different ways to rank every individual:
Relationship Strength: how well do you know this individual? Are they a friend of a friend? Do they owe you for a recent professional favor or positive business interaction?
Ease Level: This refers to how hard the ask is to complete. If you are asking for them to turn an unlinked mention into a link, it's a straightforward ask with a straightforward solution. If you're providing them with a press release, that's going to take more on their end. Consider this: which of these are the easiest to get out the door?
Now, the reaching out can seem daunting. But it does not have to be.
Here is an email template that works well for reaching out about a testimonial:
Dear ______,
I'm reaching out because I have been writing testimonials for individuals and business I really enjoy working with. It's something that I think benefits both of us greatly, and your quality of work really deserves it. If you are interested, I would love to provide such a testimonial to you, for your website.
Feel free to reach out to me with any questions you might have about it. Let me know when you receive this and if you have any other ideas!
Sincerely,
________
Step Four: Create the appropriate asset
In a vacuum, this would be the most difficult task in this list.
However, if you have followed the three steps—with attention to detail and the spreadsheet—then this should become your easiest, most straightforward task. Create the best asset you can for each interested contact.
Step Five: Send the asset, tailored to each contact
This is the big moment: time to provide your contact with the asset you promised. We recommend using a professional email that includes a link to the content.
Here is a template that works well for providing a testimonial:
Dear ______,
As I mentioned before, I've been writing testimonials for people I really enjoy working with. I've attached the testimonial I put together to this email.
My only request is that you link to my website at _____ when you post it on your website. Like before, please reach out to me with any questions or ideas related to this.
Sincerely,
________
Of course, feel free to tweak this to your own uses and to match your style of writing, as appropriate.
Step Six: Follow up and ensure they have what they need.
You've made it through the hard part!
At this point, you have to keep communicating. Remember that, if you approached this correctly and used the spreadsheet throughout, these aren't strangers you've been cold calling. They're people you know. You should ensure they have what they need to link to your site while improving their own site in the process.
A few aspects of QA to consider:
Did they understand the ask?
Did they implement the link correctly?
Is the link nofollow? (Unfortunately, this might not be something you have any control over—but it's still worth checking)
It's important to be professional throughout this process. You want to maintain and build relationships throughout this process, not burn any bridges.
Step Seven: Formal Thank You
Once it's live, it's time for a Thank You. Don't overdo it, of course. We aren't talking cheese plate and bottle of Scotch.
A handwritten note goes a long way. Another simple option is to buy them a cup of coffee. Just make sure you do something simple and thoughtful to show your appreciation.
ZipSprout has helped enterprises and agencies building local relationships for the last two years. In our experience, local relationships are cost effective, adding extra value to any marketing strategy.
Another viable channel to build B2C relationships locally, are sponsorships. Our strategies and tips to start your own local sponsorship campaign today can be found in our Local Sponsorship Playbook and if you still have doubts on how to implement your campaign after reading our playbook, you get a 30-minute chat with Claudia Cruz, ZipSprout COO; to go over all of your questions.