What is Domain Authority? 
Before we dive into the question of whether or not Domain Authority (DA) is a good measure for local link building, let's recap what DA is: 
Domain Authority (DA) is a concept developed by Moz. They define DA as a "search engine ranking score developed by Moz that predicts how likely a website is to rank in search engine result pages (SERPs)."
Domain Authority by Moz is calculated using dozens of factors, including the number of linking root domains and the total number of links. The score itself is displayed on a 100-point scale.
Google's Guidelines for Local Links
IF IT'S ALL ABOUT THE RANKING….THEN KNOW WHAT GOOGLE LOOKS FOR, AND WHAT THEY DON'T…
If you are building local links with organizations in your community, it's important to understand Google's guidelines when it comes to ranking. Here is what they look for:  
Relevance
Relevance refers to how well a local Business Profile matches what someone is searching for. Be sure to add complete and detailed business information to help Google better understand your business and match your profile to relevant searches.
Distance
In a Google search, distance is considered how far each potential search result is from the location term used in a search. If a user doesn't specify a location in their search, Google calculates the distance based on what we do know about their location, for example, "near me". 
Prominence
Prominence refers to how well known a business is. Some places are more prominent in the offline world, and search results try to reflect this in local ranking. For example, famous museums, landmark hotels, or well-known store brands are also likely to be prominent in local search results because they are well established in their community.
Prominence is also based on information that Google has about a business, from across the web. Google combines information from links, articles, and directories when determining prominence. Google reviews also have a huge impact with local search rankings. The more reviews and positive ratings your business listing has can improve your local ranking. Your position in web results is also a factor in prominence. It's important to keep your search engine optimization (SEO) strategies up to date. 
What do SEO Experts Say?
Many SEO experts recognize that DA is of little importance when building local links, at least as far as Google is concerned. Even Moz has this preface to their post about how Domain Authority works on their own SEO Learning Center:
"Domain Authority is not a Google ranking factor and has no effect on the SERPs."
John Mueller, Search Advocate at Google, has been very vocal over the years about DA and its relevance for Google rankings. In a 2020 post on Twitter (recently dubbed "X"), he had this to say on the matter: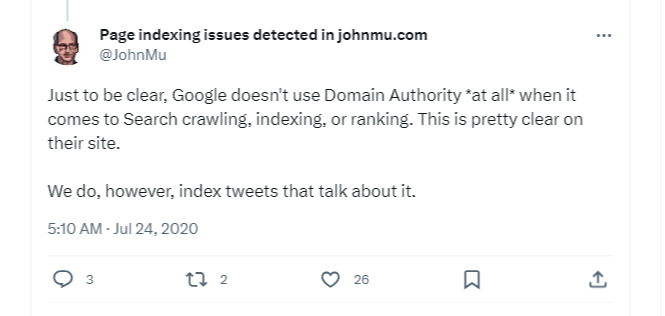 If DA Doesn't Matter, Why Invest More Marketing

Dollars than Needed?
A recent review of the thousands of organizations in our database reflect these costs as related to DA.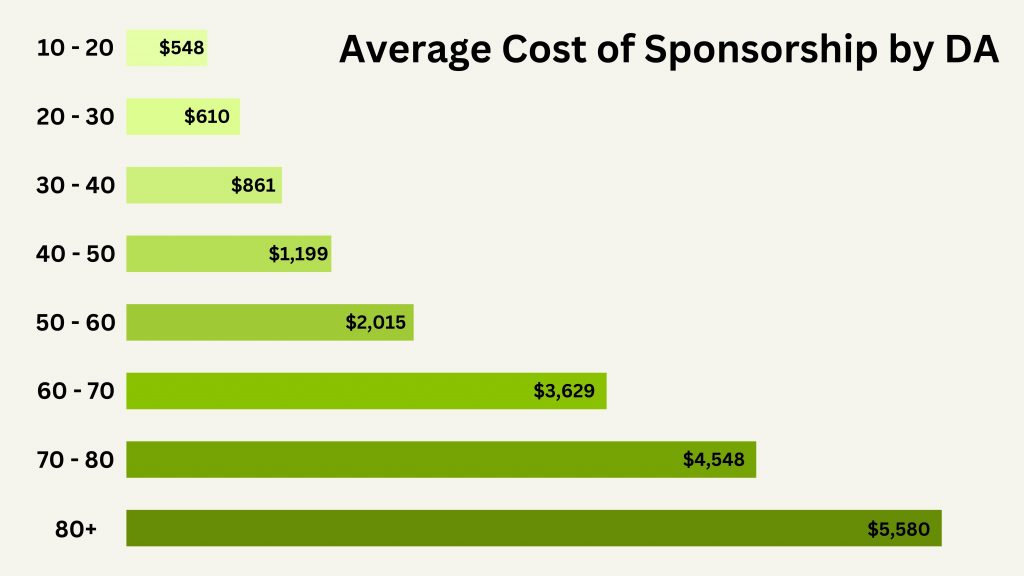 It's important to keep the focus of link building on BRAND building, grass roots connections, and showing support for your community; not DA. This will enable you to support several local, relevant organizations, organically improving your local Google rankings over time. 
If you are questioning local link building entirely; well, that's another topic. Rest assured, most local SEO experts agree that link building is effective for boosting local search rankings – even Google agrees. 
---
ZipSprout has been building local links since 2016 and have helped hundreds of businesses boost local engagement, visibility and ranking.
Email us at hello@zipsprout.com to get started!
Written by: Sallie Clark, Business Development Manager at ZipSprout