Link building you can feel good about!
Most businesses know they need to improve their search rankings to increase traffic for their brand but find it difficult to know where to begin. Understanding ranking factors is a great place to start. Ranking factors are metrics, assessments and values used by search engines to measure and evaluate web pages to determine how they will order and display the results. 
There are many factors involved in Google Search results, including: 
Content – quality, topical authority, local signals

Backlinks – quantity and contextual relevance 

RankBrain – part of Google's core algorithm
Google Business Profile (GBP), formerly Google My Business (GMB), primarily looks at:
NAP – making sure your name, address and phone number exactly match your website and all other references, and that your profile links to the most relevant local page on your site (for a business with a single location this may be your home page; for businesses with multiple locations this is often a page on the site set up for each location). Category and images are features they consider too. 

Links – inbound links and mentions of your business, typically for the local landing page that is linked to your GMB profile

Reviews – first and third party reviews for your business around the web

On Page – elements and content on your local landing page, typically the one linked to your GMB profile

Behavioral – actions happening on your listings and your pages such as clicks and calls. Keep your information current and fresh and post frequently

Citations – location data presents volume and consistency

Personalization – largely based on the language and location of the search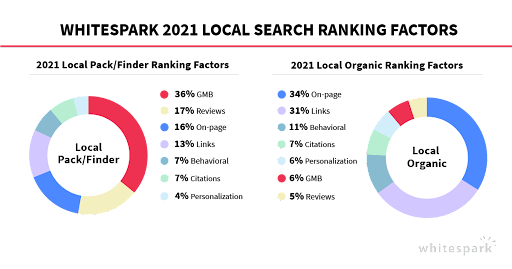 November 2021, Whitespark released the Local Search Ranking Factors Survey results. The goal of the survey is to present guidelines showing what offers the most impact to local search rankings. 
As depicted in this chart, local link building is an important element in improving your local rankings. In this article we will dive deeper into the questions and answers regarding local link building. 
How does link building work? 
Employed years ago, Google's PageRank Algorithm has changed the world forever. Instead of simply analyzing the content of a page, Google looked at how many people linked to the website, and more importantly, the individual page. Nearly 20 years later, while Google no longer shares their PageRank scoring publicly, links are STILL the best way to determine the ranking of a webpage.
Backlinks can help close the link gap between you and your competitors, and can show a positive impact on your local, organic search results. They are also an important part of a general search, local Google Maps and Local Packs searches.
How do I build links?
Link building is a process that involves asking 3rd party websites that are not affiliated with your business for a link from the 3rd party website to your website. There are a number of tactics that can be used for this, all with varying degrees of effectiveness and time commitment. Which tactics you employ depends on your type of business, how much time you have to dedicate to it, your personal knowledge and expertise, and much more. 
Link building is a time-intensive activity but the rewards are more than worth it.  ZipSprout facilitates creating backlinks by coordinating sponsorships with nonprofits, organizations and events via donations. Plus, you get the added bonus of reaching your target audience, gaining connections and providing support for the city where you do business. It's a win-win-win for all parties involved. 
By addressing a backlink deficit, you are well on your way to rising in the ranks of local search engines and increasing inquiries to your website, equalling a strong ROI for your marketing efforts. Plus, you are helping to support your amazing community – now that's link building you can feel good about!
At the WhiteSpark Local Search Summit on 9/28/2021, ZipSprout gave an in depth review of local link building and the services they provide.