At ZipSprout, we're in the business of building links that make a difference. We connect our clients with initiatives that matter to them. We discover local nonprofits where they can invest their marketing dollars in their own communities. 
But how can we check to see if the links we build are going to make a difference for our clients?
James Wirth at our parent company, Citation Labs, has created a powerful tool that allows us to run a Local Link Gap Analysis. This tool helps us determine which target URLs are going to have the best shot at boosting online visibility and search results. 
Best of all, ZipSprout offers this analysis completely free!
Let's take a deeper look at what a Local Link Gap Analysis is, and how it works. 
What is a Local Link Gap Analysis?
A Local Link Gap Analysis (sometimes called a competitor link analysis) counts websites that are linking to a business's competitors in their local area, but not to them. The number of backlinks the competitors have on average compared to the number of backlinks your target business has is called the "Link Gap" (also called the "Domain Gap").
Once we know what the Link Gap is, we can estimate how many links we need to build to close a certain percentage of the gap (between 50% and 100%). The higher the percentage of the gap we can close, the more successful the local SEO campaign will be in the long run. 
Let's look at an example: 
Business A, wants to build links for 10 pages of their site (10 target URLs). In this scenario, they are building links to 10 cities where they have a local branch. 
After an initial call to discuss goals and budget, ZipSprout runs a free Local Link Gap Analysis against their top 20 greatest competitors in those areas, using the top 25 keywords associated with both Business A and their competition. 
Our tool generates a spreadsheet of all of this data, and calculates the Link Gap for each of the 10 URLs. It also calculates the current rank of each URL, the keyword volume, and the difficulty rating for the keywords. 
The populated data will look something like this:

We will then filter through the most relevant keywords to make sure we are comparing Business A against its true competitors in each area. For example, we might remove keywords with 'in my area' or 'near me' – which imply their location but don't state it explicitly – in order to not skew the search volume numbers for each page. 
We check the difficulty rating (how difficult it will be to rank for a particular keyword as per SEMRush's organic difficulty score) and the size of each gap. Then, based on the budget, we help the business choose the best target URL for building links.
Starting slowly with a few links each month for only one target URL at a time, allows more time and money to be invested into each campaign, which will give the business much better long-term results for visibility and rank.
In the chart below, we have run a Local Link Gap Analysis and selected the best target URL to start with for this business. We ran multiple scenarios to see how many links would be needed to close up to 100% of the Link Gap.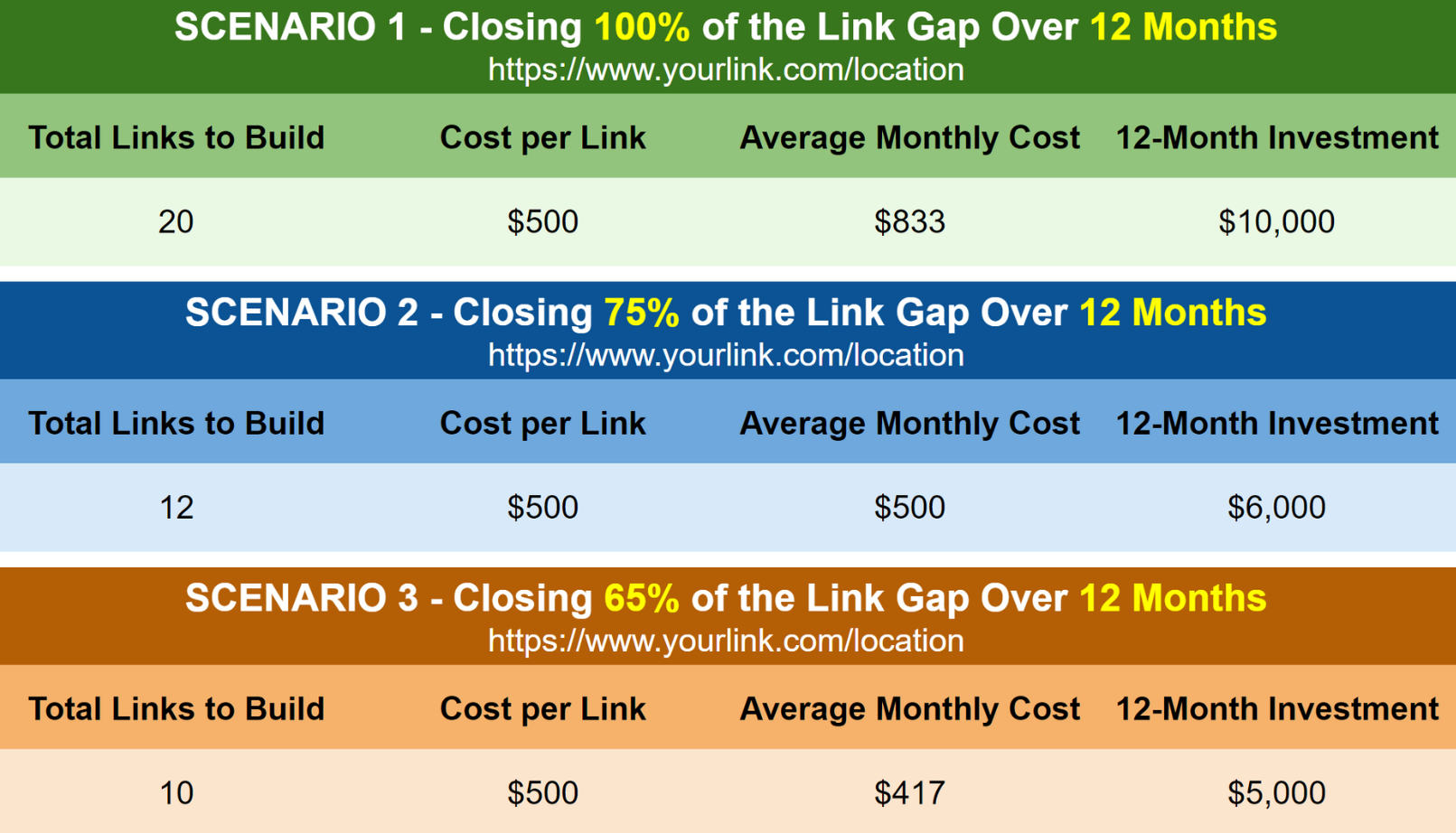 The price per link is the estimated cost per new link built. The chart also shows the total new links that will be built each month, the average monthly cost, and the total cost over the 12-month campaign. If a 12-month estimate doesn't fit within a client's budget, we can run a 24-month estimate. 
Remember: slow and steady really is the best strategy when it comes to a local SEO campaign if you want to have the best and most consistent long-term results. 
After we discuss the results of the analysis and agree on a campaign, ZipSprout will draft a contract for the proposed plan and we will get started building links in the local areas of the target URL! The above monthly estimate also includes all ZipSprout fees as well, so you can be sure that the proposed budget and plan is completely transparent. 
If our client doesn't know which target URLs to pick, we can help by pulling the top 10 or so local URLs, and then continuing with the analysis.
If you need to report these findings and results to someone else at your company, James Wirth discusses that in his post Delivering Link Impact to Your Higher-Ups. In this article, he covers the benefits of link impact reporting, how to measure and present the report, and he helps get you started with a customizable spreadsheet so you can present your own link impact report. 
How can a Local Link Gap Analysis help your business?
As stated above, the main benefit of a Local Link Gap Analysis is to help businesses decide which target URLs they should be building links for, so they know where their marketing dollars are going to have the greatest impact on online visibility and search results. 
The analysis also helps mold the scope of a business's local SEO plan by showing how many links per target URL they should build. This can prevent money from being wasted on links that may not have any impact because the Link Gap is too high.
With the analysis, we are also able to see the top competitors are in each local area, which allows for even more targeted marketing. It also shows the top keywords the business is ranking for, which is valuable information for a marketing plan. 
Each Local Link Gap Analysis is unique to each business, as is the proposed budget – whether that's spread out over 12 or 24 months. Our skilled team at ZipSprout walks through each step along the way and works within the budget and goals. 
In summary, a Local Link Gap Analysis is a great tool for a business to utilize when building their local SEO campaign. 
Would a Link Gap Analysis help focus your marketing initiatives? Complete this form to sign up for a free 15-minute consultation!
Written By: Ellen Sartin, Fulfillment Manager at ZipSprout