The Zip episode 24
A former local journalist follows her passion, and gets Philadelphia dancing.

Second careers, third careers, fourth careers? They aren't so taboo. In fact, they're the new norm. Remember Mary Bowling from episode 19, who left the boredom, ahem, COMFORTS of retirement to pursue her passion as a local marketer? I feel second careers can have so much more passion behind them. And I'd be really interested to hear how many local business owners are on their second career.
So today we're going to meet a former local journalist whose second career got Philadelphia dancing. This is a conversation that combines many of the narratives we keep coming back to in this podcast- from local journalism to small businesses, and the personality of a community, in this case, downtown Philadelphia. And I especially loved hearing how Deborah's first career gave her a leg up, so to speak, when launching and publicizing a city-wide Dance Day.
So today, in another profile of a local organization we've worked with at ZipSprout, let's meet Deborah Hirsch, the founder of Philadelphia Dance Day.
Megan: Deborah, it's great to have you on the Zip today. Can you tell me a bit about Philadelphia Dance Day like its history and what goes on?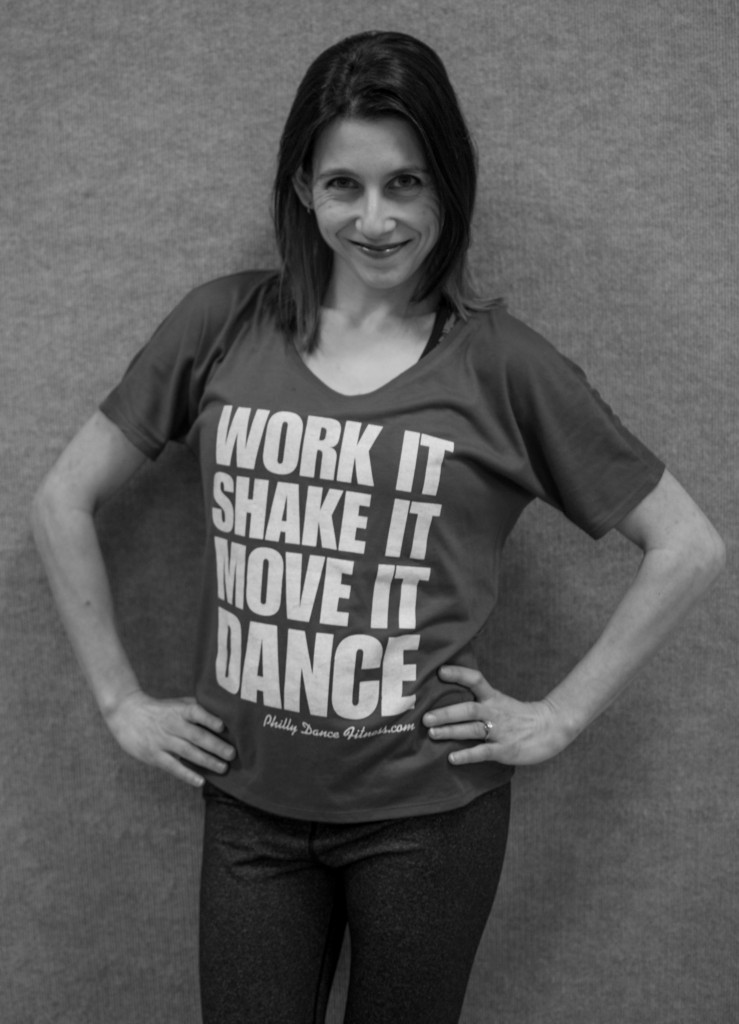 Deborah: Absolutely. Basically, we started Philadelphia Dance Day, I guess it's eight years ago now. Oh my goodness! The time just fly. It started in 2010, I wanna say and it was initially sort of just a spur of the moment thing. I happen to be a fan of the show, "So You Think You Can Dance," and that summer, the producers had decided they were gonna do a national dance day on the last Saturday of July and they were trying to get everybody to participate around the country by doing some form of dancing, whatever they wanted, and so our company at that time, I run Philly Dance Fitness in Philadelphia here and we specialize in sort of fitness for fun, that kind of thing.
It's not as technique-focused as typical dance school. It's more about using dance as a form of exercise and we thought, wouldn't it be fun to sort of partner with other dance groups whether they're more technique schools or not and get people out in the community to just enjoy dancing as a fun community event and we set up the schedule so that if you wanted to, you could literally hit all the classes so it was like 8 or 10 classes during the day and you could go from one workshop and walk to the next. They were all within about a mile of each other and it was hugely successful especially for this little tiny grassroots organization.
It grew organically, really. It was so inspiring to see all of these people who wanted to dance in the middle of the summer when a lot of people around here anyway are out on vacation. They're off to the shore in Jersey or wherever and yet we were able to get hundreds of people to come and dance. Every year, we just kind of grew. It got bigger and bigger. More groups would participate. All of the studios that offer dance classes during the day do so as volunteers. The teachers do not get paid. The studios do not get rent. They're all just volunteering their time and spaces and then, the evening event, people come together for the performances, the additional social dance lessons, cardio dance parties. It's just a really neat experience.
Megan: What's it like? The first one, you said was inspired by So You Think You Can Dance. What do you remember the kind of moment during the first dance day when you're like, oh man we're definitely doing this next year? Was it always on the plan to keep doing this or was it kind of like you saw how successful it was or you saw people enjoying it so much that you're like, okay, this is gonna be a thing now?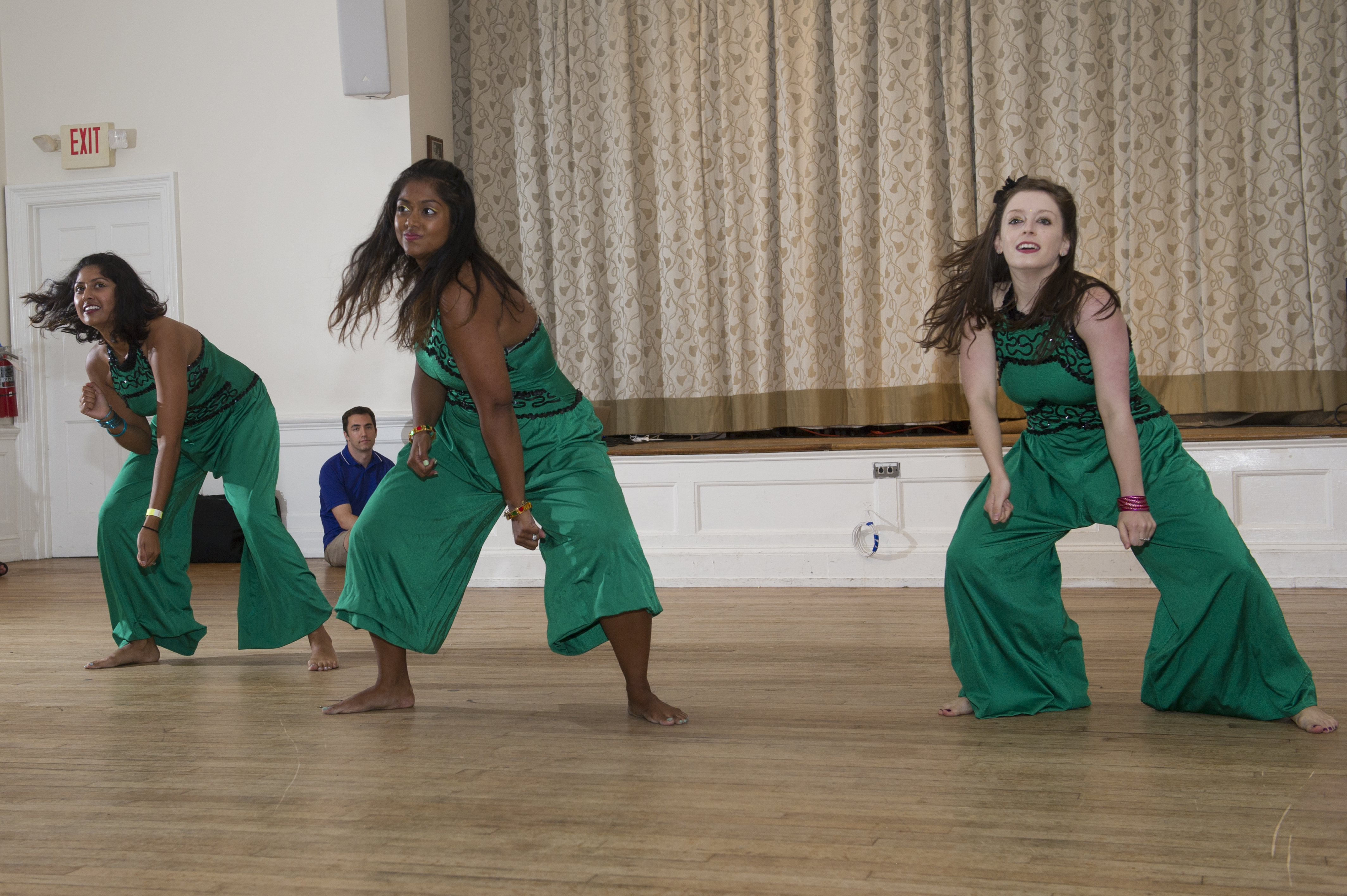 Deborah: All of the above. I think that… No, I didn't quite realize when we first started it like oh, this is gonna become its own thing, because it was literally, it was me and then I sent an email to these different groups and was like, hey, let's do this and I basically organized it just like on a whim like hey, let's do this. There wasn't a lot of notice and then, during the day itself when I'm sitting there in the studio. I think I was teaching Zumba class with another woman who ended up becoming one of our instructors as well but I just met her basically just a month or two before and she and I co-taught this Zumba class during the day and it was packed. It was just kind of an incredible vibe and I remember thinking like this is amazing and yeah, it was a free class.
When you give things for free, you can get a bigger group of people to come up. But even so, it was just a neat feeling and at the end of the day, a lot of people who'd participated including instructors and studio owners reached out to me to say, "That was a lot of fun. Thank you for doing this. Let's do it again sometime." And I kind of figured, oh, this won't ever be anything huge because who's gonna wanna give away their service for free. You know what I mean? People have to make a living too so they're not gonna wanna do this all the time. As a dance instructor myself and a business owner, I can't tell you how many times I get asked to do events for free. It's hard.
Megan: It's a balance, yeah.
Deborah: They're always great causes like please donate this or come to teach a class for this non-profit cause. You wanna say yes to all of them but you can't, so I figured, even asking these dance studio owners to participate in this event might be a lot but they were equally excited about it and we got a little press momentum as well like the second and third year. We got some interest from the media and after that, it just sort of became its own entity. People like know that dance day is in the summer time. There's some of people who have come many, many years in a row. They block off their calendars for it. They plan to spend the whole day. It's pretty cool that this little tiny pet project has turned into something bigger than I've ever thought it would be.
Megan: Yeah. That's really cool and it's cool that you've gotten such a community around it in Philadelphia. Deborah, you mentioned you run a dance studio as well. This is obviously dancing and teaching dancing is something that you do all year round. You mentioned a little bit that your studio focuses on dance as exercise maybe as opposed to technique. But what would you say is the defining style of your studio overall? When you started it, what was your vision as the studio in Philadelphia?
Deborah: That's a good question, too. When I started Philly Dance Fitness in 2010, just for context, I'm a trained journalist actually. I went to both undergrad and grad at Medill School of Journalism at Northwestern. I was a full-time journalist up until about a year ago. I worked…
Megan: So you're doing both?
Deborah: I was doing both.
Megan: Wow.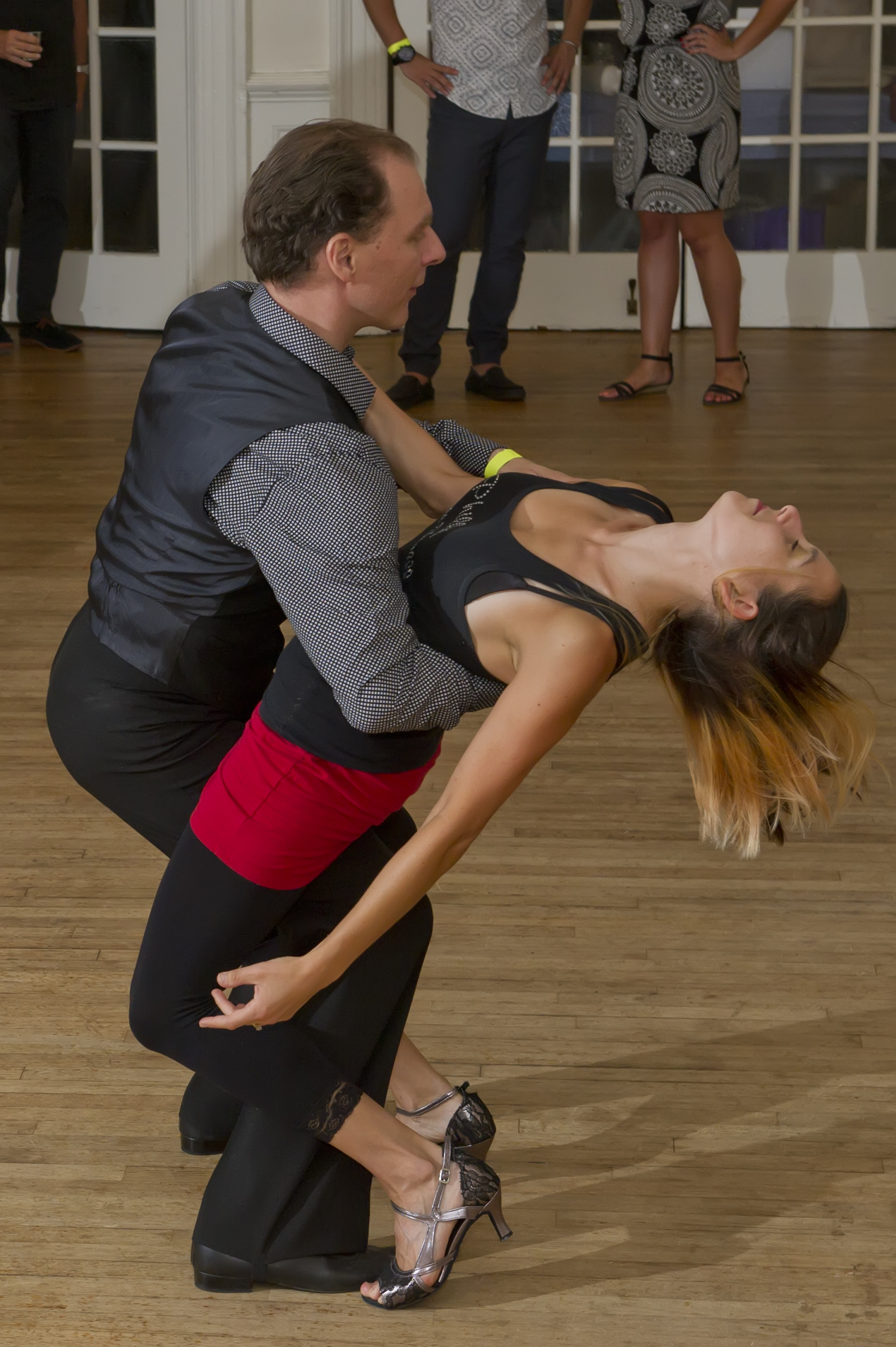 Deborah. For quite a while there actually, yes, up until a year ago. I was more part-time to the end there but I was both reporter and later, an editor, ran a website. This was kind of a side business when I first started. I loved dance and fitness and I wanted, I guess, I hate to say a fallback but I could sort of see how difficult it was to get a job in journalism. I was becoming increasingly difficult. I've been through various lay-offs then I've always was able to find something else but it was tough to get raises. It seemed like at some point, especially now that I'm a mother. I've two young children. They're almost 2 and almost 4. How was I gonna balance being a full-time journalist with that life? The schedules were not predictable necessarily.
Doing this dance business from the beginning, I thought oh, it'll be like a fun side business and who knows where it will lead? And of course, it's really my first child. It's my first baby and now, I can't think of giving it up. But the idea at that time, I worked at a couple of different gyms, teaching like a class here or there and I always felt disconnected from the students and I also felt like kind of just not unappreciated but some facilities that I worked at just didn't have a dancing crowd and you would teach a class and feel like, man, am I bad teacher or something? The students just weren't following me.
I tried going slower or less complicated movements. I just kept trying to change things and it didn't matter what I did. And then, other places I would go and it would be packed but the management of the facility barely knew my name and I just felt like, there's gotta be a market there for people who love dancing as exercise and wanna be in a community of people like that and so I think we filled that void. Or maybe it wasn't necessarily a void that people thought existed but there wasn't a studio that was offering accessible, affordable dance fitness in Philadelphia and so that was what we specialized in. We have everything from hip hop to cardio pop. We have a dance party boot camp program which is a high-intensity training class. We have Zumba of course. We have a couple of trademark programs like Zumba. We've done boxing in the past. We have house party fitness. All of those are like programs you can find nationally depending on whether an instructor is certified in them and then, we have our own unique programs which are things like the dance party boot camp. We have a power stretch and sculpt class which is a blend of yoga, pilates, and basically dance, of course. We have a pilates dance and strength conditioning is all part of that program.
The philosophy has always been what can we do that's fun so you don't feel like you're… You feel like you're working out, we'll put it that way, but it's so much fun that you don't care. That's the goal right? And how can we do it in a way where people feel welcomed, no one cares what you look like or how well you tackle each step? As long as you're sweating and smiling, that is the goal and I think the best part of my job honestly is seeing the friendships that people have developed like it is truly a community and I didn't anticipate that when I started this business. I didn't think about it. Even though we're still a relatively small business compared to like a typical gym or something. We have far fewer members. But those members, they know each other and they hang out.
And then, we started with the fitness end but we actually do have some pretty strong technique programs now too and ballet in particular, I never would've guessed in a million years that we would be sort of the place in Philadelphia to come for adult ballet classes. There are other options, but some of the other ballet studios in Philadelphia are much more strict like your typical ballet school where it's much more serious. Our ballet instructor is like, you're working on real technique, but it's such a relaxed, inviting environment that anyone can come in whether you've done ballet as a kid or you've just started now and so we have ballet. We have a point tap technique program. We have a jazz technique. All of those things were added in later on as we sort of saw there was interest in them and a particular interest in them within the community that we'd created.
It's really my first child. It's my first baby and now, I can't think of giving it up.
Megan: That's really cool. Like you said, you were teaching at a gym where the people were just kind of… Gyms kind of get every, this big swath of general audience and you kind of, you made a more specific audience for yourself and for your studio when you started it.
I also love the idea. I was thinking when you were saying about ballet that is something… I tool a year of ballet when I was 7 years old. If I did go to a ballet school or something, I think I would feel like either I would be in with the 11 year olds or like the adults, I'd be like, woah this is way too advanced. I've looked for that kind of thing and there is isn't a lot in my area or in general when I've looked. Maybe, beginner classes. That's really neat. Do you have any particular stories in particular, people who'd join your dance community as a beginner and then became an integral part of it?
Deborah: Yes. In more general sense, I can tell you some of our ballet students, they'll meet up for like one of them's about to have a baby. They had a baby shower for her. They'll meet up for like they'll have little parties once in a while. Another long-time member who's actually, this brings it back to dance day: she has done weekend brunch groups where a lot of the people who'd come are Philly Dance Fitness friends that she'd met through dancing and she is also gonna be chairing our Dance Day board. We're starting a new board this year. I'd like to tell you more about that in a little bit but I want to answer your question first. She's got friends that she hangs out with on a regular basis.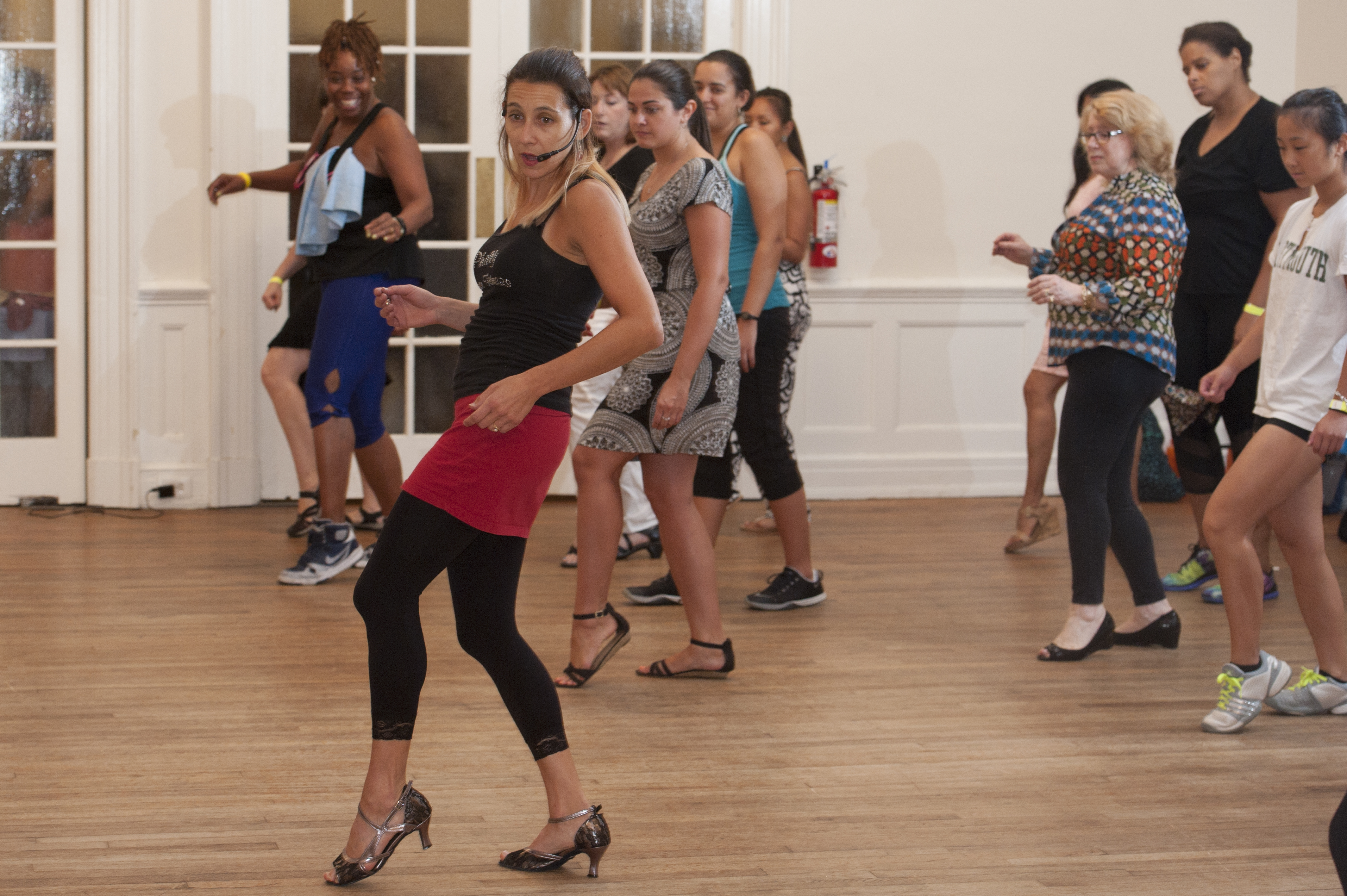 Megan: When you started back in 2010, both for your studio and for Philly Dance Day, how did you get the word out? I know you said you just kinda sent an email and went from there. But were there other ways, with this podcast, I talk to a lot of people who deal with local marketing. How did you tackle that for your own business?
Deborah: By the seat of my pants.
Well, I mean, so look, I was in journalism. I was a journalist and an editor so I knew how to write a press release and I knew how to figure out which reporters this would be relevant to and contact them. That's what I did in terms of trying to get coverage and honestly, it does help when you run an event in the middle of the summer where nothing else exciting is happening because everybody is at the shore on vacation. Then, the newspapers and the websites and we even had TV coverage at one point, FOX because FOX is the network that "So You Think You Can Dance" was on. They had us come out. We actually danced on the Morning Show on the street in front of the studio.
That's how we got the word out is by dealing with the press. We didn't really do a lot of paid advertising and we still don't because we don't have a budget. This is a non-profit event that everything that's raised goes pretty much into the cost of running the event. If we had a bigger budget, we could do more obviously. We just tried to spread the word. I did a lot of calendar listings, online calendars. We made postcards and we got a bunch of volunteers to help put the postcards out at different places around the city. There was pounding the pavement that way.
Megan: So it was really grassroots in that way?
Deborah: Absolutely. Part of it is till you figure, you just kind of have to hope that people who knew about help share the information to other people who might be interested.
Megan: Like invite their friends.
Deborah: Exactly. This past year, we used Facebook, Twitter. We did all the things we've done before in terms of reaching out to the media. It's hard to get newspapers to cover the event in great detail or even the radio station. We did some radio station interviews in the past. We had one this summer but they ended up not running it.
It's always a challenge to get coverage of events that are on-going because it's not new. Something else exciting going on there, they're not gonna pull that story for this. But people do go to sights and Philly, there's a sight called You Wish You Knew which has a lot of events going on, other event calendars that people will look out for sort of those bigger established events and so, we always post things there.
But that's a challenge honestly, especially given how much time it takes to put into organizing the event. You don't have a lot of time to sit there and do these calendar listing and call radio stations or call TV stations.
Megan: It's a lot of work.
Deborah: I have to pick and choose how much time. We have volunteers as well who help and this past year, our Philly Dance Fitness interns, I assigned them some dance day related work so they were doing some of that outreach as well.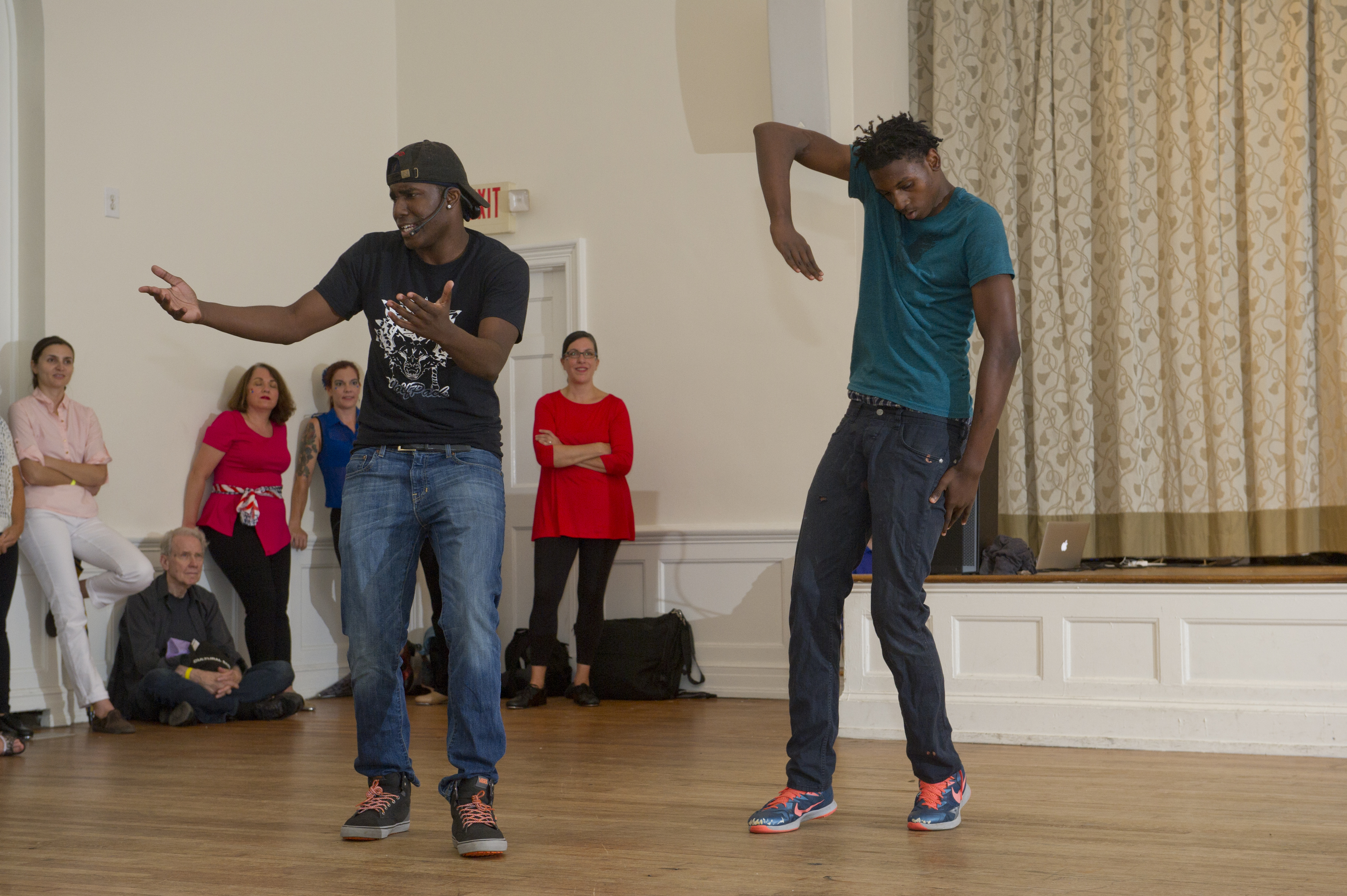 Megan: Also being from the Philadelphia area, I've been to a couple of conferences on local marketing and local journalism and I keep hearing about Bill Penn, the local newspaper that it's been featured at both. As a person in Philadelphia, do you feel like Billy Penn, I feel like nationally it's being shown as an example of a really great example of local journalism. As a local person in Philadelphia, do you see it that way or is it part of the fabric of the community in a really unique way?
Deborah: Well, sure. Any of those things. I think we've had write-ups in there too. Any local blogs, social media, news organization, any of that stuff is, we'll put it this way, has to be done well and accurately and sometimes, there is a lot of overlap on the smaller startups kind of fall behind because of that. But as a former journalist myself, I always support that stuff and power to people for doing it because it is a lot of work and it doesn't pay well so I appreciate any media organization.
Megan: They're doing some interesting things.
What makes Philadelphia special? I believe I've read somewhere else that you're originally from Wisconsin so you chose Philadelphia as a place to live. What makes this city shine as far as a place to lead a small business and to run an annual event?
Deborah: Absolutely. That's a great question too. I've always been into urban life which is ironic because I grew up in Wisconsin, granted that it was a suburb of Madison. It wasn't like I was in  cow farm or something but I did have friends who lived on cow farms who were five minutes from my house where I grew up. It was kind of in between urban and rural is where I grew up. It wasn't a walkable city type situation.
Throughout college and various internships in journalism, I lived in a lot of different cities and sort of figured out that I liked being in a bigger city. I liked the diversity. I like having walkability. I'm also pretty impatient person. I like to get a lot of things done in a day and so for me, having to spend twenty minutes commuting somewhere in a car is like, eh, I'm not gonna do it. I could be reading a book. I could be doing work. I could be checking emails.
Megan: I feel the exact same way so I totally get that.
Deborah: Yeah, exactly. The longer story of how I chose Philly partly it had to do with jobs. I was still a full time journalist at that time when I was looking for another job and I was also engaged, and my husband grew up in south Jersey and loved the Philadelphia sports teams and wanted to come back to Philly so that was on our shortlist of where should we go for a city. It just worked out that we ended up here but I'd never really spent any time in Philadelphia before moving here and I love it.
I can compare it to Chicago where I went to school. Chicago has a similar community feel but it's so big. It's spread out. Philly, you can actually… I live probably less than two miles from the center center of the city like Rittenhouse Square and I bike everywhere. Everywhere I need to go, I can get there in a 15-minute bike ride. Further out in the burbs, I take a car obviously but I bike to all of our studios. That's my main mode of transportation and if my bike, for some reason is broken, then I can walk there. Takes a little longer but I can walk. I think that's a huge thing for me.
I love being in a community where I can walk places and access the things I need and they call Philly the city of brotherly love which I think was really apparent to me both when the Phillys… So this was shortly after I moved to Philadelphia, The Phillys won the world series and then, Obama was elected. I don't remember which one came first honestly. I can't remember. I guess, Obama must have been… No, I don't know. When is baseball season ends, I don't even know. Anyway, those are the things that happened and at that time, we were living in an apartment before we bought our house but we were right in the middle of the city. People were in streets like strangers, they didn't care. They were so happy. Maybe that kind of stuff happens anywhere when there's something really exciting but that was really neat. It was like, wow, this is a really cool place where you don't have to know somebody or look like them or have anything in come except for your love of the Phillys or jubilation over Obama being elected president. That was so cool.
Similarly, with this current election, a lot of people, I can't say everybody, but a lot of people in Philadelphia is particularly the people I'm surrounded by were pretty devastated when Hilary Clinton did not win. You just wanted to like walk up to somebody and give him a hug because…
Megan: And you felt like you could a little bit.
Deborah: …empathy. Right. Versus if I lived in a suburb or someplace like a little more… I don't know that I would feel that kind of connection to people around me. I guess I'm saying two things there. One, it's diverse enough that you're getting this neat connection with people who are bonding over one commonality but then on the other hand, clearly there's not as much diversity in terms of the political views because you tend to find more liberal people in urban areas so that's the political stuff come to play right now. But you know, I didn't have to worry about hiding my emotional devastation at the election because so and so was gonna be a Trump supporter that I was gonna see at my kid's daycare or something. You know what I mean? Even if there were, who knows, nobody was mean about it. So that's sort of something that I think made Philly special for me. I can't imagine what I would be feeling right now if I were still in my hometown after an election like this.
Megan: That's one big difference.
Deborah: But taking it back to dance, I don't really know. Can I really say this community here that we built without business happened because of Philadelphia versus happened because of the work we put into it, the instructors we hired, the policies we asked them to adhere to? I don't really know if I can answer that but I can certainly say that being able to navigate through the geography easily has helped with running this small business and trying to make partnerships with other small businesses and independent contractors and things who are also trying to make a living independently, certainly has been crucial to running this business and starting something like Philly Dance Day.
Megan: Yeah, that's really cool. You've totally sold me on Philly now. I've actually never been to Philadelphia but I'm like I need to visit now.
Deborah: So much history here too. It's really cool. You can sort of see like you see this birthplace of the country and then, there's some really cool historic homes, great architecture here, and then you have just the urban gentrification. It's amazing. Neighborhoods. I live in a neighborhood that ten years ago, you would not wanna be in this neighborhood ten years ago or fifteen years. It's like now, you'd be lucky if you find a house in this neighborhood for under half a million dollars.
It's crazy but it speaks to the passion and the interest of reviving cities and even the public schools in this area which historically you know and even right now, you can argue the public schools in Philadelphia are not good but my family in particular, we're very committed to it. We're in a Friends group, Little Friends of the local elementary school and there's a lot of other people who also live in the neighborhood doing the same exact thing and who knows, how many of them will actually send their kids there. But the point is, people are already trying to join together to make this school better. That's pretty cool.
Megan: Instead of just being like oh well, I'll just send them to private school. It's working for the common good. That's really awesome. I feel like that does speak a lot to a community. Deborah, last question, bring it back a little bit to dance. I know you mentioned at the beginning that as a dance instructor you get so many requests of too many that you'd like to fill unless you wanna go bankrupt to do free dance classes. But if you did have funding, if someone gave you funding to start a sort of dance-related organization, who would you take dance to? What population or what group of people?
Deborah: Kids, for sure. Kids or seniors. Sounds weird, right?
With kids, there are other organizations out there that do ballroom and stuff for kids but even just fitness-related, kids today probably go outside less than I did when I was a kid, especially when you live in a city and you don't have a backyard. You're going to parks and stuff but if you were a parent, you're not gonna be like okay, go play in the street, unless you're sitting there supervising them. I think that a lot of kids, they spend less time outside. There's probably studies about that, but whatever. There's more technologies so you know kids are spending more time with technologies. Just being able to get in schools or after-school programs and being able to offer some really fun high-energy dance options for kids, and also you can even do partner stuff too but that stuff exists already but that can really help kids in terms of socialization.
With seniors, same thing, right? If you're in a nursing home or an assisted living facility, you're kind of reliant on other people to bring you things, bring you activities. You can't necessarily get out and get to them yourself so to me that's a population that could really benefit from dance. Obviously, they might not be doing high-impact hip hop class.
Megan: Right. Maybe some seniors but yeah.
Deborah: Some, sure. We do on dance day. We do have some kids come to but we can always have more kid's programs.
Interviewer: Those are both two really good populations, I think. Well, Deborah, thank you so much for being on the Zip today. I've really appreciated you taking your time and I feel like I've learned a lot about dance but also about Philadelphia too which I now definitely wanna visit so thank you very much.
Deborah: The only thing I was mentioning before that I didn't really get to tie up with that, what we're doing new for dance day this year.
Megan: Oh yeah!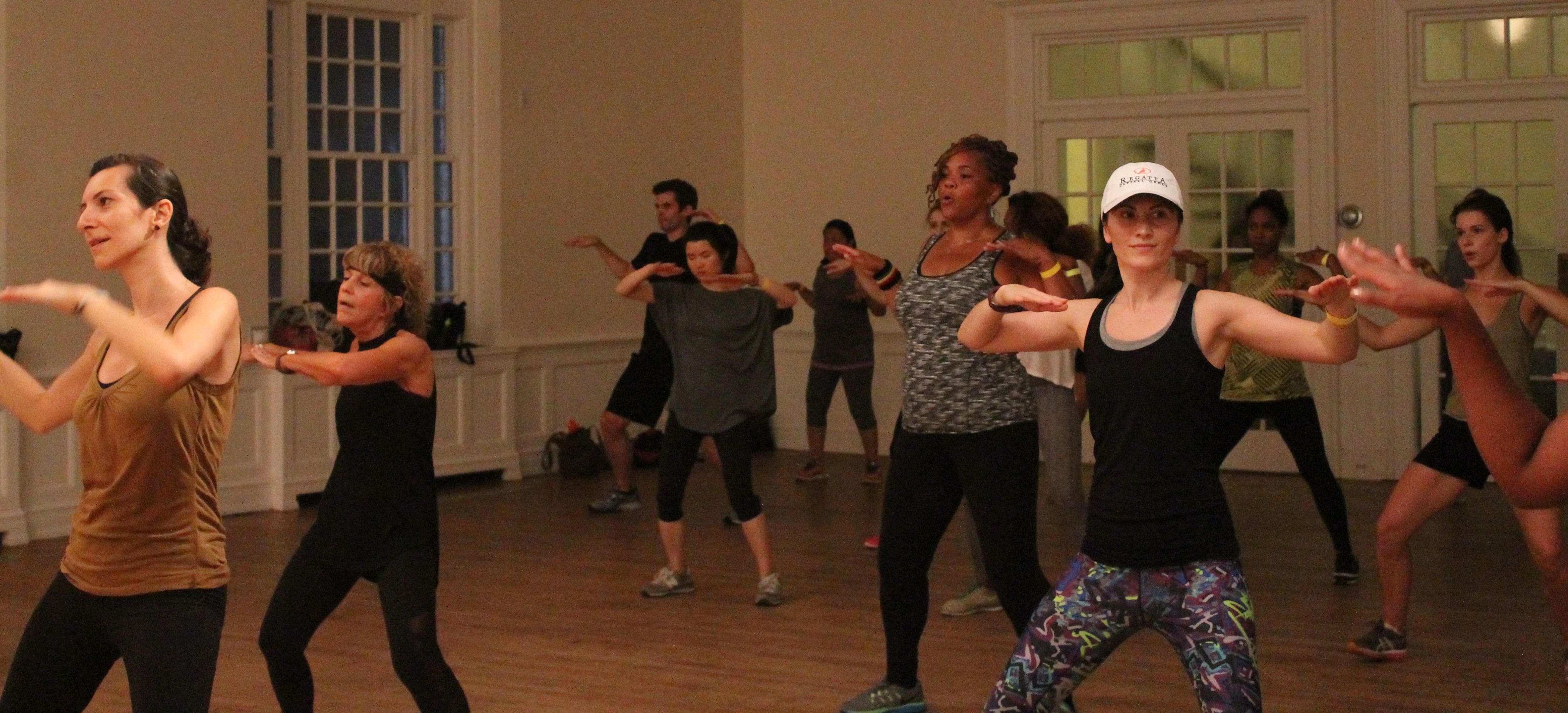 Deborah: I don't know if you're time constrained. Since Dance Day's been around now for so long and I've been the primary organizer but with input from others obviously but I'm trying really hard this year. We're hoping to expand sort of the structure of it, the planning of it to the community so that they have more of a voice in it. One of our members, Croae Lowe, she's a huge fan of dancing. She tries to come whenever she can. She's actually a Philly Dance Fitness students but she will be the new chair of the Philly Dance Day board and will be organizing a small committee of people in the community, whether it's a city neighborhood organization or a dance group.
We'll put together a small group, that's the goal and have some input from this board as to how they want the structure of the event to be for the coming year. Should we continue in the vein that we're doing now which is sort of the three workshops all day long followed by a large evening event with a performance showcase and some more lessons on social dancing or should we change that up?
Should Dance Days still be… It'll still exist. The question is should it remain on the last Saturday of July or should that change? Should we add more kid's classes? Things like that, just so we have a little bit more official structure there in terms of the… Not official structure. It's very structured now but the point is there's more voices who are voting in terms of what the structure should look like and that will hopefully help give Dance Day the continued momentum that it needs to be this great event every year.
We typically, in recent years, have had at least 500 if not more unique people participating in the event throughout the day. Can we grow that even more? Should there be many offshoots of it throughout the year? Who knows. Those are all kind of questions we'll address with the collective board so that's what's coming up.
Megan: Yes, that's awesome. I can definitely see it being almost like a seasonal thing if you guys wanted to go in that direction or but it's so cool that you guys are continuing to grow.
Deborah: Yes, that's the goal.