SEO, like any industry, has its mainstays. Like, if you're going to write an article on SEO 101 in 2017, you're probably going to tell your reader to ensure that their URLs are set up properly, to double check that they're using H1s and H2s and giving titles to their pages. And you're going to drive home the idea of unique content creation. You can't rank if there's nothing to rank for, right?
But not every industry has the flexibility to follow these rules. And today, we're driving down the rabbit hole of one such industry – automotive. Car dealerships, specifically.
And I'm curious how you felt when I said car dealerships. Like, what was the gut reaction? I think for a lot of folks, in the US, anyways, car dealerships are on par with, maybe cable companies and the IRS maybe? in the list of people we look forward to interacting with. But like cable companies, and even the tax folks for that matter, the experience is a result of a pretty regulated, and complicated system that no unique employee, or even location manager, has much power to change. Car dealerships have to work within the system established by the manufacturers, and by government regulations, or else. There's not a lot of room for creativity when you're selling someone else's highly regulated product.
So what's an SEO to do? How can you get creative enough to be "different" without standing out so much that you're probably going to piss someone off?
That's where folks like Greg Gifford come in. Today's guest may need no introduction if you're a frequenter of SEO conferences. Greg is one of the most prominent speakers out there, and for good reason. He's incredibly engaging – and we'll touch on that a bit in this episode. But Greg's focus, his engine, if you will, is focused on the automotive industry. With 9 years experience in SEO for car dealer websites, Greg comes to us with an inside look at optimizing websites within a highly standardized industry. When Mercedes doesn't allow certain words, and Honda doesn't allow certain information in their car descriptions, you have to find interesting ways to differentiate car dealers.
Greg and I will talk about his perspective on the auto industry, and how he and his team at DealerOn encourage their car dealer clients to build their online presence. We'll also hear about Greg's team's current data project, which will give auto dealers even better insights into how Google sees, and ranks, websites in their industry.
And, just as a final note, I'd like to point to Google's role in this episode for a second. Because, really, they're the backdrop against which Greg's advice is placed. Google had to look at the auto industry and say "okay, these folks are different from plumbers and doctors and, you know, bowling alleys. We're going to have to treat search results in this area a bit differently. And that, in and of itself, is cool. Whether it's the result of human programming or machine learning, the idea that information in different verticals is actually categorized differently based on the characteristics of that particular industry, I don't know, maybe I'm being a total nerd right now, but I think that's pretty cool.
So let's jump in to my conversation with Greg.
Welcome to The Zip.

Megan Hannay:
Greg, welcome to the Zip podcast. Thank you for joining.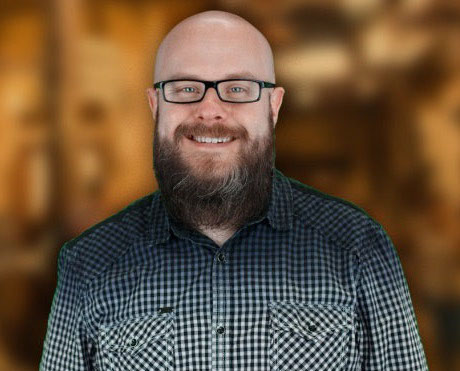 Greg Gifford:
Thank you so much for having me.
Megan Hannay:
Absolutely. First, how did you get your start in SEO and then in local SEO?
Greg Gifford:
I actually, funny enough that you ask, started off as a Flash designer. Flash just made the announcement this week that they're finally sun setting it and killing it all together.
Megan Hannay:
But at the time, that was huge, I'm sure.
Greg Gifford:
Oh, yeah. Way back in the day when Flash first came about, I just started playing around with it, and because it was timeline based, I was a film major in college, so I was way into movies and film editing. Because it's more timeline based, it really, I guess clicked with me. I started doing websites with, at the time, super cool intros and super cool animations, which now you're like, oh, my God. Please don't do that. I ended up starting a company doing Flash websites with a couple of guys that I knew. We very quickly realized that the sites weren't showing up in Google. We actually started off as a black hat, not really realizing that I was a black hat. We did a lot of nefarious cloaking and such to get the sites to show up in Google.
Then, as those things often do, the partnership did not work out too well. I bailed on that, and got a job working for a company that did websites for used car dealers as their Flash designer and very quickly rose through the ranks and got to be head of marketing and really got into legitimate SEO at that point. Then, about a year after that, they wanted to start selling SEO as a service, and we couldn't find anyone that we thought had enough knowledge to do it. They had me pivot over and take that department over. I've been hard and heavy in local SEO for auto dealers for going on, gosh, nine or 10 years now.
Megan Hannay:
Man. That was actually one of my questions as well, is did you start off with a thing for cars? Or did it just, it sounds like you started off with a thing for filmmaking, and then it kind of worked into cars from there.
The only reason it ended up being a car thing is because I ended up getting a job at an automotive based company, and then I didn't even really know much about cars, honestly. Now, I know way too much about cars. Yeah, it just kind of fell in that way. Once I started getting on the legitimate side of SEO is when I started getting super interested and really digging in and hitting conferences and reading blogs and watching videos and really fell in love with local SEO. Back then, you could do so much cool stuff that you can't do anymore. I just kind of fell into it, and I was already speaking at some automotive events, and then started speaking at SEO events, and just really, I guess, rose to the forefront and became a guy that's a conference speaker.
Megan Hannay:
Well, you're pretty good at it. Now, I get where the film themes play in there. I think that's interesting, too, because I feel like a lot of people who maybe started off as Flash designers like 15 years ago are now website builders, or developers or whatever. Have you been tempted to go that route? Or did SEO just totally pull you in?
Greg Gifford:
I never got tempted to go that route. Back in the day when Flash started getting more advanced and really adding more of the ability to code stuff so that it wasn't just timeline based drawing animation, that's when I started phasing out not really liking it anymore, because that's just not my thing. HTML and CSS, I can cover those, but when you start getting into coding, real coding, no way. Not for me.
Megan Hannay:
Yeah. Oh, that's cool. What is it that makes search engine marketing different for car dealers? More different than, say, search engine marketing for dentists or lawyers or other business people? What are some of their unique problems?
Greg Gifford:
When we're talking local SEO, at a basic level, it's the same for everyone, but each vertical has idiosyncrasies that, if you had never played in that arena before, would completely throw you for a loop. From talking to Google and to other SEOs, I'm pretty sure that Google can, and this is a gross oversimplification, but Google can basically turn the dials on specific signals up or down based on an industry and how it works.
For instance, everyone says there's a duplicate content penalty, which technically there's not. It's that you're rewarded for unique content, but if you have a lot of duplicate content, that's obviously not good for you. With car dealers, they feed their inventory out to a bunch of different sites, and it's not uncommon for a dealership to have their own website and then have that exact same inventory set listed on several hundred other sites with the exact same descriptions and exact same photos, which you would think would not be bad, but Google understands, hey, that dealership site is the canonical version, even though it doesn't really have that on any of the other sites as a directive.
So, it doesn't hurt them, and there's just different things with the way the inventory feeds out and the things that have to show up on the websites for compliance, and there's a lot of just really nutty things about it. The review side is really fun. Google has actually publicly stated on many occasions that car dealers are the worst vertical for faking reviews. You have to be really careful there and monitor that. It's a different thing too, than a lot of other businesses, because you're looking for doctors or lawyers, and you're looking for someone that you're going to see fairly often and have repeat business, too. With the car dealership, you don't really buy that many cars in your lifetime, it's a massive purchase. It's the second-biggest purchase behind your house. The purchase cycle is super drawn out, and you've got people that'll do research for months and months and months before they buy. Then, they're not going to buy again for anywhere from five to 10 years. Then, you have also the same site has to function for bringing back to come in for service so that that dealer can be doing service. There's a lot of different areas you have to optimize for and directions that customers could go. It's pretty complicated.
Megan Hannay:
Yeah. At DealerOn the company that you work for, I feel like you do a really good job of putting out content for your car dealer customers. I watched a video that you recently created with your marketing partner. I'm not sure his actual name. I think he's called The Hair.
Greg Gifford:
Yeah. His name is Sean.
Megan Hannay:
Okay. With Sean in the videos that you were talking about, search terms that car dealers should try to rank for. Then, you explain that if someone's searching for just say Toyota Prius, in Google, that isn't treated as having local intent. Can you explain that a bit? I feel like that should be one of the triggers that they pull that it's like, if I'm searching for Toyota Prius, yeah, maybe I'm doing research, but I also might be looking who has a Toyota Prius in my area? Why doesn't that work?
Greg Gifford:
That video is specifically to car dealers, but it works for a lot of different verticals. Basically, the way that we explain this to dealers when they ask this question is this: we say, hey, look. Google gets billions of search queries to analyze. It can sit there and analyze the behavior of people that are making these searches and say, once you conduct search A, what behavior happens that leads to search B, that leads to search C, and on down the road until you actually either stop doing that search or Google knows in some way that you've converted to purchase? Google has determined, for one reason or another, from all of these queries, that when you're just looking at a make-model search, so just Ford F-150 or Toyota Prius, that is still an informational level query, so it doesn't really show local results. Part of that is the path of searching to buying with automotive. First thing you do is, you start thinking, I want to get a new car, and you just start looking at different cars.
To really boil it down, you start off thinking you want to buy. You start looking for the cars you want to get. You start narrowing down what you want to get. Then, you get to the point where you're comparing model to model. Then, you get to one model and you're comparing trim level to trim level. Then, you've decided what you want to buy. Then, that search becomes, where do I want to buy this from? Because a lot of times, if you're in Texas and you're wanting to buy a pickup truck, you can turn a street corner and there's going to be another car dealership selling pickups. So, it becomes now, where can I get the best deal on price, and where can I get the best deal from a dealership that I want to buy from that's got good reviews and treats me well? You flip from looking for product to looking for a place to buy that product from, but early, early on, you don't have purchase intent. Google knows you're just researching. It's going to show you more of the national results and informational queries of just, if you're looking for an F-150, it's going to show you Ford.com and it's going to show you Car and Driver and things like that.
As a dealer, dealers are like, I want to show up for everything. If somebody searches F-150, okay, great. You're not going to do it. It's just not going to work. Nobody can get you there. The thing is, you don't really want to be there, because nobody's going to convert at that phase anyway. Once someone starts narrowing it down and become more purchase intent, they're going to either say, Ford F-150 and a city, or they're going to at least add in a year and say, 2017 Ford F-150, but typically once people move from the informational to the purchase, they're going to start adding in locational triggers that'll at least let Google see, this person's wanting something local. Once you move far enough down the funnel, you're really going to only get local results. When you're looking for dealerships or when you're looking for 2017 Ford F-150 black, then it's going to show you stuff local, because it knows you're looking for a specific thing.
Megan Hannay:
Right. That is interesting. It kind of is, Google did do that on purpose. If you take another almost equally generic search, like if you search for Indian food, in Google, you will get local results, even though Indian food, you could just be, I don't know, researching Indian food. It's like they chose at what level that search would go local, and you kind of have to know that about each vertical.
Greg Gifford:
Yep.
Megan Hannay:
That's kind of neat. Another thing that you were touching on, which is interesting to me. I used to work for a startup in the car industry. I quickly learned that the U.S. automotive industry in general is very unique, somewhat old-school, kind of has its own rules type of industry. I think it's an industry with a lot of built-in contradictions, which I feel like make marketing difficult as well. For example, it's a commoditized industry. Hopefully, a brand-new Toyota Prius from one dealer is the same as at another dealer, but it also has a ton of competition between ostensibly equal commodities. Kind of like what you were just saying, auto dealers, really what they're competing on is not the quality of the product so much as, I guess different types, like different types of cars might be the quality. But really, if you're narrowed down to what you want, what dealerships are actually competing on is service and price. Is that something—how do you create content and rank well for service and price? Is that something people are searching for? Is that something that you can advise people on?
Greg Gifford:
If somebody's searching for price, there's not a whole lot you can do about it. You're going to show up as a dealer. If somebody's looking for—using it even at the level of, if I'm looking for a 2017 F-150 in black in the King Ranch version of the trim level and I put that search into Google, I'm only going to see the dealers that actually have that in their inventory.
Now, if I was a dealer that didn't have that in my inventory, I could go create a page and have it be almost a doorway page for that one, but you could go create a page about that car, and put a bunch of information on it and build a couple of links. That page would show up in searches, but it doesn't do you any good, because at the point that somebody is that specific in what they're looking for, they land on this page and see that you don't have it in your inventory, they're going to bounce and go find someone else that does have it anyway. It doesn't really matter, and when it comes down to price, you don't really—most people, in fact, I don't know of anybody that does SEO for car dealers that actually touches the inventory pages. The inventory pages, because the car dealers are all on platforms that are specifically made for car dealerships websites, there's a lot of baked-in optimization when it comes to those inventory pages, because you're going to get the inventory feed with all of this information.
It's going to spit out the title tag, embedded description, the H1, and all these things based on the different elements that you know are there. It's going to be year, make, model, city, state, that sort of that, that's automatically there. When people are looking for that F-150 King Ranch in black, they're going to look at all the guys that are local that have it. Then, if they're searching for price, you can't really optimize for that. The guy with the lowest price is going to win. But a lot of times, people don't go just on price. They might go just on price if they're looking at a used car, but when they're looking at a new car, it's price. It's how is that dealership? Some dealerships will say, if you buy from us, you get free oil changes for a year. Hey, that's a big differentiator from the guy up the street that's selling the exact same car that doesn't have that. A lot of it comes down to reviews, too. If I know I'm going to buy this black F-150 and there's five Ford dealers in Dallas that are close to me, I'm going to look and I'm probably going to end up going to the guy that's got the best reviews.
Megan Hannay:
Yeah. From an SEO perspective, it's like, put all of that on your site. Make sure people are giving you good reviews, but if you do give a free oil change for a year, put that on your site. Is there anything you advise as far as content creation goes in general? My thought is how much difference can you say about a Toyota Prius that someone else down the street can't say about the Toyota Prius?
Greg Gifford:
How much more unique can you say about a car dealer when there's—in a bigger market, sometimes, if you count all of the used car dealers and all of the new car dealers, you may have a couple of hundred car dealers in a major metro area. How many times can you say you're selling cars and be unique about it? That's one of the things we run into when we're talking to dealers. We do little mini-SEO audits as a sales tool. If we're trying to get a dealer to buy SEO and they're either using someone else or not doing SEO at all, we go through and hit a couple of high points. One of the things that we're always saying is, hey, look, your text is super generic. I could change the name of your dealerships and pull your text off and put it on some other dealership's site and put their name on it, and it still works for them.
That's not unique. Sure, it talks about, yeah, you're a car dealer and you treat customers like family and blah, blah, blah. But it's a bunch of BS, honestly. We always try to tell dealers, look, let's make this text actually about your dealership. What do you guys do? All the dealers know, you have to differentiate yourself, because again, there's all these other people that you're fighting against, and you can't just differentiate on, that guy's selling Chevy and I'm selling Ford. You may have several Ford dealers. Now, it's got to be, what are you guys doing differently? What is it about the customer experience that you provide that makes it where you're a better choice to buy from than the guy up the street? That's the content that's got to be on your site.
Megan Hannay:
Yeah. I think that's probably an interesting shift, because I was looking at a couple of car dealer sites before talking to you, and I was like, yeah. There is a lot of generic content, even some of the sites that rank really well in my area. Maybe just the sites that rank well in my area, it's not as competitive of an area or something.
Greg Gifford:
It could be that they all have generic content, because if everybody's got generic content, then it's other factors that are going to influence how those sites rank. Honestly, a lot of the car dealers, it is really just generic content between everybody. Car dealers will switch website providers fairly often, but then there's some issues within automotive where a manufacturer will say, hey, you have to use this single provider for your website. Or you have a choice of these three or four providers for your website. Well, SEO is always going to be an add-on service, regardless of which provider you're using and whether you want to use their SEO service or use an outside agency or use a different provider for your SEO. SEO, we all know, it's a manual process.
You can't automate it. It's an add-on, but a lot of dealers don't really think that way or even know to ask that question, and they'll just assume, if I get this website, my website's going to be awesome and it's going to be all optimized, but it's not realistic to expect that if you're going to jump on with a new website provider and you've got 25 pages of content outside of your inventory pages, that they're going to write unique content about you for all of those pages. You end up having these dealers where you can pull a sentence off of their about us page, which should be incredibly unique and incredibly about that dealership, and you can copy that sentence and search for it, and you'll see that it's on 14,000 dealer websites.
Megan Hannay:
Because they're using out of the box—
Greg Gifford:
Because the dealers don't always change that text. They get the site set up and they're getting either the—one of two things will happen. They can either get the site and that company will transfer over all of the content that they had on their old site. Or they'll just say, hey, here's our default content. Here you go. Now, some companies will actually write you some custom content. One of the things about ours that I like is that at least on the home page, you're going to get custom content for every home page that we do. Even still, it's really up to the dealership or to the dealership's marketing company or marketing arm to come in and really make those pages amazing and really make them unique and really about that location.
Megan Hannay:
Yeah. It's one of the interesting—I feel like dealerships, in essence, they're franchises, which have their own problems. I'm always struck by the idea of how to make local content more interesting, and I feel like dealers definitely have it especially difficult, because I think there's a lot that they do have to say that probably—they're trapped in a lot of ways. They have to stick with industry standards, and they have to make the manufacturer happy, but then they also want—they're competing with people who are selling the exact same thing, and right down the street. It's just such an interesting model.
Greg Gifford:
A great example of that is, the compliance issues that you have with different manufacturers. A great example is Mercedes. Mercedes doesn't let dealers use the words used cars on their site, because Mercedes sells pre-owned vehicles, which sounds infinitely nicer for sure. I get that. The problem is, the general Joe Blow out there is going to sit down and Google and type for, I'm looking for somewhere to buy a used car. He's not going to say, I'm looking to buy a pre-owned vehicle. Nobody talks that way. Nobody searches that way. Then, the dealers get frustrated very often because they're not showing up for the phrase used car, used car dealer, because they're flat-out not allowed to optimize for it.
Megan Hannay:
Yeah. I wonder if you could ever get really creative with that. Somehow use the word used in this paragraph, like somehow in a different way. I don't know.
Greg Gifford:
It's hard. Honda is really, really strict on compliance. If you're creating, and we call them model research pages, where it is that high-level page of just Honda Civic. It's not a year, it's not a make, it's not any of that, and they're not doorway pages. They're actually really valuable pages that talk about, hey, here's the Honda Civic and here's why it's great, and here's what the interior and the exterior and whatever, and if you're looking for a Honda Civic, here's a list of all the Honda Civics that we have. Then, it also has inventory down below. It's a really useful, well-crafted page, but with the other manufacturers, we can say, look, the Ford F-150, here's the miles per gallon in the city and the miles per gallon on the highway. Honda, you have to be really careful when you're talking about that and put all these disclaimers on there, because Honda doesn't want people to be misled, to think that, oh, my gosh.
The website said that I was going to get 32 miles a gallon and I only get 30 and whatever. It makes sense. I get it. I wouldn't want people being misled by something, but they're just a little bit more strict, which no big deal. It's just, if you're doing SEO and you're like us and we only do SEO for car dealers, we're aware of these things. But if you're a mom and pop shop or a local SEO agency and you haven't done that many automotive people or you've done a lot and you've just never done a Honda dealer and then you pick up a Honda dealer and you start doing things, you're not going to know this, and that's one of those weird idiosyncrasies that could get you in a lot of trouble, because you start putting up all these great pages that are amazing and they rank well and they get lots of traffic, and then that dealer gets popped by a Honda compliance, and they get in a lot of trouble. Then, they come back at you and they're like, why didn't you know this? Oh, you're fired.
Megan Hannay:
Yeah. I can definitely see why you guys specialize in that way. You and your team at DealerOn, you're actually working on something to better understand the local search algorithm when it comes to just car dealer searches to understand what Google is doing specifically for them. Can you talk a little bit about that project?
Greg Gifford:
I've seen lots of different people in local SEO over the years do studies and try to figure out the algorithm, but they've always been fairly general, and you'll always see them saying, I'm going to take 10 different keywords from 10 different verticals and check those, but we know that there are these idiosyncrasies within each type of vertical. So, we decided to do a study where we're going to try other reverse engineer the local algorithm for car dealers, and because the map pack and the map searches are so proximity based, we're not really going to look at the map searches. We're actually going to look just at the localized organic results, because once you get in and you're searching for a Ford dealer in Dallas or a Mercedes dealer in Denver, all the results in organic are going to be localized.
We are studying slightly over 186,000 keywords in 150 different cities across the country, and then we're looking at search results, number one through twenty. So, page one and page two search results, and then we're running about 250 data points on each one of those URLs to track all of the different elements, hopefully, that can affect the ranking. We're just finishing up the data pulls on that, and we're about to go take it to our statisticians to start hammering through the numbers and figure that out. A couple months from now, we should have some pretty interesting data. At least we hope it'll be interesting. We'll have a ton of data that will show some correlations of what really affects rankings within local automotive searches.
Megan Hannay:
That's so cool. Do you have any hunches, just from being in the industry so long as to which factors have the most influence for car dealers? Are there practices you see that are really working for your clients now?
Greg Gifford:
One of the things that there's kind of a big debate is, when you're doing optimization, a lot of people don't really hold much stock in the city or local area optimization of various elements. So, putting the city and state in the title tag, and H1, and the meta description and the content and the alt text on the image and URL. A lot of people are like, there's not really any correlation that shows that this works and this doesn't work for us.
For us, we see it all the time, and it's a massive game changer, but again, I think it's because a lot of auto dealers don't really do SEO, and automotive in general, I think, it's a few years behind some of the more forward-thinking industries that just have to really move at a fast pace because they're selling things more quickly that what car dealers sell. I'll see, I can come into a site that's not optimized for the phrase 'used cars,' go optimize it for the phrase used cars by putting it in a title tag in the H1 and change the URL for the page, put a little content there, and boom. Within a week, they're going from not showing up to being on page one. I think for us, it's actually going to show some of these, what some people say old-school local SEO tactics that don't really work as well anymore, I think for us, are going to show that they still work pretty well for car dealers.
Megan Hannay:
Interesting, because they're a bit behind. Really, if you just do a little bit—are you a little worried that eventually, everyone's going to catch up, and your job is going to get a lot harder and a lot harder?
Greg Gifford:
Well, yeah, but at the same time, because I am always on the front lines of local SEO and hitting all the conferences and well-connected with the other local SEO guys, if automotive is always a couple of years behind, I'm always going to future proof my job, because I'll always know what's coming. Yeah. I think a lot of people know that proximity is huge. I think that'll still come into play a little bit. I think it's really going to back up the fact that links are super important, but what's interesting about auto dealers is, you go to a conference and there will be people up there talking about doing link building and they'll say, yeah, I built this piece of content. We got it linked from Huffington Post and we got 350 links for this one piece of content and all these social mentions and stuff.
Most car dealers don't even have 50 links pointed at their entire website. It's just tough to get links, because you're not going out and creating these $10,000 pieces of content, and it's tough to write about things that people will find that interesting. Or even if we did create some super awesome, bad-ass infographic for somebody, it's not like I can turn around and use that same thing for every other dealer that I'm working with. You have to be really creative when you're doing your link building, but again, with auto dealers, because the scale is so much smaller as far as just the overall number of links that most people have, you can get a couple of good local links, and that will make a massive difference for that dealer.
Megan Hannay:
Yeah. That's cool. Yeah, they don't have to be quite as creative as some of the rest of us have to, at least for now. Onto a less car focused topic, I saw you present at MozCon local. I felt like your presentation in general was different a crowd favorite. You had, I think, over 150 film stills in the presentation. Obviously, it's clear that films are, I think, for you, and I think knowing that you went to film school, that makes a lot of sense, but you're also pretty strict about not including bullet points in your decks. Where did you learn how to create such engaging presentations? Do you have any presentation tips to share?
Greg Gifford:
It kind of came from just going to conferences and seeing a lot of really bad presenters. Before I started speaking, I would go to these conferences and see people, and they may have great information, but they're just so ridiculously boring to watch. It's like, okay, that was a cool bit of information, but oh, my gosh. I'm so bored right now. In my head, I was like—and I've always been a class clown type of personality, and I'm like, crack a couple jokes. Be more interesting. Be more engaging. Be funny. Be cool. Whatever. Just do something. Don't just sit there in a monotone and read. It kind of came out of that, and then at MozCon, I think eight years ago was one of the first, if not the first, search marketing conference I went to and Rand Fishkin was like, bullet points kill kittens. You should never have bullet points in a presentation. I just thought the bullet points kill kittens thing was funny.
Then, I came home and I Photoshopped the graphic of a dude pointing a gun at a little kitty that was on his hind legs, so it looks like he was putting his hands up. Everybody thought it was funny, and every since then, I have included that graphic in my slides and just said, I'm just not going to do bullet points in any slides. Instead of having a slide with five bullet points, I'll just do five slides. Then, because of my love of films, I was like, I can make these more interesting. I also knew from a lot of conferences, especially the single-track conferences, but even in the multi tracks, a lot of times, you'll have people that might end up in a room and then realize really quickly, maybe this wasn't the right presentation for me. Or maybe this presentation just doesn't have that much to do with what my job is. At least, then, they're still interested and there's still something to watch. I started doing the film thing, and the first couple that I did was just a mishmash of a bunch of different movies I loved, and it went off really well.
Then, I decided at that point, let's start doing themes. So, every deck that I've ever done since then, for the last five or six years, has been a movie theme. It'll be all comedy movies, all horror movies, all The Matrix, all '80s movies, all whatever. That lets me nurture my love of films and geek out with people a little bit and make the decks interesting. I also don't reuse decks. There's a lot of speakers out there that will create one deck and present it four or five times or more throughout the year, which there's nothing really wrong with that, because the only people that go to all those conferences are all the other speakers. Most people out there, most marketers, are going to one or maybe two conferences a year. So, it's really unlikely see you do that same presentation twice. But for me, once I started doing this, I said, look, I enjoy speaking at conferences. I want to speak at more conferences. Something that will make me more attractive to the conference organizers would be if I tell them, this will be a unique presentation I'm just making for you and not something I've done somewhere else.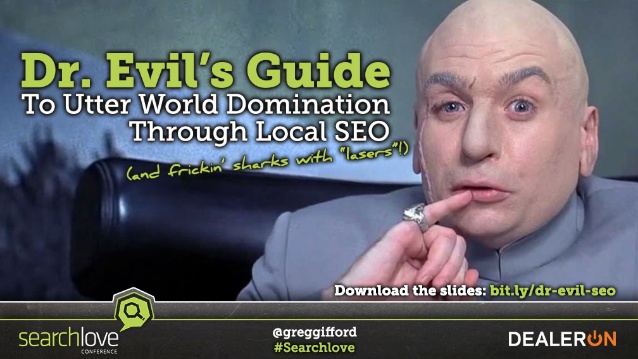 That's why I do that. I think it's better for people, just the attendees and for the conferences if the speaker's creating a unique presentation that hasn't ever been done before. That's what I always do. Plus, too, as much as I speak now, I'll probably speak at 28 to 30 conferences this year, sometimes it's an hourly. Sometimes it's 40 minutes. Sometimes it's 30 minutes. Sometimes it's 20 minutes. You never know really, truly what you're going to do until you get accepted to speak at that conference and they'll tell you, okay, this topic slot is going to be this long. I'll just make a presentation and squeeze in as much info as I can into that session, because typically, other than a conference like MozCon local, there's not a whole lot of stuff about local SEO. I just want to pack in as much helpful info as I can into whatever my time slot is so that I can help whoever does local in as many ways as I can.
Megan Hannay:
Yeah. Your bullet points kittens point, that stuck with me. I appreciate you including that on your topics, but that's awesome. That is some good tips. Finally, since this is a podcast focused on local, I like to ask my guests about the place where they are a local. Can you tell me a bit about Dallas? Have you always lived in Dallas? Are you a transplant? What makes Dallas unique?
Greg Gifford:
I was born in Austin. I'm as native as native Texan can be, but we moved to the suburbs of Dallas when I was three. I grew up in Plano until fifth grade. We moved out to Allen, which is a little bit further north. At the time, that was way out in the boonies. You used to be able to see South Fork Ranch from the Dallas TV show, from my old house before it got developed a lot more. I went to high school, I guess it was end of middle school, I guess. I just did high school in Allen. Then, I went to college at SMU in Dallas, and then I've lived in Dallas ever since. Then, we just four years ago, moved back out to the suburbs. I like Dallas. It's super, super hot here. That part kind of sucks, but you get used to it.
It's not that big of a deal when you live here all the time. It's really spread out compared to most cities, but it's amazing. We have more restaurants per capita than any other city in the country. There's a lot of amazing places to eat. If you're a foodie, there's no better place to be a foodie in the country than Dallas, because there's so much variety and there's always new stuff opening. So, that's great. We've got all three major sports teams. For your sports fans, that's great. Where we live out in the suburbs is awesome now, because I can pop out of my house in my car and drive maybe five, 10 minutes to the east and I'm out in complete farmland, like no development, out in the boonies. But I can drive 20 minutes south and be in downtown Dallas.
Megan Hannay:
Nice.
Greg Gifford:
It's best of both worlds. We're still kind of slow-paced suburb, but we're close enough to Dallas that if we want to go down to Dallas, we can do all that. It's nice for me, as much as I travel, too, because both American and Southwest airlines are based in Dallas. I can get a flight directly to anywhere for pretty cheap. So, that's kind of nice, too.
Megan Hannay:
Yeah. I like your description. Also, the thought of being out in the boonies. I'm in North Carolina, so I feel like the boonies in North Carolina is rolling hills and farms. I imagine the boonies of Dallas is just very flat. Probably also farms.
Greg Gifford:
Ridiculously flat, but there's lots of farms and stuff. There's a place right up, not even five minutes from my house, and it's this little trailer that they do this organic grass-fed beef from.
Megan Hannay:
Oh, cool.
Greg Gifford:
It's from a farm that's a little bit further out, but they have this trailer set up, and you can either call ahead and order your beef of your steaks or your roasts and whatever you want, and they'll have it there for you so you don't have to drive all the way out to them to pick it up. They also cook burgers there. You get these fresh-cooked burgers of the meat that came right from the farm that isn't even frozen, and it's literally just, you get a burger on a bun, and then they'll have bags of chips and soft drinks in a can. But they're the best burgers ever.
Megan Hannay:
That sounds very Texas. That whole experience just sounds like Texas in a burger. Greg, thank you so much for being on the podcast today. I loved learning about just your specific niche of local SEO. Yeah, I really appreciate your time.
Greg Gifford:
Well, thanks for having me. It was fun.