This week, I spoke with Betsy Hands of Friends of the Chicago River. This nonprofit funds educational programs on the river's ecosystem, cleanup crews and legislation initiatives that support a cleaner river. 
At ZipSprout, we think a lot about local people – volunteers, neighbors, local organizations and publications. But speaking with Betsy reminded me of another set of locals unique to each city: the birds and bees and fish and trees and other wildlife that inhabit a region. Near a quirky improv city along Lake Michigan, the Chicago River is a highway for many species of birds, fish and animals who depend on its calm nature to protect them from the wind and storms of the nearby great lake. And before 'Friends' came along, this waterway was as messy as a deep dish pizza.
Betsy has been the Director of Outreach and Community Relations of Friends of the Chicago River since 2012. She calls her job a "serendipitous" opportunity, because it covers all of her passions – avenues for solving environmental problems. Before that, she worked for environmental nonprofits for 20 years.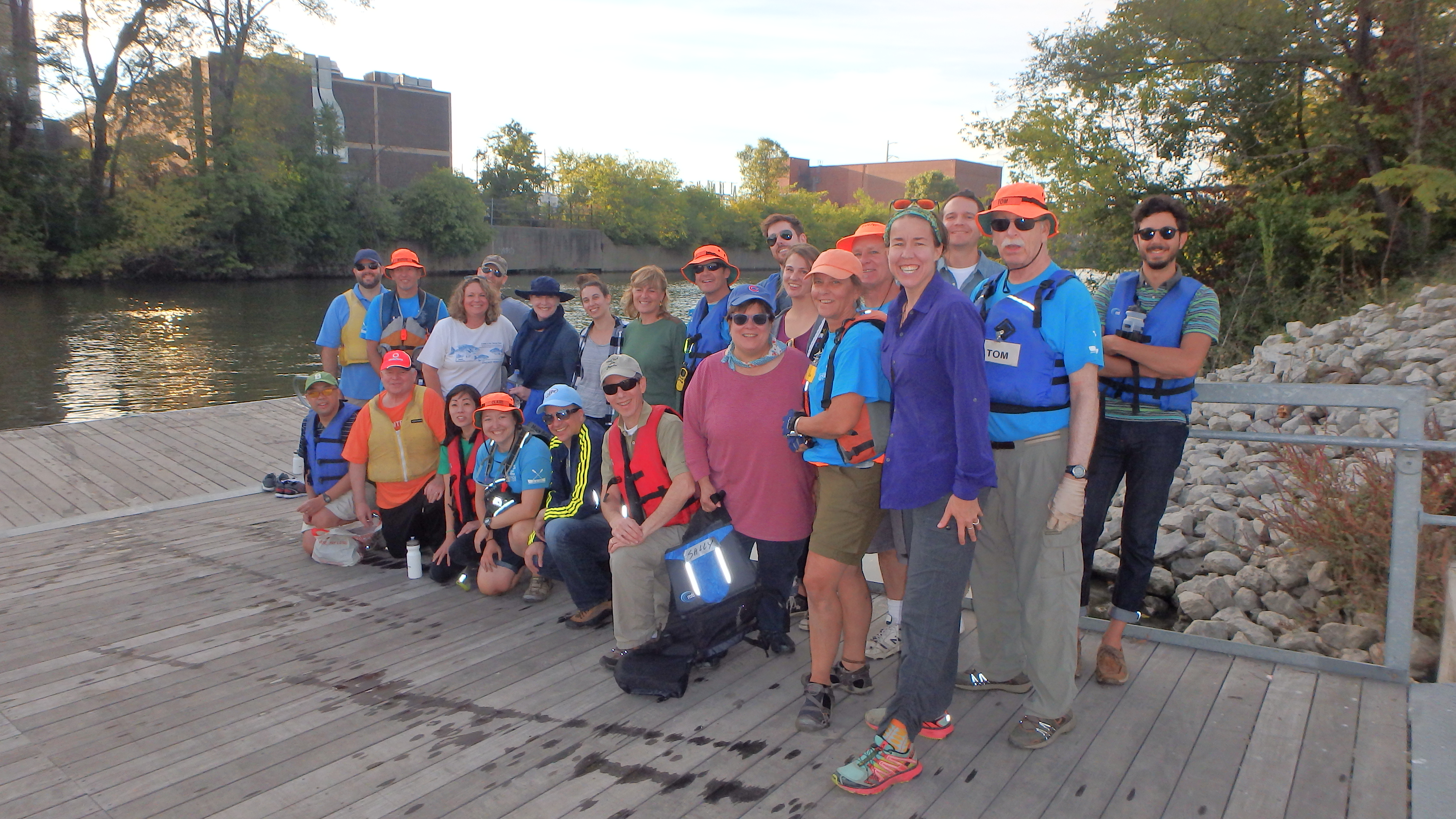 Murky Beginnings
When Friends formed, in 1979, The Chicago River was a "sewage conveyance," Betsy said. Water treatment facilities were releasing effluent with pathogens. People were dumping trash – even mattresses and shopping carts.
The river has seen a dramatic change then, which Betsy attributes to the early pioneers at Friends.
"The river doesn't have a voice, so you have to have people who are raising its visibility," she said.
Friends Facts, Osprey and Bats
Friends works in three ways to restore the Chicago River's natural beauty:
an education and outreach program

a policy & planning division for improving water quality and the river ecosystem

an on the ground program serving nine work sites along the river
Each of these nine sites requires almost weekly workdays for which Friends employees recruit local volunteers. For one of these projects, gully restoration, Friends and its volunteers are working to stop storm water runoff from taking pollution down to the river. But that's only one part of Friends's big river restoration plan.
"We're always changing according to what we see as the next big milestone," Betsy said. She added that Friends is always pushing to the next frontier.
This March, for example, they're launching wildlife monitoring along the river. Friends and its active volunteers have installed habitats for osprey, turtles, bats and fish. For osprey and bats, they plan to have volunteers out on the ground to ensure that the improved wildlife habitats are having the desired effect, attracting animals as nesting sites.
(Side note: Chicagoans, next time you survive a summer night without an itchy bite, thank your local bats! The Chicago river ecosystem depends on these furry flyers, who pollinate plant life and eat mosquitoes. )
I was also fascinated to learn how Betsy and her colleagues think of wildlife preservation as a component of urbanization. I'd always thought those concepts mutually exclusive – that reduced spaces for plants and animals were an unfortunate consequence of humanity's growth and development. But Friends doesn't see it that way.
"Many conservation groups that are looking at the urban context for conservation are seeing it as the next frontier," Besty said.
"We're an urbanizing world, so if we figure out [wildlife conservation] in urban areas, we're going to do so much better than if we left it out of the equation."
Raising Funds
In a way, the river does its own marketing.
"We're based in the third largest metro area in the country," Betsy said. "And many companies work right along the river, so they see it right out their windows."
Quite a few big name sponsors have found Friends. Wrigley has been sponsoring them for more than 10 years, and PepsiCo joined the team as a new donor this year.
"Having committee or board members who are influential at other companies has been really helpful for finding sponsors," Betsy said.
She added that they're always looking to work in fun ways with new companies, and that nothing is set in stone sponsorship-wise. "We've got something for everyone," she said.
To find volunteers, Friends relies on their Facebook, Twitter and online following. Their website was rebuilt in 2012 from the ground up, and Betsy attributes their boost in traffic to this revamping. Before, the website had been about thirteen years old and wasn't as easy to navigate. But she also gives social media credit for increased river interest in recent years.
"Facebook and Twitter are easy because we're able to show pictures and articles – there's just a lot of interest in the river right now," she said. "We're very lucky that the river touches so many neighborhoods in the Chicago area, so many people are able to flock there from their home or work."
The Chicago River Up Close
One of Betsy's favorite job perks is taking volunteers and donors on canoe river tours.
She maintains that you can't expect change at a higher level if you don't have people on the ground seeing immediate needs.
"Once you get on the river, things get quiet," she said. "You see the birdlife and wildlife around it. Volunteers always get off the river and say 'that was so remarkable.' I can't believe how beautiful our river is. It's a very special place, and it's right in the heart of our city."