There's a rumor going around, The West, lately. Its basic premise is a fear of machines. Not because of privacy or because some fear that we're in the Matrix situation. But because they're taking our jobs – they're automating processes that used to be done manually. They're doing things faster and better than a person could, and the average Joe can't keep up. That's the jist of the rumor anyways. And in some industries, this is a big problem that will probably take a few generations to work itself out. But in this industry, in search, and in local marketing, it seems like machines are creating more work, not less.
Today I'll be speaking with Darren Shaw, whose career is a great example of this dynamic. Darren grew his business, Whitespark, on the back of machines – or on the tops of machines, maybe? – In any case, he and his team created automated tools to perform tasks that actually give marketers more work to do, by finding places for them to submit more citations. And Darren has a human team as well, whose work competes with other automated tools, and you'll hear why he chose to keep some operations manual, while making others computer driven.
In addition to his work with Whitespark, Darren also took charge of the local ranking factors survey this year. As I explain in the podcast, this survey is a manual process – it takes the opinions of many dozens of local search experts and distills them in to the best picture we have of a local search algorithm. So the search rank algorithm has been automated, but the survey itself is human generated – again, making human efforts out of machine work.
Darren and I are going to talk about which ranking factors experts believe are a part of an automated process to increase a potential customer's manual decision making when doing business. See? So much interplay between the manual and automated there. That's local search – an entire industry of humans that only exists because of automation.
And, as Darren and I will discuss, many agree that the best way to increase local rank these days is via manual, not automated solutions. A few years ago, maybe you could pay someone to automate rank, to place links in a few hundred forums, or on websites no one visits. But increasingly, Google's algorithms, their machines, are pushing an emphasis toward customer service, quality reviews, and carefully built quality web pages. In that way, the machines aren't so much taking human jobs, as they're empowering humans to focus on what we do best – create quality products and create positive experiences for other humans.
Welcome to the Zip.

Megan Hannay:
Darren, thank you much for being on the podcast today.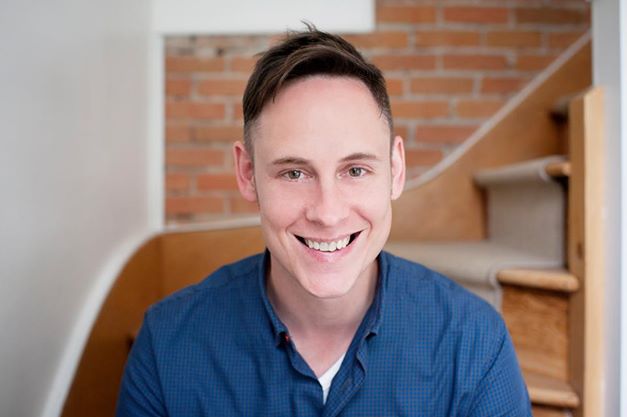 Darren Shaw:
Thanks for having me. Yeah, I'm excited. I'm a big fan of the podcast.
Megan Hannay:
Absolutely. First, I feel like people come to SEO and particularly local marketing from so many angles. I've talked to people who started in journalism, people like Mary Bowling who are small business owners. David Mihm, who was going to be an architect, and they all somehow fell into local SEO. What was your journey like? How did you end up in this relatively niche area of marketing?
Darren Shaw:
I came into it in a pretty traditional route. I was a web developer. A freelance web designer, developer. I started doing websites in 1996. Then, my freelance business grew and grew into doing bigger clients. They all needed SEO work. It was a natural progression to just offer that as well as the service. Then, in about 2006, '07, '08, is when I really started to dig into SEO. I was a big contributor over on the Moz blog, always commenting and reading everything that they were publishing. I just really got into it, and it became my passion, and web design became less of a passion.
Megan Hannay:
So, you realized that your true interest lay with local SEO more than building for the web.
Darren Shaw:
Yeah, definitely. Then, of course, when we launched Local Citation Finder, that's when SEO really went local for me. I was doing some local stuff. I was mostly working with local businesses and doing local SEO, but being obsessed with local search really happened around the time of the launch of the Local Citation Finder.
Megan Hannay:
Got it. That's a good segue into my next question, actually, because I feel like one of the things that makes White Spark interesting is that your services, you do agency services, but you also have tools. You really have both worlds going on there. One of your primary services is to build local citations manually for your clients, basically telling all of the online local directories the name, address, phone number, website of a given business. It's an interesting space to be in because some of your competitors like Yext or Moz Local offer the same service, but theirs is automated. Was this purposeful? Were you like, hey, these guys are doing it automated, and I think I could do better with real people? How did that part come about?
Darren Shaw:
It wasn't really purposeful. We had the Local Citation Finder, which was a tool that helps you identify citation opportunities, and it was very natural for us to say, hey, do you want us to build them for you? We partnered with another company and started doing citation building work. That's how we got into that, just manually doing the submissions. Moz Local and Yext grew around the same time and they had automated solutions. Our research shows us that there are some weaknesses with automated solutions. If you're doing audit and cleanup in particular, you can't find all of the different NAP variations, different variations of the name, address, phone number. The automated solutions are not going to find the duplicates, all of the incorrect citations.
So, the manual approach, we find, is much more comprehensive, and we actually do a better job of cleaning up. In about 2014, '15, we launched a citation audit and cleanup service as well. We have the two main services. We have one where will do citation building. That's just adding new citations to your profile. Then, the audit and cleanup is, if you've ever moved locations or you have an inconsistent citation profile, we'll do an audit, find all the incorrect stuff, and then start cleaning them up as well.
Megan Hannay:
Yeah. I feel like that's so interesting, because at ZipSprout, we also believe that there's some things that can be automated, but can be so much better if you have human eyeballs looking at them. I feel you with that. You also have tools like the Rank Tracker and the Citation Finder. What in general piqued your interest in tool development? What made you turn from a service provider into a tools company as well?
Darren Shaw:
We kind of fell into it. The Local Citation Finder was a lucky thing, because I actually read a post by Garrett French, who you work with about how to find citation opportunities. Basically, doing this competitive analysis for citations. After I read the post, I thought, I could probably automate that. I talked with Jeff, one of our developers here, and we figured out how we would do it. Within three days, we launched the first version of the Local Citation Finder, and it was just this real basic thing that would run through what Garrett's process was to identify the citation. It would send you an email.
That was the very first version of it, and it was really successful. People loved it. They thought it was great. David Mihm and Matt McGee and Mike Blumenthal were talking about it and sharing it on Twitter. It was really exciting for me. We saw the opportunity. We were getting a ton of people using the software for free. We realized we could actually make this into something serious. We turned it into a proper application, and we put a subscription model on it, and the rest is history. We just kept building more tools, because it's great to make recurring revenue from software.
Megan Hannay:
Yeah. No, I agree. Do you feel like that came from your background as a developer, where you had that experience knowing that if you could automate something, you could really build it out into something better?
Darren Shaw:
Yeah, definitely. We were already doing application development for our clients. We wouldn't just build a basic website. We did a lot of e-commerce and custom applications and that kind of stuff. We already had some skill in that area. So, being able to use those skills for our own products was great. I think probably about 2011, we stopped doing web development altogether. We didn't build websites for anyone else. We only worked on our own products and services.
Megan Hannay:
Yeah, if you have clients that you're doing web development and for yourself, that's a lot of work. Are you guys still brainstorming tools? I feel like, obviously, you might not want to share some of the things that you're brainstorming are, but I feel like in the local SEO space, there are probably quite a few more tools I could see being developed in the coming years. Do you guys still keep your eyes out and feelers out for like, what's something that we could make that would be really useful?
Darren Shaw:
Oh, man. So many tool ideas, so little time. I've got a huge list of stuff that we're working on. It's funny because you end up in this position where most of your developers are spending most of their time maintaining the existing. There's a lot of upkeep and staying on top of that. We are pushing towards a larger platform type thing. One thing we have is our manual audit and cleanup service and our building service. It lacks a little bit of polish because there isn't a single interface to manage all of your stuff. That's next on our horizon. We'll be launching more of a platform-style system that's still powered by our team.
Megan Hannay:
Got it. So, kind of an all-in-one.
Darren Shaw:
Yeah, and then that will come with a whole bunch of other features as well that we'll be launching at the same time.
Megan Hannay:
That's cool. Yeah, I definitely the conflict there, because you have so many existing things that you're like, I could add this feature and I could add that feature and that would be so cool. But then, another whole idea that you're like, that would be a great thing to start from scratch.
Darren Shaw:
Yeah, definitely.
Megan Hannay:
There's so many developers. I'm just like, I need a clone of you to work on this other project I have.
Darren Shaw:
Yeah. I wish I could just hire 10 more developers. If I had the revenue to hire 10 more developers, I would try to get all these things done that I have in mind.
Megan Hannay:
Yeah. On top of all that, somehow earlier this year, you released the most recent version of the Local Ranking Factor Survey, who for those listening who aren't familiar with it, is a survey started by David Mim about 10 years ago. Now, it's been passed onto you, which asks local search experts to rank various factors that affect local search rank. Really, I was thinking the title could be something like, Local Search Ranking Factors Ranked by Local Searchers, but that sounds a little bit cumbersome. There are a ton of great articles. There's one on Moz in particular where you really dive in, break down the results of the survey. How local SEO experts ranked the ranking factors, and I'll link to that in the blog post associated with this podcast. Here, I'd love to hear from you a bit about what goes into this survey. This is the first year you've taken it over from David. What was that like? How did the process go? Was it different from how you imagined it to be in any ways?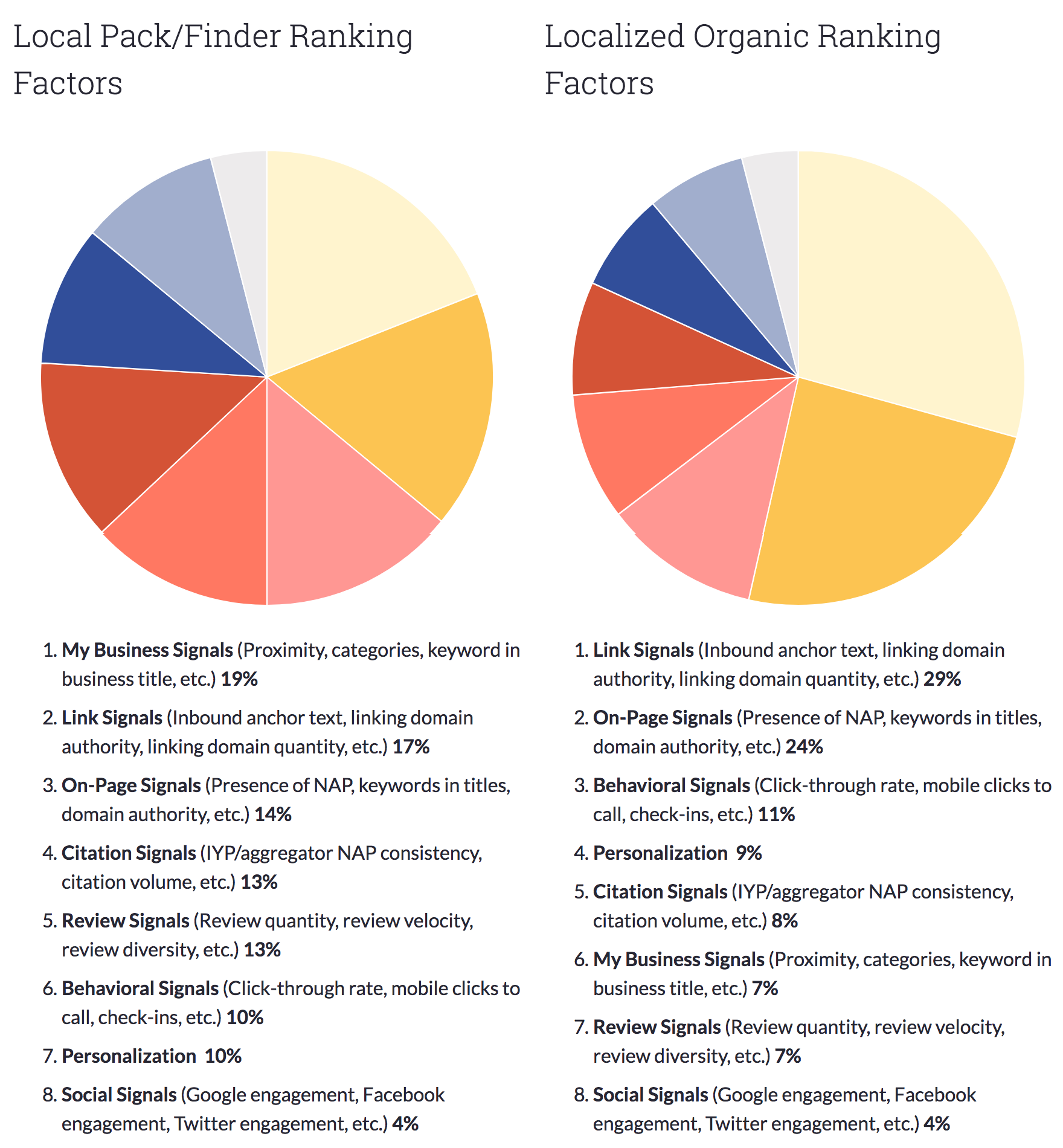 Darren Shaw:
It was a lot more work that I expected. I estimated I might put 40 hours into it. In the end, I probably put 200. It was a big, big project. I spent a lot of time. Step one was just to review the survey from last year and revise it and adjust it for what's new. Then, survey all the participants and then chase them down for their answers. Then, going through and fixing any problems with their results, like if they had ranked multiple factors twice. There was a lot of checking on all of that, cleaning it all up, cleaning up all the data. Analyzing the data, then putting it together into the big resource that's on Moz and writing a blog post and then doing a presentation on it.
It was a ton of work, but so rewarding. I loved doing it. It's really amazing to get that insight from each of the different local search practitioners. Before, I always participated in the Local Search Ranking Factors, but running it, you really get to see how the different people think. Greg Gifford's answers are going to be different from David Mihm's answers, and Mike Ramsey will have different answers from Joy Hawkins. It's really cool to see how different people rate stuff, and it's also really fun to analyze and see how things are shifting in the industry. It was a great experience. I really enjoyed it.
Megan Hannay:
I imagine it felt like getting a tutorial from all of your industry peers, in a way. Is there a lot that you learned along the way, like, that's so interesting that this person, this is their mindset about local search? I wouldn't have thought that way, but that's really neat. Did you have a lot of experiences like that?
Darren Shaw:
Yeah. There were a couple of aha moments where people rated something very highly that I never really put too much stock in. One great example is both Joy Hawkins and Colin Nielsen, who are both top contributors at Google, so they have a little bit of an inside knowledge on some things, they both rated age of your GMB listing extremely high. It was in the top four for both of them. They were the only ones that did that, and given that they're both top contributors, my feeling is, maybe they know something that the rest of us don't know. I thought that was very interesting. That was one insight that I pulled out of it.
I also really liked, Nick Niels had an interesting comment. I had asked the question, what are you doing differently since the Possum update? Nick Niels pointed out a case study where a multi-location brand, many of the locations were being filtered. By going through and updating the hours of operation on every location and making sure those were all up-to-date and added, they broke out of the filter for a lot of them. That was an interesting thing, too, just demonstrating the importance of having accurate and complete hours of operations on all of your GMB listing. There was a quite a few little things like that that I picked up on by doing the study.
Megan Hannay:
Yeah. That's interesting. Just adding all the little details really helped. Were there any results that came out of the survey at the end that you published that you were like, I don't necessarily agree with this? You mentioned the one with Joy and Colin, but were there any others that you were like, huh. If this was just an article by me, I don't know if I would talk about it this way?
Darren Shaw:
At an individual level, there were a few respondents that had participated where I would look at their results and just kind of shake my head a little bit. It all balances out in the end. Generally, what works for people, they're all seeing the same thing roughly. It generally balances out in the end, but there was a few times there I was like, I don't agree with those answers. In the end result, the actual, if you look at the study, I certainly agree with how it all came out in the wash.
Megan Hannay:
Right, which is actually the genius of the study, because we can't peek into Google and see what those factors are, but by putting together everyone's brains in the aggregate, you get a pretty good idea of what's going on.
Darren Shaw:
And sometimes I'm surprised that something that I believe strongly in doesn't get rated higher. For example, I really think there's huge local search value in getting listed on some of these best-of critical lists. If you have critics reviewing you on, let's say, New York Magazine's top 10 sushi places, those kinds of mentions, we'll call them citations, links, whatever you want to call them, those have massive impact in my opinion. Google looks specifically at those and they can have a very positive impact on your ranking. I rated that highly. David Mihm rated it highly. A few others rated it highly, but there weren't enough people that rated it highly for it to actually surface in the results. That's one of the things that, it's a factor that I think is important, but the survey doesn't reflect that. That's another thing that can happen, where it's something that I believe in doesn't actually end up being a big one on the lists at the end.
Megan Hannay:
Yeah. No, I read that too, and it's actually I hadn't thought about it, although it makes a ton of sense because I feel like, especially if you're trying to explore your city or if you're traveling to a new city, you're going to look at those lists. Also, and obviously, Google has tons of technical capabilities, but I wonder if, to me it was almost like, oh, wow. They can do that? They can find all of those articles and then maybe there's not necessarily always a link to the website or the link might go to their Yelp page or something. So, being able for them to organize that information and then apply it to ranking, I was like, wow. If that's true, that's actually a pretty powerful tool that they've developed. Are there cases that you've seen where that's worked for your own clients?
Darren Shaw:
Yeah, a couple times, but it's hard to get on those lists. I don't work a lot in the restaurant industry, so there's not a lot of lists for the best lawyers in city. It's something that you don't see that often, but in the industries where they do have it, I do think it has a big impact. Then, there are also up and coming directories. There's three best rated. There's my top five. There's a handful of these directories, and I think that getting listed on those kinds of lists are also quite helpful.
Megan Hannay:
Yeah. I feel like there are definitely some industries, like the restaurant industry, that it's a lot easier to get on a list than divorce lawyers or something where people just don't write a lot of articles about the best divorce lawyers in Chicago or whatever. One part of the survey I found noteworthy was at the end of the day, like we were talking about, most people came together and ranked links, on-page signals such as domain authority and proper page titling. Then, solid Google My Business profiles as the biggest factors, which arguably have been the biggest factors for quite a few years. Does it seem like we're potentially at the brink of a shift? Do you think that maybe the survey for 2018 or 2019 or maybe 2020 at some point will look quite different?
Darren Shaw:
No. Well, I definitely think that we're going to see a massive increase in behavioral factors. I feel like that is completely underrepresented right now in the survey. The GMB factors are so weird, because they end up rating very highly in the survey, but there's a whole bunch of stuff in there that you just have no control over. You can't really optimize for GMB factors. The only thing you can do is make sure you have the proper category. You can definitely influence your rankings by adjusting your business name. If you put the keyword or the city in your business name at GMB, it has a massive impact on your local ranking, but it's technically against the guidelines. You're not supposed to do that.
Generally, there's only one thing that you can optimize for, and that's your categories. There's no description field anymore, but the other factors that end up being so important are proximity. How close are you to the searcher? Being located in the city of search. It gets ranked highly because it's so important. You can't rank if you're not located in the city. There's a whole bunch of factors that are GMB-specific that you can't optimize for, but they end up rated very highly. They're super important. You can't rank without them. So, it's a bit of a weird thing where you see that GMB taking up 19% of the pie, but there's not much you can do about that. It's just weird.
Megan Hannay:
There's something you can do about it only if you know about all this stuff before you start a business and then. I'd be like, Megan's Strawberry Pies That are in Durham, and then I put it right in the middle. You plan your business around your GMB listing, which no one probably does.
Darren Shaw:
Yeah. You've got to keyword stuff your business name before you register your business.
Megan Hannay:
Yeah. That would be something. Yeah, it is interesting that you're right, I think a lot of the factors that seem really important, it's like, well, we can't really do much about that. So, let's focus on the other ones.
Darren Shaw:
Next year, I expect to see an increase in behavioral, an increase in links and reviews again. We saw links and reviews go up this time. I expect those three to go up, and other areas to go down. That's my prediction for next year.
Megan Hannay:
By behavioral, do you mean when people click on a page and then they maybe go back to Google because that wasn't the right page?
Darren Shaw:
Yep.
Megan Hannay:
Okay. That makes a lot of sense.
Darren Shaw:
Behavioral factors are things like, someone ran a search and then they tapped on the click to call button. Google tracks that. They can see how many people have tapped on the click to call. People that request driving directions. People that do a branded search. Let's say they're Googling your actual brand. Let's say you're a law firm. It's Jones and Smith Law. People that are actually Googling your brand and then clicking on your website. There's a whole bunch of crazy behavioral factors that Google has data on, like how many people are actually at your location? Because they're tracking your location on everyone's smartphones now. How many people were visiting your website? They have the Chrome data. How long did they spend on your website? Did they read all of your content? Did they click through multiple pages? Are they filling out your contact forms?
Another one that's recently come out, Washington Post just did an article on this yesterday, I believe, was Google now has access to credit card data. Actual transactions in your business, but what's a better way to rank businesses than the ones that are actually doing more transactions? If we're talking about plumbers across the city, the ones that are doing all of the business and have all of the reviews and they're also getting more mentions and links, you put all those pieces together and you can get a pretty good picture about what are the most popular, most prominent businesses in that category in that city? It's really interesting when you can start looking at actual credit card transaction data in terms of revenue and number of transactions.
Megan Hannay:
Yeah. No, it's so interesting because I feel like it's becoming more and more that you can't fake it, really, anymore. I feel like it's coming down to user behavior, which is something I think a lot of people, like Miriam Ellis did a really good article on Moz a few weeks ago which was about that. If you have poor customer service, that matters more and more, but then also, user experience of your website, which is something I love of thinking about and talking about the actual interactions with your customers both online and offline are really coming into play, which is cool to see with the behavioral factors.
Darren Shaw:
For sure, yeah. It's interesting. I can picture in the future, people are like, how can I rank better in Google? Well, do more business. Get more customers.
Megan Hannay:
Be a good business owner.
Darren Shaw:
What came first, the chicken or the egg? Then, it also leads to weird things like, can you improve your SEO by doing Facebook advertising? Can you improve your SEO by doing AdWords advertising? When you do AdWords and Facebook, you're driving more business, you're driving more interest in your business. You're driving more branded search. It all ends up coming together.
Megan Hannay:
Yeah. Google's kind of dictating politeness in a way. This is good business, which is both awesome and a little scary at the same time. Final question. I love to ask each guest about the place that they're local to. You and your team are based out of Edmonton, Alberta. What's Edmonton like? What's the spirit of the city? What makes it a unique place, and why do you live there?
Darren Shaw:
Edmonton is a wonderful place. I love this city. There's not a lot of reason to travel here, but it's a great place to live. We have a long, cold winter. We're one of the most northern—I think there's some statistic that Edmonton is the most northern city with a population over 1 million in the world. It's pretty cold here in the winter, and it runs from basically end of October until end of April. We have a short spring and a short fall, and three months of summer. One thing that's nice about Edmonton is that we really take advantage of our summers.
There's something going on every weekend. Edmonton is called The Festival City. There's always some kind of fun festival happening, and people really get out. We have a beautiful river valley that runs right through the city, and there's also some statistic that it's the longest park in any city in the world or something like that. People take advantage of it in the summer, and in the winter, we get lots of work done. It's interesting. There are a lot of local search people in Edmonton. Danny Di Tomaso is here. I feel like I'm forgetting some people. Melanie Nathan is pretty prominent. Link building expert. There's a lot of SEOs in Edmonton that are somewhat known.
Megan Hannay:
Do you guys have a local SEO happy hour and sit around in the winter while everyone's cold and conspire about being in SEO in Edmonton?
Darren Shaw:
You would think, but we never get together. Back in the early days, I used to get together with some people, but not anymore.
Megan Hannay:
Yeah. That's interesting. Edmonton, it seems like a cool place. As I was saying before we started the podcast, I've been doing some research on Edmonton for ZipSprout. finding out that it's a very festival-heavy city. If you were marketing to people in Edmonton, would you probably definitely go after the festivals? What would you say people in Edmonton really care about in particular?
Darren Shaw:
If you're looking for sponsorship opportunities, there's a lot of festivals. That's for sure. What do people in Edmonton care about? I don't know. Family. Edmonton reminds me a little bit of Minneapolis. If you've ever been to Minneapolis or some of these Midwest cities, there's that kind of friendly vibe. We're all Canadian, so we're polite and nice people. I don't know.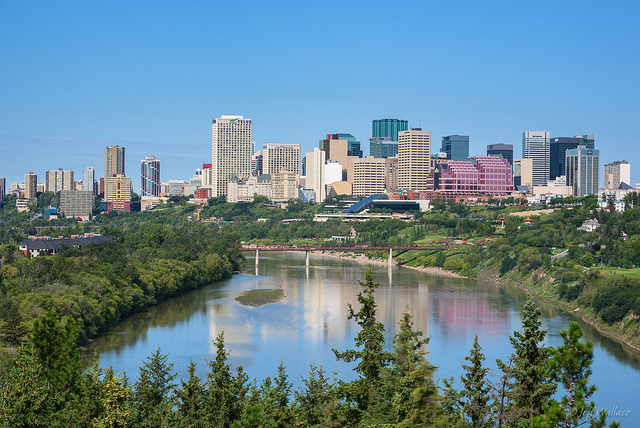 Megan Hannay:
I've gotten that vibe, too. Darren, thank you so much for your time today, and telling me about White Spark and all about the Local Factor Survey. Thank you.
Darren Shaw:
Thanks for having me. It's always fun talking with you, Megan.
Megan Hannay:
Absolutely.