The Zip episode 14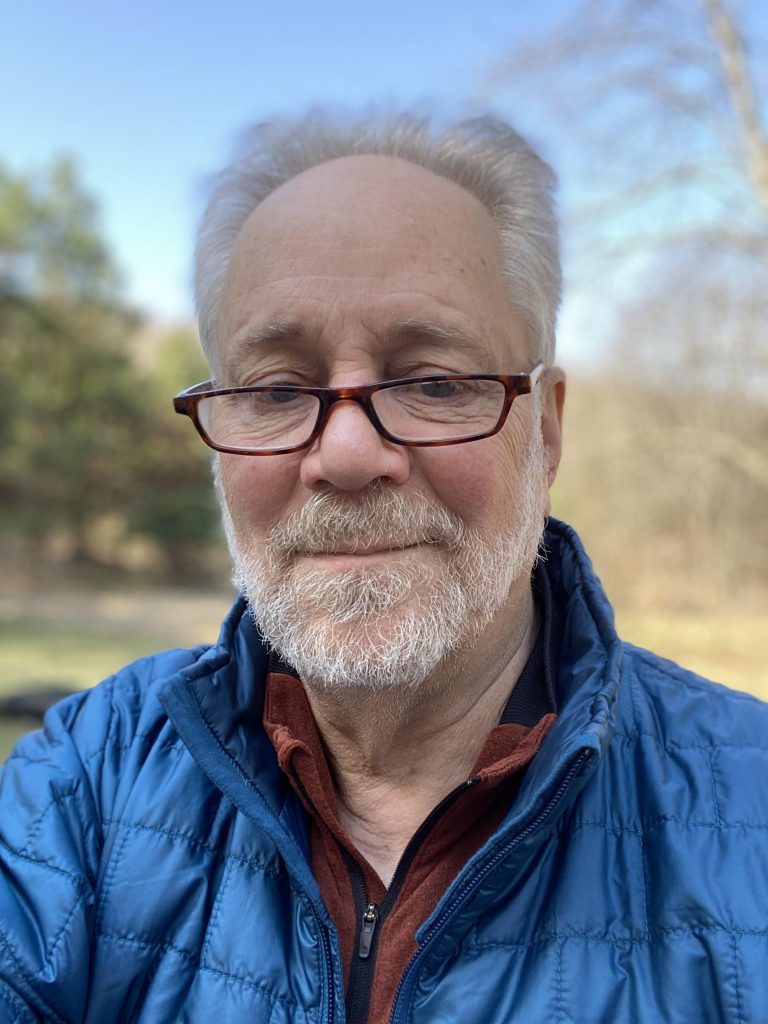 In this episode I'm speaking to Mike Blumenthal, who calls himself, and probably rightfully so, the Godfather of local search. He's been in the business since before most of us used Google, and he heads up Local University, a conference that travels the country to help education small and medium sized businesspeople on how to do local search well. Local U, as it's called IN THE BIZ, also has an advanced session, which was the conference I attended in New Orleans last week. So I can now say with experience that Mike Blumenthal knows his stuff. He and his community understand the inner workings of local search and, like others in this space, like Mike Ramsey and Joy Hawkins, who I've interviewed for previous episodes, Mike Blumenthal has a real passion for this topic. He also founded Get Five Stars, a platform to help businesses capture and utilize customer reviews.
This episode can serve as a great outline for any small or local business looking to better understand how to master their market. Mike will also explain when and how to market on Facebook versus Google, or vice versa, what brand building means in the local space, and why sharing economy businesses are not so novel after all.
Mike: Let me get my stuff set up here, give me a second. I was just playing with the new Google Aloe and comparing it to the new iMessage.
Megan: Which one do you think is better?
Mike: Well that's not a fair question, right? I think that Apple has done a better job. I think Apple's strategy is dramatically different and their strategy is to integrate third party app, making it a platform, right? And that's very powerful because Fandango and Squarecash and Venmo and OpenTable integrate fully into iMessage and iMessage is what I'm used to using because I'm on iPhone and what most people use on the iPhone right? Google on the other hand has chosen to integrate their Google Assistant — what used to be called Google Now — and to integrate essentially search results. And that's a fundamentally different experience. So an example of the iMessage power comes from OpenTable. From right within iMessage, in OpenTable, I can do a search on a location, pick three or four restaurants, share them with my iMessage group and they can vote on it and then I can make reservations all from within iMessage. It's very powerful and very intimate because my iMessage is my real social network, it's the people that I talk to all the time. It's my daughter, my wife, my son and my business partners, my friends. It's fifteen people and it's very intimate. So I don't know. Let me just hang this up, move you up to the top so I can actually look at you. What I do is I put my video right in the middle and I put your picture above it so that I actually feel like –
Megan: Like you're talking to the person
Mike: I am talking to the person. That makes it a little more real to me.
Megan: One day I feel like we'll be doing all of this in virtual reality and we'll just be sitting at virtual desks doing this kind of conversation.
Mike: Depends on how virtual. I'm not sure you need to see the mess that's right here.
Megan: In our platonic idealized virtual desks that are very clean.
Mike: I see yeah. Well I'm not sure, I think I would make mine messy just as a statement. I don't know platonic forms never did strike me as particularly…but it's interesting that you mention them.
Megan: Mike, thank you so much for taking the time to be on the Zip podcast. I'll kind of launch into some questions — super casual — should take about a half hour and I'm really interested to hear about your expertise in the local search space.
Mike: Sounds good. I'm here at your disposal.
Megan: Well thank you.
Mike: If you choose to do so, dispose of me. But I'm here anyways.
Megan: Well thank you. So you've been in the local search space for at least ten years that I could find, maybe more. What captivated you about the local search space and what keeps you there.
Mike: I come out of the Mercantile world and I had a family business, worked in a family business that had been in existence since 1939. That was obviously a bricks and mortar experience and having to deal with all the advertising opportunities or a lack of them. And then in 2001, I established a — when I closed that business down, painful closing a family business but it was time — I went into business with my brother doing web development for local businesses. I really got into local search as combination of having been in local business and doing web development. It became obvious to me that you had to do SEO, you had to get Google to be able to see your site, otherwise these people who were paying me thousands of dollars for a website would never be found. So I actually started my search in about 2001. In 2005, when Google first came out with Google Local before it was integrated with Maps, it was an epiphany for me. I was able to throw away nine phone books that I needed to prospect in my market and I was able to immediately, from my desk, find people in categories of business I was looking for. I was able to reach out to them and make a phone call, look at their website, all as part of my pre-sale, as preparation and I have never used any Yellow Page book since. And at that point I realized that I had tremendous resentment against the Yellow Page people, the way they sold, the way they oversold, the way they sold with…and I realized that at that point 2005 Google was going to clean their clock. That year, 2005, it was also when blogging was becoming popular. And I struggled with the idea of blogging. Who cares, who gives a rats ass about Mike Blumenthal? Right? The idea that I would write some personal blog. But over the year of 2005 I interacted with Bill Slosky, Matt McGee and a few others that were touching on the local space and it became clear to me. My first blog post was actually ten years ago this month, September 26th.
Megan: Congratulations!
Mike: Thank you and I'm — hang on one second I have to shut off the Get Five Star support system which I turned on and forgot to turn off. I'm sorry my apologies for that. My first post was in September, or late September of 2006 and I realized at the time that nobody was taking the approach of how local search should be handled tactically, as opposed to just as a new form of search. So I sort of took this position that I wanted to write blogs for myself to answer my own questions, so I positioned myself sort of at the juncture between a small business person — which I had a lot of experience being — and SEO that sometimes didn't understand the small business person and Google who understood neither of them. So I sort of sat that in the middle of that juncture trying to interpret for each, for the other what each of the groups might be thinking or feeling or experiencing.
Megan: Yeah and so now ten years later do you feel like some of those entities are getting closer together or do you feel like there still needs to be a lot of translating going on between those entities?
Mike: You know, we're from Venus and Google's from Mars. There will always be communication difficulties with Google because they view the world through the lens of big data and that creates certain realities that most small businesses can't understand or most SEOs refuse to understand — whatever the choice is. And so there's a need for ongoing interpretation, that hasn't changed. [Ringing sound] Boy, I have all sorts of interruptions here.
Megan: Well yeah because you're a busy person. Actually my next question is about how you also co-founded Local U, which is an organization that sets out to educate local marketers or local business people and I read on your site that you specifically focus on cities that aren't yet tech giants to educate locals on the basics of local SEO and local search. How did the idea behind Local U develop?
Mike: That was Fall of 2009. I'd been doing local search and writing about it at that point for three years and we were at SMX East and we were speaking there. David Manon and Mary Bowling and I met up in the hallway and just discussed the idea that all this information was in New York City but it wasn't hitting the inter lands, it wasn't hitting the Portland or the Birmingham or the Grand Rapids of the world and we came up with the idea — sort of a travelling road show — putting together six or eight people that we trusted and that we felt good about that could represent the ideals of marketing in an honest way, to help honest businesses achieve honest goals.
Megan: It's also interesting because in speaking with other local marketers — I spoke with Mike Ramsey recently — there's seems to be not only a professional appreciation for local marketing in your sector but also a passion for local as an entity among people in the space. Do you say that the local marketing community is different from other sects of marketing?
Mike: Sort of as the Godfather of local marketing or the local marketing community, I felt it really incumbent to create, to be in an environment that was collaborative and to be an environment where there was a high degree of trust, where people could talk to each other. Early on, I was very transparent in my research and studying. I made all of that available publicly and I tried to encourage people to collaborate and be collegial in their approach to the industry. I think the reality is that we are not each other's competitors even when we are striving to pitch to the same customer. The reality is, in our economic system, that all of us are vulnerable to the larger companies that exist, the largest companies that exist in our space, and really we should all be working together to improve the industry. And I think that to some extent I've had some success in portraying that model as a way of moving through the world.
Megan: Yeah. So it's kind of like the little guys versus the big guys.
Mike: No. It's not the little guys. It's everybody being open to communication and learning and being trustful and to follow — at least — reasonable behaviours vis a vis your business practices and your customers and the vendors you're doing business with. It's more an issue of having standards than little guys versus big guys, in fact some of the people with whom I initially established a relationship with have become big guys and they've become successful — maybe not as big as the biggest but they've grown. David Mihm built and sold a company to Moz and it's now an integral part of Moz and Mike Ramsey's developed a great marketing and nifty and very successful scaled enterprises. Same with Will Scott, Search Influence is very successful in large scale enterprise. So the people that I initially became friends with have grown to be forces in the industry but have done so while respecting the sort of ethos that we established early on.
Megan: I get that and I read through your blog how you sometimes even call out people who don't follow the standards. There was one, I think, local marketing company that was obviously photoshopping where their office was and putting up fake citations.
Mike: Yeah they just declared bankruptcy. They telemarketed me with robo calling and on the robo call they were deceptive and lied and claimed that they were Google and it was clear to me that they were doing this. I would get calls, four or five calls a week, calls at home, my wife would get calls and it was clear that they were targeting every small business in the country with essentially deceptive sales tactics and deceptive practices that would in the end harm these small businesses. Yeah, I had no trouble calling them out. Which was not the standard in our industry.
Megan: Right. Yeah. Obviously if you're lying that's a big deal because people can be vulnerable to that. Also, you recently wrote on your blog — Blumenthal's dot com — that this is a very interesting time for local search, as Google is finally starting to seem to really pay attention to this area. Can you talk a little bit about that and what that means for businesses who are either local or who have a lot of local locations?
Mike: Well, with the advent of the phone and iPhone and the dramatic shift in where computing takes place — which is on the go and in your pocket — local has been growing in importance since I got involved with it. In 2006, I couldn't understand why other people weren't interested in it. To me, it seemed like the end all to be all in 2006. But with the advent of mobile phones, it has taken on increasing importance because essentially people carry the Internet with them. Google was an early player in the local space. Unfortunately they, as I pointed out in the article, sort of veered left, veered right before they started veering centre. In that time frame Facebook has taken a big interest in local. Apple's taken a big interest in local. And the world of local is everywhere now. Local search, local search marketing, and local searches that people can do to find things. So it's dramatically changed and I think the article I wrote the other day about iMessage shows how much it's changed and how it will continue to change. Essentially, we will have commerce options and local information within the apps that we're most comfortable with. In fact the world of apps which developed after the iPhone came about, only a few apps are really being used by people, five or six. But bringing that app functionality into iMessage opens a whole new world for people to experience new things, again with their most intimate social circle — which I think is the real social circle. These are the people that you share bread with and you go out to drink with and that you share business relationships with and perhaps familiar relationships, other kinds of relationships — not that we'd mention on a podcast I suppose — but this is your real social group and I see messaging as being the ultimate social network. Particularly with group texting. So we're in an era of dramatic change in local marketing. Google obviously has come to the conclusion that they can no longer use local just as sort of a pawn in their various competitive power games and they have built the foundation of the knowledge graph. A database that is bar none the best database of businesses in the world, there's problems but it's a really problematic thing keeping a hundred and twenty-five million businesses straight. Particularly when you're doing it through big data and are loathe to go in and touch an individual record. But they've done a good job of building up the best data set. The question is, for me, whether they will be able to leverage that into a strong small business relationship. Facebook has been much better at making a product that is transparent. Facebook's messages, create a post on our service and pimp it. It's a simple message that small businesses can understand. Click here to make sure your post gets seen. Very simple message. Google, in all of the complexity of this big data, makes it very hard for a small business to understand because there's organic search, there's local search, there's ads, there's Youtube, there's these new posts their talking about. All of these have their own algorithms. Just even the idea of what photo you show in the knowledge panel, you have no control over, it's generated by Google's algorithm. So this is back to the original point that Google drives things by big data. They make a decision, they look at a hundred thousand hotels and they decide that people want to look at roads. Well all of a sudden they change all the knowledge graph images to room instead of outdoor pictures. And small businesses don't understand that right? So Google has this intrinsic conflict between the complexity of their way of doing things and the reality of how businesses execute it. They also change things so quickly that a business cycle might be three years — a business learning cycle, ramping up to learn a new product — Google will change things or throw things away in six months. Well, businesses need stability and predictability to interact with them. And whether they get that message or not is still to be determined.
Megan: That's really interesting. I think even with recently the rollout of what people are calling Possum, the new way local citations are being shown on Google. It just seems like there's all these sorts of changes. Which I guess, back to Local U, that's kind of why something like that is helpful for people who are really just trying to understand it but also have an entire business to run as well. What can businesses do to capture some of these benefits of local search? In speaking with Joy Hawkins, a couple of weeks ago, we discussed making sure your local citations are in line and working with content that's unique for each location. But I know you also founded Get Five Stars dot com which focuses on reviews. Where do you think a local business should start? Is there an area that you think is more important than some of the others?
Mike: Well, I think there's several big concepts that need to be integrated into the marketing thinking of every local business. The first is you're better off owning than renting. You're better off having resources on the web that you have more control over rather than less. And so at the core of my model of small business marketing is a great website. One that offers great conversion and great readability for your customers and great readability and understandability by Google. That is at the core of everything I think a small business should do. So when you say great content, most small businesses have trouble generating blogs and it's not their job and maybe they shouldn't have to. To me, a blog is a secondary or tertiary choice. To me, at the core of its owned asset is a great website that's mobile ready, fast, easy to understand, easy to navigate, gives Google tremendous clues, semantically marked up clues about your location and about what you do etcetera. That's step one. Step two then is to be sure that you control, again, the assets you really can control. And to me, that's email. Email is the best free asset still available to small businesses that that is the most powerful mechanism. Build a good solid brand, build a great website, start collecting emails right away. That to me goes without saying. When I say build a great brand, I mean creating a single URL and a single business name that you put a stake in the ground. This is my business name, it says what I do, it reflects me. And a phone number that doesn't change forever. This is your phone number going forward, you have to marry it. That's the core of branding. Consistency. Then, as you've got those basics in place — a great website, and an email collection process — then you can make a decision. Now, first off you ought to build good consistent solid citations at the standard sites so that you're visible on Bing, on Foursquare. And to do that I typically recommend something like Moz local and then perhaps claiming citations in your industry. That's a one time activity to make sure that your business is represented accurately across the Internet. That's a one time thing. And then the question becomes, what marketing are you going to layer over these three efforts. To me then, the fourth thing a business should be doing in this is probably reviews. Reviews is one of the best social networks, because essentially it's your customer speaking on your behalf. It's not you telling people you're great. It's your customers telling people you're great. Obviously Google recognizes the value of that. I've done research that shows that reviews at Yelp influence Google ranking. Reviews at Google influence good ranking. Reviews at Yelp influence what categories you show in, for example. I've done this research and I know it's true that review content is very critical. I think that it should be a pro-active campaign. Which is why I built Get Five Stars where I did. Which is between the idea of a system to store and collate your email addresses and then a system that segments your customers automatically into which ones really love you and which ones have problems. Get Five Stars helps you solve the problem ones with the happy ones moving onto the review site so they can leave you a review at your site which is increasingly important with the new rich snippets in the knowledge panel and at other sites. So it's why I focused the product there, because I think reviews are absolutely critical on your site, as original content, as social proof, as well as on other sites. So once you've got that sort of nailed, then you have this decision of what do you do next. There's sort of two worlds that you need to appeal to. One is the Google world and one is the Facebook world. Where you put your focus depends on type of business you have. Google is better still at attracting pre-sale, new customers. Facebook is better at post-sale, customer retention. So if you look at the customer journey as going from discovery on Google, through your business, purchasing something, hopefully writing a review about you and then staying in touch through Facebook. Some businesses need more post-sale communication with their clients because they have more repeat clients. Some businesses need more incoming, new clients because they don't have a residual relationship. If the performer is more important, the new incoming clients and you want to focus on things like you do, link building and that sort of thing. If client retention is more important and client communications then maybe focus on Facebook. That's sort of how I envision and how I built that sort of mandala complex chart called 'Web Equity' on my website. That sort of positions this, this is something that I built in conjunction with David Mann and Matt McGee many years ago. Even though its a bit complex it holds up very well even in today's changing world because it's sort of a generalized model for picking and choosing where you're going to do your battle.
Megan: Yeah. That chart is really helpful I think for a lot of businesses. Because even choosing Google or Facebook, obviously ideally you do both really well, but if you're limited on time and resources thinking about strategically what you need first, what's the most important for your business first.
Mike: While limited on resources and time. And particularly small businesses do not have the time to do this kind of link building and do not have time to do a sophisticated social campaign.
Megan: Where does local come in — in the way you think about it, or in general — for online only businesses? Like a lot of sharing economy, businesses also have unique locations. Think Lyft or Airbnb, where they are national or global but they focus on city specifics. Is that a sector you think has a market share in local? Do you talk to a lot of these people about their practices or do you think that sort of should be addressed by different experts?
Mike: Yeah, it's not my primary area of interest. I always follow my interests. First, I would dispute your description of it as a sharing economy. They're marketplaces. Marketplaces have existed forever from Roman times, Medieval times. There's always been marketplaces and they're not a new form of capitalism, they are a form of capitalism. It's a place where people exchange money for goods or services. That's what Airbnb is. That's what Uber is. That's what Lyft is. Yeah they've been made possible because the iPhone creates new opportunities for these marketplaces but these are not fundamentally different social relationships. They're still marketplaces in a capitalistic economy where money changes hands in return for goods or services. Calling them a sharing economy is a misnomer. They're marketplaces, where people get exploited, people get benefits, just like any other marketplace. But those people have unique challenges certainly and I've seen some really great work. I think Airbnb does great work. Thumbtack also does a great job, creating for example national surveys that can be segmented down to the metro level and then producing data that's meaningful on the local level. Airbnb does a great job of creating meaningful content at a local level. So they have a different problem, because they're not really looking to show up in the local pack. I think it's an interesting problem, it's just not one that I focus on.
Megan: Yeah. They do seem to have different resources but also different problems. Taking a step away from businesses. At Zipsprout we work a lot with local non-profits and events as well and many local non-profits struggle in understanding the web in general in the same ways local businesses struggle. Do you know of any resources for local non-profits? And should they try to follow the same advise as local businesses, even though maybe the audience they're trying to attract might not be the people they serve but potentially volunteers, or donors.
Mike: As in any business it's important to identify your stakeholders. Right up front before you build the website. So the website addresses the critical stakeholders. I think that, like a small business, their stakeholders are very similar. With an extra leg. Their stakeholders are the general public but also they have volunteers and a board. They may have a slightly different set of stakeholders that could be addressed properly on the web but their website has to address that. In that sense, that's the only thing that's different is who the stakeholders are. The rest of it is the same. They have communication needs, they have marketing needs, that all pretty much washes out the same. And my model that I originally gave you for business I think works with them. Solid branding, great website, start getting email addresses right off the get go, be sure you're collecting them and then make a decision where their pre or post engagement is the most critical. It's the same question, I just think it might be answered differently.
Megan: That makes sense. Finally — and I usually ask a question about a person's space in general, but I feel like you've probably already lunched with a lot of people in your space — what smart person, any smart person would you ideally love to have lunch with?
Mike: Again, let me dispute. I have a problem with the word smart. I mean smart in our society is viewed in multiple ways. One is sort of in an intellectual way and the other is that this person is sort of naturally smart. People that I want to interact with have demonstrated to me, an interesting experience, solid training, persistence and consistency exploring their topic area and a great deal of reflection about it. In that sense, to me, it's not an issue of being smart it's an issue of being thorough in what you're doing and honest about what you're doing and being able to revise your opinions.
Megan: So, smart to Mike Blumenthal maybe.
Mike: Smart to Mike Blumenthal means hardworking, focused and reflective. Obviously I have my feet in a lot of different domains. Small business, marketing and Google and also private. So you're asking me about my professional domains.
Megan: Yeah. Or in general if there's a business person that you very much look up to that you would love to lunch with, pick their brain.
Mike: There would be three, in each of these domains I mentioned earlier. In the mapping world the person, that I find the most disciplined and knowledgeable in a broad range, it would be Mike Dobson. He helped start MapQuest. He's a cartographer by training and just fully understands the complexities of integrating maps into the world around us and that's become ever more important with mobile phones and self driving cars. And he's a guy who I just think has done a really good job of taking visual mapping to the next level, being at the forefront of his field and has a great handle on how mapping fits into our lives, into our products. In the world of mobile computing, I think I'd want to sit down with Horace Dediu of Asymco. Similarly, he's taken an interest in Apple and developed it into a full understanding of the company but also into a model for how companies can and should function in this economy, which I think is interesting. And then, on the Google side, I'd love to be able to sit down with somebody who really understands the local search algo and just dig in and see. You know, I promise to do it under non disclosure and not tell anybody anything I learn but I would just love to really understand it better. As you know, I spent the last ten years exploring it, doing experiments in it, at Local U I'm going to be speaking about a new experiment I've done using Google+ as a tool to enhance your local ranking, believe that one or not. We've got some really interesting results that demonstrate that Google+ directly can influence local.
Megan: Interesting. I was talking to Joy a little bit about that and I still wasn't sure. Yeah that sounds really interesting.
Mike: Well you know, it's not a simple thing. It's not something that everybody can do but I think when you hit the right notes in it then it can be a successful tactic and maybe even more successful than Facebook in terms of effecting rank and visibility in Google.
Megan: Well cool. All of those conversation sound like ones I'd be interested in sound bytes from, although the Google one like you said you wouldn't be able to release any of that information. Mike thank you so much for talking with me today. I really appreciate your time and I'm going to be attending Local You in October so I look forward to shaking your hand.
Mike: I'm looking forward to sitting in some of the workshops with you. You obviously are very knowledgeable and you're engaged in an interesting area which is helping not for profits and businesses get together and so I'm looking forward to you being there and not just being there but contributing.
Megan: Yeah. I'm looking forward to that as well. Thank you and have a great rest of your Wednesday.
Mike: Alright, thanks.