Las Vegas is a name with a lot of meaning. Especially lately.
I had too much fun in Vegas, in my early 20's, so in recent years, the idea of Vegas makes me think of late nights and hangovers. And this very strange encounter with Andy Dick? Which… is a story for another time.
For many of us, that's the spirit of Vegas. Drinks the size of fishbowls. Sometimes literally served in fishbowls. Dancing. Poker tables and the ringing of slot machines. The THUNDER DOWN UNDER.
And of course, in the couple of weeks – Las Vegas has taken on the burden of unspeakable tragedy. No city wants that, no matter their spirit or style.
But speaking to todays's guest, I saw a different side of Las Vegas.
Vegas is a place of history too. It's an enclave of performers, but it's also a bustling culture in its own right, with subcultures of artists and dancers. Today's guest, Victoria Jones, is an active member of the Vegas Community, and the Tap Dance community, and she works to keep these two cultures intertwined.
So, if you feel like you've only heard bad news out of Las Vegas lately. Heck if you feel like you've only heard bad news in general lately, I think this episode will perk you up. I always enjoy interviewing someone with strong passion for their work, and Victoria's passion for tap dance, and for Las Vegas, shine a new light on some old tropes.
You'll hear how the history of tap dance is deeply connected to the history of African American performers, and to Las Vegas performers. How tap developed throughout the 20th Century, and we'll also hear from Victoria about her own journey, from a kid dancing in her kitchen to the coordinator of a festival that draws tap dancers from all over.
Welcome to the Zip.
Megan Hannay:
Victoria, thank you so much for taking the time to let me ask you questions about the Las Vegas Tap Festival.
Victoria Jones:
No problem, I'm very excited.
Megan Hannay:
Awesome. I guess, could you tell me a bit about the Tap Festival? When I first heard about it, I assumed actually it was a festival where tap dancers perform, but it's actually a festival for teaching tap. Is that right?
Victoria Jones:
Okay, so the Las Vegas Tap Festival is actually a little bit of both performing and it's an instructional festival. It started because I wanted to celebrate the National Tap Dance Day, which is May 25th every year. It's celebrated all over the world, and it's because of Bill Bojangles Robinson. If you're not familiar with Bill Bojangles Robinson, he was actually one of the first African-American, or American tap dancers to make tap dance mainstream, in the movies or on TV. In the club. Bojangles was everything for tap dance. He pioneered a lot of steps, a lot of moves, and going up and down the staircase. He was just famous for tap dance.
So, every year on May 25th all over the world, tap dancers celebrate, and have performances, or have shows, or have jams and come together. I decided to start a festival, especially in Las Vegas being the number one entertainment capital of the world. So, a lot of tap dancers, tap dance in Las Vegas, such as Sammy Davis Jr., Gregory Hines, Dr. Prince Spencer, Dr. Bunny Briggs. You have Henry LeTang, he lived down here. There are a lot of different tap dancers that have made their way in Las Vegas. The Four Step Brothers, and actually Sammy Davis, Jr. was the very first African-American ever to enter through the front doors of a Las Vegas casino.
So, there's a lot of history with tap dance in Las Vegas, and there's a lot of history with tap dance, period. I started this to educate and to continue the tradition of tap dance, and to bring forth all of the history and all of the great people that have tap danced for us. I do that by bringing out great, great instructors from all over the world, and inviting people from all over the world to come and take classes to learn from… well, pretty much everybody can learn from everybody, but just to gather together to have that tap coacher all under one roof.
It's such a beautiful thing because with tap dancers, we unite by putting on our shoes. You can meet someone in their face and say, hey, how you doing? My name's Victoria. But, when you put on your shoes and they have on their shoes, it's a different connection. It's like, you're my sister now, you're my family now because we're doing the same thing and we love it. So, it's really just bringing "a family together" to celebrate one common call, which is the rhythm and the love of tap dance.
Megan Hannay:
That's amazing. So, when you first started the festival, I think in 2013, how did you start from scratch to the point of gathering people from around the world to come to Vegas for the festival?
Victoria Jones:
The National Tap Dance Day is May 25th every year. It was May 1st and I was like, I had just started my own, little tap dance group called M.A.D.D Rhythm Las Vegas, which is a spring-off from M.A.D.D Rhythm in Chicago, which is where I'm from. I said, wow, what are we going to do for National Tap Dance day?
I had a conversation with Ivory Wheeler, who was a transcendent of The Four Step Brothers. He suggested, hey, why don't you put a couple of classes together, and I can come out there and teach you from L.A. He said, I could come up there and teach, put a couple of classes together. And, I was like, okay, if you could teach, and I could teach, then maybe Shawn and John, which are the phenomenal tap dance twins, they travel all over the world. Shawn and John could teach, and then maybe I could reach out to Tony Coppola. We could do it all in one day, and then maybe we could add a jam at the end of it, and then maybe we could put on a show. You know what, this is going to be the festival. This is going to be the start of the festival.
So literally, like that day, I just put everything together. I called The Rock Center for Dance. I asked her if she had the space available. It all just started coming together. I made a press release, I sent it out to the Fox News Station, I got on Fox News two weeks later, and then we had a festival and I had over 60 people there in three weeks.
Megan Hannay:
That's amazing.
Victoria Jones:
Right, so I was like, oh my god, this is jumping. This is real. We took footage, we got pictures. Dr. Prince Spencer, he was still alive. Bunny was still alive. So, I was like, oh my god, this is amazing. It just winged from there, literally. I was in the newspaper, I was on the news, I made my own flyers, I made my own programs for the show. It really just all came together.
The second year, same thing. And then, the third year, that's when I said, you know what, I've got to make this a real business. I have to convert this into something that's tangible because this is going to happen forever, and this is going to happen long after I'm dead and gone, like this is going to be going on forever. I made this into a non-profit organization, so that way… because it's really all about the community and it's really all about giving back.
The third year I made it into a three-day festival, and the fourth year, it just kept getting better and better. This previous year was my fifth year doing it, and this year I actually brought out Jason Samuel Smith. He's actually one of the world-renown tap dancers. He's a transcendent of Savion Glover. Savion Glover taught him how to tap dance, and Gregory Hines and a lot of the great people that the world is familiar with. I also brought out my instructor, who taught me how to tap dance. He's been coming out pretty much every year since the second year. So, it's been… it's been one ride, I will say that. But, it's been fun and even right now, I'm starting to plan for next year, and figuring out who I want to bring. It's kind of evolving into… I don't know, like I have one weekend that's for the tap fest, then I have the next weekend that's for the Rhythm X project. So, it's kind of evolving into a world, I don't know. Just more than tap. It's more so about rhythm and tap, and tap and rhythm, so I don't know. I'm just evolving.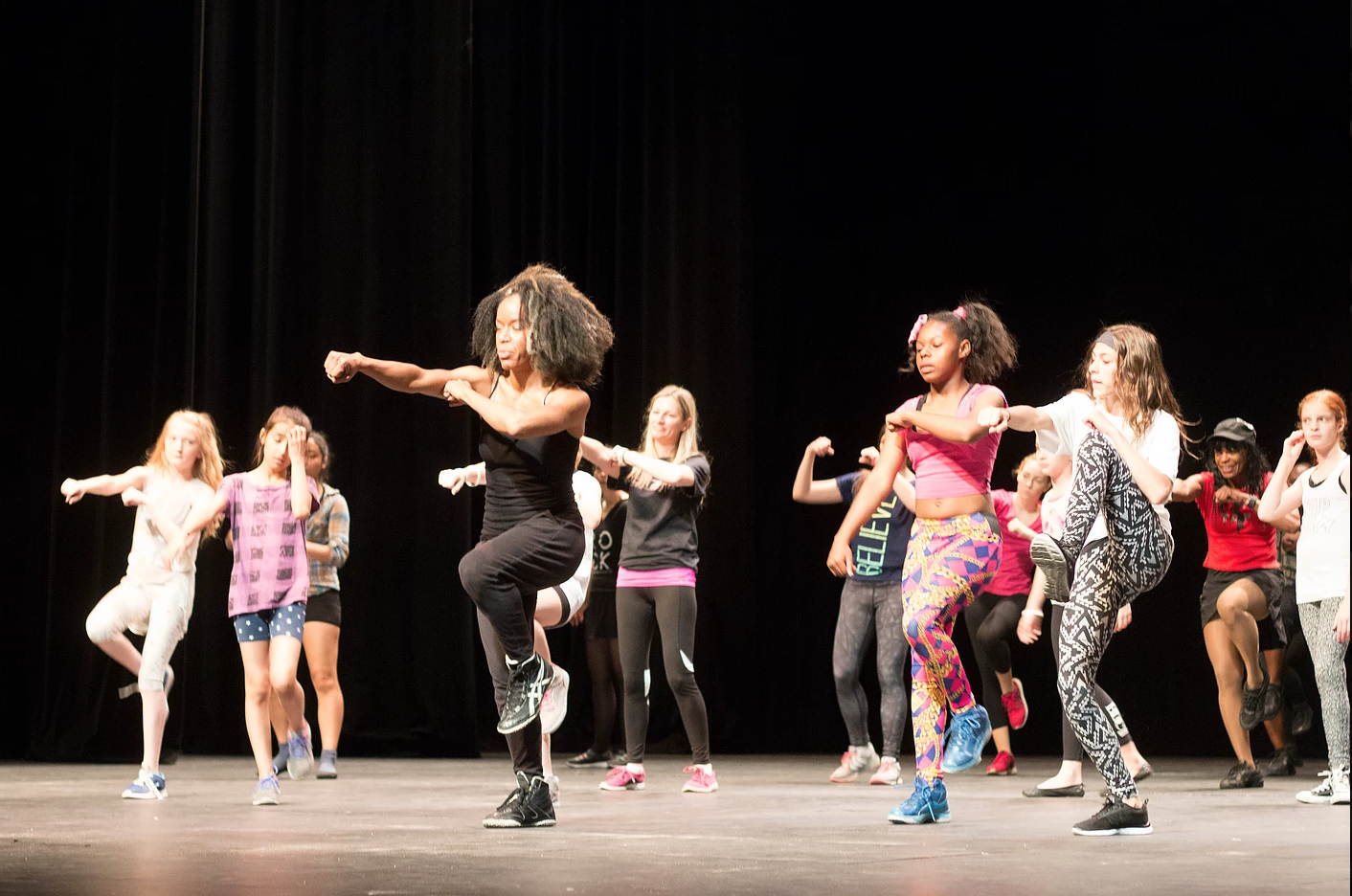 Megan Hannay:
Yeah. So, the attendees to the festival, are they mostly locals in Vegas or do they come from all around, everywhere to participate and learn from these greats?
Victoria Jones:
At first, it was just locals. It was just Vegas, Vegas, Vegas. And then, around my third year I started attracting Arizonans, people from California. My fourth year, I really attracted more outside people. I had a girl from Kansas come. I had somebody from Texas, and then this past year I had somebody come all the way from Columbia.
Megan Hannay:
Whoa.
Victoria Jones:
Right? So, I'm like, wow, Columbia, Colorado, upstate California. I had some people come from Washington — no, excuse me, Oregon, New York. I was like, wow, this is really becoming global. So, I do focus on Las Vegas, obviously because I'm here. However, I definitely am branding this out to the world because it's going to be one of the biggest tap festivals in the world. In order for me to get there I need the world to come. I'm definitely reaching out and trying to bring more people from overseas, I think that would be awesome.
Megan Hannay:
Yeah, like as an international festival.
Victoria Jones:
Exactly.
Megan Hannay:
So, the people that are coming, are they mostly students of tap? Like, people who have been studying tap for years? Or, do you sometimes get people who have never done tap before and are just checking it out?
Victoria Jones:
We get a little bit of both, mostly people that have done tap before because 1) they're familiar with all of our tap dance artists, they're familiar with Jason Samuel Smith. They're familiar with Bril Barrett and Dr. Bunny Briggs, rest in peace. They're familiar with the people that we promote. But then, we'll have people, literally at the festival, because I usually hold it at UNLV, which is a pretty known university here in Las Vegas. We'll have people walk past and say, hey, we heard about this. We saw this on the news. My daughter was always interested in tap. Where do we get tap shoes? How do we sign up? What is the beginner class? What does she need to do? I'll have people call me and say, I haven't tap danced in years but I want to come, sign me up.
It's really for everybody because we'll have beginner classes, we'll have intermediate classes, and we'll have advanced and professional classes. Even, I had a lady one time who never tap danced, ever and she wanted to come. This was last year. She wanted to come so I said, listen, if you come, I will personally teach you just basic steps, because we didn't have a tap dance class just for beginners, like street jazz tap, or you know what I mean? Like, here's a shuffle. I pulled her to the side and I gave her an hour private. She didn't even pay for that, but I wanted her to feel welcome. I wanted her to know, you put on your tap shoes, you're going to learn how to tap dance, here at this festival. It was pretty awesome.
We have classes for everybody. We have classes for babies. We have a tiny tots class, and we have a senior's class. We really want to attract everyone and make everyone feel welcome. At the end of our day, or sometime in our day we'll have an open discussion, or we'll have an open jam where everybody can be in one room, and share and learn from everybody in the room. It's really for everyone.
Megan Hannay:
Yeah, and you mentioned a little bit at the beginning, and I also read online that the festival is in honor of Bill Bojangles Robinson. I guess it seems like he really brought tap dance into the mainstream, like you said, in the early 1900s. So, can you tell me a bit more about why he inspires you? Also, how do you feel like tap is evolving now? Maybe, 100 years later, how is tap growing and changing for the future?
Victoria Jones:
Okay, yeah definitely. Bill Bojangles Robinson, I mean he's Bojangles. Back in the day in the Vaudeville stages, he really brought life to tap dance because, in that time, tap dance was the main dance that you would see in the movies and in shows. If you go to Harlem, or if you go to New York somewhere, if you go to The Cotton Club, or if you go for social dancing, there were tap dancers. As popular as hip hop is right now… tap dance was hip hop back in the 1920s. He actually taught Shirley Temple how to tap dance.
He made it popular. He made it cool, like, oh my god. You can put on shoes and tap dance? People tap danced on the streets, on the corner to make money to bring back home to their families so they could have food to eat. It was more than just trying to do it for show. It was a lifestyle for people. It was bringing bread and butter home.
So, what it is today, tap dance has definitely evolved because it was very, very, very popular back in the day, very popular. You couldn't go to a jazz club without seeing a tap dance. You couldn't watch an old-time TV without there being some type of mimic of tap dancing on it.
The Showtime at the Apollo, Sandman Sims. When they got booed offstage, you had Sandman come onto the stage to tap dance them off the stage. It was very, very popular and people always mimicked tap dancing. Oh, I can tap dance, duh, duh, duh, you know, and try to do little stuff here and there. I think it died… not died, but I think it became less popular when jazz, and when modern, and when Martha Graham and Alvin Ailey, and different styles of dance, and ballet. Not saying ballet hasn't been popular, because ballet's been out way before tap dance, in another country, though. In Europe. When TV evolved, I'll just put it like that. When media evolved, and when, like, concerts and everything evolved, it had competition. I'll put it like that, it had some competition. Jazz, and Bob Fosse, and if you could name any famous choreographer, or creative director, or any dancer… I couldn't even think of the names off the top of my head. But, that became more popular.
Then, all of the social dances, like swing dancing, and doing the hip, and doing the twist and all that stuff, it became more popular. So, tap dance kind of leveled out. I would say it will always feel popular because of all the people that have done it, and have traveled and toured. What we have today, now we have so many different types of dances out there. We all the trendy dances, all of the dances you see on YouTube. Now that we have the Internet, you're exposed to everything now.
So, today in the mainstream, it's still popular but it's popular in its own special kind of way. And, right now with the Las Vegas Tap Dance Festival alive, my job is to make sure that it remains  relevant in the arts, especially in Las Vegas because you have a lot of different avenues of the arts out here. I mean, we could speak about art all day long, but when it comes to dance, you have the showgirl out here. You have the jazz, the hip hop, all up and down the strip. But, you rarely see… which is why I'm thankful for Shawn and John. They are the living act on the Las Vegas strip right now, performing in nightly shows at the Caesar's Palace, keeping tap dance alive. And, the Las Vegas Tap Dance Festival is a part of that culture with them. That's why the Las Vegas Tap Dance Festival is here today, to remind people, hey, don't forget about Sammy Davis, Jr, who was one of the first performers ever on the strip, ever, in Las Vegas, period. And, he was African-American so he opened a lot of doors for a lot of African-Americans today to perform on the strip.
It's a big deal. Michael Jackson tap danced. A lot of people don't know that, but he did. He learned from The Nicholas Brothers. If you look on YouTube, you could see a video of Michael Jackson, one of… the greatest, I'm not going to say one of. He is the greatest entertainment of all time. I don't think nobody tops Michael Jackson. He actually tap danced, so tap dance is very, very, very crucial in the development of dance, period. What we call dance today, tap dance helped shape and develop the mainstream of dance. So, I just…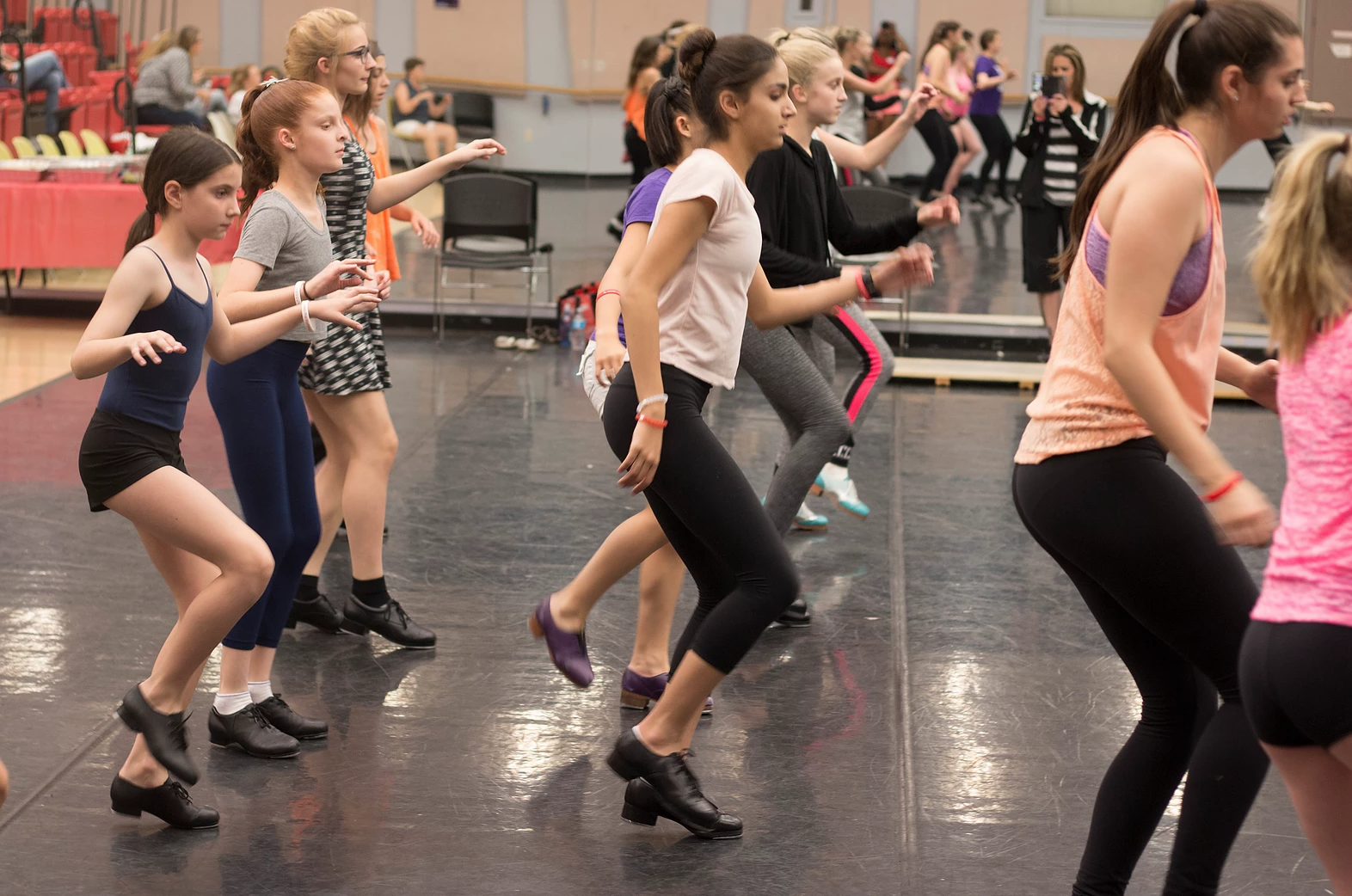 Megan Hannay:
That's awesome. I love the history part, I really do. I love hearing from you, like, how it's evolved in our culture in ways that, probably a lot of people don't know of all of its influences. So, for you, I guess especially, you said you started tap dancing in 2001 or 2002. What made this direction, of all the dance styles that you could have focused on, what made tap for you in particular, the one you were like, yes, I'm going to focus on this?
Victoria Jones:
Well, I've always been a dancer. And, when I was very, very young, four, five, six or seven years old, I used to put on my church shoes and I used to get in-front of the stove, because I didn't have a mirror. So, I used to get in-front of my kitchen stove, and I used to just try to move my feet, and just try to, I don't know, make some noise. I didn't have any rhythm, I didn't have any style, I was just, let me do something. My parents saw that, hey, she's a dancer. I started taking classes, and I started performing in shows when I was in the second grade. That's, what, seven… six, or seven, or eight years old, right?  Then, in my middle school, that's when I said, all right, I want to be a dancer. I auditioned to go to Emerson Visual School for the Performing Arts in Gary, Indiana. It's an actual performing arts school, so they offer dance, and math, and everything else, all-in-one.
When I applied to go there, I made it. I started taking ballet, and I started taking jazz, then mom said, well you've got to get some tap shoes because you have tap. I said, okay, cool. I didn't realize… I mean, I always loved to dance, period. But, I didn't that I was going to love tap until I put my tap shoes on, and until I started actually tap dancing in class, and it came to me. It literally… like, ballet, don't get me wrong. Ballet is hard. Jazz, and doing splits and all that stuff that stuff is hard. But tap, it was like, oh this is easy. Oh, this is really easy, oh my goodness. What? I busted up open, and it literally just came to me, and within two weeks, I was doing everything all around the room. Seriously, whatever I learned, I perfected it. When we had our show for tap, I was in the middle. I was in the front-row, middle. And, in dance, if you're in the front and you're in the middle, you're the best of the crowd. It's just, that what that is. It just is what it is. They're not going to put you front row, center unless you've got it. I was like, okay, this is mine, this is mine. I'm okay with this, I can do this. And, I learned from a lady named Miss C. she was a short, little lady, because I'm 5"10', so everybody's short.
Megan Hannay:
Me too, actually. I'm tall as well, yeah. So, I know what you mean.
Victoria Jones:
Oh nice, we connect. Then, she left. She said, alright, I'm done with that. I'm done, thank you, guys. So, my eighth-grade year, I was like, oh my god, there is no tap. What am I going to do? Who is our tap teacher? We didn't have tap for a whole year, so I was screwed. I was like, nah, this isn't going to work. So then, ninth grade, that's when Bril, Mr. Bril Barrett introduced himself in our classroom. He said, I'm Bril, I'm from Chicago, and Chicago and Gary is like, 30 minutes apart. He said, I'm from Chicago and I'm out here to teach y'all. Let's tap, and he really, really, really broke it down because he taught us what is known as hoofing, and hoofing is the same style… if it wasn't for Bril, I wouldn't know about Bojangles. I wouldn't know about Gregory Hines like that. I wouldn't know about tip, tap and toe. I wouldn't know about Sandman, I wouldn't know about anybody, Buster Browns.
Bril taught me everything I know, ninth grade year. Ninth, tenth, 11th, 12th, all the way up until this day. And, I was the first and only tap dancer to ever join his professional tap dance group. I evolved quickly in tap and I fell in love with it very fast. Then, I started to choreograph, and started making up stuff for the shows at Emerson, and it just grew today. What's crazy is, this year in October 2017, I'm actually going back to Chicago to teach for the first time in Bril's summer… Bril's having his own festival, and I'm teaching for the first time in his festival.
Megan Hannay:
Wow, it comes back around.
Victoria Jones:
Right, it's all coming back around. I'm like, wow, really? Okay, um, yeah. Sign me up, I'm with it. So, that's how I got started, and that's where I am today.
Megan Hannay:
That's so cool. Final question, I love to ask my guests about the place where they're a local, which for you currently is Vegas. I've been a few times as a tourist to Vegas, but I feel like it must be such a different experience to live in Vegas, to be a local there and to be a part of a community there, the dance community and the performing community. So, can you just tell me a little bit about what it's like to be a local in Las Vegas?
Victoria Jones:
Well… All right, okay. Once you live out here… obviously, when you first come out here, it's all about the strip, everything is the strip. Oh, we've got to go downtown, we've got to go to the strip. MGM, oh my god, look at the Wynne, and oh, the Bellagio lights and dancing waters, and all of that. After, I don't know, I moved down here before I turned 21, so I was all about, oh my god, what is it like to be 21? And, what is it like to go into these clubs? What is it like to drink? Oh, my goodness. And then, after I had partied myself out, because I'm not going to lie, I partied, which is typical in Vegas because Vegas is party city. After I did all of that I said, okay, I'm done. Let me focus on me, and myself, and growing and stuff. So, obviously I went to school and I started a business.
But, in Las Vegas itself, there is so much to do and there are so many people that live out here that do what you love to do. You could find anybody, anywhere, at any time. It's literally a city that never sleeps, never. You go somewhere, somebody's going to be woke. You go outdoors, there's something that's going to be open 24 hours. Things never close, so say you're looking for a poetry slam, they have that. If you're looking for an art exhibit, they have that. If you're looking to go indoor skydiving, they have that. If you want to go mountain climbing, they have that. So, Vegas has a wide variety, and we're only two hours from the Grand Canyon. We're not even an hour from the Hoover Dam. So, outdoor experiences, we have it. If you want to go see snow, we've got that about 30 minutes away. Seriously, we have mountains with snow on it on Mount Charleston. If you want to go snowboarding, you can do that, no problem. If you want to go to California, it's four hours. You could go to L.A., it's four hours away.
I would say Vegas is a very, very good place to develop. If you want to become the best dancer in the world and perform all over the strip, you could do that. If you want to become an entertainer and sing, you can do that. Obviously, you've got to have skill and obviously you need to have the proper training in order to get there, but you can get there. So, it opens the door for a lot of opportunity to do what you love, especially in the entertainment industry. We have a lot of street performers out there that get their start because they were a street performer in Las Vegas. We have so many celebrities that live out here, that come through here. You might find yourself in some network you never thought you could find yourself into because you live in Las Vegas. J Lo performs here every, single night. Celine Dion, Cher comes here sometimes throughout the year.  Mariah Carey, we have Donny and Marie.
We have so many wide ranges of statuses out here, that anything and everything you want to do, it's very much so possible. Even if it was just, oh, today I want to go play video games. We've got a place for that. We've got, a place where you can go in and learn about another culture. We have so many different type of culture fests out here. They have a Pinoy Pride for Polynesians, and for the Philippines. They have Greek festivals, they have food festivals, they have tap festivals. They have hip hop conventions and a lot of dance conventions. There's a lot that comes in and out of Las Vegas, and so many people travel here and you never know who you're going to meet. It opens a lot of doors for whatever career and whatever field you're in. You most definitely can find whatever you're looking for, literally, here in Vegas. And because it's so small… people think that Vegas is big. Vegas is actually really small. It takes 30 minutes to travel from one side of the town all the way to the other side of town, 30 minutes. I do it every day.
Megan Hannay:
That's crazy.
Victoria Jones:
It's mad cheap, it's mad cheap out here. And, we have so many people from the East Coast, everywhere, all over, that want to come out here and make a better living, and 1) stay warm, because we rarely get cold. We call 65 degrees cold, seriously I'm wearing jackets and hoodies at 70 degrees, seriously. I love Vegas because of all of the opportunity. I don't have to go out and party just to have a good time. I could literally just go to the movies, or go to the outdoor show, or go to a play, or go to a concert. It's a lot to do, other than what you may see on TV. Oh, the MGM. Yeah, the MGM's great, but then what about downtown? Or, what about Charleston Street where they have a row of night activities? I love it, I love it. It's so different.
Megan Hannay:
That's awesome. Thank you so much. I feel like you've helped me see Vegas in a different light, which is always really fun. So, thank you. That's all the questions I have, so essentially, thank you so much for your time. And, I will be wrapping up this podcast in the next few weeks, and then once it's live, I'll send it your way. But, thank you, Victoria. It was so awesome to hear.
Victoria Jones:
Thank you, it was awesome.
Megan Hannay:
I love your passion for the things that you love. I think your passion just comes through very strongly, and it makes for a really good conversation.
Victoria Jones:
Oh, thank you. I am a very passionate person.