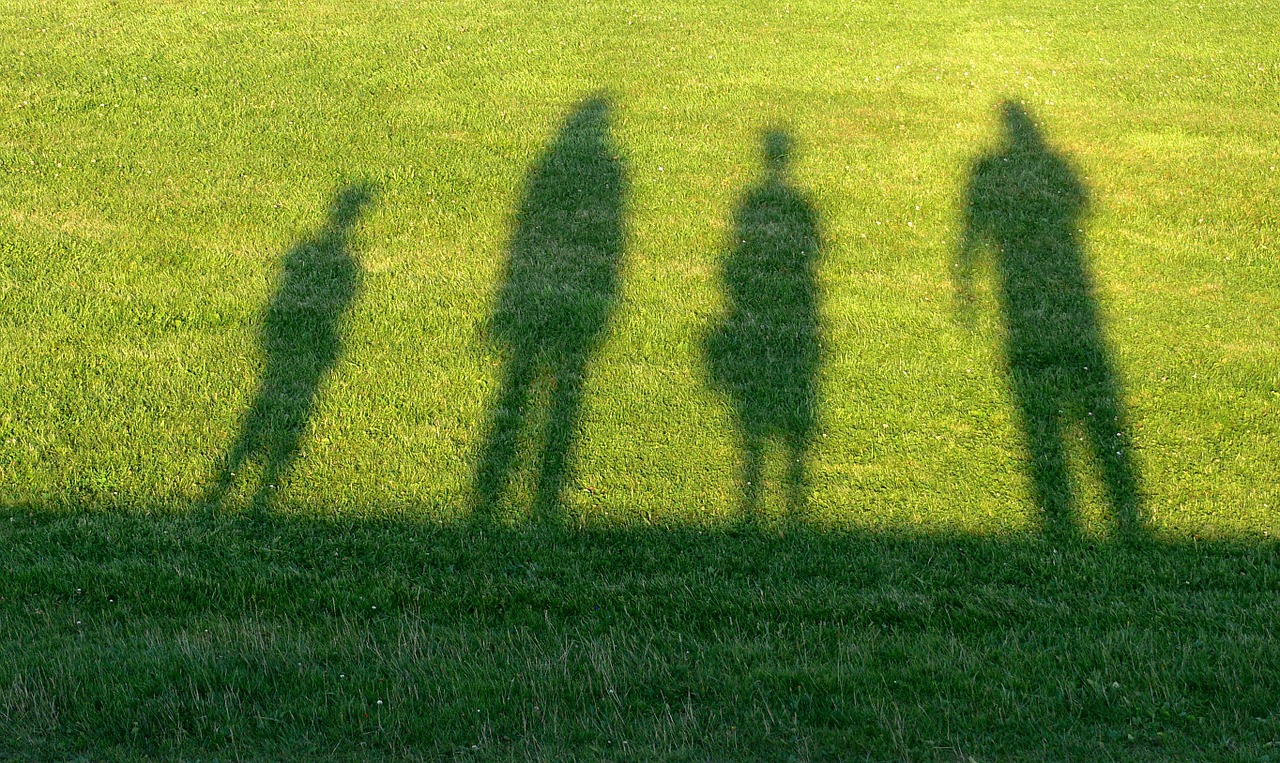 My previous post outlined the basics of Micro-Sponsorships. A Micro-Sponsorship takes what would be considered a small donation to a larger non-profit, say $5,000, and uses ZipSprout's database to identify 5, 10, 15, or 20 small non-profits that meet a certain criteria (location, issue, population). Each of these small non-profits would receive a Micro-Sponsorship, between $250 and $1,000, no strings attached beyond a hearty "thank you" on the organization's Web site and/or social media.
Great idea, right? It helps fund the long tail of non-profits, and there's no restrictions on the funds – they support organizations that don't have the resources (or name recognition) to fundraise, and they show confidence that these organizations are doing good and will continue to do good. But does it make sense in the real world?
In this post, we look at the size of non-profits. The Micro-Sponsorship concept depends on "the Long Tail" existing in the non-profit sector, so we analyzed IRS data to see what that sector actually looks like.
Methodology Notes
"Size" can be difficult to quantify – we looked at the data available and decided that annual budget would be a reasonable measure of size, particularly since we are thinking in the context of Micro-Sponsorships where a donation of $250 can make a significant impact for an organization with tiny budget. Annual budgets are not available in the data, but the IRS provides annual income which we use as a proxy. From the annual budget we can make a rough estimate of the number of employees – another measure of size. What we can't capture is the size of impact – how many people are affected by the non-profit's activities – but that can be misleading as some non-profits try to make a broad impact across a community while others focus on making a deep impact on a small number of people.
We looked at IRS Exempt Organization data and ZipSprout's database of non-profit organizations and associations. We used filters to remove entities, such as trusts, that don't fit the common perception of a "non-profit" from the IRS data.
ZipSprout's database grows daily. These statistics are based on a database extract from late August 2016, and while the exact numbers are already hopelessly outdated, we're pretty confident that they are representative of our database today.
National Statistics on Non-profit Size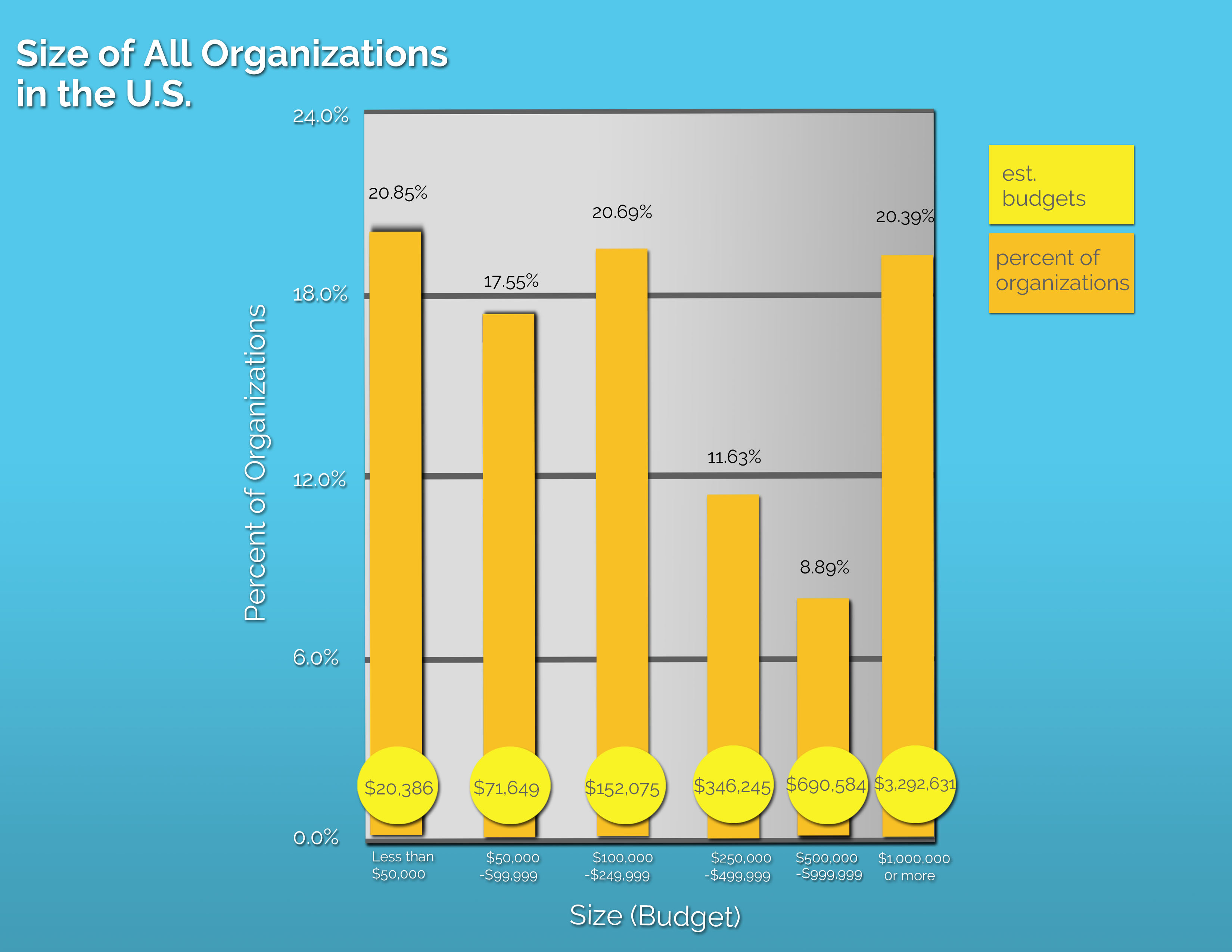 In the U.S. there are about 300,000 tax-exempt organizations that resemble the everyday idea of a non-profit organization or association. They have annual budgets ranging from $1 to hundreds of millions of dollars. We are looking for the "long tail," so we divided the organizations into six size categories.
The first two categories really make up the "long tail" – these are organizations with annual budgets of less than $100,000, so they can only afford 1, 2, or maybe 3 full time employees focused on providing services and advocating for change. These organizations definitely don't have a fundraising or development staff, and they probably have only one or two funding sources supplemented by one-off donations – prime candidates to make the most out of a Micro-Sponsorship. About 21% of all non-profits have an annual budget of less than $50,000 – that's basically one full time employee scrounging for rent. Another 18% have a budget between $50,000 and $100,000 – so they're operating on two shoestrings instead of one.
The next two categories cover small to mid-sized organizations. Organizations with budgets between $100,000 and $250,000 are still small, but are likely more stable, and make up 21% of all non-profits. These organizations face challenges of stability and growth – it's hard enough fundraising to meet their budget, much less raise the $50,000 more every year they would need to hire another person or significantly expand their programs. The 11% of non-profits with annual budgets between $250,000 and $500,000 are the types of local organizations that are big enough for you to have heard of but not really know much about what they do.
The two large categories are for organizations with budgets between $500,000 and $1 million, and with budgets over $1 million. These are the "big guys" and they make up 9% and 20% of all non-profits in the U.S.
The "long tail" exists in the non-profit sector, 38.4% of the sector to be exact, and ZipSprout is ready to help you help these tiny non-profits out through Micro-Sponsorships.
Let's Take a Closer Look at Non-profits in Southern California
ZipSprout has seen particularly rapid growth and interest in Southern California organizations, so we took a look at the non-profit sector in the greater Los Angeles and San Diego metro areas.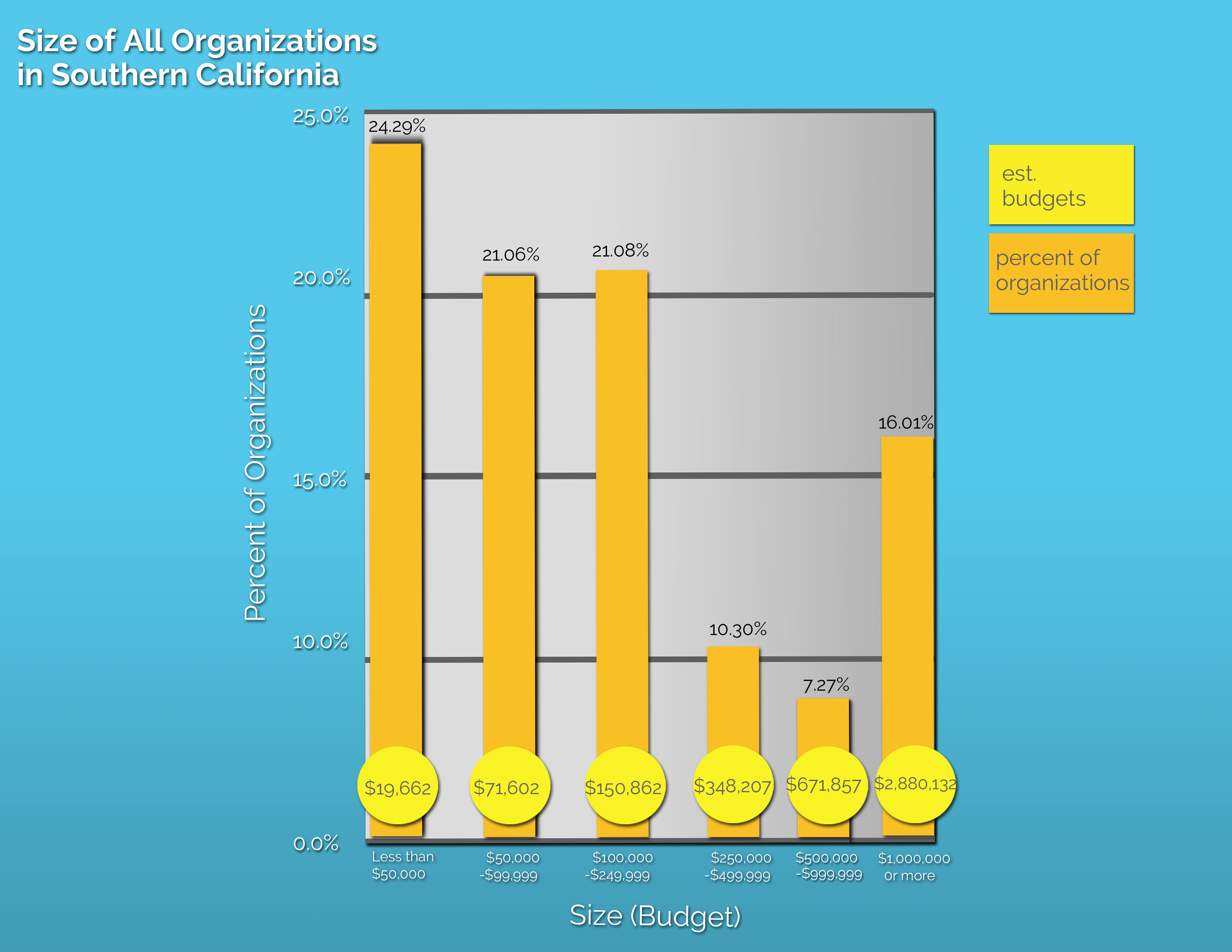 Southern California has a higher proportion of small non-profits than the U.S. as a whole, with almost 25% of organizations having an annual budget of less than $50,000 – given the high cost of living and rents in SoCal, that's not so much a shoestring budget as a piece of worn twine. Organizations in the next two categories, $50,000 to $100,000 and $100,000 to $250,000, each make up about 21% of all non-profits in Southern California. The two medium-large categories make up 10% and 7% of SoCal non-profits, respectively, while 16% have annual budgets greater than $1 million.
It looks like Southern California is a great place to fund some Micro-Sponsorships – if you're interested in helping us launch a pilot Micro-Sponsorship, get in touch.
In our conversations with SoCal nonprofits, we saw anecdotal evidence of local organizations seeking business donor support, but not necessarily at the macro-level.
"Foundations come and go,"said Mark Kabban of San Diego-based educational program, YALLA SD. "We're really trying to rely on individuals and corporations."
How Big Are ZipSprout Organizations?
We have looked at all organizations, so now let's turn to non-profits and associations that have signed up with ZipSprout. These are the folks who will be in line for Micro-Sponsorships, so if you work for a non-profit sign up, and make these statistics obsolete.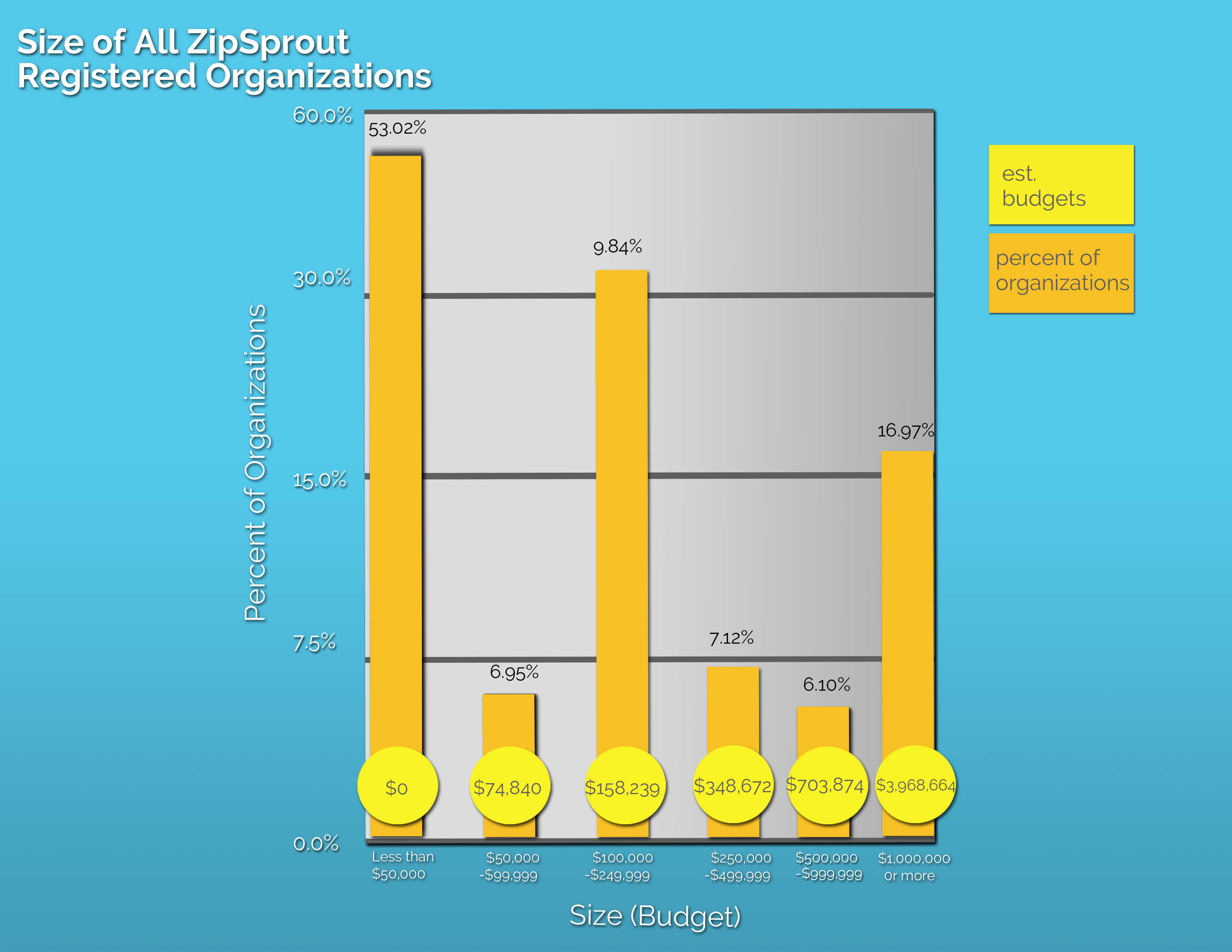 Through August 2016, over 50% of ZipSprout organizations are very small, with annual budgets of less than $50,000. Those sound like the small, scrappy non-profits that have their niche and are always looking for extra funding to expand their programs or to try something new – the embodiment of the long tail. In general $0 budget is because the org is too new to have filed a tax return that made its way into this IRS dataset (1-2 years old), and/or is just getting started and does not have any income yet.
But that's only half the story. ZipSprout is attracting organizations and associations of all sizes. 17% of ZipSprout organizations have an annual budget of more than $1 million, so the "big guys" definitely see the value of joining ZipSprout.
Signing up for ZipSprout takes about 10 minutes, so it's a no-lose option for all non-profits. Both very small non-profits and large, established organizations are taking advantage of this new and innovative funding platform. The "long tail" is definitely here at ZipSprout!
Conclusion
It looks like Micro-Sponsorships are feasible – "the Long Tail" is there, and would love any support it can get. We already know that ZipSprout clients are interested in the concept, and everybody likes to give "the little guy" a boost. Now we know that there are plenty of tiny non-profits that could use a Micro-Sponsorship.
The bottom line is that we are really excited about Micro-Sponsorships and the market is ready for them too; are you? We are ready to launch a pilot, we just need some brave companies willing to try something new, get your brand out, help the local grassroots organizations, and make our world a better place.