Giving isn't simple. Think about the last time you tried to pick up the check for a friend or family member after dinner. There's always that moment where someone puts the card down, and then the other person protests – there's some back and forth. "No, you don't have to," etc etc. In my experience, this moment can even turn a little awkward, or become a battle between family members – who can convince the waiter to take their credit card??
The point is – just because a gift is offered doesn't mean it will be received, or received well.
And this is true in the nonprofit world as well. Sometimes giving has to be strategic to have the best effect.
Today's guest is Paul Ramsey, executive director of a Denver-based nonprofit, "A Little Help." This organization brings together inter-generational groups of volunteers, from kids to older adults, to do some "little help" tasks for seniors in their communities. Picking up groceries, dusting the bookshelves, changing light bulbs, or air filters.
But what I found most interesting about our conversation was Paul and his team's calculated approach to helping their neighbors. As he says in the podcast "You can't just throw help on people!" We'll talk about the differences between the Greatest Generation and the Baby Boomers, how these two groups receive help in drastically different ways, and how communities will continue to change, as each generation reaches the age of needing… Just a little help.
I'm your host, Megan Hannay of ZipSprout. Welcome to The Zip.
Megan: So, Paul, thank you so much for being on the podcast today.
Paul: Thank you.
Megan: Can you tell me a bit about "A Little Help" and how it got started?
Paul: A little over ten years ago a group of neighbors in Denver had read an article about a small nonprofit in Boston called Beacon Hill Village where a group of neighbors were finding ways to help each other stay in their home as they aged and help with some kind of simple things like finding snow shovelers and rides and other handyman and handywoman things. So, there were a few articles in The Wall Street Journal and other national publications about this, and these folks in Denver read about it and thought that it was a wonderful idea and agreed that they could start something like that of their own in their neighborhood.
So, for the next four or five years, they got their nonprofit status, and they had a good small group of volunteers and seniors to get operational. And, after a few years, they decided that it was probably time to hire some professional staff and to have more systems, so that's when I came along, almost six years ago now, as the first full-time employee. I was hired as the Executive Director at that time. Shortly after that, because the board that hired me charged me with the idea of growing the organization, we became "A Little Help", and the reason we became "A Little Help" is because, as I did some focus groups with seniors, one of the things I heard a lot is, "I don't need any help. Sometimes I need a little help." So, I decided that could help us, especially with The Greatest Generation, who really aspires to independence and a sense of autonomy, that "A Little Help" was a great name to help them accept the connection and services we offered. It also helps define what we do, so we don't have to have full-time case managers or other type of medical care or anything like that.
Megan: Right.
Paul: Our mission is to connect neighbors to help seniors thrive, so most of what we do is help provide rides to the grocery store, companionship.  Some of our volunteers will come prepare a meal once a week. We also do some large service days and things like that, so that's part of the piece around "A Little Help". The other thing we've been able to do, and we started shortly after I took over the reins, was became very intentionally inter-generational in our focus, and a lot of that was similar to the name "A Little Help", but it's difficult for someone who strives to be independent.  There's somewhat a social barrier between those folks and the people who are, let's say, their adult children's age. There just seems to be a little bit of tension.
Megan: Sure.
Paul: But, what we've discovered is, with children and teenagers, there's none of that tension because the elder can easily see that it's a reciprocal relationship. They know that the stories they have to tell, the skill sets they have, and the lessons they can teach to a child or teenager or even a young adult are different than the tension involved in a relationship with a Boomer and The Greatest Generation person. We have found that also really started some amazing connections and started to really undo some of the silos that exist between generations in our society, so what we discovered was this sense of empowerment from all the generations. It really added fuel to our mission.
Megan: Wow. That's awesome, and it's so interesting to hear you said you did focus groups, and obviously, to you guys, it doesn't seem to be about stopping at serving. It's like you want to serve people in the way that is most beneficial to them and in the way that works best for them. So, can you tell me a little bit more about how you've learned some of these things in terms of what you've learned in these focus groups and how you grew to understand that maybe there is some tension between generations who are too close in age and that actually having that large generational gap helps both the person who is doing the serving and the person who is receiving it to be a little bit more accepting?
Paul: I think there's obviously some pretty well-documented historical facts around the particular generation tension between Boomers and The Greatest Generation.  You can look at Vietnam protests and a multitude of other things that point in that direction. I think it's also just a matter of fact that the closest generations almost always collide more than the ones that are distant, and there are some similarities between the other generations and things like that. A lot of it didn't have to do with any kind of focus groups. It actually had to do with just doing these things.
I do think that there's a sense of pressure between the Boomers and the working generations like Generation X and others. There's an inherent pressure to say, "Why don't you just take some help?   Why don't you just do this?"  There's a sense of helplessness that's assumed and a sense of pressure that The Greatest Generation that's fiercely independent, fiercely autonomous and fiercely all those things – they've lived through world wars and depressions and things like that, recessions, – and so there's this sense of "I'm going to pull myself up by my bootstraps. I don't need you." There's a sense that they are, by point of fact, the generation that moved our society from the front porch to the back yard. Their parents were very "front porch" kind of people, and they were the ones that developed this privacy fence, the real sense of privacy that we didn't necessarily have in our society before The Greatest Generation.
So, all of the things that made The Greatest Generation great also make it a pretty closed system. To find ways creatively to help them share – and I wouldn't overemphasize the Boomer tension necessarily – but just that particular generation I find extremely complex, The Greatest Generation. I think some of it our model in itself really promotes interdependence which is a high value, it's both soft and hard as far as a characteristic, but the piece around interdependence, though, is it's achievable. Independence is not achievable as we age; we need other people, and, when there's a generation whose highest value is independence, how do you help, almost covertly, insert this sense of interdependence and community as a high value?
Some of the things that happen for me is that we do these Service Saturdays, and, when we were much smaller and hadn't figured things out, one of the ways we figured it out was that I was at a home of a couple that the man was in his mid-90's and his wife was in her 90's. They had a beautiful home, this was five years ago now – over five years ago, and I went to the home, and I'm walking through the home, watching her show me on her list all the things she wanted this group of folks that were coming to her house later that week to do. Everything was just where she couldn't reach. She was probably just five feet tall, and anything above about five and a half feet she wanted to be dusted or cleaned. Or, she wanted the mattress to be turned or some of the shrubbery in the back and all those things. So, I'm walking through the house, and her husband was just sitting with a grimace on his face in the front room in his chair. And, I'm like almost any other human being. I don't want to be unwelcomed or disliked, so, as I'm leaving, I said, "Delano, are we all right? Are you okay?" He said, "Paul, it's difficult to watch another man walk around with your list."
Megan: Mmm. Wow.
Paul: So, I realized the tension there and the sense of lack like the thing he valued the most was his independence and purposefulness, and he felt like he was losing that. Well, that next Saturday, I came. We went to about twenty different houses that Saturday, and there were probably eighty volunteers. We split off into groups of four, five, six. Well, I came back to their house with my team, and my team was a buddy of mine who's an attorney in Denver but also the son of a Louisiana carpenter and much more handy than I am. But, we came with a ten-year-old Lucy, a six-year-old Lucy, a seven-year-old Grace, and a five-year-old Sophie. We came with our daughters, and he almost jumped out of his chair like he was so excited to have us there. We were doing the little jobs that his wife prescribed for us, and he said, "Paul, would you mind if I take the girls down to my office in the basement?" I said, "Not at all. No." And, he took them down – he was a retired geologist and an oil man – and he was showing them his rock collection. All of those little girls, to this day, five years later – they're all teenagers and pre-teens – have the sand dollar that he had shown them and described the evolutionary process to that day, in their shrine that all little girls have in their room of their collectibles. The power of that sense of interdependence, that sense of meaning and purposefulness, illustrated for me what we should try to live into.
So, most of our programs now, like our Service Saturdays and like our Sages and Scouts which pairs elders with Scout troops and like Teen Team and our picnics and dinners and parties and most everything we do really tries to foster that sense of interdependence and the meaning and dignity that comes from that purposefulness. It's been much more than delivering services or rides or things like that. We're trying to reshape a consciousness around aging and around the isolation that, I think, comes from striving for independence.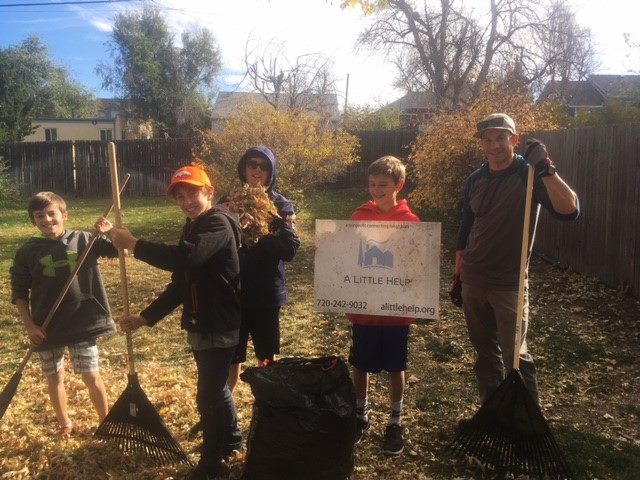 Megan: That's great. I love that story, as well, and, I think, you spoke a little bit about your Teen Teams. Is that a big part because I can see, now that those young women are teens, being able to come back and do some of the things on the little list but also interact with the homeowners in a way that would be beneficial to both? Do you see that a lot with the teenagers?
Paul: Oh, yeah, a lot with teenagers. We also have a great group of Millennials who volunteer with us on a regular basis. Our biggest volunteer group is in their early to mid-60's, Boomers, and they're our drivers and help with a multitude of other things. But, on our service teams and our Service Saturdays and things like that, we have a huge group of teens and Millennials that will volunteer for these events and then continue to volunteer on a more regular basis with Teen Teams and other parts of our services. Much of that is discovered in those conversations. I also think that teens always want to feel needed and purposeful. You can feel that connection and see that spark in the eyes that happens when people connect. Always, we will emphasize that the most important part of whatever we do is the connection because what happens after the connection is community and all the other great things.
Megan: Yeah. I definitely get that. On that point too, one thing I was thinking about just as I was looking into "A Little Help", can you tell me a little about some of the difficulties that seniors face these days? I feel like, in a way, you were talking a bit earlier about generational differences and how America has changed from a "front porch" society to a "backyard" society, and I feel like that another way our culture is different from some other cultures around the world and maybe the ways we used to be is that people are maybe not as much inviting their parents or their grandparents to come live with them. I think that, in other cultures and many years ago, it was just a given that, when a person got to be a certain age, they would go to live with their children or their grandchildren, so there may not have been much of a need for an organization like yours because there would be a family member to take care of these things. So, is that a dynamic that you see as well? Do you feel that's a growing need as some of the Boomers get older that there are a lot of people that don't have those family resources?
Paul: Well, I would go back to the comments I made about The Greatest Generation.  There was a sense of this fierce independence and "bootstraps" and all the things you would describe – the phrases and words and analogies you would describe – what it means to be an American, what it means to be independent.  There's a piece of that that's, for sure, part of The Greatest Generation.  An aspect of that, though, that's important is they also did a wonderful job saving their money. They also had three or four kids. They had all of these kinds of things that make it so that the high value of independence makes caregiving for them difficult, but they have a lot of caregivers and they have more resources in general – and, we're talking about the gap that we fill which is people with middle-class expectations which, regardless of their real income level, they have this sense of wanting to be in the middle-class even if they're on $1500 a month Social Security income.
The difference, though, is the Boomers are a much larger generation. They don't save their money nearly as well. They're more likely to have one kid and three or four different parents. That makes it very difficult. For Generation X and the generations below them, it's going to be more difficult for them because they didn't have as many kids, so there are going to be much fewer folks to serve them. It's also that they have much higher expectations.  They value comfort. They grew up in a different America than The Greatest Generation, so they have higher expectations of comfort. One of the things we do, and one of the reasons we're striving for all these things to be creative towards creating a sense of connection with The Greatest Generation is that they're expectations are so low that, if a lightbulb goes out in their bedroom, they will use the guest room for three months until their son comes from Virginia. Or, they'll tend to eat expired food. They'll make do.
Megan: Right.
Paul: Boomers are not a generation that makes do. They're a generation that wants comfort, that demands comfort, and that has higher expectations. So, one of the reasons that I feel we have to be, as a business model for a nonprofit, multi-generational is because the people that we are planting the seeds for are going to have to have the three generations that follow them serve them and help them with rides and help them with those things. They're also going to want more from us than a typical "Greatest Generation" person. They are going to have less money and fewer family members to help serve them. The good news, however, though, is they bought into this connection, community, and inter-dependence. So, shared housing will be a huge piece for Baby Boomers. They're not going to have the same attachment to their cars, so Uber and Lyft and other ride-sharing services are going to be very popular with that generation.
So, there's some positives and negatives around these things, but a huge challenge and opportunity is going to be how few people are going to be retired – early retirees – while they're in their 80's, 90's , and 100's.  People are going to work longer. People are going to live longer. We'll have this whole force or core of volunteers who are super able-bodied, super healthy in their 60's and 70's who are retired and who are able to do all the things that The Greatest Generation folks ask, so we'll have a great balance of folks who can help and those who need help. Our challenge is going to be to really nurture and foster the other generations so that we're able to serve the needs of the elder Boomers when they get to that stage of life.
Megan: Yeah. That's so impressive, honestly, that you guys are planning that far ahead and that you're thinking of that, not only in terms of logistics, but also in terms of the personality of different generations.
Paul: Sure. Sure.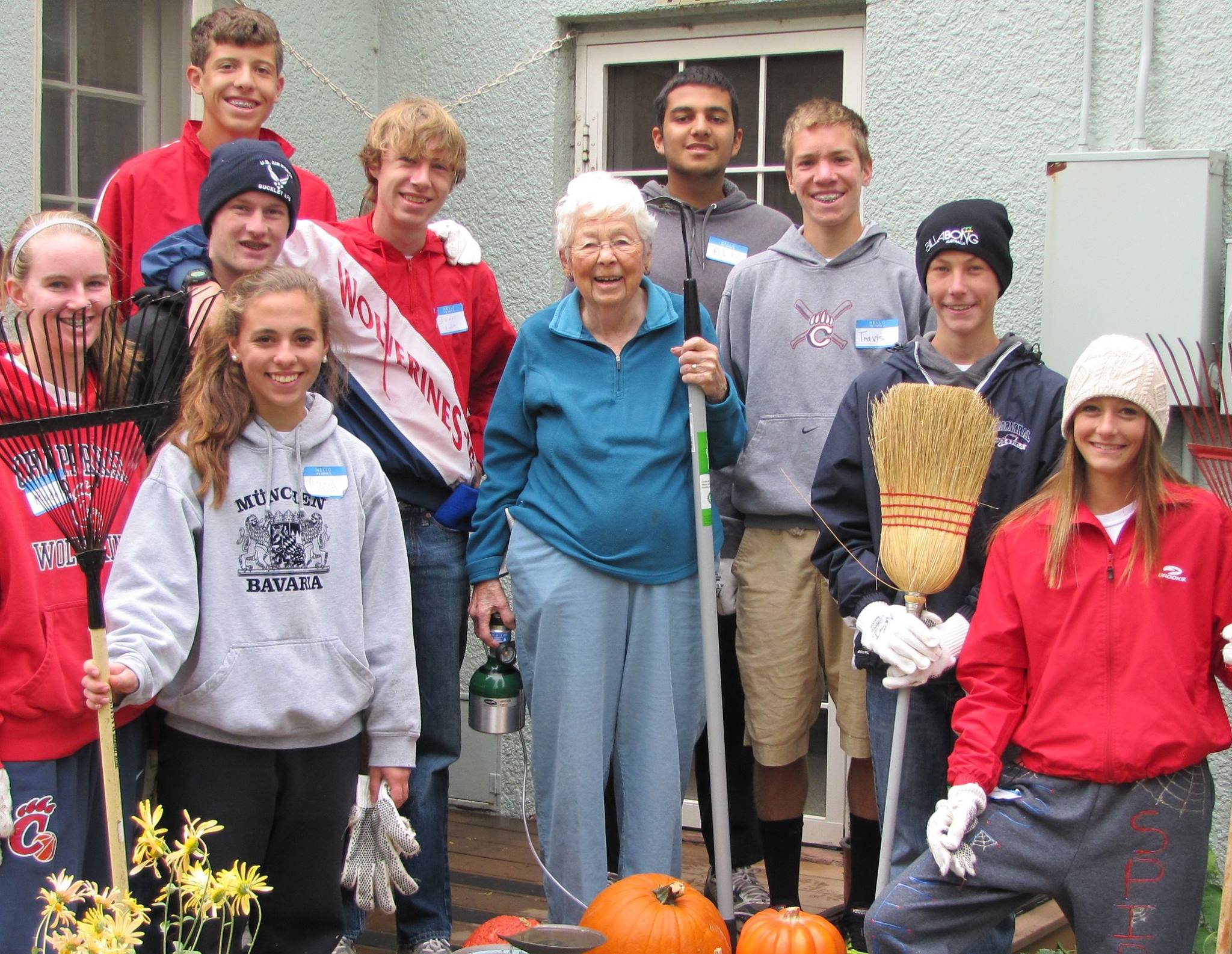 Megan: That's so cool, so, slightly different topic, I read about you, and you, obviously, have a long history of community service in the Denver area. Can you tell me a bit about your own history and then about how you got started with "A Little Help"?
Paul: Sure, so I grew up in the neighborhood where "A Little Help" started in Washington Park, and most of these folks have passed by now. But, a lot of our most elder members with Washington Park/A Little Help, I delivered their paper.  I shoveled their snow. That was my tribe, so I could easily see the needs. And, I knew the people, and I knew the personalities. I knew all those things.
I have a doctorate in theology from a school of theology right near the "A Little Help" offices. My master's degree is from TCU in Divinity, so my whole career, up to this point, had been in the church and in very old and welcoming environments. I would say a balanced theology and a balanced church, but the church I serve now – I still preach on Sundays – for the last sixteen years is a small church. It's what I prefer. After working for years in different types of churches, I like that small, tight-knit, open community.
Seven years ago or so, I began like, "Man, I'd really like to make a larger impact on society."  I'd like to do all these things, but I couldn't really stand the thought of leaving my little church, Mayflower Congregational Church, the UCC church in Englewood. So, I started interviewing with nonprofits for Executive Director and CEO jobs and some development positions at some larger nonprofits. I would make it a little way through the interview process and sometimes pretty far along in their process, and they'd ask me what my exit strategy was for the church. I would just say that really I'd like to do both because I knew I could do the church on a part-time basis. Well, none of these other nonprofits thought that was a great idea, so I ceased being a candidate for the position. But, with Washington Park Cares, I think they could see how that fit, and, frankly, it was such a small organization, at the time, that the risk was really worth the reward for them.
That's how I came to it, and it's been for me really exciting to be able to build community on a larger scale and to think strategically about the future of community in our society. It's been a natural fit for me in what my strengths are. I also think that one of the things that's helped us is that, along the way, I've been able to build a staff at "A Little Help" as we've grown into other areas of Colorado, and, as we've strategized to grow even more, I've been able to build a staff that's gifted in ways I'm not and that's smarter in a lot of ways that I'm not. We have this talented, skillful group of folks that shares this vision of what it could be if "A Little Help" was spread across our state.
Megan: Yeah, and even – I'm in North Carolina, and I would love to work for an organization that does something like that around here. Maybe there is, and I just don't know about it. I should probably look into it.
Paul: Yup.
Megan: So, final question, I like to ask people, since this is a podcast on local, if you could tell me a little about your local community. Obviously, you talked a lot about Washington Park in Denver, but can you tell me just about the personality of Denver itself? What makes Denver a unique place, in general?
Paul: Well, Denver is the magnet city for all folks who want to be able to work in a beautiful place where they can spend a lot of time outdoors, where they have access to nature and exercise and all those kind of things. Denver's an extremely vibrant city, so, in the decades I've lived here, I've seen it change for better and for worse. The traffic concentration now is really, really pretty amazing, and I think that's also sped up the need for our services around because people were driving in Denver five years ago, and now it's completely different. So, as they've thought about giving up their keys, all of a sudden, it becomes a very real scenario because it's just so much busier, so everything's different.
I think the other thing, because there are so many new people in Denver and an astounding amount of growth, for many of our folks, it creates more isolation for our elders because they're not as familiar with their neighbors because so many people have moved in, and the house prices are high in areas that weren't high. There's a lot of "blue-collar" neighborhoods that are no longer "blue-collar" neighborhoods, so I think that's intimidating to someone who felt like it was their city. Now they know that folks that have adopted it have a bit of a stronghold, so it's created an interesting dynamic around connection and around what it means to be a neighbor. I think it's helped us with our strategies because we have a lot of folks here whose parents are in Iowa or their parents are in Illinois or their parents are in Florida or Arizona, so they feel as if, by helping other people's parents, they get a sense of meaning and purpose that they might not have otherwise.
One of the things too that I think about – I don't know if this is answering the question – the state of Colorado has a Good Samaritan Law which means, if you're doing a good deed for someone, and an accident happens or something, you're not liable personally. That law has helped us have a much lower overhead than if we were trying to operate in a different state, and it also seems to cultivate that it doesn't seem like such a high risk thing to help your neighbor as it might in another place.
Megan: Gotcha. Yeah, that's amazing. It definitely answers the question. Paul, thank you so much for being on the podcast today. I feel like I could ask you a ton more questions about how you see things because I feel like you have a very interesting perspective on the world. Thank you. I really appreciate your time.
Paul: Thank you so much. It was a pleasure. Thank you.