The Zip episode 22
So I downloaded the Beyonce album lemonade a few months ago. Legally, thank you. Because it wasn't on Spotify. But now, every time I plug my phone into my car, one of her songs starts up. The title starts with the letter A, so I guess it's just the first one on my list. And it's a great song. It makes me want to dance and maybe drive a little faster, and maybe keep listening and dancing and singing along instead of listening to the more mellow podcast I was planning to tune into. So now I'm driving to some midday appointment with Beyonce, and my day feels a little more alive.
Music does that.
It can hype us up. It can calm us down. It can make us happy or sad or angry – music is a fast track to so many emotions, sometimes even emotions that we don't have easy access to.
It brings back memories. Like I can't listen to Peter Bjorn and John without going back to senior year of college, walking to campus with coffee, ready to tackle some professor's Faulkner questions. And Alt-J takes me back to Los Angeles, to this one specific coffee shop, where I listed to their debut album about 37 times in a row.
Most of us have those music moments. Just the right clip can give us the experience of a memory, in a way that remembering on its own doesn't do.
Today I'm speaking to a local organization leader who brings music, and all of its marvelous side effects, to a very specific population in her backyard, and, as you'll hear, it really affects lives – both for the music makers, and for the listeners.
So welcome to the Zip – a podcast on the ecosystem of local. Today is Wednesday, December 21st, 2016. And for our last episode of the year, I'm interviewing Julie Levin of Shelter Music Boston.
Julie's organization brings classical music performances and conversations to hundreds of men and women in Boston's homeless shelters every year. Shelter Music Boston is, in Julie's words, "reinventing the point of a concert," by paying decent wages to local classical musicians for performing in shelters across the Boston area.
In this conversation we'll dive into the space that Shelter Music Boston creates. You'll hear where Julie's idea came from, and why violinists may be the most giving musicians (my words, not Julie's). And we'll also discuss the diverse group of Boston shelter inhabitants that Julie and her fellow musicians meet.
And to start, instead of my normal music, I thought I'd intro and outro with a piece performed by Julie and another violinist, at a Shelter Music Boston concert.
Megan: Julie thank you so much for being on the Zip today.
Julie: Oh you're very welcome. It's a pleasure. I love to talk about Shelter Music Boston and share what we are doing.
Megan: Awesome. Well you're in the right place. So to start, can you just kind of give an overview of what Shelter Music Boston is and how it got started?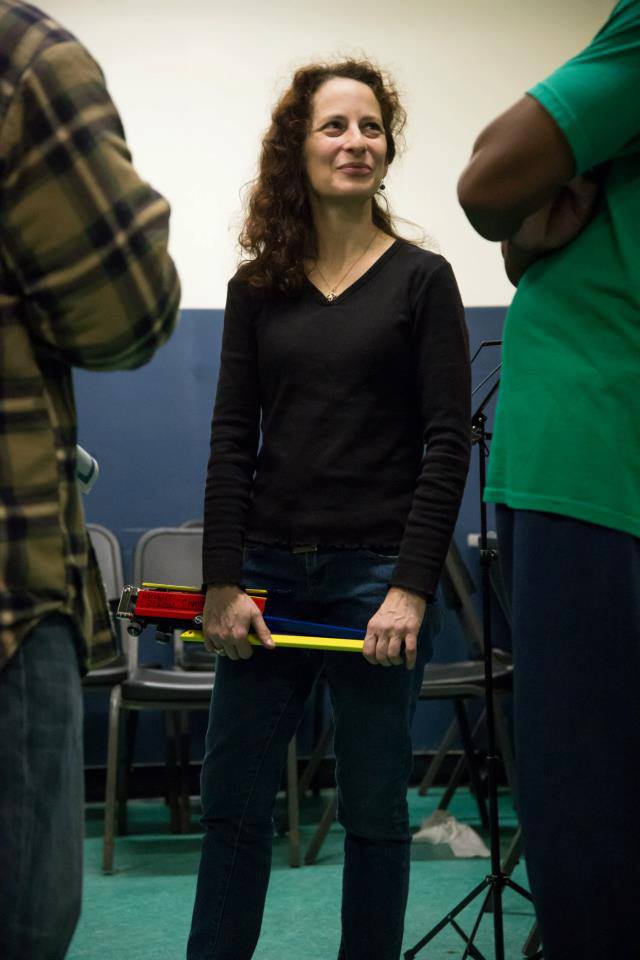 Julie Levin – photo courtesy of Shelter Music Boston Facebook page.
Julie: Sure. It actually started almost exactly 7 years ago when I read an article in New York Times about a violinist in New York who was occasionally playing classical chamber music in shelters in Manhattan. When I read that article, I had one of those moments that we're lucky to have a few times in our lifetime when we say, "That's it. I have to do that" and that really was kind of a flash.
I immediately thought, "We need that in Boston. It's going to be a sustainable nonprofit organization where highly trained musicians will be working, not volunteering, but working to provide access to high quality classical music to a population that has basically no access to the arts and particularly classical music." So that was how it started.
Right after that, I went to a conference in New York City and I was able to meet that particular violinist and we talked about her experience, and to this day, we remain in touch. Her organization is still going in New York.
But Shelter Music Boston actually is unique. Of the three organizations that I know in the United States, all started by violinists, that are doing this kind of work, Shelter Music Boston is unique in that we consider ourselves a social service organization, not an arts presenter. The social service that we deliver happens to be an artistic product, but it is delivered as a social service.
The concerts are really catalysts for providing a dignified interaction to a homeless individual who perhaps has been out on the street. All day long no one has looked this person in the eye, his or her self-esteem is suffering. They don't have a home; they have  myriad problems. And a highly artistic, well-crafted concert, performed by dedicated professionals can change that person's day.
And perhaps you scrolled through some of the comments…
"The music made me feel that I'm still human."
Megan: I did, yes.
Julie: Our audience members may say, "I lost my condo, but listening to this concert somehow, lets me know that somehow it's all going to come out okay." Or "My shoulder was aching when I Sat down but the pain went away during the concert." Or one of the most incredible ones, "The music made me feel that I'm still human."
So, these past seven years, we have been on this journey. There are now 18 musicians playing the concerts. We play six to seven concerts every month. We produce 60 to 70 concerts a year, which is a staggering number for such as a small organization.
Megan: Yes.
Julie: We have really shown that providing such quality to an unconventional environment can create social change in that environment and improves the lives of people who are really just struggling so deeply with so many problems.
In fact, we just had an event this fall where we are lucky enough to have a guest speaker who was a woman who had attended our concerts for a year. One of the places that we serve is a residential treatment center for women who are recovering from substance abuse. We provide that particular venue a concert every month. She was a resident for a year, and she went through a whole process with the concerts.
At first, being unfamiliar with classical music, she thought, "What is this about?" And then she realized it was the time for her to be peaceful. It was the time for her to learn something. It was the time for her to interact with energy that she had never felt before, which was the live concert.
The concerts are very interactive. We want people to ask questions. We want to demystify classical music and strip away anything that people may assume about it being exclusive in any way. This particular woman ultimately said that the concerts inspired her to imagine herself in a real concert hall outside of the particular venue where she was residing. She saw herself attending a concert in a public place, being dressed up, feeling dignified, her self-esteem restored and imagined herself as a perfectly well-functioning member of society having left her struggles behind. I mean these are her words. That is remarkable.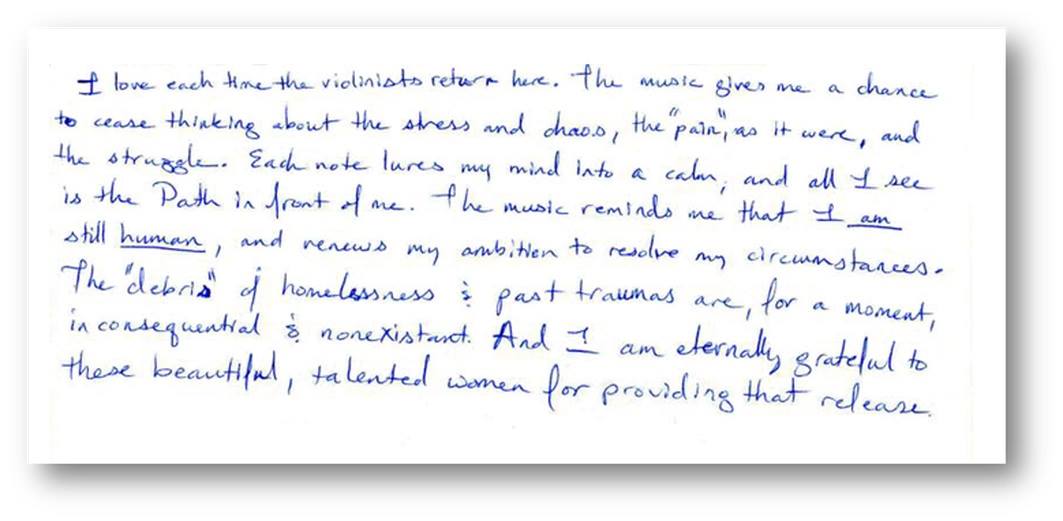 Note from a shelter guest after a Shelter Music Boston concert.
Megan: Right.
Julie: She spoke to our audience at our fundraising event to prove that these concerts really do create change for people. It's because the music is so well crafted, because the musicians are so well trained, because the quality is so high, because we return month in and month out to prove to the people that we serve that, "We have faith in you and this music is for you and whatever you get from the music, is just right."
And sometimes, they say, "You know I don't like that stuff, but the fact that the band played it for us, it gives me some hope." You know, and that's fine.
Megan: Yes.
Julie: As I said, "The concert is the catalyst." The concert is not really the end result. It's the catalyst for providing dignity and access to creativity and conversations and interacting, and high quality human interactions for people that really have very little access to that in their daily lives.
Megan: Yes, I know. And I totally get that. I was thinking, because I was reading those comments on your site. There are people that said things like, "It's hard to connect with your true self but hearing this music brought out my passions for life." And another person who said, "That the music captured their emotions and transformed rage into peace" and I know that I have thought, "I've had moments like that."
Julie: Isn't that fantastic?
Megan: Everyone has had moments like that.
Julie: Yeah.
Megan: Yes, you know with all types of different music and so, yeah and it's amazing to hear that "That's totally happened to me too. I've had a bad day or just felt upset or something and you listened to music and it changes your mood and it changes sometimes, if you can't sleep, you can listen to music and go to sleep so. Obviously, there's a lot of…
Julie: Exactly, yes. Some of our audience members say that it does help them to sleep because it calms them. In shelters it's really hard to get to sleep. Some of the spaces are very large with bunk beds and there are lots of people in those spaces, a lot of people that you don't want to be around because you want to be by yourself when you want to go to sleep. People have different things going on in their lives.
The energy in those spaces is very volatile. And people in fact have learned that they felt calm when they listened to our Mozart performance. So many of the people that we serve are carrying songs and can download music and they started to tell us. "Yeah, I found some Mozart on YouTube and I downloaded it and I listened to it at 3 in the morning when I was stressed out because I learned in your concert that Mozart makes me calm."
Megan: Yes.
Julie: One of the projects that we're working on now in fact is, because our audience members so often ask us for recordings of the works we play for them in the concerts, is a project to provide these concerts or those recordings to them via our website and/or our YouTube channel, because of course it's very easy to download from YouTube and change the file into something that one can keep on one's handheld device and then listen to it repeatedly.
We're responding to our audiences and because of the technology, it's not very expensive. We do have a little bit of cost for recording. We try to get high quality recordings, for our live recordings, but the places we perform are not pristine concert environments because they are shelters and so there is often something else going on, people are walking around.
We're playing in the common space, which is the living room of the shelter. That space is used for more than just our concert, when one of our concerts is going on. There are some challenges for that project but people are very excited to know that they will be able to download what they've heard.
. In November, our musicians said to our audiences, "Oh remember what you heard last concert, some of you asked for recording. Well now, it's available. So here is how you find it on our YouTube channel. Let us know what you think."
We're following that to see how many people are making use of these recordings and looking forward to seeing how that goes and, you know, expanding the impact of our concerts via that fairly inexpensive technology.
Megan: Yes, I know that's awesome that you guys are able to do that and provide something that they can listen to everyday.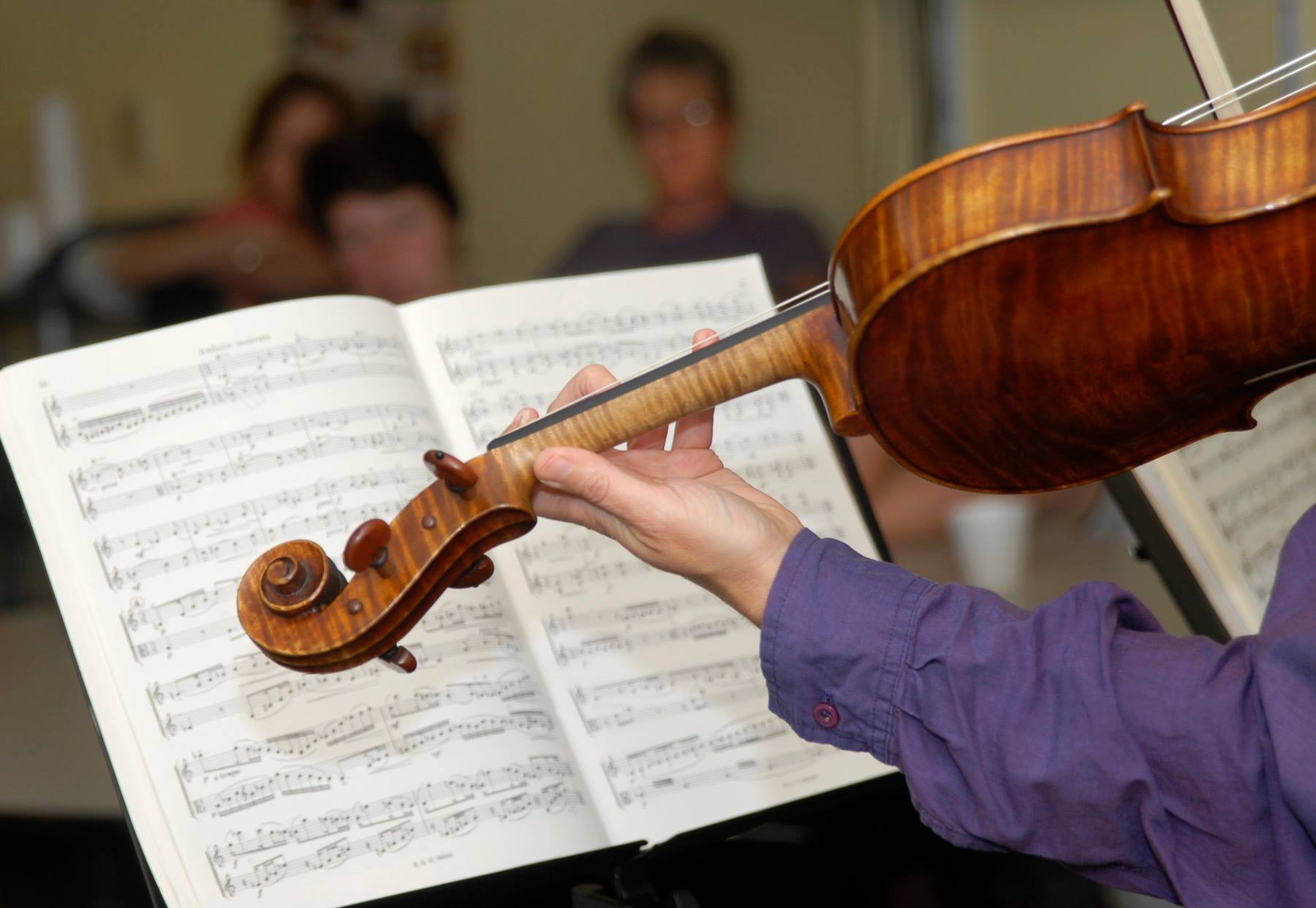 A Shelter Music Boston performance.
Julie: Exactly, yes.
Megan: When you first started Shelter Music, can you tell me about what your first concert was like… because I imagine as you're a trained violinist, you performed probably dozens of times, I don't know, hundreds, in front of more traditional audiences. So when you first started performing in shelters, how did it feel different to you as a performer?
Julie: Well, it was fantastic, I have to say. One of the main differences is something I  referred to earlier: the places where we perform are not pristine in terms of what else is going on.
Megan: Right.
Julie: Sound wise. Sometimes, there's a PA system that goes off because some shelter guests have to be called to the front to get their medication or something like that. As a musician, in fact, it's been fantastic for my concentration because all sorts of things have happened, including someone once was arrested while I was performing a solo violin work.
"I just kept playing because they really need this music right now."
Megan: Wow.
Julie: In my mind, I was thinking, "Should I stop? Should I keep going? What shall I do?" I was evaluating what was going on. The way the room was setup, the audience was looking at me and this particular event was happening behind them but because I was facing them, I could see this.
Megan: Right.
Julie: So, on the spot, I was evaluating what to do. A few people were turning to look and I just kept playing because I thought "they really need this music right now."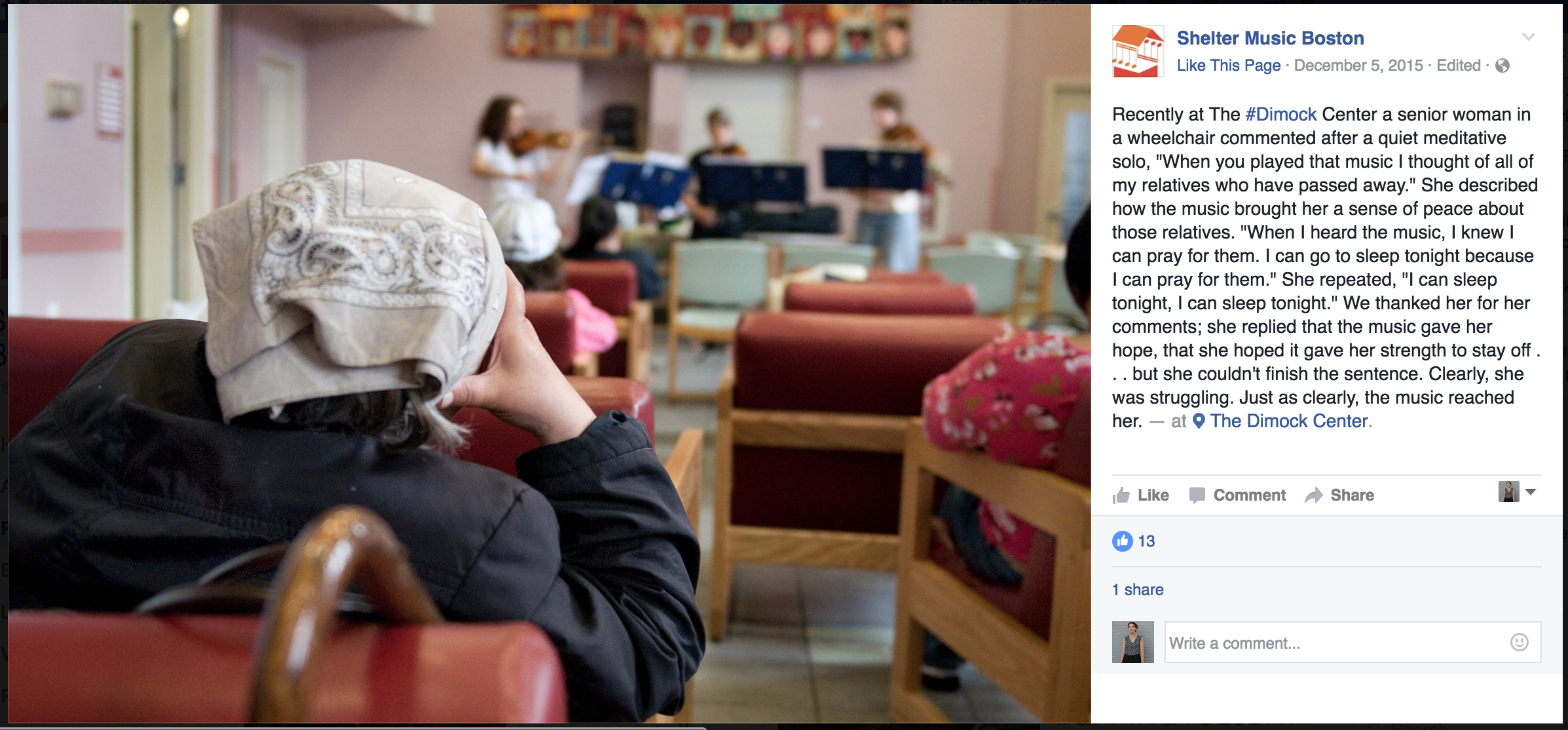 Megan: Yeah.
Julie: One learns to really focus and that has been fantastic for my concentration in conventional environments when I'm performing and ultimately, I find it's done something wonderful overall for my mind while I'm performing.
I feel that my concerts in the shelters, are so much more than just the concert, because it's a catalyst as I spoke about it earlier, I have so much less ego in my performance because I really want the concert to provide something that is more important than me. You know that is sort of liberating because as classical musicians we're trained to be highly critical.
Our training is for competition and evaluation and the job. It's very, very competitive all the time, and I feel like that this aspect of the shelter performances has changed this challenge for me, and certainly it has not  changed the quality that I bring to every concert.  It is my professional value  to do my best and perform the best, whatever environment I'm playing in.
So, those have been some of the by-products for me. I think the other Shelter Music Boston musicians would say something similar. The very first concert actually I remember so distinctly. There's a sort of funny background story.
The first place I approached was a shelter where a very good friend of mine was a psychiatrist who saw the shelter guests as part of the shelter mental health program. So I asked her, "Where do you work and whom can I call where you work?"
I went to meet the person who would oversee our concerts and she listened to me and then she said, "Alright, let's give this a try." She later told me that she thought I was crazy the first time she met me. In fact, she's quoted in one of the videos, one of the longer videos on our website, where she says, "What are our guests in the shelter going to do with this classical music?" She happily admits that within the first five minutes of the first concert, she was just rejoicing to be proven wrong and to see that the audience was rapt, to see them experiencing something that many had never experienced, to see them embraced by beauty amidst the squalor of the shelter. All of the places that we serve, the organizations are working so hard to provide a roof and a bed and a meal for the people they served but you know, the places are tough, Spartan.
Megan: It's not a fancy hotel, you know.
Julie: Precisely, precisely, and I have great admiration for all of the organizations that we partner with, that we serve with our concerts, because they have so many basic aspects of providing for individuals to deal with and they do that very well. We want to enhance that by supporting the aspects of the individuals that are more than a bed and a roof. The very deep human needs people have for emotional support and interaction.
That particular very first concert was a women's audience. The women were absolutely rapt and they were very happy to ask questions and they were very happy to be invited to feel free enough to say, "I didn't think I was going to like this, but this is awesome."  That's another wonderful thing that we accomplish: people who may have some negative assumptions about classical music learn that it can be fun.
Megan: Yes, so I know you've mentioned that and actually there's a great interview with you in Forbes Magazine where you also talk about how your concert style is definitely more interactive than a typical classical concert. Can you talk about that a little bit, like how do you invite people to participate?
Julie: Sure.
Megan: What kind of participation do you typically get?
Julie: When we arrive we start chatting with the people who are sitting in the common area of the place where we will be performing. All the places where we perform now, we now have been serving with concerts for at least one year, and in one case seven years! Our audiences know us and they are looking forward to our concerts.
In fact, a week before each concert we email all of our partners promotional material; very straightforward documents that they can print out and post.  The information presents our logo and the list of what we're going to perform. That is posted in the week before the concert so people start to see that and remember, "Oh yeah the musicians are coming." So, they're ready when we come.
Once we begin to chat we will  find people who were at our last concert who might pick up a conversation we had during the previous months. We're happy to do that. People will ask what we're playing tonight and someone may recognize the name of one composer. They may ask questions about  that or something else on the program, and we welcome these conversations.
We love to ask some questions that will empower, such as., "Have you heard a lot of music by that composer?" "Did you know that composer's name?" You know that opens the door to having a very interesting conversation where someone, who often is ignored because of his or her current social status, gets to show up. They have knowledge and can share it.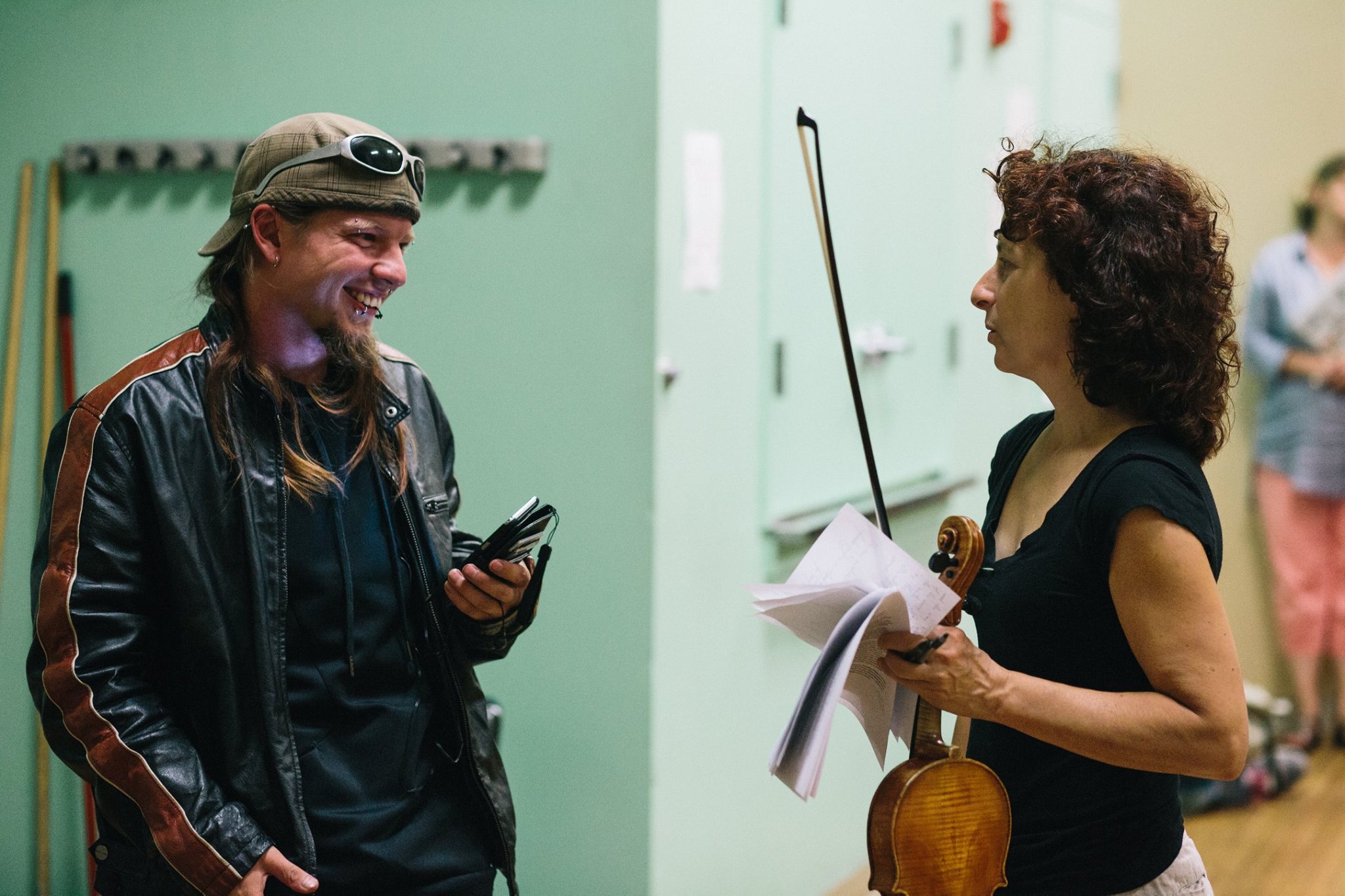 Julie talks with a concert attendee.
Megan: Yes.
Julie: We are interested in what our audience members have to say.  Everyone loves to be listened to. It's this sort of very basic thing that we provide. In fact we say to our audiences, that we are team: the musicians and the audience. "After all, if we just play a concert and no one hears it, it's not a concert. We really need you guys in the audience to tell us what you think and let us know what is doing for you, what is not doing for you." So we open the door for people to say, "I like it and I don't like it" and I ask them to let us know that, quite literally.
We introduce ourselves by our first names. We hand out programs with some musicological information for those who are interested in reading… it's always in English. We do have Spanish speakers and we have not yet printed our programs in Spanish but a number of our musicians do speak Spanish, so we'll translate. We run across other languages, French being one because we have a fairly large Haitian population in Boston and some of those folks unfortunately end up in a shelter. Those musicians who speak French can manage with those people.
We do strive to interact with people in a language that is their native language, if we can, which also encourages them. When I start the concert, sometimes I say, "Is this the first time anyone has ever seen a violin live?" And hands will go up and then I will say, "Oh so, some of you have seen concerts before? What concerts have you seen?" Some will say, "When I was seven, I went to the ballet, or the Nutcracker was so great. My parents were there. We were all happy."
People are able to share memories of happier times, which is also something that the music engenders regularly throughout the concerts.  People end up with good feelings, calm, happy memories. They often want to talk about what the music brings up–sitting on grandma's knee and singing and that was really fun. I remember one woman, tearfully speaking about Ave Maria, Schubert's Ave Maria, at her grandmother's funeral. Of course, she missed her grandmother and just hearing that music again brought back the deep feelings she had for grandmother. You know, it's such a rich fabric that the music evokes and people want to be able to talk about that.
Between pieces, we'll speak a little bit about the music. Well, sometimes we'll share stories about what's written on the program or share something about the composer that is not on that piece of paper.
For instance, Beethoven. The people in our audiences ask for Beethoven a lot. When we play something by Beethoven, I'll say, "This guy started going deaf when he was 29 years old, and he lived to be 57. So you know, almost half of his life, he couldn't hear." Someone will offer, "Whoa, he couldn't hear?" People often don't know that, even if they know the name Beethoven.
We may have a whole conversation about how this guy who lived over a hundred years ago had really big problems and didn't let them get in the way of his being creative.
People will find solace in that, inspiration, and are pleased to know that information, and will often then talk about some problem they are dealing with. One person said, "He was deaf, and he could write that music. Man! I'm going to figure how to do something like that. You know if he could do it, maybe I could it."
Megan: Right.
Julie: People find inspiration in learning the stories of musicians through the ages, especially musicians who struggled because after all, musicians are normal people too. The demystifying of classical music helps our audience members realize the people who created this music and the people who are performing this music, are just people. And we all, musicians and homeless citizens, get to share in this.
Megan: Yes.
Julie: We will encourage conversations when someone raises a question. I want to emphasize that we often get audience members who are quite knowledgeable about classical music as well as many who are experiencing it for the first time.
Megan: It's a very diverse audience.
Julie: They're quite knowledgeable about many things, in fact. This, of course, busts up this assumption of who is homeless, because in fact the homeless population is made up of a very wide swath of the general population.
Megan: Definitely.
Julie: Yes, there are statistics that one can point to regarding who we interact within the shelter and there are many highly educated people who have careers, fall into bad health, fall into financial problems, suffer a mental health problem and these can spiral an individual into homelessness.
One audience member said about the music of the Finnish composer Sibelius, "That reminds me of the composer, Fauré." That's a French composer, and I said, "How? That's so interesting? I think they lived around the same time period."
An audience member who was listening said, "I'll look it up. Tell me how to spell the names." She got out her iPhone to seek the information. Now she's participating in the conversation and she's providing information and she states both composers' dates. Then we have a whole conversation about how in music, in writing, and in painting, sometimes people in the same chronological era are creating something that has a similar style. There we were with history and art and people learning, and smiling!
It's fantastic. I mean that's a conversation anyone would want to have anywhere and there we were, in the shelter, as the result of a concert. So those things really make people feel welcome to ask questions and sometimes it's 5 or 10 minutes between pieces because there are a lot of questions and we will follow a conversation.
Occasionally, I have to say, "This is such a great conversation. We need to move on because I know you want to hear more before it's 'lights out,' here at the shelter and we don't want to get in the way of your evening routine." For some of the shelter guests, that means they still have to queue up for a shower. You have to wait for your turn for the shower. Or in many of the shelters, the people have to leave very early in the morning. They're not able to stay there all day, so they're going to be out very early at whatever they're doing. For some it's a job. For some, it's working on getting a home. For some it's back on the street the next day.
Many shelters are not open during the day; literally, the doors are closed so we have to be mindful of their schedules when we're generating all of these fascinating conversations.
Megan: Yeah, but I think that's so cool that you're doing interacting, as opposed to you just kind of coming in and being like, "Okay here's the music, okay bye." You know, that you guys are actually fostering relationships with people.
Julie: Exactly, that's very much a part of the ethos of the organization. It's based on relationships. And there are many layers to that. Some of that is the musician's relationship to the music, and the fact that musicians are passionate about this music, and want everyone to hear it. So we put that belief into action by providing this music for people that typically don't get this music.
Then there's the fact that we return to the same places month after month, because we want to invest in those particular shelters and the people that are there. In fact, there's one gentleman at the shelter in Jamaica Plain neighborhood of Boston who has been at that shelter the entire time, seven years, well, six-and-a-half years, that we've been playing there and he has a very sad story. He lost his family. His family home burnt down. He has very significant mental health challenges, and he is not likely to be a candidate for permanent housing.
So, this particular man has heard us year in and year out this whole time. He knows about us. He wants to talk about music. As I said, he has some pretty significant mental health challenges, so we've learned to manage this conversation in a way that shows respect for him but sometimes we have to interrupt him and thank him for his comments and say, "You know we have so more pieces to play now and we want everyone to hear those." We've learned skills to support this interactive concert model, actually, so that we can really deal with people in many different concerts. Really, it is such a terrible time in their lives being homeless. And as you saw in some of the quotes, many of our audience members will talk about how "the fact that you come back, the fact that you show us respect, the fact that you don't look down on us, the fact that you take us seriously, that makes me feel like a human being."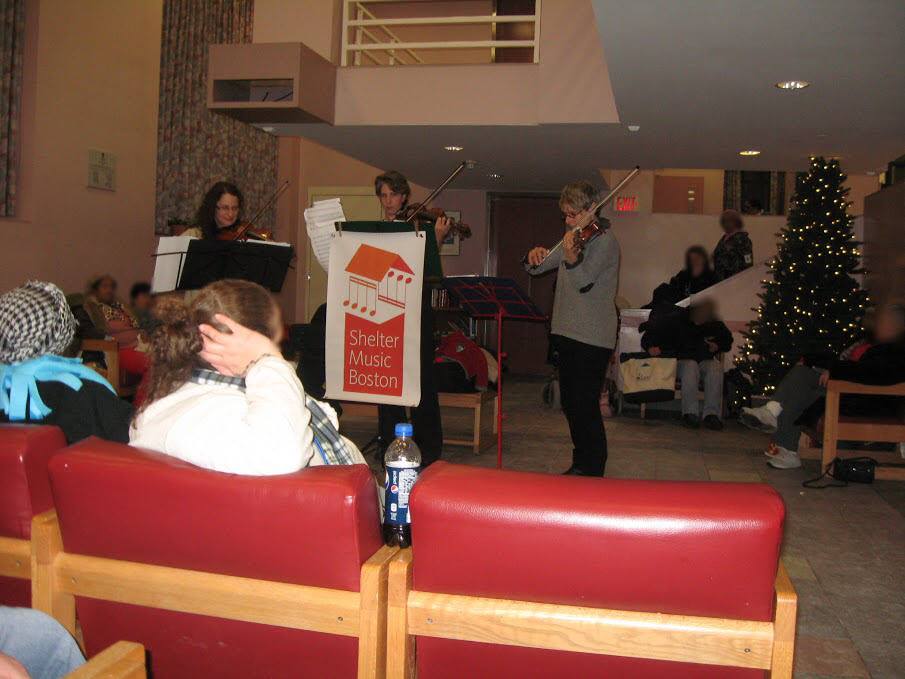 Megan: Right.
Julie: That's really what Shelter Music Boston is about. Using great art that has survived the test of time as well as newly written music to make people feel human and to share some of the great art of Western classical music, and all that music can achieve. I mean some of the work we've done is around really reinventing the point of the concert. If you take it out of where it's conventionally expected to be and put it into an unconventional environment, it has a different impact and that's what our work is about.
Megan: I love that. I love that idea of reinventing the point of our concert too. Also one thing that I also read about, and you mentioned this earlier as well, is that the musicians are not volunteers and that they are paid and I feel like that such a great another aspect of Shelter Music Boston because typically people who are in the arts community aren't the best paid people. To do these things, that's really engaging with the homeless population but also is another way for musicians to get paid, that's amazing.
Julie: Yes, absolutely. Yes.
Megan: How do you fundraise for that too?
Julie: Well, we work very hard on that and employ a typical nonprofit revenue model, which is a combination of grant funding, and individual donations, and corporate sponsorships or corporate grants, It's a challenge, it's always been a challenge, always will be a challenge. One of the biggest challenges: in order to be funded, you have to have show that you have funding so it was tough to start.
Megan: Yeah.
Julie: In the very beginning.
Megan: Catch 22.
Julie: Yeah, it is a weird Catch 22 and I have to say now that we're 7 years in, we have achieved a certain level of funding. So what we're up against now is, "We're not going to fund that grant for X because we see that really your grants so far are only X minus and so no one has taken a chance on you for those big grants." So that's the big challenge we have to bust through.
When we started, the first year or so, it was exclusively just two of us musicians.  I said to my colleague, "I don't have any money to start this but I'd like to start playing concerts. I'm also starting to apply for 501c3 status. Once we get that status, then it will legal for us to apply for grants and ask individuals for donations, and we will already have a track record documenting what we can do because we will have played all of these concerts.
Megan: Right.
Julie: And she said, "Yes I get it and am in, totally." So we started playing and slightly under a year later, we achieved the 501c3 status. So we have 9 or 10 concerts under our belt, and documentation of people, the responses from both staff and the people in the shelters that we are serving, which was very helpful in applying for the first couple of grants. We were extremely lucky that the first two grants we applied for we actually recieved.
Megan: Wow, yes.
Julie: The regular, the more conventional statistic, is 8 out 10 grants are rejected. All of my other peers in nonprofit work have said, "Yes, that's our track record." I thought, this is great, 2 out of 2!
Megan: Where those your two out of 10, and then you had eight rejections after that?
Julie: Exactly, exactly, exactly, yes. But we have been very lucky and I have been quite strategic about how I wanted to grow the organization. We have been able to escalate the grants that we have achieved and escalate the individual donations. There's a lot of work that's somewhat conventional in any nonprofit about how you do that. But it really is built on relationships and built on measuring the work that you do and proving that you are successfully doing what you have set out to do and you can come back to your funders and say, "You, funders and donors, enable this to happen and we help you make this happen by delivering your gift in the form of our service to these audiences."
But along the way, when it started really going well and we received grants and the audiences were loving the music, and the staff was loving it, I realized that my whole career I've been involved in producing concerts: I know how to produce concerts. But I'm starting to see that running a sustainable nonprofit organization is a different skill set.
I actually went back to school for a year at the Boston University School of Management in a fantastic Program in Nonprofit Management and Leadership and that one year certificate program provided me with a wealth of education and networks to which I could turn for advice and consulting that has also really propelled our organization. I completed that in 2012.
Then in 2013, Shelter Music Boston was selected by an organization called the Social Innovation Forum to be one of the 2013 Innovators, and that meant me being the innovator: basically 2 years of being in a nonprofit accelerator program.
Megan: Oh neat.
Julie: Working with consultants. Yes, a fantastic program. The organization, the Social Innovation Forum, is really unique among nonprofit accelerator programs in the US and they're quite a model for other programs that are now trying to do this work of supporting nonprofits. Many nonprofits grow up not realizing that you have to run a nonprofit like a business and do business. It's just that you don't fill out the same tax forms that a for profit business does.
Megan: Right.
Julie: But you have to have revenue. You have to have a business model. You have to have management that is savvy and strategic. You have to have all of the same aspects of a successful business but your revenue is classified in a different manner.
Megan: Right.
Julie: Your mission is not to accumulate capital. Your mission is to deliver services that make the world the better place, as opposed to for profit, which may have that in mind too but you know, there's the difference there.
Megan: At least we see the different platforms, yeah.
Julie: Exactly. The Social Innovation Forum was a great program for me and for Shelter Music Boston, and to this day, I still have many connections in that organization and benefit from having been an Innovator, and relationships I built in that program that I still capitalize on for Shelter Music Boston. Those things really propelled the organization forward.
Megan: Yes, can you talk to me a little bit about Boston just in general? I don't know if you're native from Boston or if you've moved there. What draws you to that city? What keeps you in that city and what is it like for the nonprofit community in Boston maybe as opposed to other cities?
Julie: Okay, well. I have been in Boston for quite a while. I went to school in Ohio but I did spend 1 year at Boston University during college. Then after college, I travelled abroad and played in some orchestras abroad. Then when I came back, I ended up in Boston because I knew musicians here and what keeps me in Boston is that it has a very dedicated and high-level commitment to classical music. I have fantastic colleagues who do a wide range of music and so, I've been able to make a living as a musician, playing classical music. So that's, you know, pretty pragmatic. If you can work and make a living that'll keep you in a place.
Megan: Especially about what you love; I mean, that's the dream.
Julie: Right and what my college training was for, to be a classical musician. So yes, that's pretty much what has kept me here. The nonprofit scene in Boston, I really don't know other cities as well for the nonprofit scene as I do for the music scene because music is much more of component of my whole career.
But the nonprofit scene in Boston is thriving. There are very large numbers of large and small organizations that are driven by passionate people who want to see mission-driven work really triumph and deliver services and help people. My particular intersection with the nonprofit sector has been very positive because in fact the year I was in BU my position with somewhat unique.
As I said, and we first started speaking today, Shelter Music Boston is a social service organization, but what we present has an artistic very deeply artistic component.
Most of my peers in that BU School of Management Program were from much more straightforward social services, but we learned so much from each other about how organizations run and so I have many connections to organizations that are serving struggling individuals or doing land conservation, or many other types of work.
I saw these other organizations and met passionate people who work hard for their mission. It's seems parallel to my passion for music and for delivering music to people who don't have access to high quality music.
The same has been true with my experience in the Social Innovation Forum where I also was able to make and build relationships with many different kinds of nonprofits including artistic ones, actually. There are a lot of people who work very hard to make change and improve the world, I have to say.
Megan: It's inspiring,
Julie: Yes, it is exciting and it's heartening, you know especially when you open the newspaper there's a lot about stuff going on. So it's very nice to be in a community where people want to see success and see the life of one individual improve, let alone many individuals, who are facing challenges and need help whatever that help may be.
Megan: Yeah, I like that.
Julie: It has been inspiring to make and to build relationships with people doing a wide variety of social service delivery.
Megan: Yeah, I like, I don't know if this is just a coincidence or not but I like that, at the beginning you said that, "There's only two other organizations like yours in the country, and that all three were started by violinists." It kind of makes me wonder is there something special about violinists?
Julie: That's interesting. I think it's coincidental. The organization in New York, does not perform as many concerts as we do annually." I have met and stay in touch with the founder of that organization. We're very happy to see each other having success with this kind of work. The violinist in LA, we have also met, not in person but on the Internet, and we've exchanged emails about the work we're doing. That organization as well does not produce concerts at the same level as we do, 6 to 7 a month.
But all three of us do have the same driving force of let's bring this music that we are so passionate about into these environments because we know it's going to improve lives. I think there are people who play other instruments who do that. Probably, they will start organizations like this and that would be great because the more the merrier and the need is immense. Here in Boston, we have a number, 8 or 9 organizations that have reached to Shelter Music Boston in the past year that we have not yet been able to serve and part of that is, it's logistically very challenging to add another partner. It's also a financial issue for Shelter Music Boston.
The people who work at Shelter Music Boston are compensated in a professional manner, and the work is valued professionally, and Shelter Music Boston wants to be a leader proving that this is good work for musicians, classical musicians. There are challenges in the classical music industry for all of the people who could do the classical music work to actually be working.
The music schools are turning out fantastically talented young musicians who have no jobs. I read just last night, in the help wanted section of the National Musician's Union newspaper that there is one violin position open in Indianapolis and two in Chicago. You know, I mean there are not enough jobs.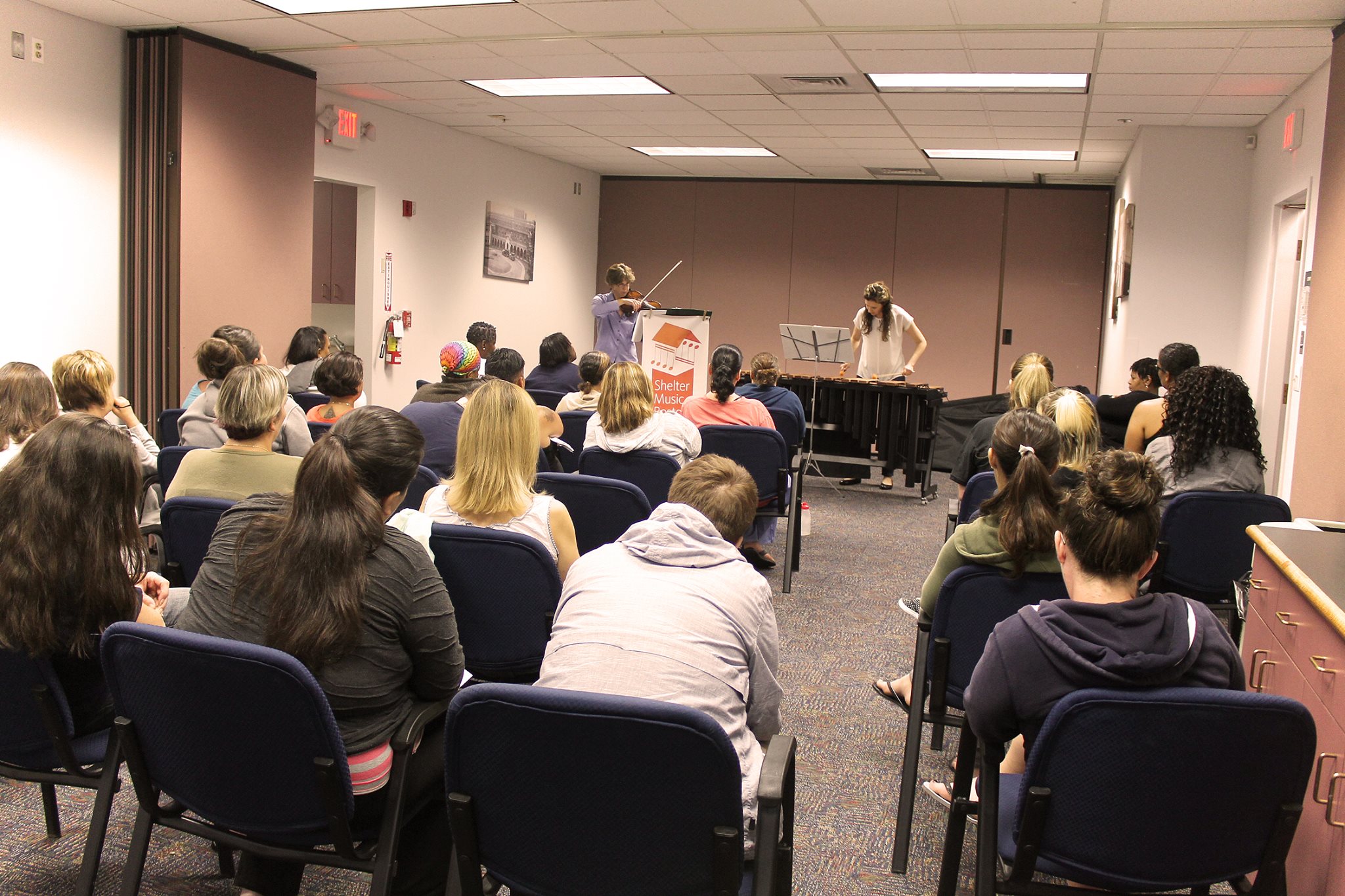 Megan: This is not enough. Yes.
Julie: In the country.
Megan: Right.
Julie: There are 50 violinists graduating from at least 10 very high-level music schools every year. It's probably more, I mean, I'm just throwing these numbers out and I'm sure I'm underestimating. Where are all of these musicians going? So, in my mind, the shelter concerts are good work for people. And we're changing lives and we're playing music we love.
Megan: Right.
Julie: Our work in the shelters is quite on the level of what the social worker and psychiatrist do. They build relationships with individuals, based on interaction to assist that person in achieving improved self-esteem, improving their emotional life, empowering them to make decisions that will improve their financial situation or housing and, you know, all of that stuff. That's what our concerts do. We're documenting that.
Yes, it's definitely good work for 21st century musicians and hopefully, we'll be able to grow the work and have enough financial support to meet all of the need we have in Boston. As well, people throughout the country will see that and start organizations that will hopefully take up the work in other places.
Megan: Yeah.
Julie: It's not just homeless shelters. You know as I said, one of the organizations we serve is a residential treatment center for women recovering from substance abuse. That audience is very interesting and I would love to be serving more places like that. As well as we had a couple of trial concerts this past summer with an organization called Elder Service Plan and that was a Day Center for Elders in a pretty tough neighborhood, not a fancy place with lots of services for the retired population, a place dealing with elders who don't have a lot of resources. I'd like to see our concerts in those kinds of places as well.
Mainly I'm really interested in what I call environments of need. The greater the need, meaning the more challenges facing the population being served, those are the organizations I want to partner with because that's where the music can have the most impact and that is because of contrast. The music is so well crafted and so beautiful, performed at such a level of excellence and the people's lives are so stressed and have so many challenges and few resources. I want them to have some music.
Megan: Right, yes they need it.
Julie: They need it!
Megan: I mean we all need music. So final question, the holidays are coming up. Do you guys do anything special for the holidays or what sorts of concerts because I know sometimes…
Julie: Yes we do.
Megan: Especially…
Julie: Yes, it's a program that has evolved over the years, not as the same program every year, but we include some—I guess, it should be in our website, if it's not up, it should be because it's in December, it's coming up, it's a couple of weeks, actually next week…
We will perform some music from Tchaikovsky's "Nutcracker" because so many people are going to see that ballet this time of year and many of our audience members have seen it, it turns out, when they were children or in recent years. They went with their families then, but here they are in the shelter this year.
The idea is that our audiences deserve to hear what is going on in conventional concert halls and venues too. We don't have the whole orchestra, we have two or three or four musicians at most but we have arrangements of this music and when people hear the "Nutcracker," they smile, eyes light up, that's fantastic.
Our concert this year includes the Hallelujah Chorus from the "Messiah" which is a very well known piece that's performed at this time of year. We do some arrangements of carols. We bring lyric sheets, and we hand out the lyric sheets and say to our audience, "We are your live iPod, we are your live radio. You guys pick. What do you want to hear?" "I want Jingle Bells, I want Away in a Manger, I want." "Okay, hold on, we'll play those three." We encourage people to sing. Sometimes someone will volunteer to stand up and stand with us and lead the singing.
Megan: Oh nice.
Julie: It's different every time but it's a chance for people to do something they did as children, or they may have always wanted to do, or they may just want to listen. But it's something that's going on in the conventional world and people know that they don't get to participate because they're in shelter so we say, "Well forget that, here we are in the shelter, making this happen."
The idea is to offer this notion to a shelter audience: You can participate in things that are going on in other places that you may not be able to get to this year and we will offer you some very beautiful music that is associated with the holidays. The Italian composer Corelli wrote a piece called the Christmas Concerto and we play excerpts from that work.  In fact in the Baroque Era, it was a very common practice to write a piece called Christmas Concerto. No singing, instrumental music only. This kind of work often evokes an element of mystery. We'll talk about the Christmas story during the concerts; there was mystery in the beginning of the story, about this little baby being born and we'll talk about how the music suggests that we didn't know how the story would turn out when it started.. This music is only about the birth part of the Christmas story.
Megan: Yeah.
"They get to hear this music that makes them feel a little piece of home again."
Julie: Again, were trying to invite people to think about it and talk about it and just learn how artists through the ages thought about it. That's our Christmas program, holiday program. Occasionally we've included some other tunes. Last year, actually we performed a Lebanese folk song that one of the musicians suggested.  He had taught in the Middle East and had heard this song a lot, particularly at this time of year. When we played the arrangement that the Shelter Music Boston cellist had made for us, two men who had not really been paying attention to the concert at the Pine Street Inn Men's Shelter, stood up and looked at us smiling. Later they told us they were refugees from Syria. They had heard that song all the time and hearing it in this concert made them feel like they were home again. They couldn't believe we played it. How can we know the music, they wondered? They wanted to talk all about it. That was amazing and it made them happy.
To hear them say, "I'm a refugee from Syria," created a very emotional scene. Here they are in homeless shelter. They get to hear this music that makes them feel a little piece of home again. That's how we know we did our job well.
Megan: That's a pretty good experience about how you did job your well.
Julie: Exactly, exactly, exactly.
Megan: Well, Julie, thank you so much for talking to me today. This has been fascinating, and you have so many great stories, just about how music touches people's lives and it really does. So yes, just thank you so much.
Julie: Yes, well, thank you. As I said, it's always wonderful for me to have a chance to talk about it and reflect on it, off and on. I'm so in the middle of making things happen, or we're working on a project, or writing another grant request, and various aspects of keeping the organization going that I forget to reflect like this.