The Zip episode 30

I'm working on a presentation in which I tell a lot of marketers that content development is an experiment. We allow technology products to say they're in 'beta,' but we expect so many other areas of our lives to come together seamlessly. I think nonprofits should have a way to say they're in beta too. And I think today's guest, Marisa Hamamoto, would agree. Marissa founded Infinite Flow, a Wheelchair Dance company, in 2015, but the nonprofit has gone through a few transformations since, as Marisa has learned about the community she's dedicated a good part of her life to working with.
Today I'll be speaking with Marissa about how her nonprofit has evolved over the past 2 years, and how it's turned into an organization featured on the Today Show, and quite a few other national outlets. Marisa and her team have hit on a conversation that resonates, but maybe not for the reason you think. As Marisa explains, Infinite Flow is a nonprofit, but it's not a charity case – they're a truly mainstream, talented dance company.
Marisa is clearly an ideas person – packed into our 30-minute conversation are so many examples of her innovation at work, and that's what I most excited to share today.
Welcome to The Zip.
Megan:
Marissa, how would you describe Infinite Flow in the community that you've created there?
Marissa:
Infinite Flow is America's first professional wheelchair ballroom dance company. Our mission is to mass market inclusion through dance and innovation. The 'term mass market inclusion' is a term that I made up.
Megan:
It's a good term.
Marissa:
Basically what we do is we do activities and programs that really make inclusion look attractive and also really practice the concept of inclusion, not just on a social scale but also an artistic level as well.
Megan:
Right.
Marissa:
This mission statement to mass market inclusion is something that let's just say I've rewritten the mission statement about five times since I created Infinite Flow two years ago. It actually started off with 'sharing the power of dance to people who can't walk' to 'improving quality of life to wheelchair users' to 'breaking barriers artistically and socially.' The next phase was 'to increase quality dance instruction to people of all abilities.' Then, finally, I rewrote it as mass market inclusion. I started Infinite Flow as a wheelchair dance company. The reason why I created a wheelchair dance company or the back story behind creating a wheelchair dance company is, though I've been a dancer my whole life, I was temporarily paralyzed from the neck down back ten years ago with a rare spinal cord disease. I was told by the doctor that I may never dance or walk again.
Today I am back on my feet walking, dancing professionally, and it was my way of giving back my love for dance to a very underserved population of people. When I discovered wheelchair dancing I realized that it was very underdeveloped in many different ways. I couldn't ignore it because of my history. Being an advocate of dance and believing that every single person has a dancer inside of them, I had to do something about it. I really felt like this was it, that this was my calling. It really started off as serving wheelchair users, but as we built wheelchair dance classes, as I started a professional dance troupe, kids classes, community outreach and getting quite a bit of attention through our videos that we started posting I realized that we were more than just a dance company and more than just about serving people with disabilities.
We were truly a social movement for inclusion. Our organization, talking about the community here, it's not just about people with disabilities or people that are paralyzed from the waist down or the neck down. It's really about every single person and really celebrating each other's differences and each other's characteristics through dance and specifically partner dancing. With partner dancing you're dancing with someone different, so through that process the barriers are broken.
To go back to what kind of community we have, we are first and foremost a wheelchair dance company. I do have a vision of I think the wheelchair dance company part is not going to leave us, but in terms of my long term vision here it's creating a world class dance company that incorporates both dancers with and without disabilities; really creating inclusion, really making inclusion look cool, but also building a community that really practices the concept. Our current community here in LA, because we did start off as a wheelchair dance company and we still are, I would say the spinal cord injury and the wheelchair user population definitely knows about us. Also because I've made such a big effort in making what we do look cool and also our events are very much–you really start to not even see the chair anymore. It just becomes social. It attracts people that don't have disabilities into our community too.
I feel like I've done a really good job with really practicing the concept of inclusion. That's who we are in kind of a nutshell there.
Megan:
I love that. I feel like in addition to what you said, you said in another recent interview that 'dance is an expression of self through the physical body.' I just love that quote because it implies that dance is more of a universal expression, not just for certain people with certain abilities or certain talents. Is that something you've had to teach either community members or maybe even some of your students that dance is more about self-expression than having to move or look a particular way?
Marissa:
It goes both ways. If you tell a student to go and express yourself, they don't know what to do.
Megan:
Right.
Marissa:
The majority of people, especially adults, they'd rather learn with structure. Through that structure they find their own self-expression. It goes both ways. Self-expression is something that we don't really use when we're teaching. We don't say go express yourself. We kind of give them let's say tools and a foundation so that they can express themselves the way they want in whatever capacity that they choose to do. That's more of how I would say me as an educator works.
Megan:
No, that's really cool too because I can see how by creating, like you said, the culture of inclusion and creating dance formations that are inclusive of all types of people then people can learn how to express themselves within the structure of that too. You and your videos have been featured on the Today's Show, your students and your team have gone viral on Facebook and you've been covered by dozens of media outlets in just two years which is a really short period of time. Why do you think the story of Infinite Flow has resonated with so many people?
Marissa:
I think it's two-fold. One is my personal story. You know my personal story is I was paralyzed, now I'm back on my feet and I'm giving back. I think the fact that I didn't know that this was all going to happen.
Megan:
Right.
Marissa:
I told you I was going oh wow, people resonate with this. I think we all face challenges in life and I just happened to face a challenge that not many people face, but we can also relate to if we imagine ourselves unable to walk for a moment it's kind of scary. The fact that I overcame that and I'm back on my feet, but not just overcoming it and not doing anything about it but actually going back and saying I am back on my feet but there's many people that are still using wheelchairs. They deserve to dance too. I think the direct correlation between my personal story to what Infinite Flow is, I think that's one thing that I guess I did not expect that I was going to get all this media attention but I guess it resonates with people that they themselves can also make a difference in the world. That's one.
I think more than anything one thing that I do pride myself on is we make the dancing look awesome. I stay away from our organization looking like a charity. There is a non-negotiable every single routine, video, anything that gets out there has to look like a professional dance company. Period. That's just me I guess as an artist and I guess the perfectionist inside of myself let's just say that makes that a non-negotiable. I also think that's what's been missing from the piece. I think that's what's been missing from this space of let's say performing arts and disability is something in which appeals to the masses. My goal always is I always try to say okay, let's create something that can be on Dancing with the Stars. That is one of my goals too, but let's create something that can be on national TV. That's how good–let's make this look good.
Also what I have noticed is it's empowering for people with and without disabilities when they see something attractive like that. They're like oh wow, for someone with a disability–okay, if they can do it I can do it too. I think for the person without a disability in which sometimes–I mean how often do you see someone in a wheelchair not so often. When they see that they're like the whole stereotype behind someone with a disability being incapable of doing things is suddenly questioned and you look at people with disabilities differently. It's the two things that has kind of brought us into the media is my personal story that's directly connected to the organization as well as the quality of the dancing we have been doing. I feel honestly that we are still at the very, very beginning of all of this. I still feel like, oh my gosh, from where I want Infinite Flow to be it's like such a big distance. It's still the beginning.
In our mission statement I purposely put 'mass marketing inclusion through dance and innovation.' I put the word innovation there on purpose so that it's like we are constantly innovating ourselves in whatever capacity we possibly can keeping up with everything else that's going on in the world.
Megan:
I like how you call it your inner perfectionist. I would say that that's part of your mission to the mass market appeal is to make sure that the videos you guys are creating or the performances you're putting on are something that anyone, whether they have disabilities themselves or if they have people in their lives that have disabilities or if they don't, that they would see that and be like these are incredibly talented people. I think that you have pulled that off, but it kind of plays into that.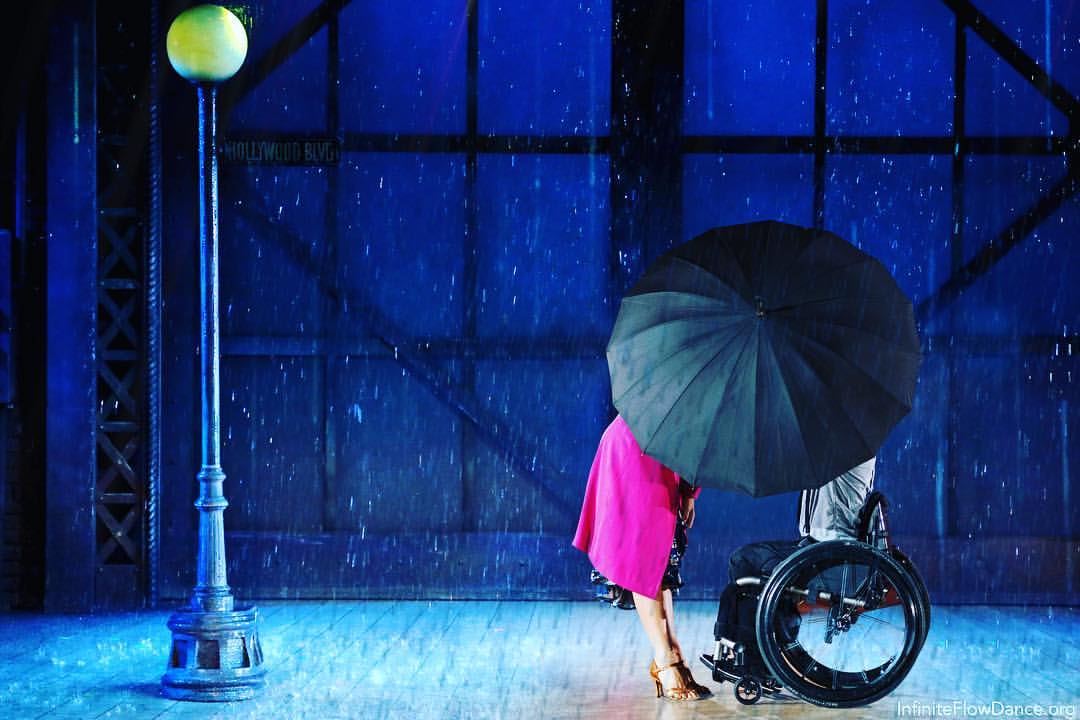 Marissa:
Exactly. I think what I have noticed too that is our videos are ground breaking. Now that I see the reactions of people commenting on our various videos, it gives me perspective of how disability is perceived right now. There is a big gap between our small community that's starting to really innovate itself and really making this effort of reinventing inclusion and accessibility and disability all together versus let's say the majority. I see the gap really clearly. A lot of people do feel sorry for those with disabilities, but I would say most people with disabilities they will tell you that the biggest obstacle that they face is people's perceptions on them that they are incapable of doing A, B, C, and D. I also realize that within me I feel like we're making progress, but I also realize that there needs to be even more for this to really create a nation and a world in which everyone is really equal.
Megan:
Where do you see that more becoming? You talked earlier about how you've gone through five mission statements already and it's evolved. Can you speak a little bit to what lessons you've learned along the way, even just in the past two years, that have caused these evolutions and then how you see the company changing in the future and growing to meet your current mission?
Marissa:
Sure. When I first started Infinite Flow or when I first encountered wheelchair dancing I did not know anyone in a wheelchair. I really didn't, it was kind of like where I was not involved within those communities nor did I have a friend or anyone in a wheelchair. Again, I was paralyzed from the neck down at one point in my life, but by the time I got out of the hospital I was back on my feet. I never lived a "disabled" life either. The life of a wheelchair user was something that was completely new and foreign. Learning about accessibility and ADA was completely foreign. I did go into this with not stereotype, but it was all about serving an underserved, unfortunate group of people. It was subconsciously that was what it was about. It was me going in okay, all these wheelchair users don't have an opportunity to dance and I'm going to give it to them.
Megan:
Okay.
Marissa:
It really started off with serving that population, but knowing that if you look at our videos the typical structure that we use is wheelchair user dancing with a non-wheelchair, standing partner. That's kind of the makeup. In other words for it to run any of our events, workshops, or classes I've got to recruit people that are on their feet as well. Naturally our classes became inclusive. As I got to know the population better, this population of wheelchair users was by far from being disabled. They were just everyday people like ourselves. You start to forget about the chair, you don't see the chair anymore and you just realize that they just happened to not be able to walk, but there's nothing really different about them.
Then I also realized that a lot of the people that didn't have a disability that were standing and were actually benefiting maybe even more than the wheelchair user at times. I felt like there was just all of this joy coming from them dancing with someone that they never thought that they would ever be able to dance with. Also just seeing how socially everybody started connecting, whether it was the adults, my professional dance troupe members, or the kids. Seeing how people interact I was like you know what, our organization is not just about serving people with disabilities. This is not it. Then I really had to dig deep. It was two years of questioning what do I want to accomplish here? I just felt like the whole dance company part, creating this amazing professional world-class dance company was still there, but why? Why is that so important to me? I started to really question myself.
What effect do I really want to have?
I really started questioning that and at first I really thought you know what, I want everyone to have access to good dance training. That's what I started off with, but I'm like you know what, that's not quite it either. I mean there's people that dance that don't care about dance training, they just want to dance.
Megan:
They just want to have fun.
Marissa:
Yeah, that's not it either. Maybe that's maybe one of our program goals is that. I dig deep and what kept on popping up were the words inclusion and diversity. Inclusion was a word that kept on being used when people described us. Infinite Flow is just really inclusive. I wasn't really used to hearing that word and I'm like okay, what is inclusion? Why are people calling us inclusive? What is that about? What I realized is what people were seeing was the equality in our activities. It wasn't about the wheelchair user. It wasn't about the person with a disability. It was really equal across everyone. In getting to know the disability population more, I realized that what they were fighting for all the time was to be included. That was part of it.
Also I know that this is going to go a little bit off topic, but when I was a high school senior student I went to a performing arts high school called Idyllwild Arts Academy. I was a dance major there and I only went there for one year as a senior. For our last concert it was a senior choreographed dance concert. I think there was about 12 people in my senior class that majored in dance that year and we were all given the opportunity to cast and choreograph our own short dance work. When the casting notice went up, I was not chosen to be part of anyone else's work. I felt very excluded and I just happened to be alone looking at this casting notice on the bulletin board and I remember crying. I felt like oh my gosh, this is what feeling very excluded feels like.
What I ended up doing is in that moment, this is a life changing moment, in that moment for whatever reason after crying my heart out for a few minutes I said wait a minute here. There is about ten kids that are also not included on this cast list. Mostly it was dance students who were in the lower grades because this was a school that went from seventh grade to twelfth grade, so it was mostly the students that were in the eighth and ninth grades that were not included. I was like oh my gosh, that's not fair that they are not going to be able to participate in this concert. My god, this is a school performance and everyone should be able to participate. I didn't think it was right, so what I did was I just included all those ten dancers onto the cast list. I just took out my pencil and I wrote all their names down. Then later on I pretty much blew away–I guess what I did was pretty much blew the minds away of the entire school.
Megan:
You created your own dance with all of the kids who hadn't been chosen?
Marissa:
Exactly. I did not expect to have such a big reaction from the entire department of what I did. I just did it because I thought it was right, that was it. I didn't do it because I wanted to stand out, show off. No, but how people reacted they realized that what Marissa did took a lot of courage and was right. What she did was right. I had always been a person that I born to already be an advocate for inclusion. Basically Infinite Flow is an extension of what I did when I was a senior in high school. The word inclusion just kept on resonating with me.
Funny enough, one of the biggest projects so far that I have put on that I am very proud of was we put on a big flash mob last year in November. It was called Infinite Inclusion. Infinite Inclusion is specifically one of our programs and our newest program that is specifically geared to put on activities and events and create media around mass marketing inclusion so that it's strategic efforts to do that. I launched this concept with this flash mob which I had already been envisioning for months before that. We had about 100 people, half of them were in wheelchairs. We also had some deaf dancers, dancers with Downs Syndrome, a couple of blind dancers, we also had some special needs pets. It was a rainbow of a variety of people and this happened to fall five days after the election. This was on November 13, five days after the election in which the country was very divided.
It was not my intention to connect this whole flash mob politically. I scheduled it after the election thinking that people would calm down from all of the politics that it might be the best time to do it. It ended up becoming this–our community really gathered together and danced for a message of inclusion. They were all there. We were all there not just dancing for ourselves, but dancing for a cause and a cause to show the country that even though we're all different we can still unite as one. I think once we did the event, once I saw our whole community just having a blast and seeing everyone connect so beautifully with everyone and once the video came out–my videographer, Cain, did such an amazing job shooting it. We edited it together and it turned out exactly how I envisioned it. Even better, once I saw that I was like okay, this is it. I'm not changing my mission statement at least for a while here. What we're doing is definitely a little out there, but I fully believe in what we're doing.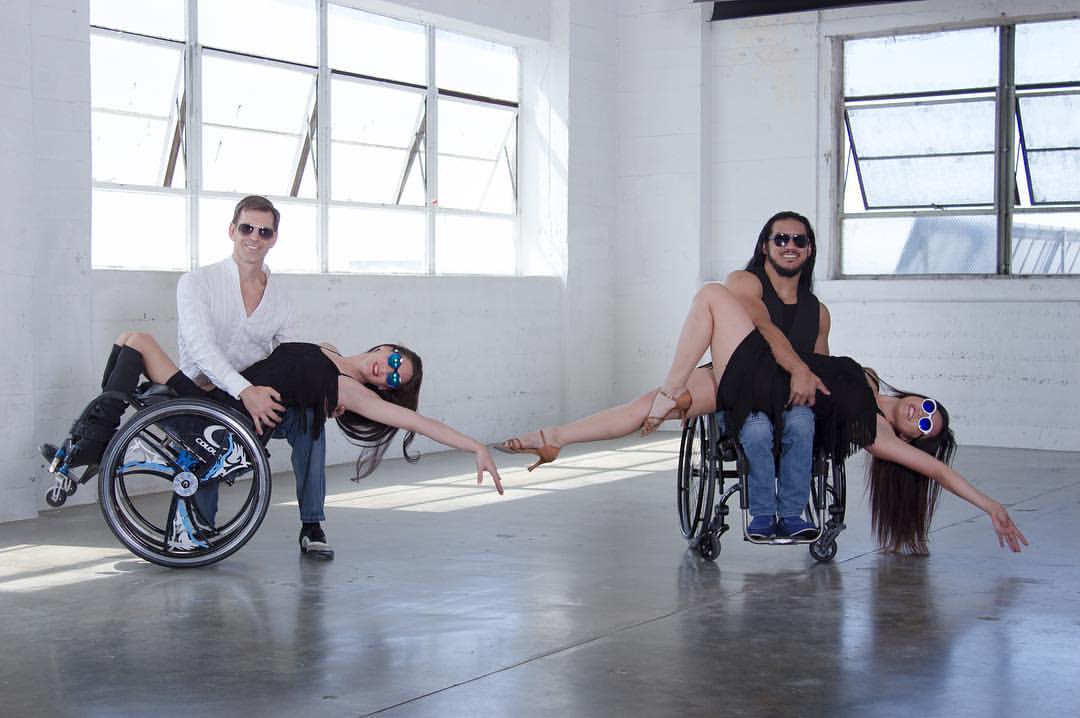 Megan:
I love how it all ties together for you as far as the experience you had in high school and then going into the dance world yourself. I read in some places and I think you experienced probably what almost every artist has experienced which is just rejection. That is kind of a universal feeling, but still feels very personal whenever you have it. Your reaction to rejection was different and you built something out of it. Then also your experience of being paralyzed which, like you said, not everyone experiences that. I love that you built something out of it that was greater.
I'd love to ask you a bit about just the Los Angeles community in general. I know you're based out of Los Angeles, I don't know if you moved there before starting Infinite Flow. I'm assuming you did and then decided to start it there. Do you think there's something special about the Los Angeles community in particular that has helped you build Infinite Flow?
Marissa:
That's a really good question. I don't know if it's the LA community, but I moved to LA because I wanted to pursue an entertainment career here and specifically for dance. At first it was dance and acting. You can only focus on so many things at once, I put priority on my dancing and then running my non-profit. I would say that there are things right now I'm working is like speaking and more leadership stuff, but I moved here because of the entertainment industry and having access to Hollywood, TV studios, and film studios. Just naturally I think the culture here is very much the media and entertainment industry is so strong that I think it has made an influence on me. I think me myself, you know I came here for the entertainment industry so I've been around actors, directors, producers, and various crew members. Naturally I've been pulled into behind the scenes work as well as just having a camera and knowing how to shoot simple things.
Also just not necessarily choreographing a lot, but studying choreography. I personally, not everyone here in LA, but I personally am in that space. That has influenced me with Infinite Flow. Rather than going into what I call a performing arts direction of more of a traditional dance company, I've pulled it more in a commercial direction.
Megan:
You've learned from LA in some ways.
Marissa:
Yes, and that is a direct influence from my work here in entertainment. It's not like I've done tons of stuff, but you can't help but get influenced. I also have to say just me personally I have also experienced the power of motion pictures, motion picture making, and media as well and how powerful that can be. I definitely incorporate that.
LA is a fast-paced and kind of a slower, laid back place all at the same time. It's kind of hard to speak on behalf of the company because I'm a particular person in a particular community. I think LA is a great place for innovation. It's a great place to create something new and try it out. It's a very creative community out here. Does that answer your question?
Megan:
It does. It does. Thank you. One final question, we were talking about this a little bit actually just before the podcast, but how have you gone about fundraising? What is the most successful and unsuccessful ways? You also mentioned in the podcast that you try to highlight the fact that Infinite Inclusion is not a charity, so that makes a lot of sense. Do you also have trouble fundraising because people might not know it's a non-profit? How have you found success there?
Marissa:
Honestly, let's just say recently was when I started to really start to make an effort for fundraising and sponsorship. Yes, there's a side of me that I don't want us to look like a charity and be treated as a charity, however, we do need sponsorship and we do need funding for our activities. Basically, the biggest sponsor for Infinite Flow so far has been myself. I have not paid myself one cent out of Infinite Flow's account since I started working on it in January 2015. I volunteer 30-50 hours per week just working on Infinite Flow. I'm literally wearing every single hat you can possibly imagine while keeping also another business of mine which is basically teaching dance up and running as well. It's all tied together. I do make money dancing and performing and also teaching. Then Infinite Flow is my passion project that I've basically been volunteering for.
It's been challenging I can say so far. I honestly started this non-profit with nothing, just with passion. I filed my own 501(c)3. I really did not know what I was getting into on the business end of things, so it's been kind of a learning curve for me. I also knew that in order to get sponsorship and to get funding that we have to prove ourselves worthy that we are. The last two years have really all been about creating a track record. Within our inner circle community there have been individual donors donating anywhere from $10 to $500, so that's part of it. In terms of corporate sponsorship we're very new. We recently applied for a grant from the Christopher and Dana Reeve Foundation and I literally just got a notice two days ago that we actually received it.
Megan:
That's amazing. Congratulations.
Marissa:
Yes, so that was very encouraging. You know, $6,000. That was like oh my gosh, wow.
Marissa:
No, no. I think it put it on hold. That's been so far I would say one of the biggest. Fundraising has so far–I'm just very new to it. I do thank ZipSprout for helping me acquire a bronze sponsor. That was awesome. That was a big surprise. I think how I am seeing how sponsorship could possibly work with what I do and be a win-win for all is Infinite Flow bringing accessibility into different corporations and helping different companies and brands make their services and product accessible.
Megan:
It's like you're a non-profit with a consulting edge to you.
Marissa:
I really feel like we have potential there that we can help potential sponsors market themselves more to people with disabilities which actually comprise of 56 million people in this nation by making their product more accessible. Possibly their product might already be accessible, but just showing that they support diversity and inclusion by whether it's creating a commercial that involves people with disabilities. I feel like we can possibly bring a piece of that. That's kind of right now my thought on sponsorship right now, but it's definitely a new road that I am still very inexperienced in. Anyhow, actually it would really help.
Megan:
You'd be surprised how many–I think especially people are running newer or younger non-profits–I feel like that's just a big question that people have. How do I raise money well? You have such forward thinking ideas, I'm like that is so smart to offer like you can sponsor us and we can help you as well. I think that's such a cool–but also by you helping them it also helps serve your greater mission too because you're promoting inclusion.
Marissa:
Yes, exactly.
Megan:
It feeds back in on itself.
Marissa:
I like to see things sponsorship more as a partnership and a collaboration. I think if we can all win through the process it's good. I think in terms of going back to the concept of sponsorship, I think people resources, connections is also a big part of I guess we can call it as incoming sponsorship too. There have been people that have generously provided their services at no cost to us as well. There might not be cash exchanged in the transaction, but that is also equally important as well. We've had a couple of great collaborations as well between other creative people like filmmakers and photographers, you know just creatives in which it's more like we're going in here because we both have this vision of making amazing art. They want to shoot or they want to have this wheelchair dancing as part of their work and we also win because we get this great media. Those collaborations are also very important.
I won't lie, I am stressed about the money part of our organization. It's definitely for Infinite Flow to become a long term sustainable organization there's so much that needs to be done. It's not like I definitely feel great about the situation too, but I also know that if we keep producing our good work and I if keep my eyes open for the right opportunities as well as reaching out to various people who can possibly help out that this will turn into how I envision Infinite Flow.
Megan:
I am rooting for you.
Marissa:
Thank you.
Megan:
Not only does it just seem like you've put a lot of really incredible people together, but you have so many great ideas as well. I'm excited to see where Infinite Flow goes.
Marissa:
Thank you.