The Zip episode 27

I'm speaking to someone today who's been mentioned in at least two or three previous podcasts. Rand Fishkin is pretty well known in the SEO and marketing spaces, and for good reason. He's got a great story, a great personality and a lot of insight into marketing, business, and just people in general. Rand and his mother founded SEOMoz, later changed to just Moz in 2004 as an agency. A few years later, Rand and his team realized they were making more money from the tools they built than from their agency services, so they pivoted into an SEO tools company.
Rand has been featured on quite a few podcasts already, so if you're interested in the story behind Moz, some of his business learnings, or more about his personal life, there's a list of great conversations with Rand at the bottom of this page. 
In this conversation, I wanted to ask Rand about empathy – a topic he comes back to a lot – as it pertains to SEO and, in particular, local SEO. SEO can often feel like a rather cut-and-dry field to the uninitiated participant – get your citations right, follow these rules, don't make Google mad. So I loved hearing from an expert about where the human side comes in.
And we also talk about transparency – why it works for Rand, and best practices for incorporating transparency into a company, without it coming off as a tactic. Because if it's a tactic, it's not really so transparent, is it?
And then, of course, I ask about Seattle, Rand's hometown. Even if you've been to Seattle, even if you've lived in Seattle, I think hearing Rand talk about Seattle may give you a new perspective on the city.
So I'm going to stop talking about what I'm going to be talking about, so we can jump into the podcast. Welcome to the Zip.
MEGAN: Alright, this is my first interview recording of the New Year and I'm really excited to be speaking with you because I think you have a lot of insight into marketing and just people in general.
I'd like to start the podcast with a question on those lines.
I've heard you say a few times that empathy is the core of great marketing and I really like that quote. First of all I think it hits on one of the reasons you and Moz have been so successful but, at the same time, your company, Moz offers most for the SEO tools, and I think there is so much of SEO, particularly even local SEO that is very cut and dry. Like, have you citations properly listed, or making sure you have the right meta tags. Just speaking in broad strokes, SEO can be considered among the less soft and squishy I guess, areas of marketing.
How do you recommend that marketers apply empathy to SEO?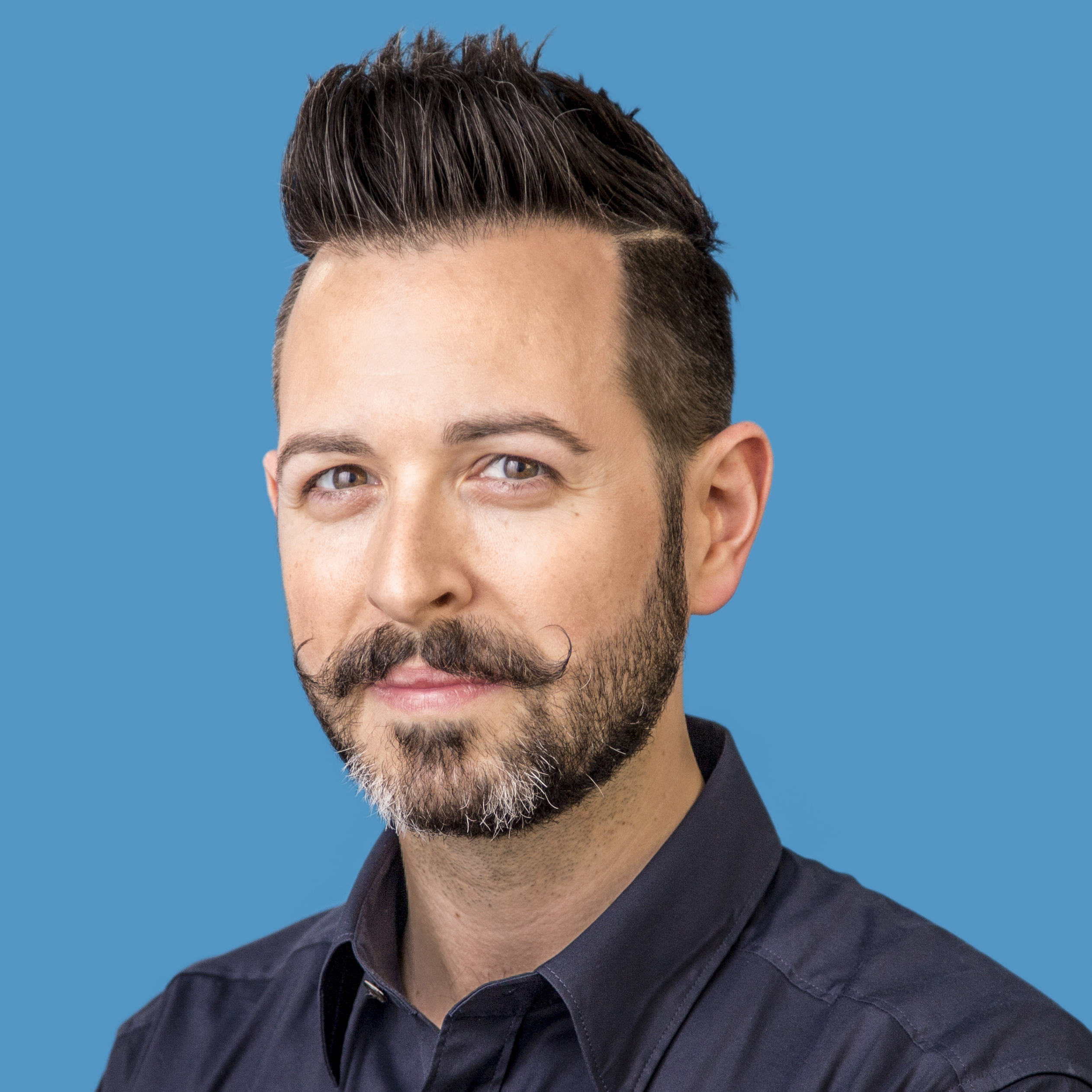 Rand Fishkin
RAND: One of the wonderful things about SEO and about search more broadly is that it's essentially an expression of a need, and a desire from a searcher, right?
Someone gets in front of their computer, they get in front to of their mobile device, or you know now they all have their little echo or their Google home device and they say 'I need this thing and I need this thing right now.'
I think it's very…there's this wonderful sort of ecosystem that happens when you produce a piece of content or a resource or an answer, a website that does a phenomenal job of serving that user's request and interest, and that's where the empathy really comes in .
Actually in the past 2 or 3 years I have been tremendously impressed to see Google make a lot of advancements in the way they serve up results. I think they are using a lot more engagement types of data and querying and answering, sorts of algorithms to really put the cream of the crop up at the top. So, if you do a better job than anyone else on the web, and answering this particular query, you answer is more transparent, more accurate, more comprehensive, more helpful, more visually compelling, a better user experience – you have a good chance of outranking maybe even people who have potentially better salutations and more links than you do.
MEGAN: So it's like Google is designing it with an ideal empathy in mind…
RAND: For Google that's what serves their business best. What Google needs is more people performing more searches more and more often. The way you get people hooked on some search is to provide them with a phenomenal experience, and a fast experience, every time they do it.
So, in Google's ideal world, when you click on a result, any of the top, you know 3 or 4 or 5 results that they show you, you have a great experience on those sites. That page answers your query and answers the task that you were trying to accomplish, and if it does that, then Google wins and you win; and if it doesn't do that then the searcher's less likely to search, and the person is going to bounce off your page and Google loses, you lose. It's kind of a nice symbiotic relationship.
MEGAN: So, are there areas of SEO in particular that you think could use more empathy?
RAND: Local for sure, it's kind of tragic right, and I'm sure you know this well Megan, in a lot of areas of local SEO and local search, I think particularly the nature of what's required of small business owners, often who have every little experience with the web who are not necessarily very technologically or very marketing or SEO savvy. The demands on them are very high.
For years one of my good friends in SEO world has been David Mihm, and David had been writing about and preaching about this challenge, this struggle that small business owners that he knew, mostly in the Portland area, but many all over the country, had with trying to get their sites ranked, and understand what Google wanted from them, what Bing wanted from them, what Yelp wanted from them, what TripAdvisor wanted from them. What now in real estate, Zillow wants from them, what all these different sources want. And trying to stay on top of that it's a fulltime job, and these folks have no hours in the day.
I think that scenario where I would love to see more empathy, and certainly David built this product, GetListed, which is Moz bought and is now Mozlocal, and I think can help with al lot of those aspects, but there is a lot more to do.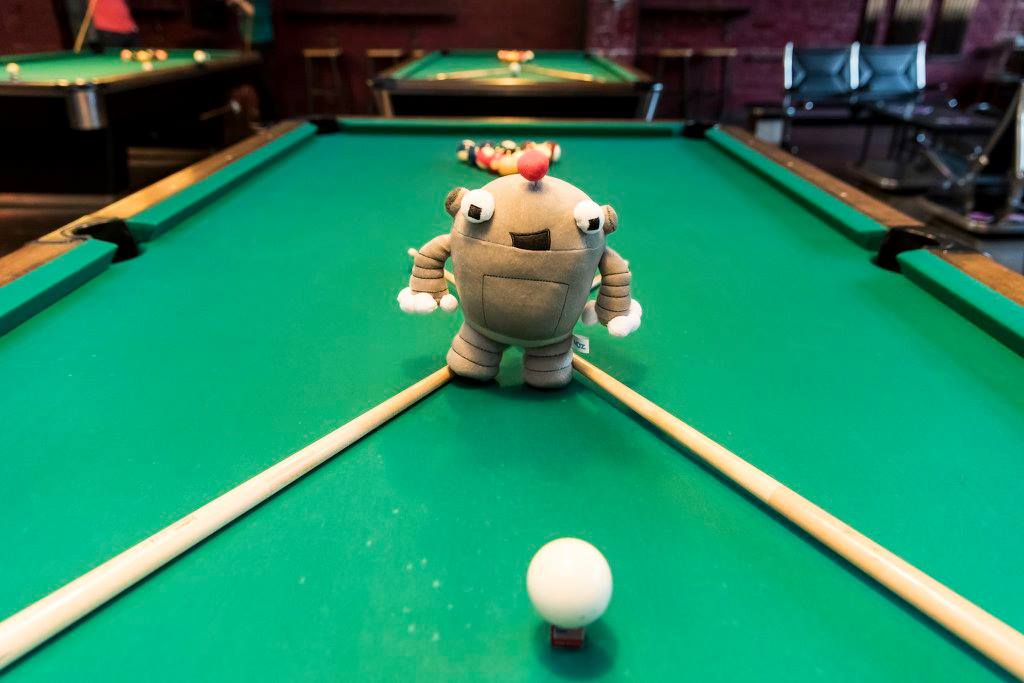 Roger, the Moz bot, shooting pool at MozCon
MEGAN: I agree, and I mean, obviously LocalU, I talked to some people from LocalU on this podcast and they are doing a great job serving those business people, but I agree, it's a big undertaking for someone just owning a mom & pop shop to think of all of that in addition to just running their business.
RAND: My cousin-in-law her in Seattle ran a gelateria for a number of years, he and his dad, my wife's family is all from Italy they are immigrants and she…my cousin in law, Marco, started this gelateria with his dad, he was explaining to me with his thick Italian accent 'I do not understand, why people want I be on Instagram', but he didn't understand why Molly Moo's ice-cream was outranking him for gelato.
He didn't understand why he had to be in all these listing sources just to appear in Google, he was like 'I claimed my Google business listing, that should be enough – they should know who I am – why don't they update my hours automatically by just looking at my website,  I've updated the hours on the website'.
It's tough right? It's real challenging.
MEGAN: And even with the social media, it's like it's not enough just to make great ice cream, you have to take great pictures of the great ice-cream and post it online, every day. People do love pictures of ice-cream so…at least he had something that is easy to put on social media like any kind of junk food.
RAND: It worked out quite well, he managed to find someone who took great photos of the gelato and put it up there. You know, there's more serious ones too.
This was a number of years ago, but I think probably one of the biggest, most deeply unempathetic things I've ever seen in local search was an issue with Seattle Children's Hospital. They provide very…basically for kids with very serious conditions, things like cancer or autoimmune disorder, those kinds of things, really life threatening stuff and a lot of end of life care for people between the ages of 5 and 12 which is just heart-breaking.
But, they had a big problem, so they have a number of locations around Seattle, including a bunch of corporate offices and then also the hospital of course. One of the big challenges that they had was their imaging facilities, where you do MRIs, X-ray scans and that kind of stuff, is in one particular location in Seattle , but if you searched for Seattle Children's Hospital imaging, Google gave you the corporate office first, or one of the other offices.
So parents were driving their sick kids to the wrong place and of course then they'd miss their appointment which meant it could be another week or 2 weeks before they could get rescheduled for this critical care  and it was just a nightmare.
That was maybe the only time where I emailed some folks at Google that I knew and said 'I know you guys don't usually fix things, on the request of a random SEO person, but this is important' and they actually did fix it up. I think it took about 48 hrs. They took care of it.
MEGAN: That's awesome, that is showing that they have empathy as well, they can't do it for everyone obviously…
RAND: They can't do it for everyone but at least when little kids are threatened they can do that.
MEGAN: So, you mentioned a little bit ago David Mihm and his product.
I know that Moz you guys kind of broke into local SEO in around 2014 with the release of your local listings product in which you actually just updated that a couple of months ago. New partnerships.
In 2016, I believe, is when you did the first annual Mozlocal event , so what made it clear in 2013 and 2014 that local was the next frontier for Moz and then what made you and other Mozzers decide give it even its own event platform?
RAND: I will be totally honest, most of my interest in local was because my friendship and admiration for David. I think that he represented to me one of the…you know just the best traits about a SEO and Moz local is one of those products where the margins are not high like they are with Moz Pro, with the SEO software, Suite for Professionals, but it kind of doesn't matter for us. This is like an area that we want to help people with, and I think David was very passionate about this too, right?
He was really frustrated that some of these other providers out there didn't essentially offer submission and updating to all the right places and that if you cancelled your subscription with these other providers that they will then take down your listings, so you lose your rankings, so they kind of held you hostage. He didn't like how much they charged, he thought that $400 or $500 a year was outrageous for these small business owners and so, Moz local I think it's $84 a year or something like that, maybe it's now like $99 a year
And it works with all the providers that David and the rest of the team here now thought were very important and then if you cancel your listing there it doesn't cancel the listings all across the web, so just trying to be a more empathetic product even if it's not as valuable from a business prospective, I think it was still kind of the right thing to do and that's what got us excited about it.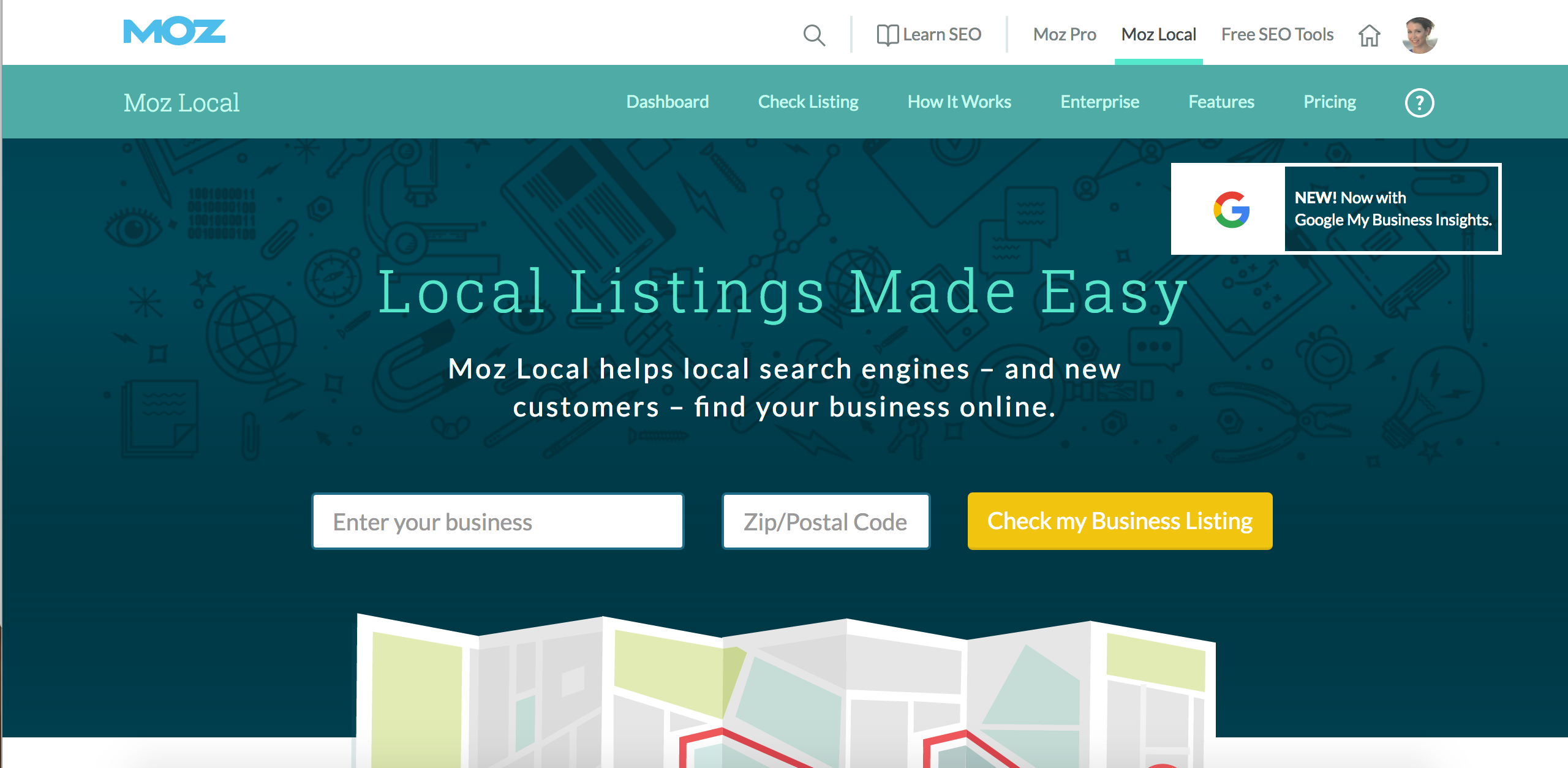 Moz's MozLocal product
MEGAN: Yeah, and obviously you guys you kind of made a shift with Moz's direction you have refocused and bet on SEO in the past few months, so, are there some additional trends that you are seeing or developments you guys are working on? From the local perspective inside Moz?
RAND: I know that the local team, I will be totally honest, I am involved with Mars local in that I'm on the board of Directors and the Executive Team, so you know I get to listen to all the updates, but I'm not intimately involved in that world, but, that being said, I know that some of the things they are doing this year, they are working with some of the additional data providers and some of the big public networks. So I think, I can't remember if it is already true or if it's about to be true that Moz local is working to make it so that when you update your listings there, they get updated in Facebook and in Yelp as well, and the other way around, so if you go and update your listings on one of those sites but you forget that you also have Mars local listing, Moz local will crawl those sites and figure out and update you and…
MEGAN: That exactly what your cousin in law is wishing for really.
RAND: Yeah, I think a little bit, certainly serving people like Marco is something we would like to be able to do.
A lot of the time small business owners have a consultant that manages the system for them, and one of the challenges that we have seen is that sometimes the business owner or an employee will make updates without telling the consultant and so then the consultant goes 'wait why did the rankings fall?' because you changed this listing and you cancelled this, and that kind of thing.
So what one of the other functions that Moz local was trying to do was check those things every few weeks or every month and update anyone who is on the subscription, and days like 'Hey! Here's all the things to change – did you mean for all these things to change?" and that kind of thing.
MEGAN: That's cool. Kind of an a broader SEO scale, I love your White Board Friday videos and I love that you come out with one pretty much almost every week since about 2007, sometimes other people do them but that is a lot, that is like 10 years of videos and they are informative and relevant.
Who are some of the smart folks that you read and follow and how does that turn into a weekly video series? I feel that you are often named as an influencer in this space but who are the people that influenced you and have help you to think about the content to talk about?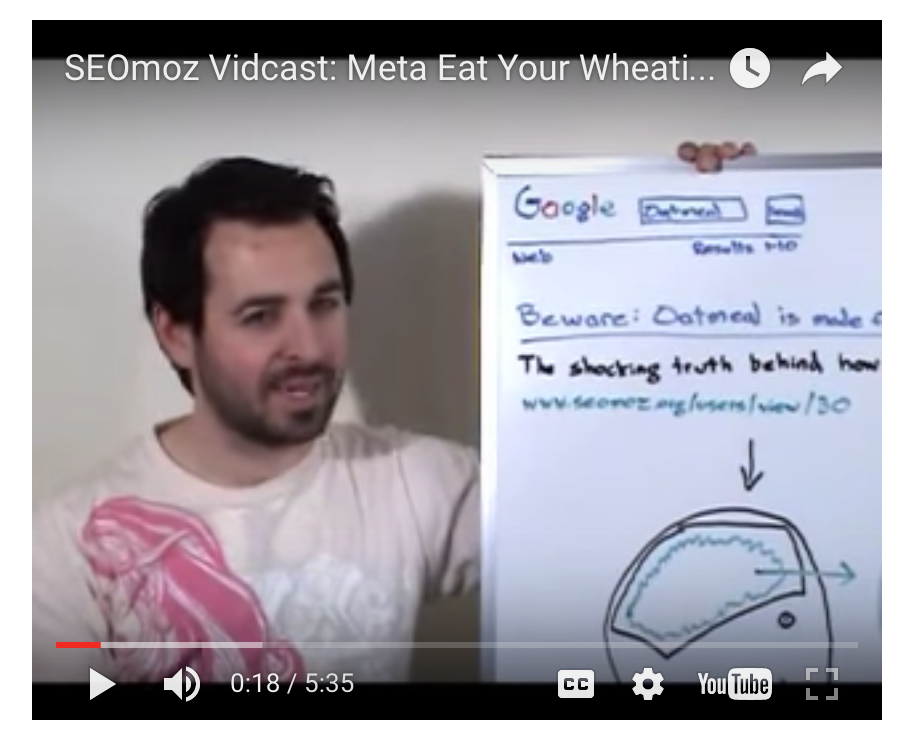 Rand in the *very first* whiteboard Friday -> March 2007
RAND: To be totally honest, while there is a lot of influence that I follow as well, much of the best stuff for WhiteBoard Friday comes from individual practitioners and people who ask questions on Moz's website or who email me or who I run into at a conference or an event. So a lot of the time I'm taking less and less of the inspiration from 'oh hey, all the influencers are talking about voice search this week' and more from the 'oh, I was at this event and a real estate professional asked me about how they could use social media to help with their SEO efforts, and I thought oh, that's a topic we haven't tackled in a while, let's go revisit that.' 'You know, and what's the relationship between social and SEO, because that's changed a bunch over the last few years, when Google was more deeply invested in Google+, social had a much more direct impact on SEO and now it's a little bit less, more indirect.'
That has really inspired me, and then, I would say, I do follow quite a few folks, in fact someone asked recently…let's see…if you go and search for a Quora Rand Fishkin, there's a…someone asked a question, here it was, "Is Rand Fishkin the best SEO expert, which is ridiculous."
MEGAN: Like there has to be a best, like you know they are ranked somewhere.
RAND: Right? Somehow we all compete. But I answered that question with a big list of 25-30 folks that I follow and learn from and who I think are real life experts in their field, so I might check that out first, if you are seeking a sort of a 'Who does Rand Follow?' list.
MEGAN: I also love to ask you about transparency, I think you are considered a very transparent company leader, obviously you've written blog posts about your mood, mistakes you've made, and I think that's pretty rare for someone in your position, but also refreshing.
Would you, with your experience, would you advise other C-level company leaders to be more transparent?
And then, what advice would you give leaders or entrepreneurs who want to be transparent but maybe are worried about potential consequences of showing their weaknesses, just of how it may influence their company.
RAND: First thing I would recommend is, go check out and article from the New York Times, they wrote about research, deep research that Google did over a number of years on something called Project Aristotle, think if you search for Project Aristotle Google you will find and article form the New York Times called 'what Google learnt from its quest to build the perfect team.' That research basically explored a bunch of input into what made a great team at Google, basically which teams produced the best stuff and had the most success, had the most successful high quality products that moved the business forward over the last decade and half and the fascinating thing that you find in the research is that…it's sort of expectations shattering.
You might anticipate that the best teams at Google were probably contain the smartest engineers right? The people who maybe went or the best schools or had the highest IQ or performed best at Google's interviews, or maybe the people who consistently have been raided by their peers as the best engineer, or it might be the mangers with the most success in their careers, these kinds of things.
But in fact, none of those things were true.
None of those, many, many things, many hundreds or thousands of variables that Google looked at, turned out to have a real positive correlation consistently with high performing teams, but they did find something that had a strong correlation and that was vulnerability. Vulnerability between the team members.
So essentially, you could get together a bunch of very high performing, high caliber, MIT and Stanford and Harvard graduates who had had tremendous success, put them on a team together and they will be outperformed by state college dropouts who felt more psychologically safe with one another.
MEGAN: Interesting.
RAND: Which is kind of mind blowing and kind of awesome. I love a good underdog story and this is essentially saying 'here is the science, we looked at thousands of teams across Google's 15 year history and tens of thousands of employees and the ones that performed the best were those who felt that they could be honest and transparent and vulnerable with their team without getting ridiculed, without feeling like they were being judged and with who had the psychological safety type of environment on their teams.'
I think if that doesn't convince you that you should be transparent and that the benefits of transparency, at least internally, are valuable and vulnerability internally are valuable, it don't think anything will.
MEGAN: Obviously you decide to be transparent before that study came out. Was it something that you kind of intuited or were you like 'that's what I'm going to do – hopefully this will work.'
RAND: Actually for me transparency is a…I put it more in the category of core value than tactical move.
So, it was not 'I'm more transparent because I believe that it will help me or help the business.' I am transparent because externally because I cannot imagine living in other way. I can't stand to be around a secretive opaque version of myself, and that's just not who I am, I don't want to live inauthentically, I don't want to hate myself at the end of the day, so I share and I think, when it comes to transparency externally, when people in companies are transparent a tactic or because they think it would help their business, it is pretty obvious and not very helpful.
MEGAN: That's actually in some ways not actually being transparent because it's like 'I'm being transparent', it's kind of circles back to the empathy, when it's not really being…
RAND: …It's just self-promotion…
MEGAN: Yes, it's not really being yourself or really listening to…
RAND: I mean, that's just marketing right? When you say 'oh lets be transparent about our success, but hey why don't we keep it quiet about other things we failed at?' Or 'hey why don't we share the success and failure story because we think it would help our marketing?' You can feel it so strongly when a company or a person does that and it's not an honest reflection of who they are and it's not authentic.
I would urge folks, if you are going to be transparent externally, do it because it is a real value for you and not because it's a marketing tactic.

Moz's TAGFEE code begins with Transparency as a core value.
MEGAN: I think that's important because it think in a lot of companies, I think there's a lot of pressure to share your company values and I think it's a great thing for companies to have values, beside just 'let's make as much money as we can', but…
RAND: If transparency is not a core value for you then don't do it, right? That's ok, not everyone needs to have transparency as a core value, and I don't think everyone should. Apple has secrecy as a core value basically and it works fine for them.
This is about living the values that you have as a founder, as an entrepreneur and as an organization, honestly, I think if you do that, it turns out to correlate quite well with being successful in business long term.
MEGAN: On this podcast I like to ask people about their hometown, because it's focused on local, and I love to hear just about the place you call home. You live in Seattle but I know you travel a lot and you wife is actually a travel blogger.
So, first have you ever considered moving from Seattle? And, if so, either way, why have you chosen to stay a local there, what makes Seattle a special place?
RAND: We have considered moving, I think that at some point in the next few years we'll probably try living somewhere else for at least 3 or 6 months, maybe rent out an Airbnb just because my wife and I have lived here essentially our whole lives, all our adult lives.
The thing that's kept me in Seattle are few things, one it is quite possible the most physically beautiful city in the world, and I say that without really hyperbole. wWe travelled all over, we have seen a number of lovely cites. I think there are a couple that could potentially rival it – Capetown in South Africa is absolutely stunning, on the water and it's surrounded by Table Mountains and this beautiful view, but Seattle has this combination of water on all sides and then mountains on all sides and snow-capped mountains on all sides, which is pretty incredible to be out in June or July and it's hot and it's the summer and you look across the water and the is a forest and green and then there is these gigantic mountains popping up out of the ocean and that is something remarkable to see and pretty unusual.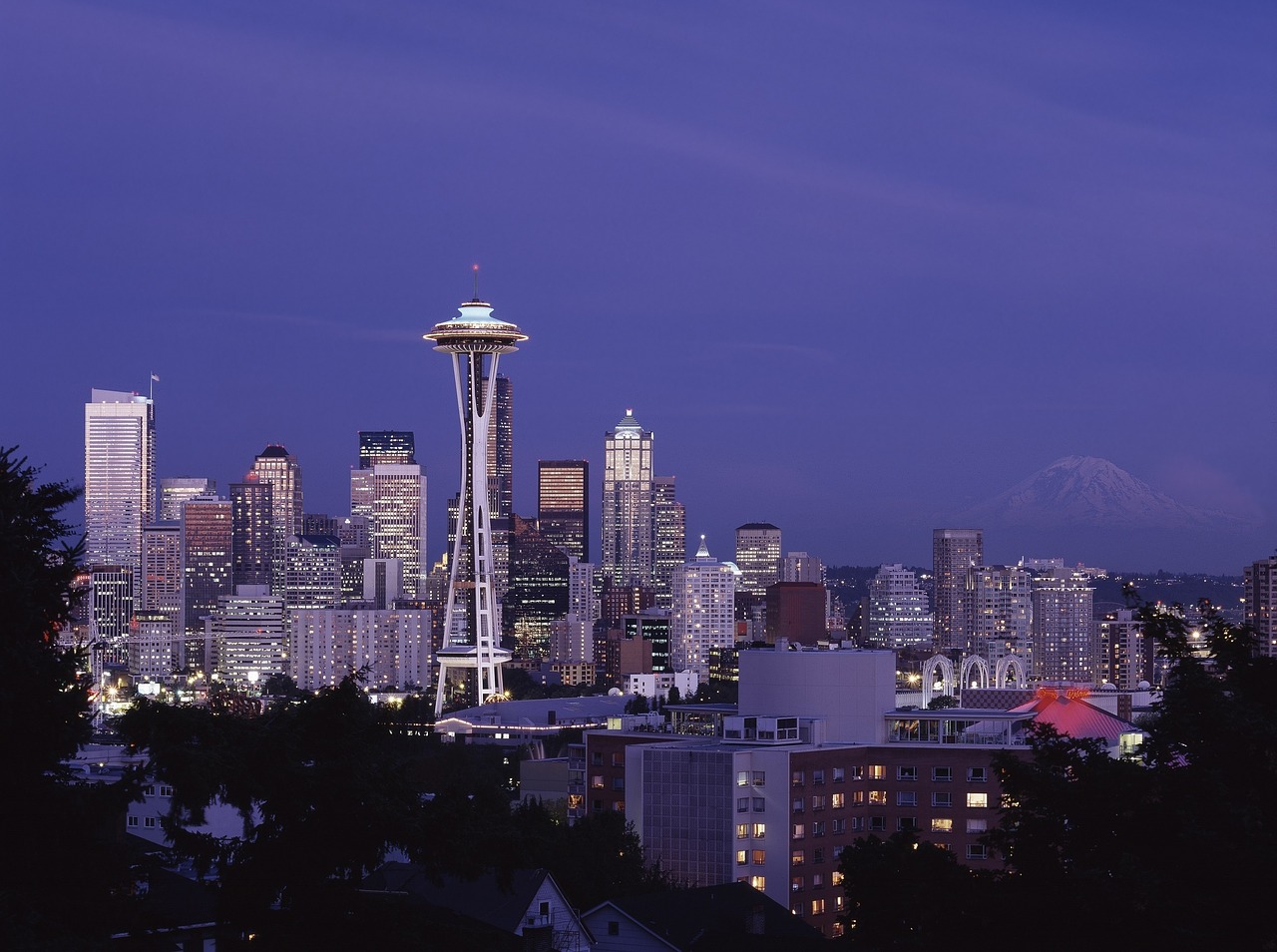 Seattle skyline
The other things that keep us here, certainly, as far as work goes, Moz, founding my company here and having the 150 employees that we've got in our office here, the people and our friends and then Seattle itself, especially over the last 10-15 years it has become sort of very intense but exciting growth city. It's a very progressive city and it does a lot of things to be inclusive, to be tolerant, to create laws, some of them are experimental but have….
MEGAN: What is the example of an experimental law?
RAND: One of the things that Seattle is doing right now, which I think will work, and I have high hopes for it, is to change real estate developers an additional tax on buildings that they build in Seattle, especially luxury buildings, premium buildings that then…that money is used to essentially fund mass transit and low income housing along those mass transit corridors, so basically, Seattle sort of said 'Look, we recognize that inside the city it's going to be virtually unaffordable for the lower middle class and folks who make under the 50% mark of the average income, or under 25%, so what we are going to do is build low income housing along this mass transit lines, so people can easily get into the city and work there and have the income of Seattle while they have the housing cost of somewhere much further out.'
I really appreciate that, I think that's smart, reduces traffic, it helps with housing costs, it means that income can be better distributed, so that's cool.
Seattle was obviously one of the first places in the country to legalize marijuana recreationally, that was experimental at the time but now it's proving to be a strong trend.
One of the first cities to, after San Francisco and California to legalize gay marriage. It has been a good place to live both from a political and socioeconomic standpoint, certainly a great place to build a company, you don't have a lot of the pressures that you do in the San Francisco Bay area, from a technology startup perspective, the average tenure for a tech employee in the Bay area is, I think, it's like 11 months right now. Which is insane.
MEGAN: How do you even get used to a company in 11 months?
RAND: but you can make so much job hopping that people do, right? You are at some place for 6 months and you get an offer for 130% of your salary, and you can barely afford your apartment in San Francisco anyways, so you go!
In Seattle is still about 3 years, which is vastly better, but you can hope for even more but a lot better, and there is a tremendous amount of talent here. Because of Microsoft and Google and Amazon and Facebook, there's a very high density of software engineers and tech savvy folks of all kinds.
Lots of things to recommend.
MEGAN: I visited a few times and it's always a fun place.
I'm on the East Coast, I lived on the West Coast for a while but I love West Coast cities, I feel that just the cities it the East Coast and West Coast there is such a fun comparison that can be made there, because I do feel like you are saying that kind of more free, nature of a West Coast city is like a kid of a stereotype but I think it's a  true stereotype that there is just a lot more acceptance like 'you be you' that goes on the West Coast that makes it a more interesting place to live in a lot of ways.
RAND: I think New York City is great at that too right? It's a little more aggressive in its culture around that but it's also a deeply accepting place. It's just 'I'm going to live my life and as long as you get out of my way I get out of your way'
MEGAN: There's a little aggression in that right? But yeah, I agree, it's a similar way.
Well, Rand, thank you so much for talking to me today. It was really interesting to learn about your prospective on local and different areas of business.
Thank you so much for your time.
RAND: it was my pleasure Megan, thank you for having me.
More Podcasts Featuring Rand Fishkin: