The Zip episode 26

I'm just going to start with my favorite quote from today's conversation:
"Every company is a technology company. It's just a matter of when they really embrace technology."
It may not come as a shock to you that this note came from a developer, but he's not wrong. Even if our operation is completely real-world, there are ways to use technology to organize data for more efficiency, and for better streamlining. For nonprofits, this is especially true. Often even the smallest grants come with requests for reporting. How do you show that you spent money wisely enough to get it for another year? You ensure efficiency, and you measure effectively. And you show it off on your website and social media.
Fortunately for many nonprofits, there are resources to help less tech savvy founders use technology to benefit their organizations.
Enter Cleveland Givecamp, and today's guest, Matt Beyer. Matt and a few others in the Cleveland area work to put on an annual event for more than 2 dozen nonprofits each summer in northern Ohio.
Welcome to the Zip.
It's February. We celebrate Black History Month. We pass through heart-shaped boxes on the way to the wine aisle, and here on the Zip, we're talking to quite a few local nonprofits this month, plus some savvy marketers as well.
Let's start with Matt Beyer, of Cleveland Givecamp.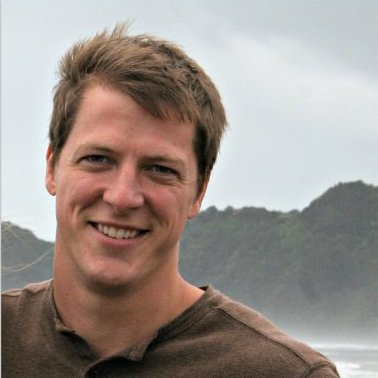 Megan: So Matt, thank you so much for being on the Zip today.
Matt: Thank you. Thanks for having me.
Megan: Sure. So can you tell me a little bit about Givecamp in general – what is it exactly and how it got started in Cleveland?
Matt: Givecamp was an event that was originally started by Microsoft. This was probably 10, 12 years ago, and really opened it up to city chapters. I suppose, and the whole premise of it was working with non-profits that otherwise didn't have budgets for technology initiatives and then organizing volunteers who have the skills needed and have them dedicate a weekend working with these non-profits helping them deliver whether it's an updated website or mobile application, but something of value for the non-profits.
Megan: Cool.
Matt: So that's really Givecamp and how that got started. So about seven years ago, we started the Cleveland Givecamp Chapter to kind of focus on Cleveland's Givecamp event. It was just the most successful first Givecamp, where we had about 80 volunteers, so for an inaugural Givecamp event, we had the most volunteers show up. And this year—it probably took us about 2 to 3 years, but now we actually cap it off at 200 volunteers. We work on roughly 20 give-or-take projects every single year and have conservatively donated upwards of 3-4 million dollars to area non-profits over that time period with technology initiatives.
Megan: Yeah, that's amazing. So how did you—did you start it in Cleveland? Were you one of the people that—how did you hear about it?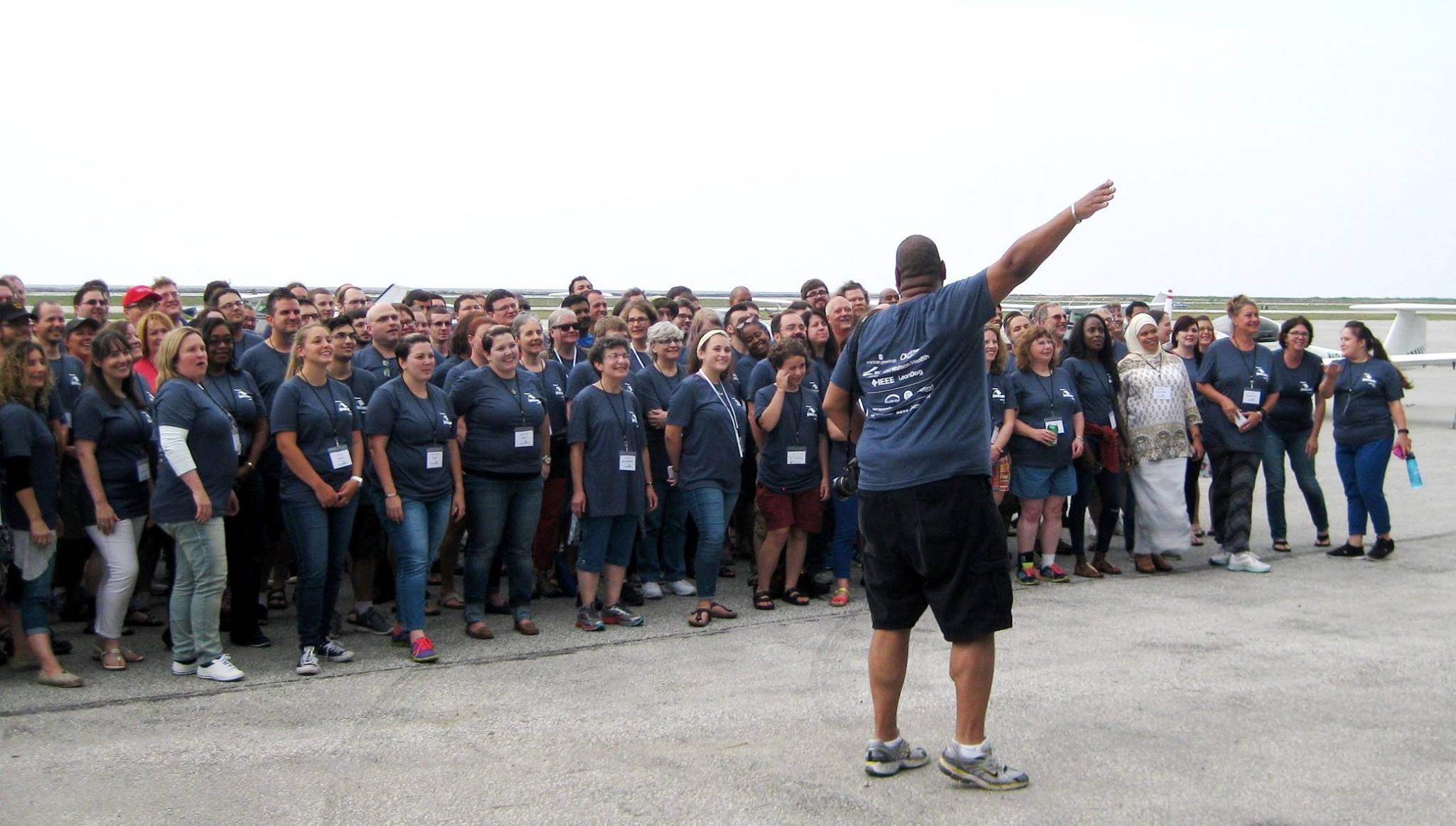 Matt:  I was one of a handful of folks so we probably had about 5 or 6 organizers that helped kick off the first one. Really, once the event starts, it runs itself. You get a lot of motivated, self-directed people together, you give them a little bit of direction and it takes care of itself. All we have to do is manage all the logistics. You've got to keep them fed, you've got to make sure they've got wifi connectivity and enough space. So we went through a couple of funks the first few years but we've really got a nice recipe now where we–we want to make sure that we're handing something off  to the non-profits that they can use immediately and they don't have this dependency on a developer or a skilled resource after the event. So we've really had to work with the non-profits to hone their expectations and what the deliverable needed to be. And then we've also continued to work with—one of the conversations that we need to have leading up to the event so that each team can really hit the ground running and have a sense of what's expected. And then we also have the requirement that the non-profit director or whoever that representative is has to be present the entire time because…
Megan: Yeah, because you're working on their stuff.
Matt: Yeah, you're in the situation and it's like, "Well, is it red or blue?" It doesn't make—me as the volunteer, it doesn't make sense for me to make that decision.
Megan: No, that makes a lot of sense. And it really is a camp, right, I mean, you guys go—I think I read on your site you're near a lake and you're up…
Matt: Yeah.
Megan:  …like actually at a camp.
Matt: Yeah, well we encourage folks to bring tents and camp out. We are located next to a regional airport, so it's pretty neat. We have a whole campus of sorts that we helped set up. Lean Dog is the business and Lean Dog's founder John Stahl really was the one that helped get things organized and got things started, but he got everybody into that original organizer's group. And then we leveraged the space at Lean Dog which is a boutique software development company in the area, but their space was unique that it's a barge, so it's a floating office space, and it's right on the waterfront of Lake Erie near the Rock and Roll Hall of Fame.
Megan: Wow! That's really cool.
Matt: So that's a nice attraction.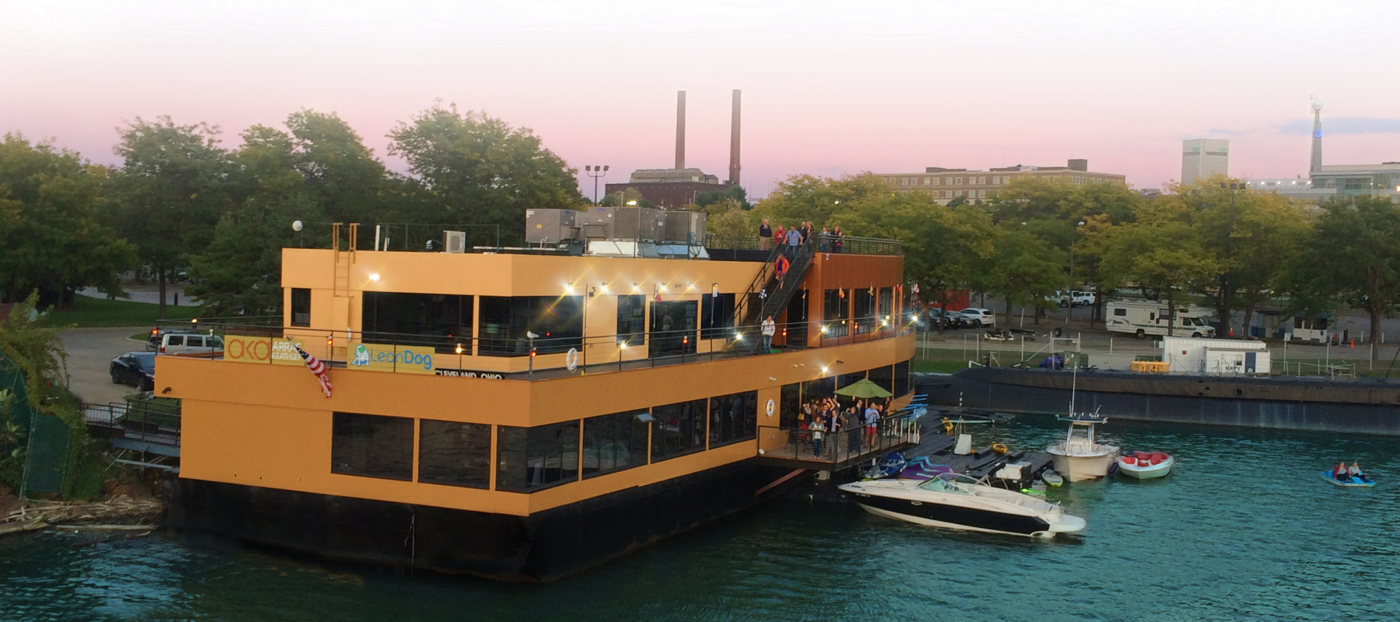 Megan: Yeah.
Matt: And then next to it is Burke Lakefront Front Airport, which is the regional airport, and they're also very accommodating for us. When we have kind of kicked things off, we will have our kick off ceremonies in the airport and we feed everyone over there. So there's a little bit of a campus feeling because you're walking between the boat and the airport throughout the weekend. And then at the end of the weekend, everyone will do kind of a little mini show-and-tell, so everyone will stand up, every non-profit, and talk about—show off their project, tell the rest of the volunteers and other non-profits and the folks that are in attendance.
And I think for me and I know others share the same sentiment, what is most powerful is- for a lot of these folks involved in each unique cause, they're so passionate about it, and oftentimes it's so personal to them that at the end of the weekend, there are a lot of tears that are shed because they know they're going to be able to serve their community of constituents in a better way as a result of this effort, and for the the fact that people are willing to dedicate—they show up on Friday, they work all night, oftentimes they're sleeping at the event, all day Saturday, all day Sunday until 5 o'clock wrap-up just because they want to do that. It's a pretty moving event.
Megan: Yeah, that's amazing. And I talk to—on the Zip, on this podcast, I talk to people who are directly development people or founders of non-profits, and you do get that passion even just when you talk to people about what they do and who they serve, just this like very driving force, like that is their biggest care and it is very powerful.
So what sort of development do the non-profits that you work with need? The most obvious seems like a website, they might need an improved website, but are there some other things that people who apply are in need of?
Matt: We have over the years really developed that offering to the point where when you have non-profits that gather around at first, oftentimes they may not have the technology background or savviness that a lot of the volunteers will have. So we really try to maximize their exposure to all things they might want to consider.
Megan: Got it.
Matt: We'll do like a one hour social media lunch 'n learn of sorts, you know, hey, let's get together and let's talk about social media strategies you should consider. Because for some of them, non-profits—they're really not thinking that way and oftentimes they may not have a budget to contract with someone that can come in and help them with that. So this at least gets them thinking a little differently around how they can communicate with their community.
We also do WordPress training. That's kind of the default framework if we are building websites for them because WordPress is the most user-friendly especially for folks that obviously don't have development backgrounds and there's a lot of configuration available. So as a result of working with the non-profit representative throughout the weekend, we're oftentimes exposing them to that, and then we'll have more of that focused, hands-on classroom kind of education on how to use WordPress and what you can expect once all of these volunteers are gone; and there are some resources you can go to. And just try to help them feel a little more comfortable about what happens come Monday when the event is over.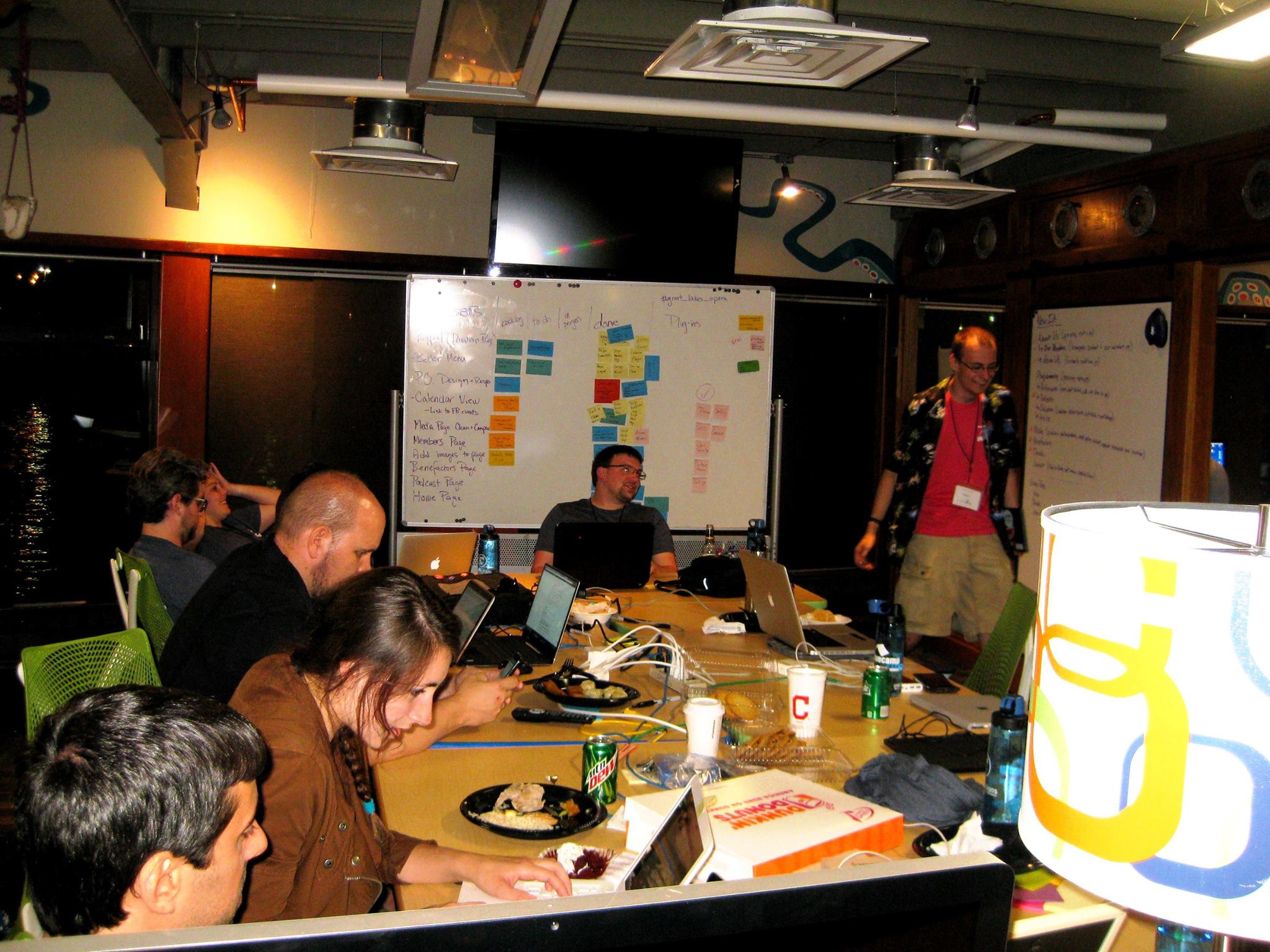 Megan: Yeah. No, that's really cool. We use WordPress for ZipSprout, so I'm very familiar with it, but it is very nicely user-friendly, even if a person isn't a developer at all. You don't need to know any coding to use it.
Matt: Yeah, yeah. And we've continued to put emphasis on user experience, content writing—we will have volunteers who aren't simply developers. We always bring in some marketing and content focused volunteers, some designers, so that they can really help them best articulate their message, best improve the experience. For the volunteers–and it's really—the devil's in the details, as I'm sure you're aware, so how can we best prepare them for that.
Megan: Yeah, definitely. So you've been doing this for about 6 or 7 years now; do you have—I'm sure you've worked with a ton of non-profits at this point, but do you have a particular memorable experience or memorable non-profit that sticks out in your mind as kind of like, "Oh, this is why I come back and help organize this every year"?
Matt: Oh my gosh. It would be really hard for me to point out one, but I will say that—because they're all such great causes, to focus on one, but I think what was most—what stands out is the representative or the executive director who does go through a Givecamp experience, and then the follow up year, they volunteer just to be a part of it, whether they're serving food, helping clean the trash, they just want to come and be maybe a voice of perspective for other non-profits that are getting ready to go through this.
One of the nice things about people that gravitate towards non-profits is the purpose behind what they're doing just to make people's lives better, so once they experience Givecamp and really understand what it can do for other non-profits, they want to continue to help people make that better, they want to be a part of it because they know how special it is and can be. I think that's probably what really sticks out for me in terms of some of the people that come back year after year after year only just to help other non-profits.
Megan: Yeah, I know. That's kind of the great part of the community, too, because when you're working with people who have a bent towards helping other people, then when you help them, they're like, "Oh my god, I have to help you help other people like you helped me!"
Matt: Yeah, you walk out with that really great experience, like oh my gosh, this was amazing, way more than I thought it was going to be and I don't want to lose that. And so they come back because it kind of reminds them of that experience. It's a pretty amazing event. It's pretty unique.
Megan: Do you have some people that come back year after year after year and just—because they're like "I just want to keep coming back"?
Matt: Well, from our volunteer standpoint, absolutely. We've got some folks that—every single year they come and—you know, a developer, project manager, and that's what also, I think has led to our continued success, because we've got a group of—half of our volunteers have gone through this experience before, and it's a different experience to focus in on. You've only got two and a half days, two days to deliver something of that value.
Megan: Right. That's not a lot of time, yeah.
Matt: Not a lot of time. So for people who haven't gone through it before, they sometimes can get lost in details that is ultimately just wasting time—not that the intent is not correct, but—so the fact that we have a lot of repeat volunteers really helps maintain the momentum and the success that we feel we continue to deliver for the non-profits.
Megan: That makes a lot of sense, yeah. I read on your site, you mentioned earlier in our conversation that the Cleveland Givecamp in particular was the largest first time Givecamp in the country that had happened. How did you get so many people? What did you guys do that was unique that you were able to do that?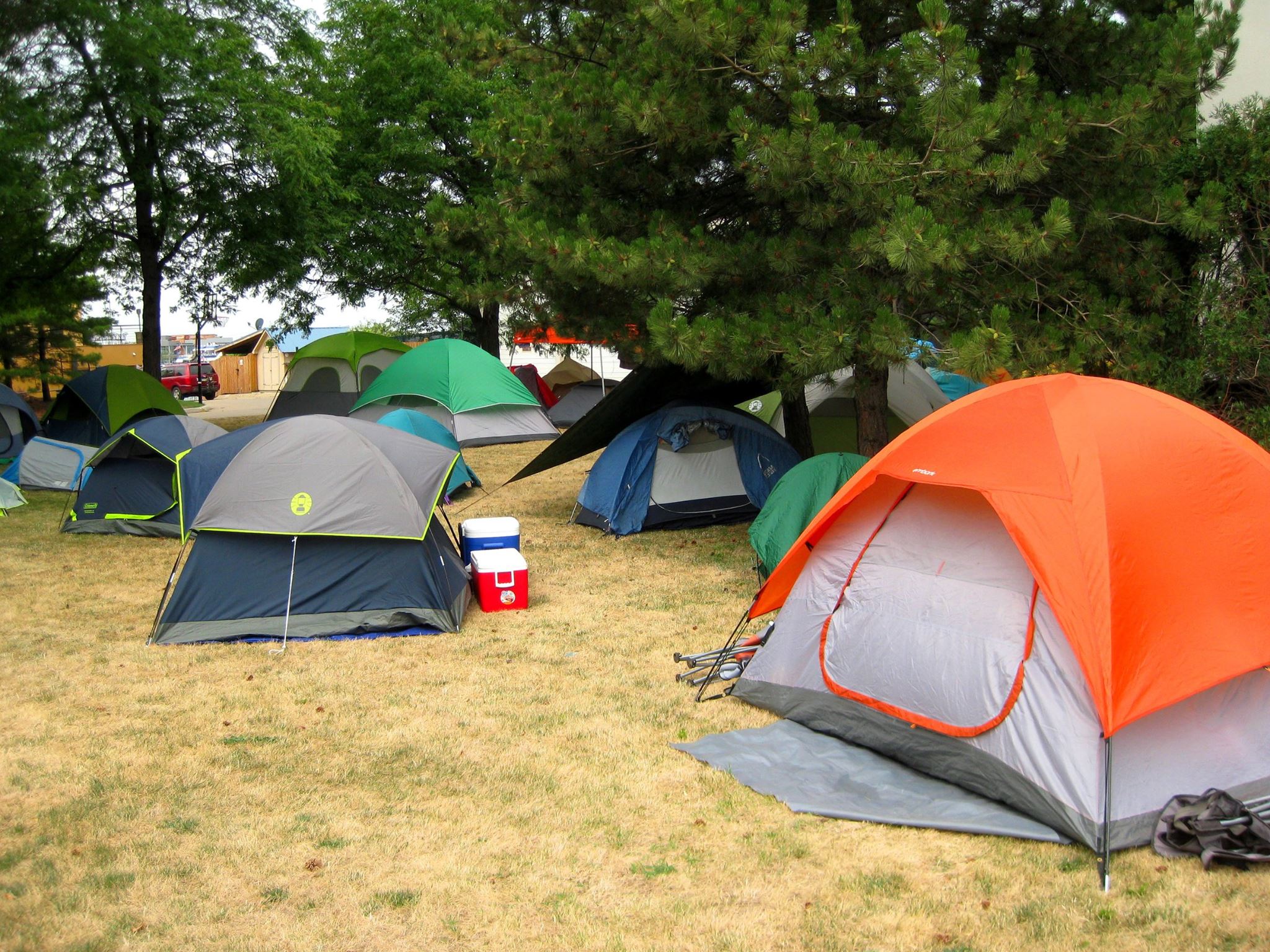 Matt: I am from Cleveland, and I'm sure everybody knows somebody from Cleveland who talks about Cleveland and how great Cleveland is, but probably, this is a less marketable example of a lot of the positive energy that is happening. It was something in community. You know, people are eager—they want to get out and meet people or they want to have good purpose behind what they're doing and—I don't know. I don't really—I don't get it. [laughter] So tell me if you've got it, but we have 200 people that show up every single year and it just keeps going. It's pretty amazing.
And I think there is just kind of like an energy that from a Cleveland standpoint, I'll be the rah-rah crew in person, but there's really a nice energy going on in the city of Cleveland for really sort of—for quite a time now. And I think Cleveland is just another example of that energy, just positive energy.
Megan: Yeah, and that actually really segues into my next question really well, because I saw that you work at LeanDog, which is one of the sponsors, and contrary to what I originally thought, it has nothing to do with pets, that it is a tech company. I'm sure you guys maybe get that sometimes.
But I thought wow—I think maybe the old stereotype of Cleveland is kind of like a rust belt city, but I feel like it seems to be now like to have a tech community as well and obviously a non-profit community as well. And I feel like it's one of those cities even similar to Durham, North Carolina where I am which really in the last 10 or fifteen years,  is experiencing a boom in a really different industry than what used to be there. So what can you tell me about the Cleveland tech scene and just non-profit scene and how Cleveland is right now in general?
Matt: Sure, sure. Well, so the Cleveland – I'll start with the non-profit scene which has been around. Cleveland surprisingly has probably one of the largest non-profit communities in the country.
Megan: Oh, wow. I didn't know that.
Matt:  If you go back to the '40s and '50s we were one of the largest cities in the country. Obviously, we went through a pretty significant recession, but a lot of the key elements of any big market are still here. And a lot of these non-profits never really faded.
The Cleveland Foundation which is over a hundred years old is a two billion dollar endowment that is—all the donations come from Clevelanders and it's for Clevelanders. It's a very powerful fund for the Cleveland non-profit community and they do a lot of amazing things in terms of pushing the region and the city forward.
And I think another example of that is around the tech scene–is with its resurgence because we have a lot of the old, foundational elements which is really rooted in manufacturing, and every company is a technology company. It's just a matter of when they really embrace technology. So I think as more and more companies and physical hardware products need to be smarter and collecting data from them it really just opened up a great opportunity in the area to build a better tech scene. And it ultimately is a different tech scene. It's not like on the—either coasts, because we do still have that rust belt mentality, that midwest mentality, but we've got a lot of great universities in the area that are focused on engineering. And there's just a lot more options and opportunities for younger folks as well as folks who are maybe transitioning into development and more software and technology minded professions in the city and the region.
Megan: So I like that bit about the rust belt mentality. Do you feel like that's more like building tangible things with your hands—how would you describe that mentality?
Matt: I think that's part of it, and then also it's a little Cleveland part of me come out – we're fighters. If we're not looking out for ourselves, no one really is. I think we went through such a long period where that's how it felt, so as a result, we have a real hard work mentality. We are builders, makers and then as you just continue to infuse technology into all those moving parts, it's almost like a different approach than maybe what's experienced in Silicon Valley or something comparable.
Megan: Yeah, I like that. I haven't really been much to Cleveland. I've been to other parts of Ohio, but you're making me want to check it out.
Matt: Well Megan, you have an open invitation. Head on down to the boat. [laughter]
Megan:  Yeah, that—just that you guys have a boat office, I'm like that sounds great. Does it get like—because I imagine if there's some waves—do you have to like tie down your computers and—or is it pretty stable?
Matt: So we're a barge—So that's a good question. Our barge can't go anywhere, we're landlocked for now so we can't take off anywhere. We're permanently moored, so we can't go anywhere. But it would actually benefit us from the tech standpoint if we could take off, but we can't. But on a windy or choppy bay when winds are heavy, the boat is definitely moving, the barge is moving. Some people feel a little disoriented. So it's a boat. It's floating.
Megan: Great. And such a neat–sounds like a very swanky place to bring clients to or something. "Oh, just come by my boat office."
Matt: Yeah, it's unique.
Megan: So that kind of—slipping back to the non-profit and to Givecamp, you know, for listeners who may be non-profits, how can they find a Givecamp in their area?
Matt: Well, I think if there's a market, a local market that they're in, just Seattle Givecamp, Austin Givecamp, Toledo, Ohio Givecamp and see what's available. Obviously, I think the larger cities, the larger tech communities are going to be available so—we're working with non-profits that are within the regions, so some folks are located 50, 60 miles away in other communities but I would probably think in the Charlotte area, I'm sure there are some smaller communities that might want to look for Charlotte Givecamp. But you really need folks that kind of  keep it going, so it does take some energy. What's really interesting to us is when Seattle Givecamp organizers are reaching out to us and asking us how we do what we do. That started to catch us off guard a little bit  for a while. First of all, Microsoft started it, you guys were in Seattle.
Megan: Don't you know them?
Matt: Yeah. And how do you maintain that momentum? How do you get the volunteers that keep coming back, the organizers that stay motivated to put it on? I play one small part in an organization of organizers, so it does take a village to put it on, for sure.
Megan: Yeah. So secondly, for a non-profit that isn't in a Givecamp right now, what actionable tips can they take to improve their web presence or determine what development resources may be needed? Because talking to a lot of non-profits, sometimes they might just not know if they don't have someone whose technically oriented, like how they can even get started having a better website or something like that.
Matt: What's unfortunate is, I think, non-profits are often—they're going to kind of get more of the tail end of needs, just for any organization because technology and data are so important to their ability serve their communities. And I know that what we're seeing—and I think that's where we sit, both from a technology standpoint as well as obviously tied into the non-profit community. We're seeing a lot of interest in how to improve the experience for non-profits to just process information, get the data that they need. When you've got three or four different organizations that are doing different things but share a lot of the same data needs and they're kind of pulling it from the same resources, how can we improve that? Maybe make more of a shared database or repository that they can find that information on.
So I don't have a great answer for you on it. There's millions of resources online if you're motivated to learn more about WordPress or more about social media, I mean, they're open source and online tools and communities where you can learn about that. But I have to believe that every city is going through—and the non-profits that serve that city, are going through their own struggles around just technology and how do we make this better for our organizations and for our communities.
Because non-profits, they are of course so paramount to the overall success of the city and community, so I have to believe that every single city is going through a different version—or probably the same version of what Cleveland's going through. And it's just a matter of getting out there and talking to people and figuring out who knows what and then getting all those different people together and get them to problem solve it. Which I think is the process for anything.
Megan: Yeah, yeah.  No definitely, I'm like see if there's a Durham, or a Charlotte or a local Givecamp here, but I'm—Matt, thank you so much. I feel like I learned a lot about Givecamp and also, just not Cleveland in general.
Matt:  Thank you so much for reaching out. Thanks for your interest in Cleveland Givecamp. And anytime you're coming to Cleveland, shoot me a note and you know you've got one spot you can stop by and check out a killer view of the city.
Megan: Yeah, definitely, on a barge. Sounds awesome.
Matt: Absolutely. Absolutely.
Megan: Yeah. Thank you again. And I hope you have a good weekend.
Matt: Great. Thank you Megan.