The Zip episode 29
If you watch Black Mirror, there was recently an episode, in the Netflix reboot, where everyone walks around with their cell phone all day, reviewing each other. Did the coffee barista smile at you? He gets five stars! Did someone forget to compliment your haircut? They get one star. Watching that episode was so cringe worthy – like god, wouldn't it suck to be rated by your peers and colleagues, all day long, for seemingly innocuous details.
And that's probably a smidgen of what it feels like to be a local business these days.
You pour your heart and soul into building a business, and someone on the Internet rips you apart for a bad day or an employee mistake. Considering that 15 or so years ago, most businesses had a decent amount of control over the messaging around their business, the idea of online reviews can be pretty intimidating.
Today's guest, Aaron Weiche, is the CMO of GetFiveStars – a service that works with companies, large and small, to build out their reviews platform. Ironically, Aaron and his team have found that perfect five-star rankings across the board isn't the best way to pull in new business – potential customers find four and four and half star averages more believable. So maybe that employee mistake or bad service slip up isn't such a big deal, as long as you're listening to customers and responding to their complaints in the long term. And that's what Aaron and his team preach.
Previously, Aaron spent a few years running digital agencies, so he's no stranger to the online space.
In this episode, Aaron and I talk about why many businesses – big and small – neglect reviews, how Aaron's team finds and market to businesses who do care about what their customers have to say, and of course we dig into Aaron's hometown, Minneapolis, as well.
Welcome to The Zip.
Megan:
All right. Aaron, thank you so much for being on the Zip today.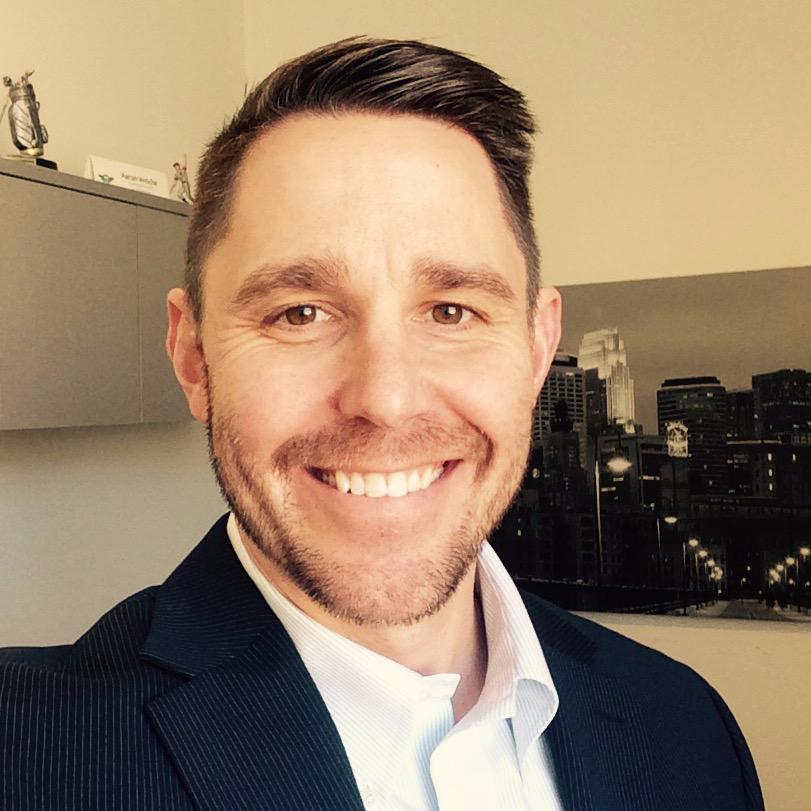 Aaron:
You bet.
Megan:
Before you ran marketing for GetFiveStars, you got started in web development and digital marketing services. Of all of the possible interesting avenues that one can take from digital marketing services which sounds broad in a lot of ways, what was it about local marketing and local search that pulled you in?
Aaron:
When I got my start it was all for building simple web pages. If you think about the late '90s, I was building basically one, two, maybe three page websites for small businesses because I grew up in a small business household. My dad owned a small AM radio station, my mom owned an art and framing gallery, so once based on some other things that I was building a handful of web pages they had all kinds of friends and clients that were business owners and started building it for them. It led me very early to start looking into when people type this into at the time Yahoo or AltaVista or Dogpile what comes up? How do we get these local business found? Obviously when Google started making an effort to group those together and the map packs and everything else like that led me deeper and deeper into it.
Megan:
Awesome. What was your dad's radio station? Was it just news or was it a niche AM radio station?
Aaron:
Total small market AM radio station and mostly local, covered the county area that I live in just to the west of the Twin Cities. A ton of local sports, high schools, there's about eight or nine high schools in the area so covering all of those high schools. A lot of rural and farming communities, so ag reports and things like that, obituaries. Really the hot stuff in the local area, so really no different, a very localized. They weren't going to beat out some big FM station for spinning hits all day long, so it was definitely going to be localized content for sure.
Megan:
Your local roots came from the beginning from your parents really.
Aaron:
Yes, exactly. One thing that I'm super sad about now, the very first domain I ever purchased when I was going to freelance on the web and be in my own the domain was IAmLocal.com.
Megan:
Oh, wow.
Aaron:
Sadly, I let that go as I grew and then I sold my clients into another business and then started building bigger agencies and I let that domain lapse. It breaks my heart now because I just should have hung onto it.
Megan:
Is there someone that's actively using that because it sounds really cool like it could be…
Aaron:
You know what, I haven't looked back in a while at it. At different times I did, but I think somebody probably owned it that owns 10,000 domains and they're just hoping to flip it someday.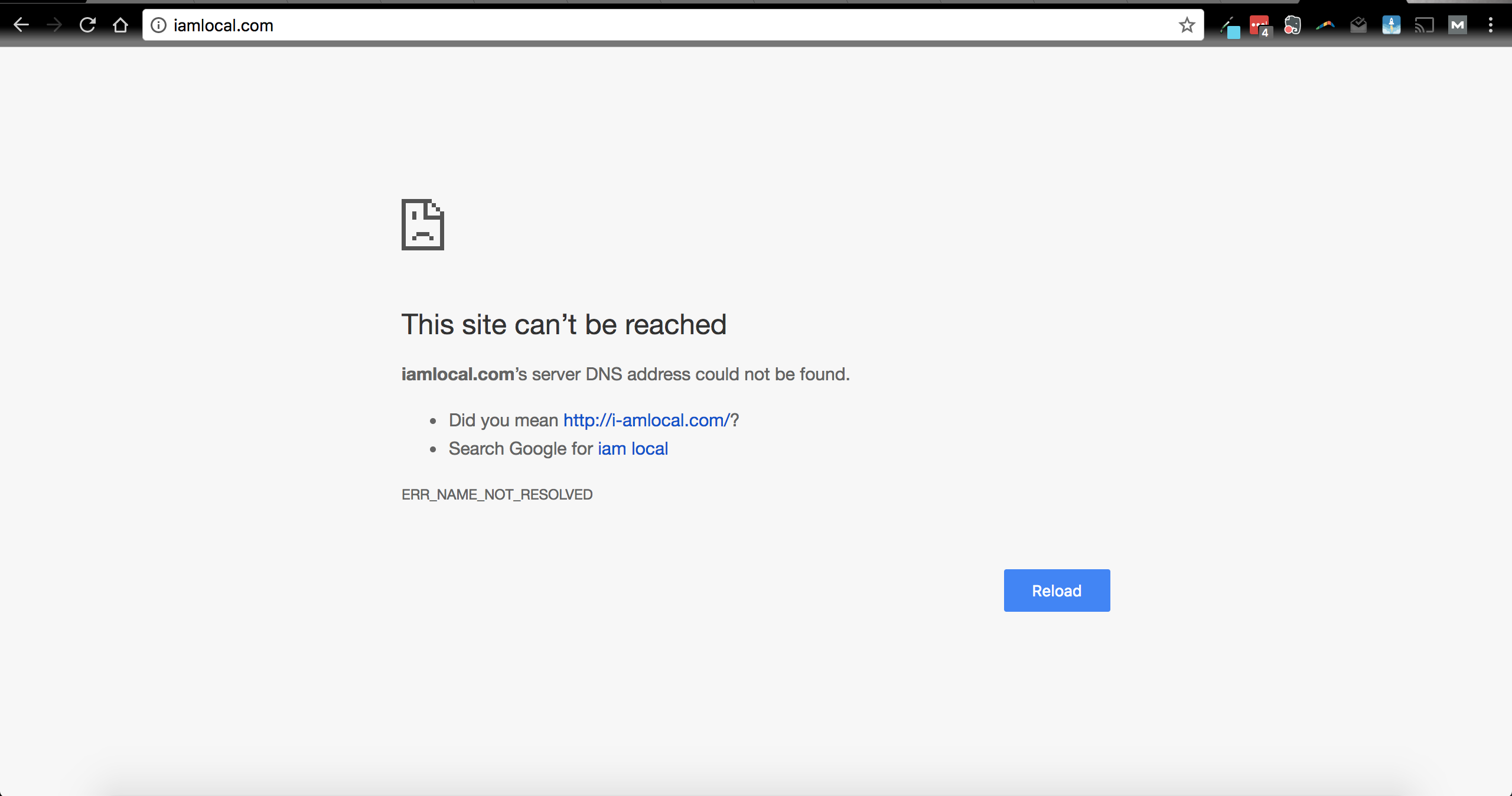 Megan:
That can happen. I do that too with domains, though. It's like you don't think you're going to need it and then later you're like that was a kind of cool one.
Megan:
I love asking about local marketing in this podcast because there are a lot of folks with experience either with national brands active in a ton of local markets or who work specifically with one market brand. GetFiveStars, the company that you run marketing for, is interesting because your B2B with businesses who are for the most part local or regional. For the most part how would you describe the typical GetFiveStars customer? How do you market to local businesses across the country?
Aaron:
GetFiveStars has four different categories or segmentations of clients. One is, just as you mentioned, a small business client and this might be a single location small business. The next segment that we have is a multi-location small business so they might have anywhere from two to 20, 25 locations, but they're more of a slow growth long term type business that's there. They don't have rapid plans to add ten locations every year or hit 100 or anything else. Then we have the larger scale franchises and enterprise type businesses that will range from 20 to 10,000 locations. They have the rapid growth plans and systems in place to scale and those are all the places they want to get to and grow. The last is we serve digital marketing shops of one person to 100, various sizes. We have a white label version of our product that allows them to take it to market for their clients.
Within that bucket we have to talk to those audiences and market to them a little bit differently. Especially with small businesses we invest a lot in content marketing and inbound marketing. If you go to the GetFiveStars blog you'll see anywhere from four to eight posts every single month. We do a lot of different surveys and research to understand why do consumers complain? Why do they write bad reviews? Why do they write good reviews? How many questions do they want to be asked in a survey? Where are they most likely to leave a review? All kinds of things like that that we look at that when people have an interest in the area of online reputation, reviews, and customer feedback that we'll be one of the sources that they stumble upon. As others write articles in the space because of our thought process and the data we put out there and everything else they're going to link to us so they'll come into us that way.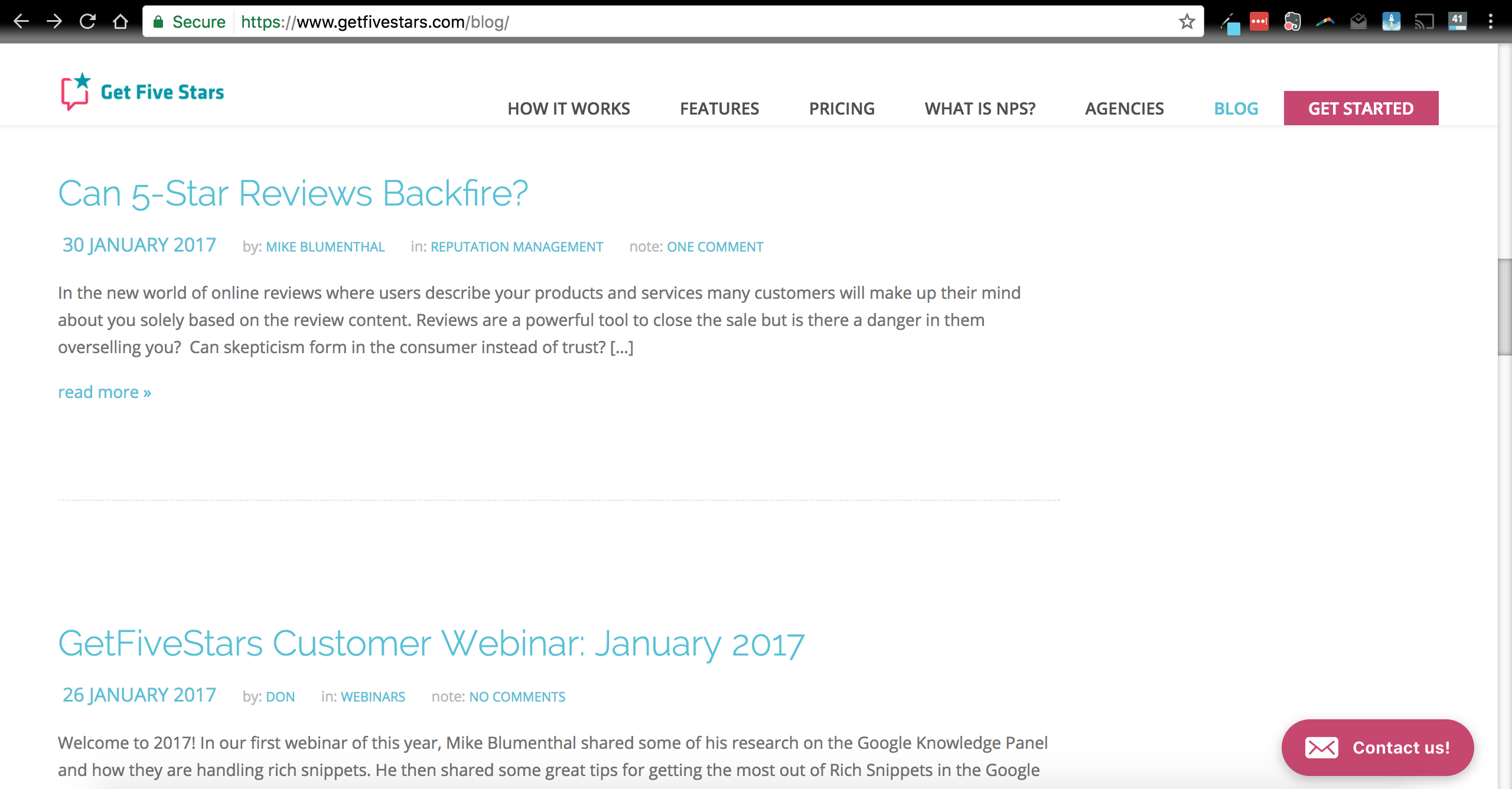 Megan:
For the most part has your strategy been content marketing or have there been other ways? Are there certain markets? Obviously in an interesting way, you're marketing to local people, but local people everywhere. Are there certain markets that you've gone after in particular where you think this city has a lot of people that might be interested in GetFiveStars? Is it just in general people who are finding your blog posts and other things?
Aaron:
So far we've been just pretty widespread and not super niche with what's there. There's definitely some areas that we know based on how many customers come in or, as you were hinting at, like a geolocation with population size. We have done some targeting with Facebook ads and things like that to larger cities where there's a bigger population with some of those pieces. The really hard thing for us to target the best customers, the best persona for us is someone that really cares about their customers and customer feedback above anything else. That's really hard to root out in some of the other ways that you can target people based on ad platforms and everything else. Those are the ones that we really see wanting to do the most and investing the most in our product is because they naturally care about it as a core value of their business.
Megan:
That's a really good point because it's how do you advertise for values or mission? You do kind of have to create things that are waiting for them when they go looking for you as opposed–not yet do we at least have advertising that targeted maybe in ten years. Who knows.
Aaron:
We can read into it sometimes just based on industries, though, because some industries are just far more mature in the online reputation space. Consider hospitality. Hotels, motels, inns, bed and breakfasts, and resorts, all of those things they've been in that space for a while. The consumer has had a very strong voice in those areas for nearly a decade now with TripAdvisor, Google, Yelp, and all of those other things. For them that's definitely an area where we're not waiting for them to understand that, they already have it and they need to find solutions to best to be able to manage it and make it work for them. We can do that a little bit by industry, but still it can vary so much from business to business. I'm still amazed at people that are in an industry where reviews is a very long term play that has been around for a while and always will be part of their business yet they still have a lot of dots to connect on where the root of it really starts and what they can do to help drive it in a successful direction.
Megan:
I was actually going to ask you along the lines of that. At ZipSprout's parent company, Citation Labs, we had a customer a couple of years back a client who was a very local service provider. There was some website that was ranking number two for his business name right under his website and it was a reviews website where any person could post a review pretty anonymously. I don't really think they verified identity very well and the top reviews were just horrible ripping into his business, really nasty things. He was pretty convinced it was a disgruntled ex-employee. Do you have people that are in those kinds of situations and they contact the company that's hosting the review? They're like pay us a couple thousand dollars and we'll take care of it. Do you have people from that side that have been in situations like that that are hesitant about reviews for that reason?
Aaron:
We'll see a little bit of that. I think what probably is most common is when a small business does get a bad review and their first inclination is there's got to be a way to get this removed. They'll even reach out to us and be like does your guy's software help people remove these? It's like no. What you actually do is build up the war chest on the other side of this. You need your other happy customers to share their experience about what's there so that that becomes just a blip on the radar instead of one of three reviews as one that is a scathing and a very poor experience to what's there. That's probably the situation that we face the most is just this perception or maybe just hope that we can make it go away.
Megan:
That makes sense because I think his inclination was to bury it. If we get enough positive things up there, but he wanted press and other things. He was just very hesitant. We were like why don't you ask for more review because he's like no, no they're not going to. I think sometimes the psychology of that, like not everyone is going to say horrible things hopefully. If so, that's a problem too.
Aaron:
I kind of refer to that as the fear of none or one. A lot of businesses, if they have zero online reviews, they're almost happier that way. No one is saying one thing one way or another. A business listing with zero reviews too is also far less likely to get a review because even the consumer is kind of like do I want to be the only one voicing my opinion on this business? Unless you're someone uber geeky and into reviews all of the time, like me, where I've written hundreds, then you realize my review is going to go a long way and it's going to break the ice and others. It's that crowd mentality of everybody following everybody. You'll see that happen or when they get one if it's a bad review and then they also pretend like that never happened either. A lot of times when I'm giving presentations this is where I have a picture of somebody huddled and hiding in the corner.
I've seen plenty of successful businesses in business for ten years that got a bad review four years ago and they've done nothing with it. They didn't reply to it. They haven't asked any of their good customers to go and write them a positive review on there or encourage anything like that at all. They just pretend like it didn't happen at all even though dozens or hundreds or maybe even thousands of people have read that bad review and it's maybe changed their opinion of that business or led them not to contact them.
Megan:
Right. I feel like the psychology of people giving reviews, from my side I'm not a heavy review giver, but the only times I've done it is actually when the business owner is like it would mean a lot if you would go review. I'm like well, okay. I did have a good time. Then also if I'm perusing for a company and they have zero reviews I am like I don't know about these people unless they're brand new. The psychology is really interesting.
You said that you guys write pieces on just overall trends in general. After two years of managing customer reviews from the meta side as the company that's helping other companies do reviews, have you noticed what are some of the common ways businesses screw up reviews or just are screwing up things that end up in bad reviews? Are there some general patterns you've noticed over time?
Aaron:
I think at the most basic foundation most companies just really don't understand the unbelievably direct connection of their customer service to an online review. We see just a really strong correlation between our platform measures net promoter score. Net promoter score for those not familiar with it is really helping understand how likely a customer is to refer you to a friend or a colleague. That promoter score in the formula ends up on a scale of negative 100 to positive 100, it's a 200 point scale. It really helps you understand that customer's satisfaction with you and how likely they are to tell someone else. It's a great growth indicator, and that's why a lot of large corporations have been using it for a while and it's really trickled on down to small businesses now.
What we see is a correlation between a high MPS score and a higher number of reviews coming in for every X set of customers that you ask. We see people with a net promoter score that is above 80 which is a fabulous net promoter score. That's a really solid business delivering great customer service and a great customer experience. We see businesses, once they cross that threshold, they're six times more likely to generate reviews from asking a customer for feedback and then if they're happy asking them for an online review. The numbers are really staggering when you associate it to that. The hard part is that's one of the hardest things for any business to optimize or to improve because it involves all of these moving pieces of your staff and touchpoints and the end to end process of when they contact you, get a quote, and sign the deal. Then you have to deliver that product or service, follow up on it, and everything else.
There's just a lot to it and what a lot of businesses come into is thinking I can give just average customer service, but if I use a tool like this and I ask everybody everybody's still going to write me a review even though they didn't have this awesome experience when they were in my store or did business with me. That's from the highest level, that's one of the big strategic or fundamental things that I see where people are just so misaligned. They just think I'm buying a magic product here that just makes average customers super happy to write reviews and that's not the case. Our platform does a whole bunch of things, but in the review space it definitely makes it simpler for them to write a review. It assists them. It reminds them. It does a bunch of other things, but at the end of the day if they went into your business and did business with you, they did whatever and they were just like meh it's not going to change the meh. It's still going to be a so-so experience that has other things. That's probably at the highest level one of the biggest things that we see.
To get into something tactically, I would just say communication and expectations. When I read through a lot of feedback and dive into different things, it just really always has to do with either a poorly communicated expectation or doing nothing to set an expectation where the customer just gets to pick their own expectation. Then it's not fulfilled, so there just ends up being a really big disconnect.
Megan:
I feel like that can be such a fine line. Obviously we're talking about just so many different types of businesses and all different types of businesses require different levels of communication. I think that can be because I think there's a fine line between explaining just enough, but then maybe over explaining to the point that you're overwhelming someone and then simplifying your process. While you were talking I was thinking how reviews, one might think in the beginning this will be a great way to get people to say good things about me; whereas really it's a great way to have a hard look at your business that maybe you haven't been taking. To see ways to improve so that people do say good things about you.
Aaron:
That's been the biggest eye opener for me. Previous to GetFiveStars the last two years, I helped start and was in partnership and executive roles in three, four different agencies. Across all of that we were never asking our customers for feedback. Every now and then if you had somebody that you knew everything went really great you were like can we do a case study with you? You do that much, but you weren't asking every customer that you are engaging with. If there's one thing that I realize in doing this for the last two years, working with businesses, and trying to help them out with this stuff the power of asking every single customer for feedback is amazing. Customer feedback is so underrated and businesses just really fail to realize. You have reviews they're so bright and shiny and everybody can see them.
Everybody will put all of their stock into that when they don't realize customer feedback are all of these little seeds of so many other things that can either be great or bad or need a little more watering and TLC and everything else. Reviews is this leaf at the very end of it. That's one thing that's been a huge eye opener to me, customer feedback is so valuable. I kind of kick myself for running businesses for 16 years before this without putting every ounce into getting tons of customer feedback all of the time.
Megan:
At GetFiveStars do you ask your own customers to review yourself?
Aaron:
We do. We use our product for ourselves and send that out there. We eat our own dog food as they would say.
Megan:
Right.
Aaron:
It's very, very enlightening. We definitely want that and we want to understand that. It gives us empathy for the same things a business goes through. It's like when a positive one comes in and somebody tells you this is great, it's helping change this for me; you feel so great. Then you get one where they rated you a five out of ten or a four out of ten and they let you know why it didn't connect for them. You feel crappy and you even can have the defensive reactions of were you even using it right? Did you know this feature is in there? You're thinking about this wrong, all of those things.
It's the same way where we coach our customers. You have to step back from those, take the emotion out of it, look at what really might be the problem, and reach back out to them and say I think there are a couple of ways that we could help with this if you're willing to still try and make a difference for you. Would you be willing to do that?
Megan:
I think having worked somewhat in support of tools and everything, I think everyone at some point should work in a position where they're getting feedback about their own company. It is just so helpful to step into the shoes of someone else and sometimes you get people that are genuinely upset. If you can turn them around, that's just such a great feeling. You're like I accomplished something.
I would love to ask you, I love to ask people on this podcast about their own hometowns. This is a podcast that focuses on local, so you are local to Minneapolis. Have you always lived there? It sounds like you did if your dad had a radio station there, but if so why have you never left? Can you tell me what makes Minneapolis unique?
Aaron:
Yes, I am a born and raised Minnesotan. I've always said you would have to kick me out of this state. I think it is just the combination of I really like the people, I like the communities around here, really great schools. We have a really solid corporate backbone around here that really attracts good people with good backgrounds and educational systems. When you have corporate headquarters for Target, Best Buy, Cargill, and 3M that really brings a lot and adds a lot to the community. It's full of arts, professional sports, collegiate sports, and all of those things. For me as I got older, after college and my early 20's I lived right in the heart of Minneapolis and just really loved it. Now I live a little bit out, about 40 miles to the west of Minneapolis. It's a great place to raise a family, I have four kids. My kids go to great schools. There's a lot of things where I don't have to worry about some of the daily things that if I lived somewhere else could be. I really love it. I'm kind of brainwashed on it. Winters are brutal.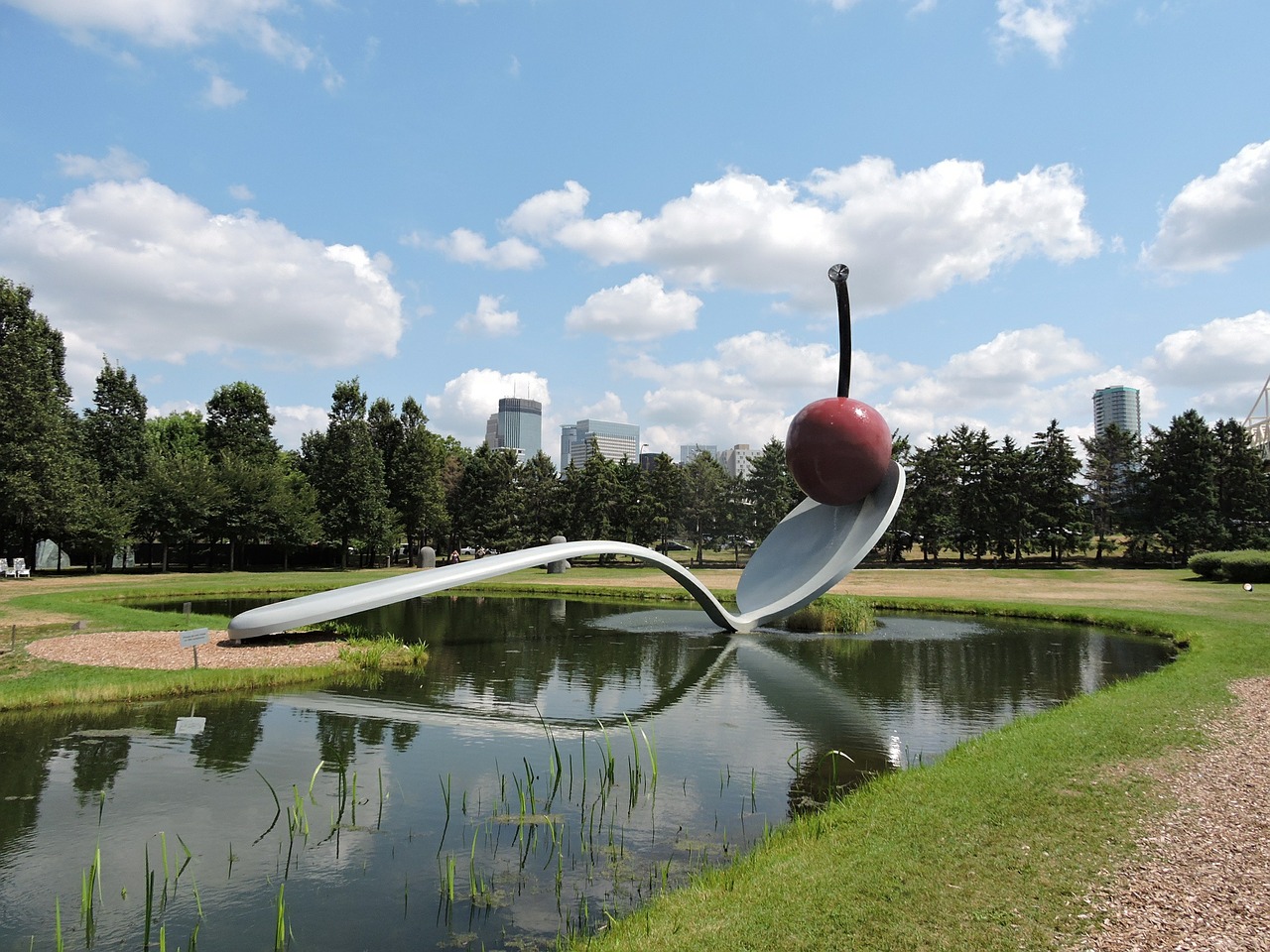 Megan:
I've heard.
Aaron:
Depending upon what happens that year, winter can be five months, it can be seven months. You just never know, but the rest of the year is amazing. Spring, summer and fall is just beautiful. There are tons of lakes, we get out and boat, all of those pieces. I always say if someone kicked me out of this state, which there probably are a few people that would like to, I would probably head to Colorado next. There are a few places out in the mountains where I would definitely love to live in some of those areas just because of the recreation, the nature, and some of those things.
Megan:
I spoke with Mary Bowling on this podcast a few months ago. She lives in some beautiful place in Colorado that just looks amazing. I was Google imaging where she lives and I was like man, that's pretty awesome.
Aaron:
Glenwood Springs, I know where Mary lives. I have a former business partner, I've been to Glenwood Springs a few times. It is gorgeous and just wonderfully positioned out in the mountains. Again, if I get kicked out I might be Mary's neighbor. I don't know.
Megan:
You have a second choice, that's always good. I was actually reading a blogpost you wrote on Minneapolis just before Local U was held there a couple of years ago. One final question just about the City in itself, apparently you have a downtown and an uptown but the uptown is south of downtown? Did I read that right?
Aaron:
That's totally correct.
Megan:
That sounds really weird.
Aaron:
It totally does, but I don't know. I have no idea how the labeling came to be, but yeah. Uptown has always been the–when I lived in Minneapolis I lived in Uptown. It's the younger, hipper, more vibrant version of downtown, but definitely a great area. Tons of restaurants and all kinds of night life and stuff like that as well. It's just a mile south of downtown and stretches down into what's known as the Lakes area. There are a couple of really nice lakes that are almost right in the heart of Minneapolis.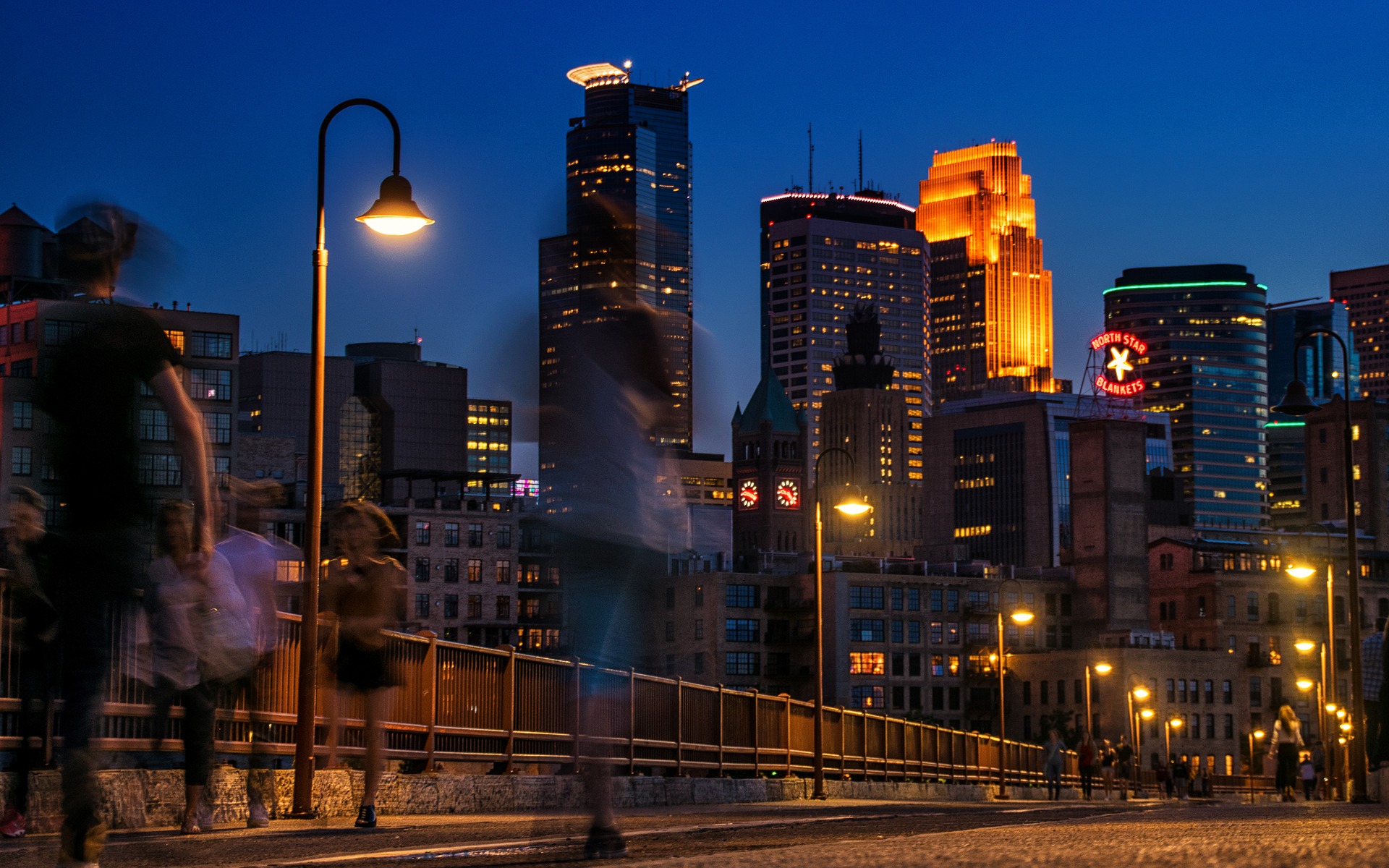 Megan:
Maybe they didn't want to call it "even more downtown," so they're just like we'll just reverse things.
Aaron:
Or you live somewhere where you had to get up to town. I don't know, who knows about that.
Megan:
Exactly, the far south people. Final question, going back to local marketing in general, I like the idea of really finding ways to market to people locally that really resonates with them. If you were working specifically with a business in Minneapolis that wanted to get in touch and find Minneapolans, people who live in Minneapolis, interested; how would you attract people that live in Minneapolis? How would you market to them?
Aaron:
Nice, I like that. It's a very good question. I'll answer it in a GetFiveStars kind of way because I'm definitely big on some of these things nowadays when I get to get out and give talks. I've really become fascinated with customer generated content in the form of testimonials, reviews, case studies. I find it's an area where businesses really lack. They try to do as best of a job as they can writing their content for their persona or the market they're trying to attract, but for the majority of them they can never truly get even close to having the right empathy and writing in the voice of that customer. That's something that I think is so great about reviews because it's persona written content written by that persona.
If I'm going to go on a vacation in Minneapolis and I want to do the Mall of America and a Vikings game I'm going to read those reviews and I'm going to read it from my point and perspective. Who else did this with three or four kids? What hotel had a great swimming pool? What had good places to eat nearby? What's the public transportation like between these locations? In what part of the stadium should I sit in? If I stumble upon someone who's written a blog post, a review, or an article that has some of these same considerations, has my persona in mind, I'm automatically going to tie into that and put trust into what I'm selecting for what I'm going to do with that. That, to me, is the angle I would take with it. I think most businesses, even when they hire a great marketing company, they really fail at getting to tell the story from the perspective of the customer.
We think referral business is so great, that's because it's a customer with their own mind frame that's giving that referral. I think the more companies gravitate toward that and give their customers a platform to sell for them in their terms and what was important to them; I just think they benefit from that multiple times over.
Megan:
That's a really good point because it is like a referral, but just in general. I also am a big fan of the idea of getting content by people who actually know the area. Cool.
Aaron, thank you so much for taking the time to talk to me. It was really great learning in depth more about reviews and about Minneapolis. I think if you're going to be at the MozCon Local, which I think you are speaking actually, later in February I will be there too. I look forward to meeting you.
Aaron:
Guilty. I will be there, Megan, and look forward to hanging out with you and talking all kinds of local geeky goodness with you and the rest of the crew.
Megan:
Awesome. Thank you.